Being close to Goddess Ezada is heaven, and maybe a tiny bit of hell.  i perform for Her, i fetch for Her, and i obey Her without question.  She also teases and taunts me in tight latex, fondling my chastity, pressing Her body into my spine after a whipping.  i long for Her touch, for a release.  Like a pressure cooker on the stove, Goddess cracks up the flame and laughs at my sexual plight.
It's Friday afternoon; She is filming.  One slave whipped, am i next?  However, this day Goddess cuffs me onto the whipping frame facing Her.  She flaunts my chastity key directly in front of my eyes.  All hell breaks loose.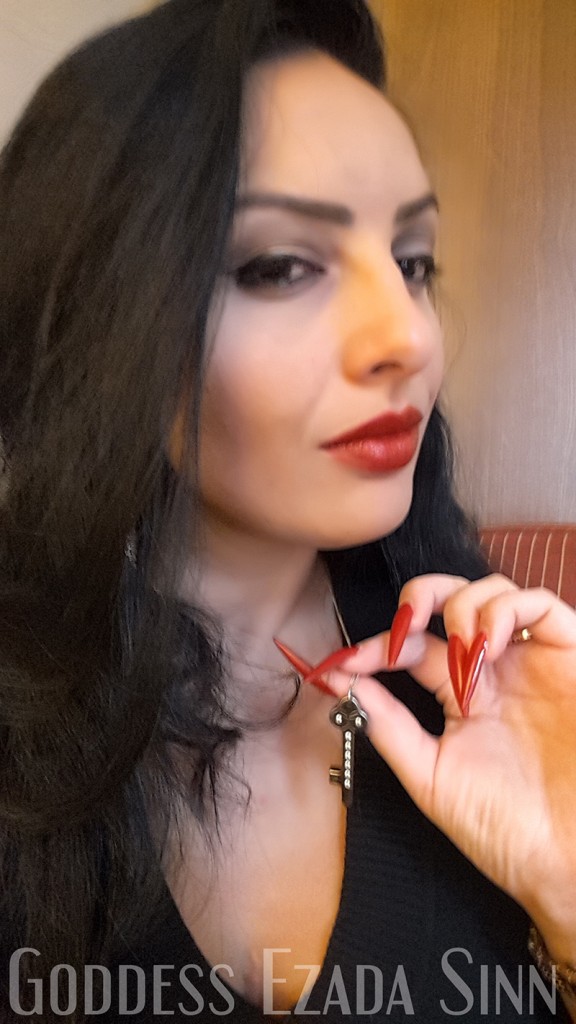 i shall not waste the space here detailing my dilemma.  You can see me squirm minute by minute, all in living color in the clip "The torment of false hope."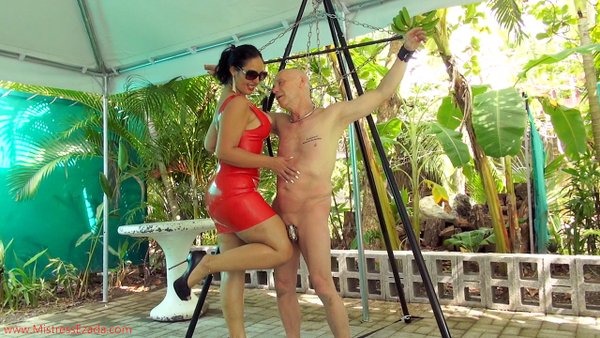 Now sit's balls aren't blue, they're bright purple, swollen, swelled, and inflated.  i'm tired, wasted, drained of energy and pray for an early evening retirement to bed.  Yet, the last evening's dungeon session has started and Goddess has no intention of letting the nighttime activities pass Her by.  Goddess is radiant as She whips, torments and toys with others.  At some point, i'm ordered to go grab all the rope i can find.
sit returns to find a bench placed center stage.  i kneel to deliver the rope, yet Goddess pushes my forehead back, Her wide eyes cut through me.  "sit, ON the bench, ON your back, NOW."  First, She securely binds my arms then feet.  The bench has wooden slats and is perfect for tightly wrapping rope around a body.  In the end, the only thing i can move is my head.  Those cock and balls are fully exposed.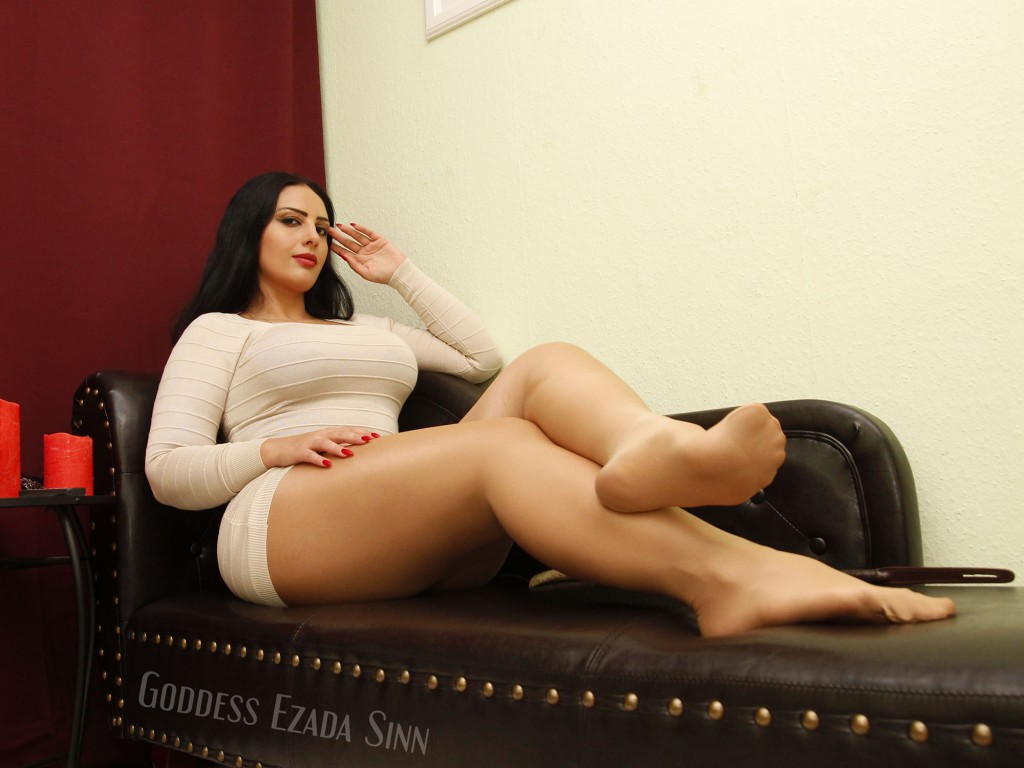 This afternoon's T&D session was just a walk in the park.  Goddess takes me on a ride like no other.  She steps on the gas, brakes hard right, grinds the gears, turns left.  sit has no idea where Goddess is headed, i'm just the object being ridden, and rode hard at that.
Smother sit's face, work me up to the edge … deny me.
Caress my exposed inner thighs, edge … deny me.
Sit on my legs, rape my nipples, edge … deny me.
Continually toying, edging, backing off, edging again … deny me.
i had no idea Goddess was so adept at this game.  She plays me like a violin and sits pleads "just break the strings please."  How much can i take?  Then out of nowhere real fear sets in.  Goddess is holding a bottle of liquid hot sauce.  Oh f-ing please NO, i've been down this road before.
Scroll down to comment: "stoney // July 18th, 2015 @ 4:07 am"
READ IT, you'll understand why i'm freaking out.
She slips on latex gloves and not just a few drops, but a palm full of the searing peppery stuff.  Her sit's cock is already raw, and now She's setting it on fire.  Goddess uses the sauce like lube all over sit's cock and balls, i am assuredly screwed; my genitals are smoldering.  i am begging, maybe crying as the ropes hold my body securely glued onto the bench.
Goddess straddles my face to smother my pleas.  i desperately need to breathe when She rises to let me see the crowd  that has gathered to watch Her performance.  Some even video the scene.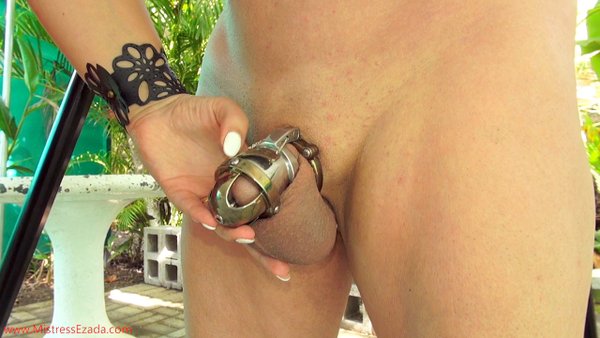 Goddess towers above me and sharply shouts "sit."  i look up, and She is again holding the bottle of hot sauce, draining it all into Her hand.  i beseech Her "please no."  What a stupid slave i am.  She leans over me like a cat, gingerly lowers Her hand of affliction just brushing sit's limp and fire roasted red cock.  She circles my balls but drops lower.  The panic in my eyes meets the FemDom passion in Hers.
Some point later, Her fingers slip into sit's man pussy; the hot sauce invades my sphincter.
i am in the most intense pain i have faced all week.
Goddess walks away to remove the gloves and cool down.  i remain fastened to the bench in a massive tidal pool of sweat and smoldering flesh.
She has teased Her property.
She has denied Her property.
She has ravished Her property.
i am just a slave of the Goddess Ezada Sinn.