After 6 months of distance training I decided to meet poodle for the first time, in London. he wrote the story below while waiting for Me in the airport.
you've been in Goddess Ezada's distance training for several months, followed Her orders, tried your hardest to amuse Her. Then you receive the message you've been waiting for "I want to meet you in person soon." For me, this seemingly simple message was enough to fill me with a whirlwind of emotions anticipation, nervousness, excitement & arousal.
As the day draws nearer the excitement increases, but the nervousness comes with it. A plethora of thoughts and doubts go through your head; "will She like me", "will i be able to prove myself worthy of Her", "can i take the pain She requires", "can i serve to Her standard" and the main one of all "please don't let Her down".
It is the day before our meeting and Goddess calls, i jump at this unexpected honour. Nervousness kicks in, but it is coupled with excitement. Goddess has such a beautiful voice it is impossible not to be captivated by it. When the word dungeon comes up the nervousness comes back. The dungeon was expected, but what will the reality be? It is the unknown which most scares us but we must not allow it to cripple us. The phone call ends and i find myself thinking about Our/our meeting and the excitement comes back. The anticipation of being fortunate enough to serve Goddess makes me smile. i think about what She might do, the things i have seen in Her clips and excitement is back.
There is, however, an underlying doubt. i've trained using a large butt plug but will it be enough? i've seen some of Goddess' strap-ons and they look huge. i've been training my nipples with pegs but will it be enough? Will i be able to take enough pain for Her? Can i serve Her well enough? All of these thoughts go through my mind but the thought of proving my worth to Goddess galvanises me.
It is decided that We/we will meet at the airport as Goddess likes being met at the airport. Paramount in my thought was "do not be late", so I travel through the night arriving in London 6 hours before Her flight is due to arrive. As I wait for the bus Goddess sends me a message "in 24 hours you will be asleep at My feet like a good poodle". i smile, I have been sleeping on the floor in practice but to be near Goddess's feet is something I have dreamt of.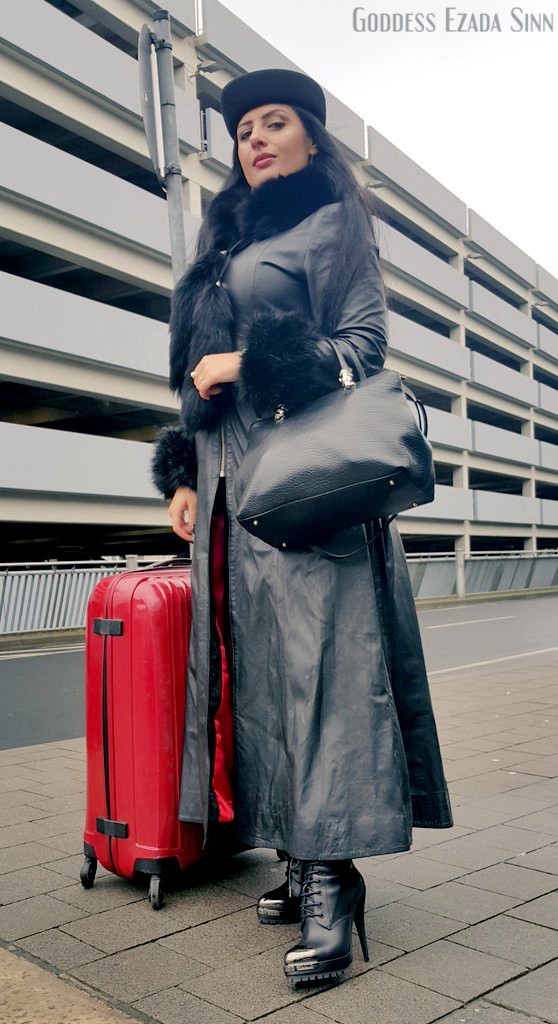 As i sat in the airport writing my thoughts as ordered by Goddess it is just 2 hours until Her arrival. i am struggling to contain my excitement. Goddess post a picture on twitter, She is at the airport dressed in the most amazing leather coat and my heart skips a beat. She looks so beautiful, i can't believe i am actually going to meet Her. Excitement is now overcoming nervousness, this is after all the moment i have been waiting for what seems like the whole of my life. It is now just an hour until Goddess Ezada is scheduled to arrive, the anticipation is killing me. The minutes seem to pass so slowly. Another look at Her image makes my heart skip. i don't think i will believe this is happening until i am kneeling in front of Her. Just ten minutes have passed but it seems like hours, what will i do when i meet Her? i stand at the meeting area in the airport and i see Goddess arrive, but She has not spotted me and sits down. i approach Her, totally unsure what to do. Goddess puts Her hand out, I kiss it and everything seems right. The most amazing weekend of my life has just begun…..
Did he please Me? Stay tuned to find out.