Are you looking for a personalized clip in which I am saying your name? Do you have a very specific fetish that you can't find presented on My c4s store? Or maybe you just want to see your fetishes brought to life by Me?
I am happy to film custom clips for you as long as the scenario is according to My preferences and limits.
All My custom clips are filmed in FullHD 1920*1280 and come in MP4 format. If you prefer a different format, let Me know. Payment must be made in advance, after I agree with the scenario and I am ready to film it. Payment can be made via Clips4sale tribute, Onlyfans tribute, Amazon.de or Amazon.co.uk gift card.
The starting price for a custom clip is 200$. 
I usually charge 20$/min up to 100$/min. The price quotation may vary depending of the complexity of the clip. ADDITIONAL charges apply for: using customer name, complex script memorization, cameraman, multiple scene/outfit/hair/make-up changes, additional male model, props. Minimum duration for a clip is 5 minutes. Length can vary in both direction with 1-2 minutes.
For example, a simple point of view clip, 5-10 minutes long, where I am alone in front of the camera, I don't need special preparation and I can use it on My clip store costs 200$.
Additional male model is 10$/minute on top of the base fee. For example 300$ for 10 minutes simple Foot Worship clip.
I usually publish the custom clips with no name mentioned on My clips4sale store after a while. I usually wait 1 month before publishing it. If you want to be the only person to own the clip, let Me know, this is possible for an extra fee of 500$.
If you want your name to be mentioned, but no exclusivity, there is an extra fee of 200$.
Depending of the complexity of the clip and whether I am traveling or not I usually need 2-4 weeks to film and edit the clip.
When the clip is ready you will receive an email with a link from where you can download your clip.
I do not do topless or nude clips. I am happy to film classical Female domination point of view clips, humiliation, cbt instructions, masturbation instructions, tease and denial, orgasm control, ass worship, feet worship, sissy training, strap-on worship, pegging, latex fetish, leather fetish, pantyhose fetish, goddess worship, ruined orgasm, forced orgasm, taboo, whipping, caning, slave training, pet training, etc. If your fetish is not mentioned in this list – contact Me, maybe I will like your idea.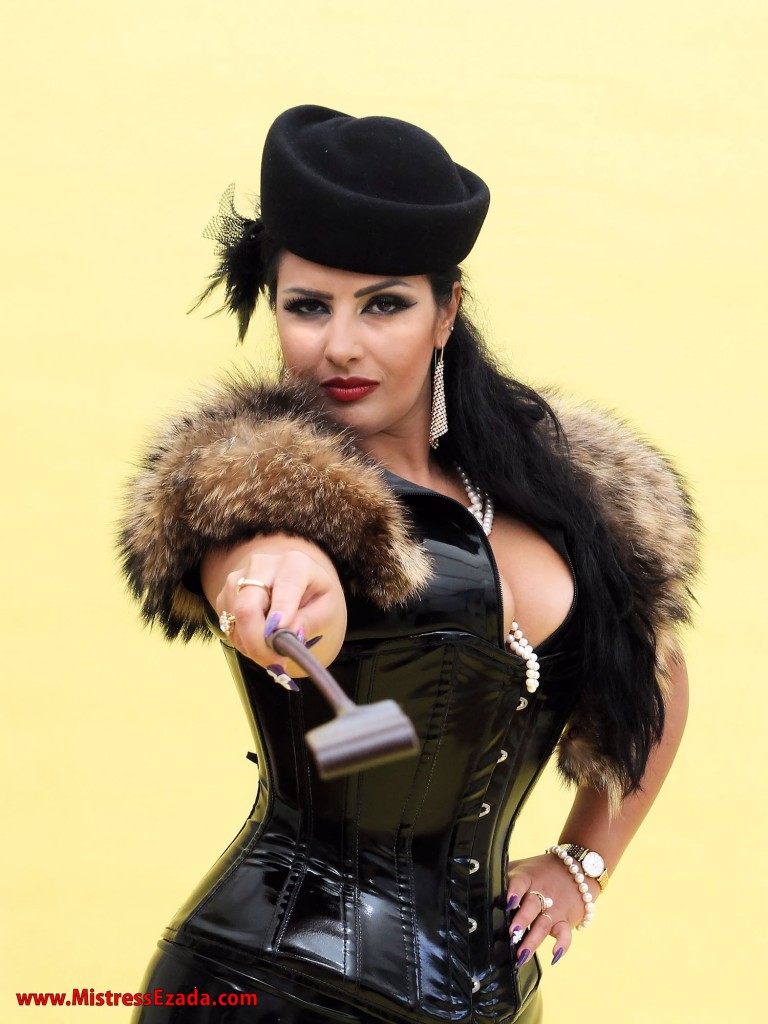 What are you buying with your custom clip fee? You're paying for My attention to your request and My time to film the clip, edit it, and upload it. I may or may not need to ask for clarification or extra details via email. you are not, however, paying for Me to read and respond to dozens of emails about your fetish, about what you did while you watched the clip, etc. And you're not paying for an ongoing D/s relationship with Me. If you feel the need to be extraordinarily verbose or to engage in an ongoing conversation, tributes are appreciated and appropriate Join My fan page OnlyEzada.com and tribute accordingly. If you send endless emails and no tribute, unfortunately I will forgo reading your ramblings in order to pay attention to paying subs.
Legal stuff: By submitting this form, you acknowledge that you are at least 18 years old & are legally permitted to purchase & view pornographic material. I retain the copyright for my content– even custom & exclusive clips. By submitting this form, you acknowledge that you will not post the clip on any forum, file sharing site, pay site or tube site, you will not share the clip with anyone for free, and you will not sell the clip privately or publicly.