Protocol must run deep in a useful slave's veins.  It's a lifeline, a thread that connects your service to the One you adore, to the Goddess Ezada Sinn.  Deference to Her protocol demonstrates your respect, regard, and reverence of the Superior you worship and wish to serve.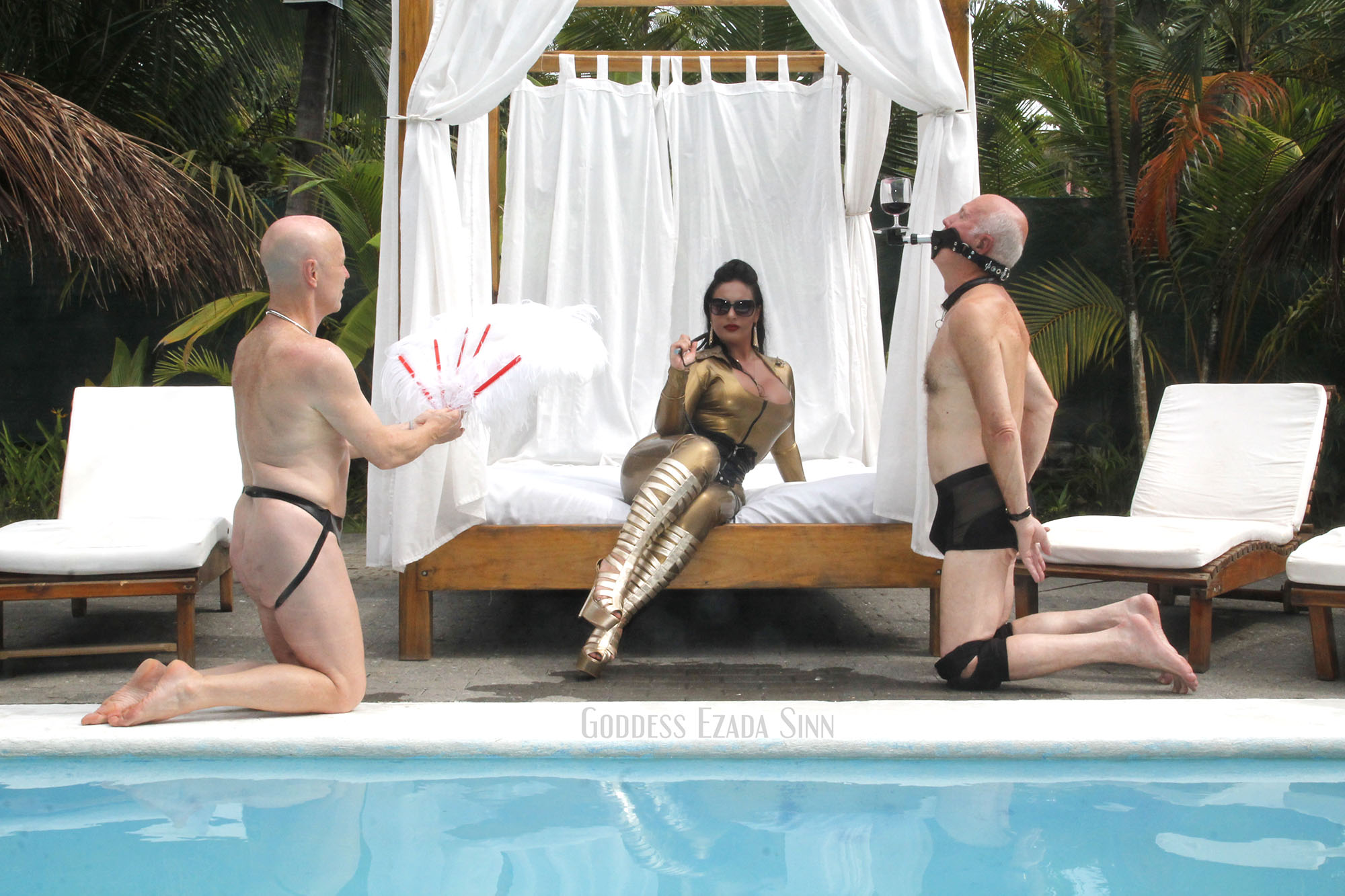 So here at a resort loaded with two swimming pools, hot tubs, sandy Pacific Ocean beach, cabanas, all day drink and food, never ending play … Goddess Ezada never for one moment let Her slaves fall out of Her Femdom protocol.  For sit obeying Her protocol is comforting, titillating, maybe even dare i say, sexy.
While early morning risers would shuffle off to the outdoor lounge to sip on coffee and enjoy the ocean view, Her sit would quietly walk naked to Her door to assume the "Waiting Position."   i would remain there until She emerged from Her room and allowed me to move.  How long you wait is of no concern to Her, ten minutes, thirty minutes, a full hour or more.  In all cases, you remain silent and still until Goddess addresses you.  Be physically prepared as this is in no way a walk in the park.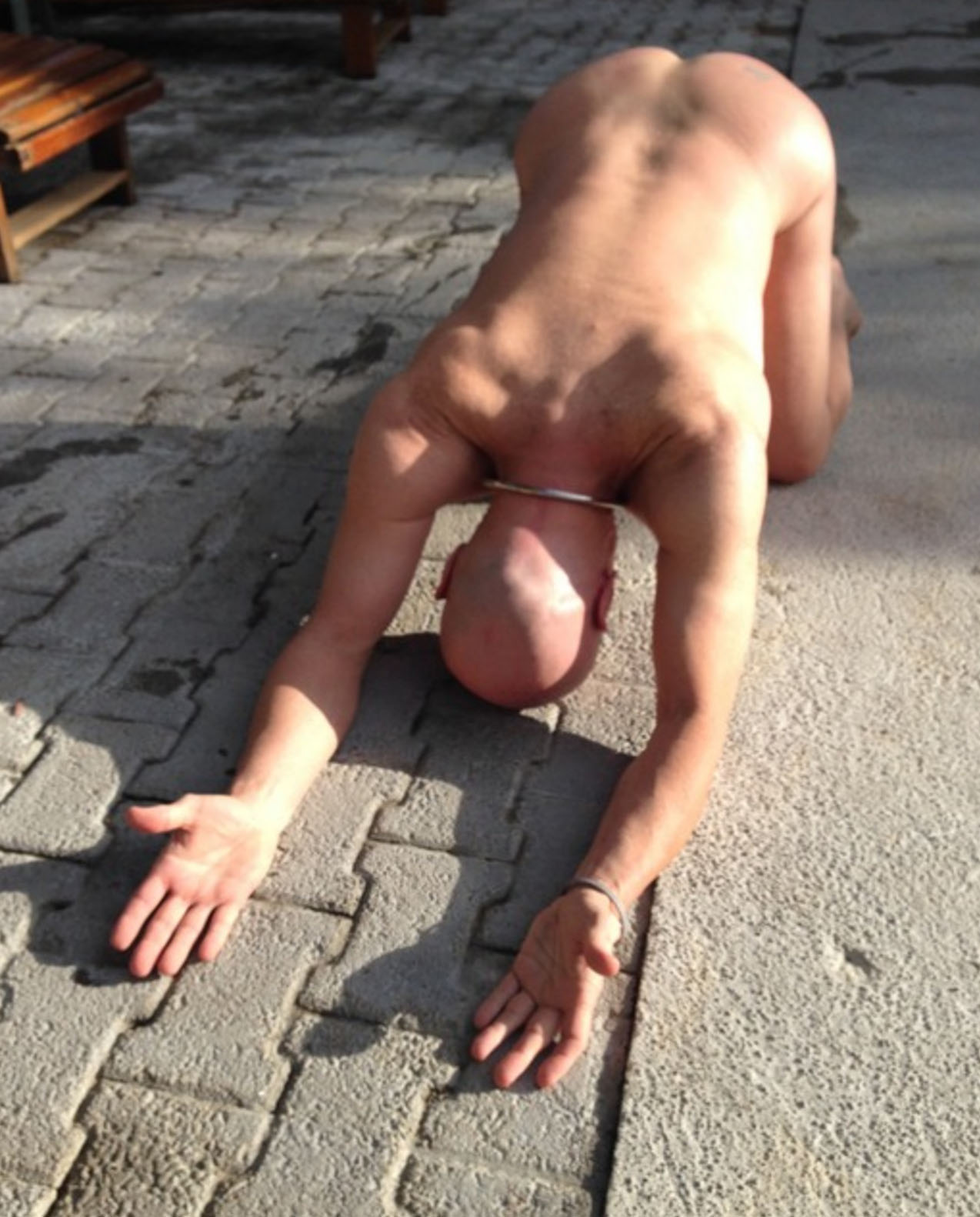 Goddess checks and drills these positions even on Her long term slaves as well as Her slave husband. Don't know the "10 positions" like the back of your hand, then be prepared to get your face severely slapped by the palm and the back of Her hand.  The corrective punishment whipping will sear your ass later in the day, unless She decides to beat you right here and now.
You see there is no such thing as a proper time or place when Goddess will correct you.  Make a mistake, don't follow a command, overstep your boundaries, or forget protocol; you are corrected on the spot, where ever that might be.  my personal experience is evidence of this truth.
There is an order in which you follow behind Goddess, no matter where She goes, even when walking through the town window shopping.  W/we where crossing a street and my attention wondered off somewhere.  She cleared the curb, and all i remember was my name blared loudly out "sit."  Her tone of voice immediately revealed Her displeasure.  i stammered, lost in the moment.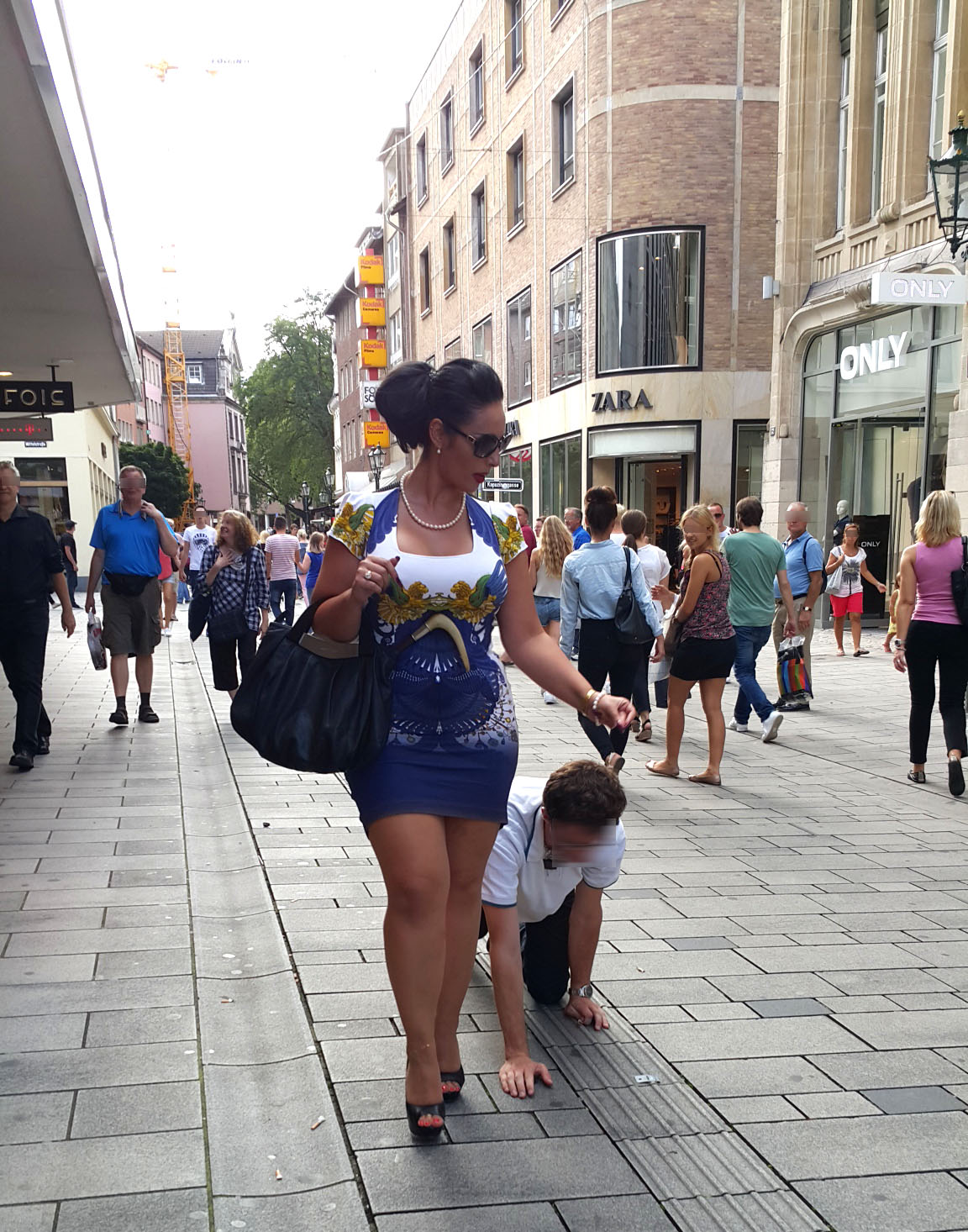 "What is this, sit?"  Her hand silently repeated the "heel" command, and i started to fall to my knees into that position on Her left side.  Yet, Goddess managed to grab my stainless steel neck collar on the way down and yanked me back upwards to within just a few inches in front of Her incensed eyes.
"How repeatedly do I have to issued a command before you follow it sit?" Goddess's voice and tone are thunderous and commanding.  The couple crossing behind us, now a few scant yards past us, stop and turn back to stare.  Note slave, don't even try to sputter out an excuse as this only makes things worse.  Goddess reaches inside Her bag and pills out a 4' snake whip equipped with a quick release spring clip on the handle end.  She swiftly attaches it to the front of my collar and literally jerks me to the ground into heel position.
Goddess continues forward with sit in heel position as i match Her right foot forward with my right hand and foot in unison step, keep a long straight spine, eyes focused downward and forward simultaneously.  W/we pass the couple that must be scrutinizing U/us as Her remaining slaves fall in line directly behind.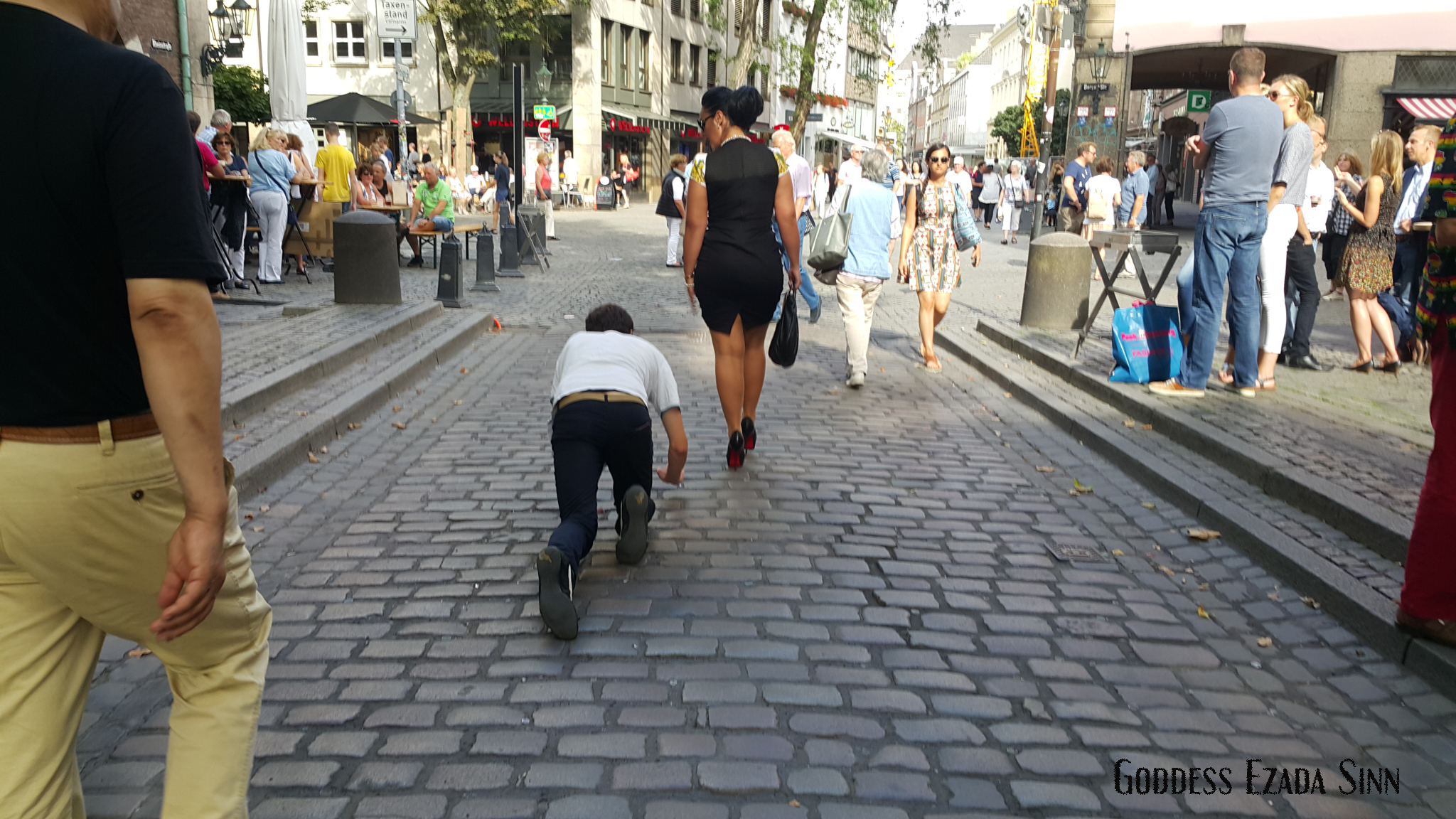 City blocks feel quite a bit longer when you transverse them walking like a dog in heel position.  your hands are exposed skin on the payment while there is an awkward gate in the slaves' pelvis as you attempt to rise off your knees to follow in time.  Goddess does not change Her pace because you're now at Her side as a human pet.  A block or two later, She stops only in front a store that catches Her eye.  She wraps my leash around a small metal street sign pole and leaves me there without saying a word.  Goddess had not given permission to "sit" so i remain in "heel" position on all fours.
You'd be surprised how many people walk past when tied to a street sign for a good 15 minutes or longer.  i don't speak the local language so i wonder what they are saying.  Sometimes they chuckle or quietly laugh, most look back at you once they have passed.  you can't run, you can't hide; it's purely public humiliation.
She returns and grasps the leash of Her human pet, moving forward further down the main street in town.  Forget guessing how long this treatment will last, it's not your call; it's your punishment for not following protocol.  By the way, stone lined side streets hurt your hands with far greater efficiency.  That just happens to be the slave's problem, not Goddess's problem.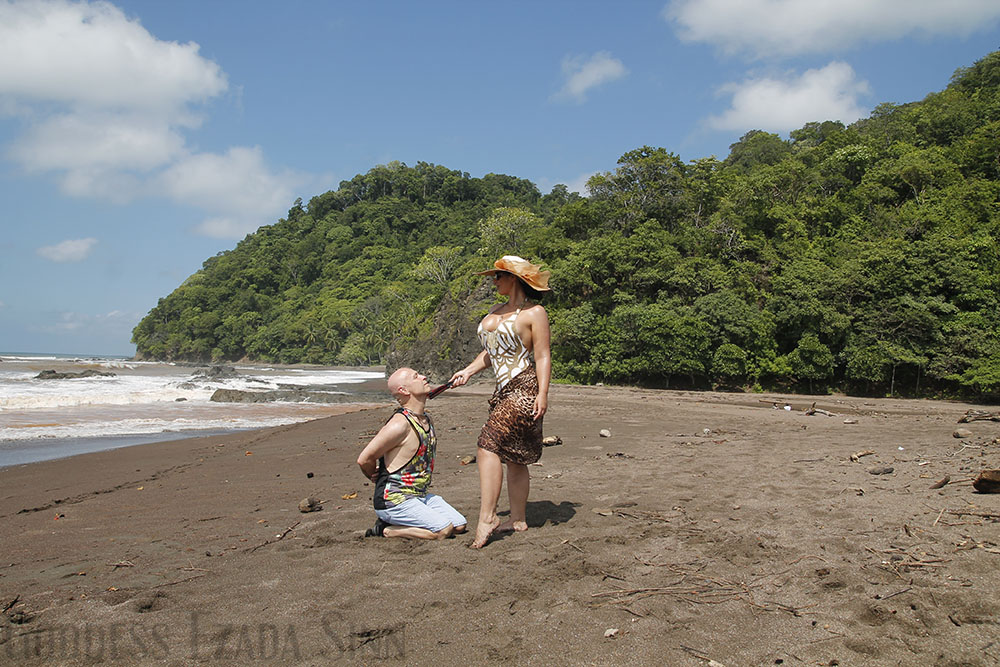 So a public setting with not save you from Her desires or corrections, what about a semi private gathering of FemDommes.  sit's firm suggestion; study, learn, and perfect high protocol as Goddess Ezada defines it.
Fail to impress Her friends, oh please no.  Screw up or worse lose your temper and you've just cooked your goose.  Read what actually happened to a long time slave of Goddess Ezada's named medor.  he embarrassed Her outright in front of a private gathering of Female Femdom soul mates.  Years later medor is still trying to recover lost status.
Goddess Ezada does not easily forget, nor slave will you easily remember.  Her website is chocked full of information, Goddess's slaves write blogs about their experiences, so don't assume you can print out ream full of pages to study on the short plane ride over to serve Her for the first time.  If you sincerely want to apply for the position of a slave in Her stable, take the time to prepare for it.  First impressions only happen once.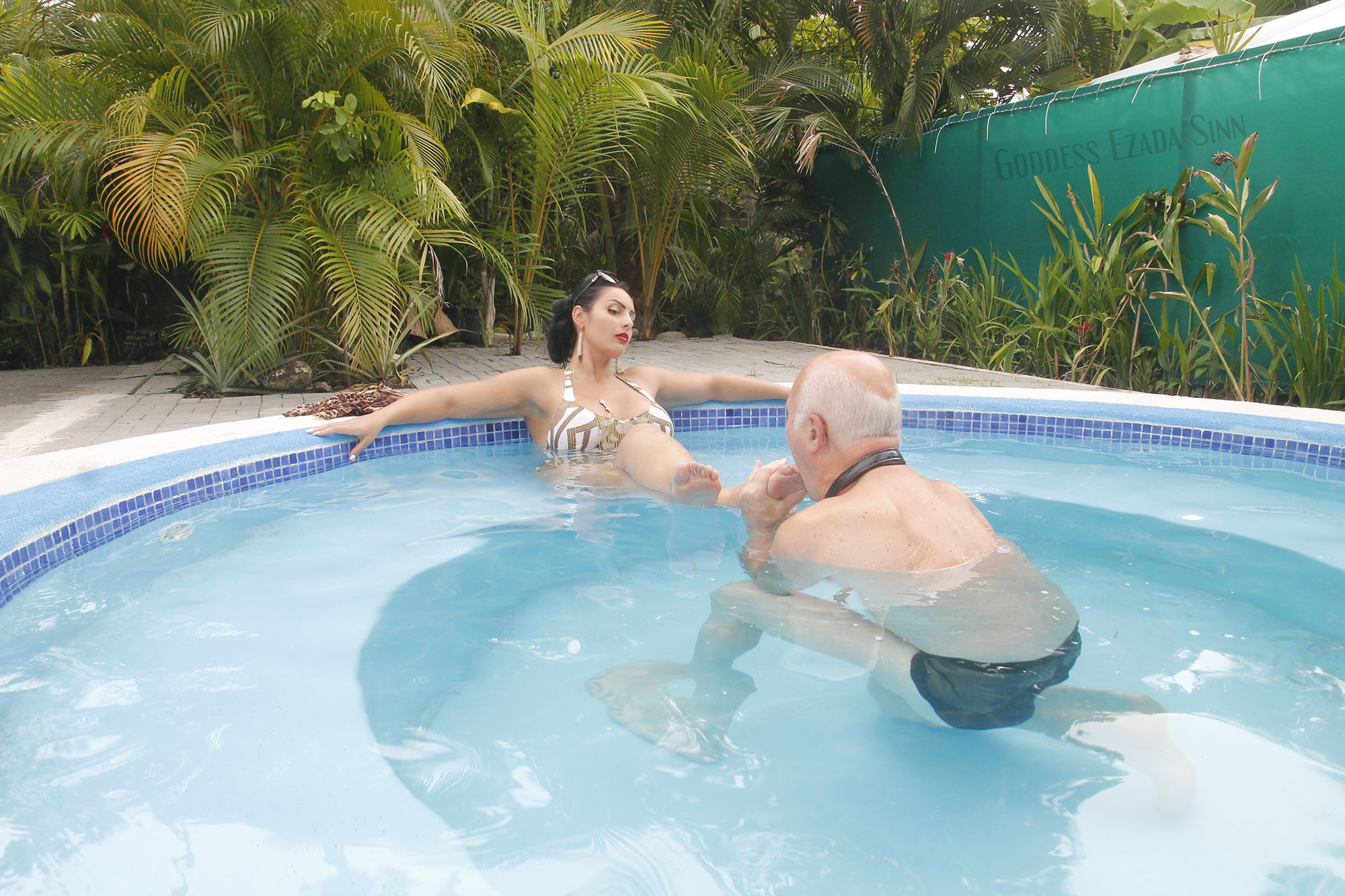 There are so many protocols, so many directives, so much common slave sense that this chapter would venture forth into perpetuity if we even scratched below the surface.  Yet, what about protocol around Her in private?  Is there an actual difference between how you serve the Goddess Ezada Sinn when in public or in private.
slave sit loudly shouts "NO," fundamentally there isn't difference.  my male ego has felt the sting of correction where W/we are alone or in public.  Protocol is about understanding and showing your place so She or others easily understand your subordinate status.  It's simple really, Goddess is the Superior and you are the inferior.  Be respectful, be subservient, be humble, be menial as you are positively beneath Her.  Remember this journey is all about Her pleasure, not yours.
At times humiliation will be the direct result of you showing disrespect, disgrace, or dishonor for Her rules.  Sure you might feel the prick of Her voice, the slap of Her palm, the sting of Her cane, or the bite of Her whip, yet that's nothing compared to the failure to impress Her or worse case the ultimate pain of final dismissal.
Prove wisely that you want to be Her slave.  That's what you really must do.