I heard the tinkle of the slave bell, so i immediately dropped everything I was doing and went to the foot of the Queens throne as was the instructed procedure. I assumed the waiting position, hands upturned and awaited further instruction.
After five minutes my Stapana entered, She stepped on both my upturned hands as She walked up the step onto the raised platform, and then took Her rightful place upon The Throne. She stretched out one of Her magnificent booted feet and commanded   "Worship my right boot now slave, full strenuous tongue action, and then I will tell You some  news". I started to lick every inch of my Stapanas boot, enjoying the taste of the leather mixed with my own saliva.
For another five minutes I continued like this, bathing the toe, heel and sides of the boot of my Goddess with long servile tongue strokes. Eventually my Stapana raised Her boot a fraction so the sole was more exposed, this was a subtle cue for me to lick the underside of Her boot, dirt included, also at this  stage as was customary,  I was required to raise my eyes and look at Her in all Her majesty. Her beautiful eyes twinkled as She looked down on me, Her slave and property debasing himself in front of Her. This was how it should be and was now the natural order of things within Her Queendom. Eventually She addressed me "My Slave, you are  in for a lucky treat, coincidentally two of my closest and dearest Domina friends will be flying in to Europe from New York later today and as I learned they would both be travelling on the same day to the same city, I invited them both to stay here so we can all catch up. They are both sublime and supreme lifestyle Goddesses and will both  be staying here for roughly 24 hours before travelling on. This is a unique opportunity for you Slave to experience true female supremacy, and to be honoured to serve and worship two other Internationally reknowned Dominatrixes. I am counting on you to not show me up and to be on your best behaviour, you will serve both of these fantastic ladies as you would me, your owner and the very basic tenets of femdom guidelines such as averting your gaze at all times, not speaking unless spoken to and your slave head being below all Dominas at ALL times must be strictly adhered to. I want them to see that you have been trained to the highest level of obedience. You will be lent out to them for the full 24 hours and they can use you in any way as they see fit. Is this all understood slave"?
"Yes Stapana" I replied, "can I enquire as to the name of these two divine ladies"? Stapana slapped me full across the face. "Do not ask me a question out of turn slave, you will find out in due course and you will recognise them  immediately, now get cleaning up this place, I want the whole dungeon to be themed in the colours red and black, all benches and thrones, just like some of the OWK rooms before  it closed. I also want three thrones so get the other two out of storage in the box room, quickly now, I will inspect your preperation later and if not to my liking you will be severely punished, everything must be perfect", She signalled with Her hand. "Yes Stapana", I replied and again assumed the waiting position, taking my lead from her Her hand signal . My head was bowed to the floor, my hands upturned to receive the radiance of Her heels on them as She stepped down from Her throne and exited the inner chamber leaving me alone.
I rearranged the room so that on one side there was seating, three chairs and a table and on the other side there was the throne prominently positioned in the centre. I fetched the other two thrones from the box room, they were heavy and took me an age to drag them into the correct symmetry, the three thrones in a close semi circle, a regal display of femdom power. I put a step in place before the two new thrones so each Divine lady  would be able to ascend to Her rightful place with the utmost of ease. I draped red throws over black benches and lit some candles and turned on the down lighting. The whole inner chamber looked magnificent, a red and black femdom Queendom, fit for the three Goddesses that would be very soon be holding court.
Presently my Stapana returned to inspect the set up of the inner chamber. "Well done slave, the place looks great, red and black and wicked looking, they will be arriving soon, I gave them directions for the taxi, you will answer the side entrance door and usher them in". "Of course Stapana", I replied, my curiosity now reaching fever pitch as to who these two femdom Goddesses would be. I would know very shortly as the side  entrance bell sounded. I left the inner sanctum, crossed the courtyard and opened the side entrance. The taxi driver had left their luggage on the footpath and was driving away. Head lowered and silently I picked up but their suitcase and brought them inside to the courtyard, I then gestured humbly for the two ladies to enter and shut the gate after them. My heart raced as I saw who the two lifestyle Dominas were, it was the very beautiful  
Domina Sophia Larou
, a young American Goddess now based in Copenhagen  and the wonderful sublime Lady  
Mistress Shane
presently based in Antwerp. It was an honour to be in their presence and I immediately dropped to my knees and kissed each of their royal boots in turn. No one had yet said a word and they stood there letting me lick their boots as if it was the most natural thing in the world.
My Stapana then entered the courtyard and exclaimed her delight at seeing her friends. "Hello my dears, Shane and Larou, so good to see you, I see my new property has already greeted you in the proper manner, ha ha". "Yes, a good start, he seems enthusiastic" said Mistress Shane in her very sexy American accent. "Yes the correct slave greeting, you seem to have him trained well my dear Ezada, you are such a perfectionist" Mistress Larou said matter of factly. "Yes ladies, he is still in training but coming along nicely, he's very excited like a young puppy at the prospect of serving three lifestyle Dominas at the same time, true female supremacy. Needless to say he is totally 100% at your disposal to use and abuse as you both see fit over the next 24 hours". "That's good to hear" said Mistress Shane, as I'm dying to pee after that taxi journey and need a Slave toilet to use quickly, is he used to being used as a toilet?" "Of course" replied my Stapana, "he serves me in the bathroom or I use him during the night as required, he is accustomed to it now". "Great to hear" said Mistress Larou, "I always like a good compliant toilet slave also as you know, full service". The three beautiful Goddesses laughed at this last remark and then continued to chat amongst themselves as if I didn't exist. I was merely their owned chattel for the next 24 hours, my job to serve and worship them completely. My Stapand  finally gestured with her beautiful gloved hand and I carried the suitcases inside careful to keep my eyes averted from the three Dominant Goddesses. "Get the tea and coffee ready slave, my two guests are tired after their journey, and Shane do you need to use him as a urinal"? "Well yes Ezada, I do need to relieve myself and would prefer a willing compliant instead if a cold commode". With this my Stapana beckoned me to return and grasped the leash around my neck and  handed it to Mistress Shane and told her where the toilet was situated. Mistress Shane pointed silently to the ground and I at once got down on all fours. She pointed again at each boot and I in turn ran my slave tongue over each toe and heel. She seemed satisfied, said "Good boy, you will do" and yanked on my chain to follow her. I followed like a good obedient doggy, her stiletto heels clicking on the cold stone corridor as She led me to the shower and toilet area, a woman I had met only 15 minutes earlier was now leading me away to use me as Her toilet as if it was the most natural and normal thing. After all She was a supreme dominant Goddess, I was Hers for usage for the next  day at Least, as was Her divine right. (To be continued..)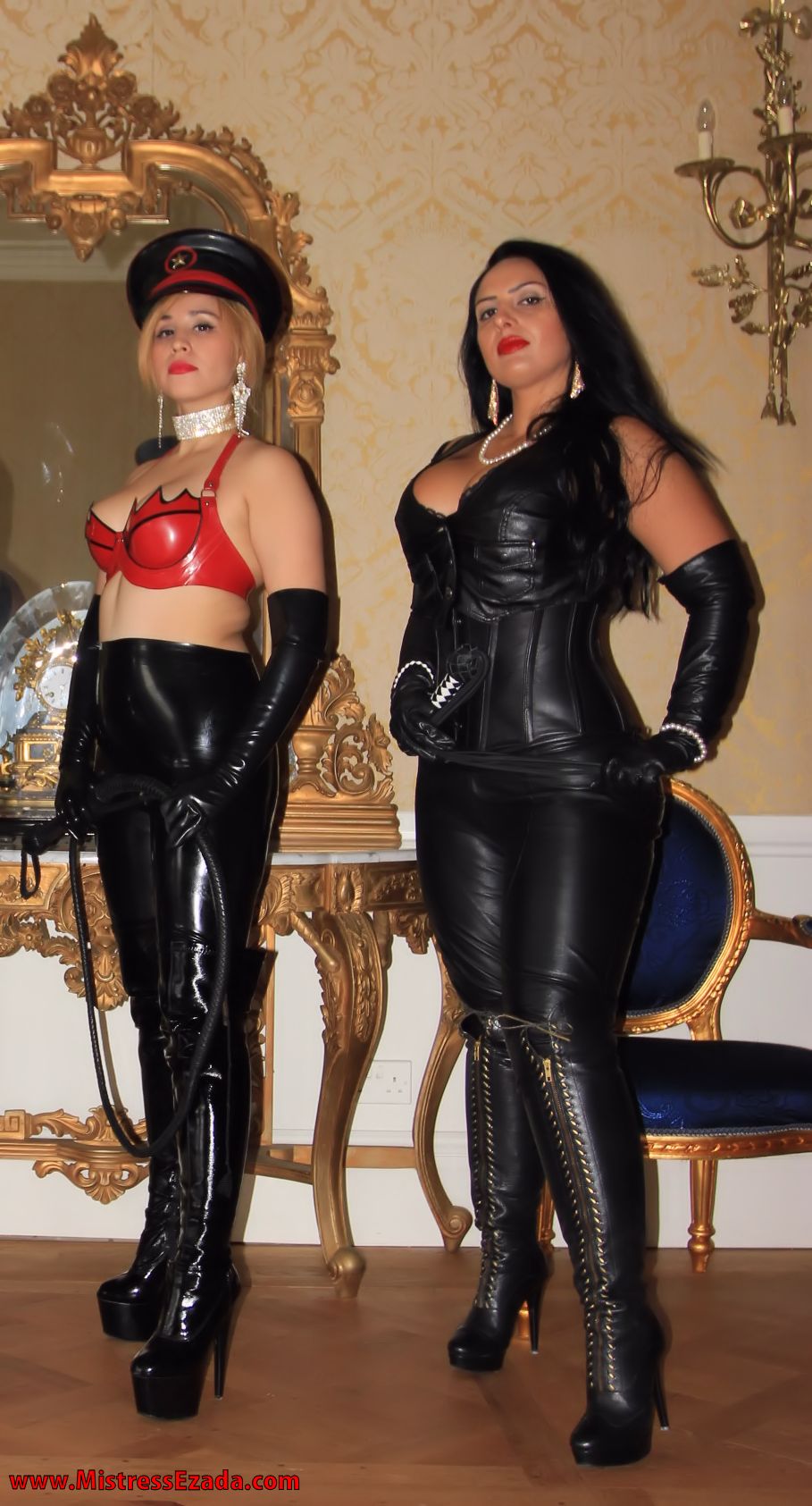 fantasy story written by devotee roger