I've just flown four hours to arrive at the door of The House of Sinn. i am vising Stapana for 3 days, something i have very much been looking forward to, i always miss Her when i am away from Her. i knock on the door and, after a few moments, sit answers the door and beckons me in. Stapana is sat in a throne-like chair looking every bit The Empress and Goddess that She is.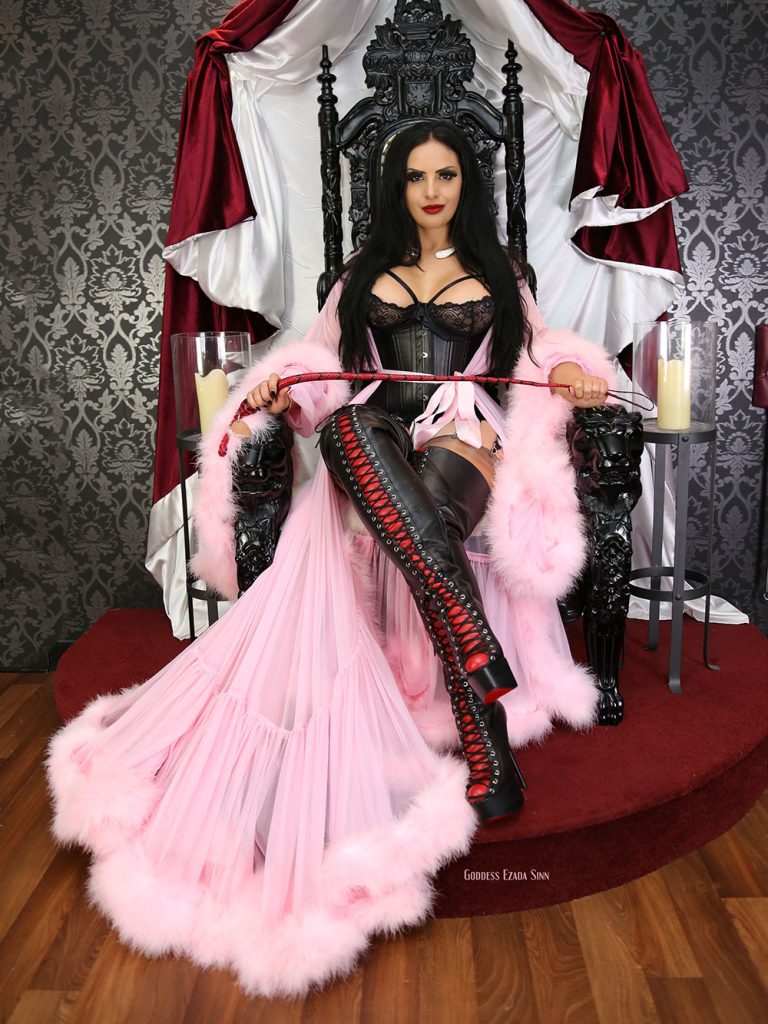 i hurriedly remove my coat and shoes and crawl towards Her to put myself in waiting position awaiting Her command. The command comes and i kiss Her beautiful feet in greeting. "i want you naked, poodle" instructs Stapana. i quickly shed my clothing and Stapana signals for inspection position, i quickly get into position as i have been trained. Stapana walks around Her property, examining and touching as She wishes, reminding me that i am Her object. She inspects the chastity and, satisfied, She directs me into collaring position for the collaring ceremony. She lays my metal collar in Her lap and directs me to lay my head in Her lap so the collar is around my neck. Locking the collar, She cups my chin and brings me head up to look into Her eyes. "you are mine, poodle. This will be a testing weekend for you, but remember, i love you very much". She waits a moment for Her words to sink in. "Now, I want you in your pink latex catsuit and hood, QUICKLY!"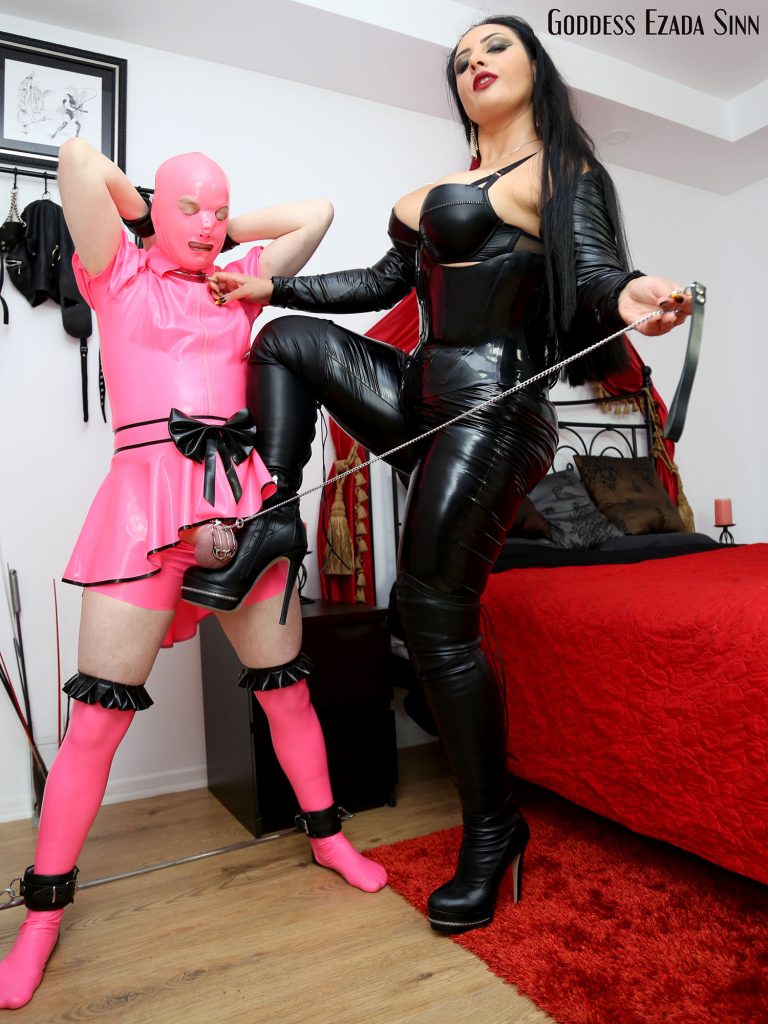 i take my latex out of my case and get it on as quickly as possible and resume my position on all fours before Stapana. Two taps of Stapana's hand on Her hip signal me into heel position. i quickly find my place beside Her and follow Her to the bathroom. "This is where you will spend your weekend." Entering the bathroom, i can see this one does not have a traditional toilet, just a toilet box. Stapana laughs, "Yes, this weekend you will be a toilet. you will remain here to be used by Me and My Lady friends. This toilet box has some wonderful features which i'm sure you will enjoy, I know I will…….." Stapana shows me two buttons on the toilet box. "This one, moves your head up, and removes the gag, so your mouth will be better position to accept Our waste. This one, moves your head back down and replaces the gag when We have finished." Stapana looks at me with amusement showing in Her eyes. "There is one more wonderful feature, this button here is connected to a set of electrodes which will be on your sensitive areas. A press on this button will make sure you open your mouth for Our waste. Of course, it will also be used just to amuse Us. Now let's get you ready."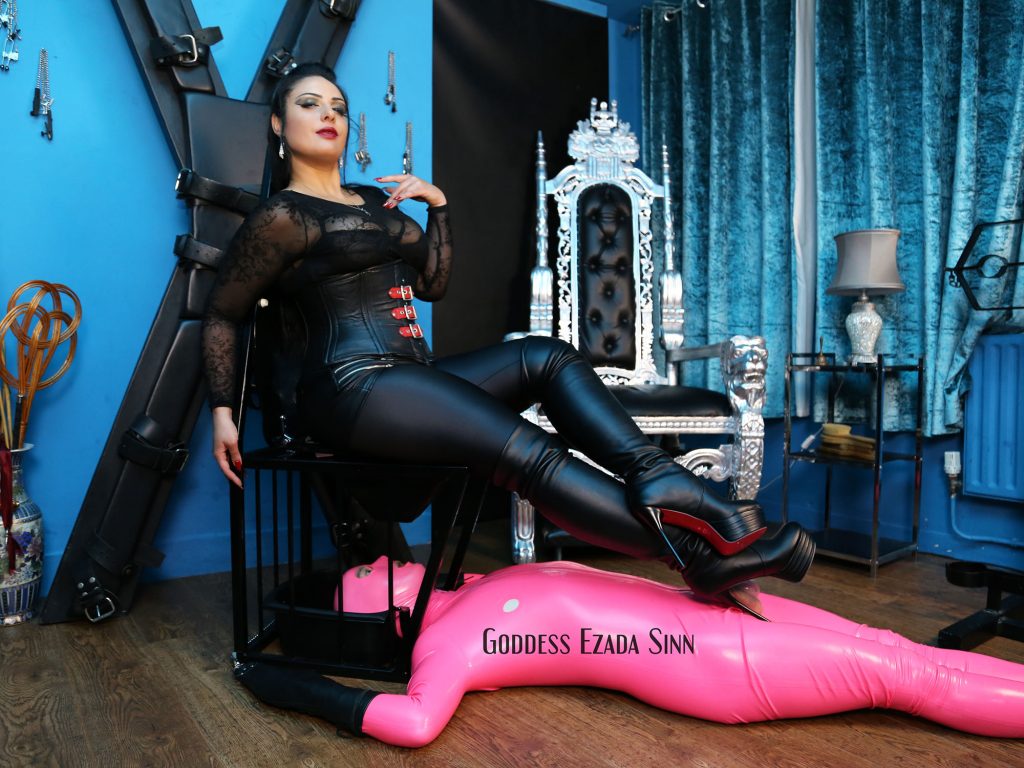 A blindfold is fitted to my head. "you will taste Our waste, but you are not allowed to see its source. Now, lay down and put your head in position." i quickly find my head secure in position and the gag in my mouth. my hands are secured to the side of the box and my legs are tightly secured together. "Don't want you running away now, do we" laughs Stapana. Next, electrodes are fitted to my nipples through the handy holes in the suit. i feel Stapana open the crotch zip and fit electrodes to my metal chastity. "Now let's test the special functions out." Despite these words the sudden shock through my cock, balls and nipples seems to come with out warning. i try to cry out but the gag keeps me quiet. i hear Stapana laughing, clearly enjoying my suffering. Stapana must have pressed the other button as i feel the gag pop out and my head moved upwards. A press on the other button lowers my head and the gag is back in. "Wonderful" says Stapana with glee in Her voice. "Now, i have been preparing a drink for you this morning".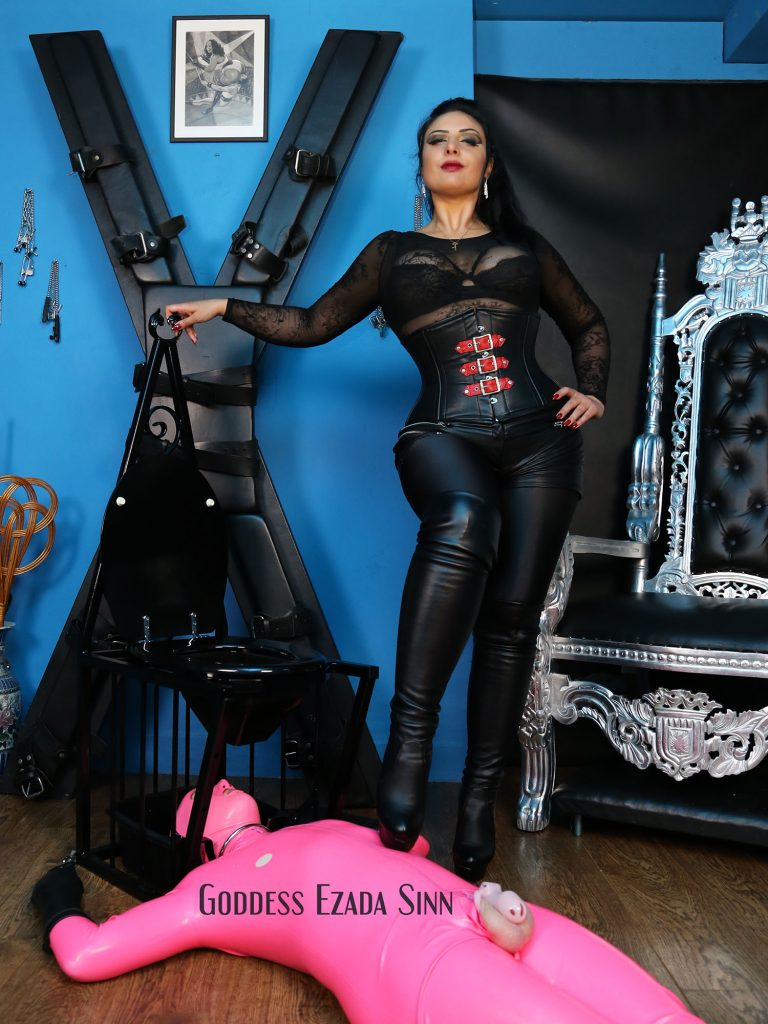 i hear Stapana sit down on the toilet. A moment later the gag is out of my mouth and my head moves up. i can smell Stapana's heavenly scent, but not touch or see Her. The lack of sight is disorientating, i have no idea when Stapana will begin to pee. This is soon solved as i feel the warm liquid in my mouth, it catches me a little by surprise. It is warm and bitter, i swallow as i have been trained, not wasting a drop. Stapana is not finished though, She is controlling the flow. my mouth fills again, and i swallow, gagging a little at the amount of liquid i find in my mouth. It seems to go on for a long time, time after time my mouth is filled to the brim and i swallow Stapana's divine nectar. Stapana really has been saving this up. Eventually Stapana is finished, my head is lowered and the gag fills my mouth again, along with the taste of Her divine liquid. "This was an easy introduction poodle, later it will be my shit in your mouth." Stapana laughs. "and later several of my friends will visit too, you will not know which one of Us is using you."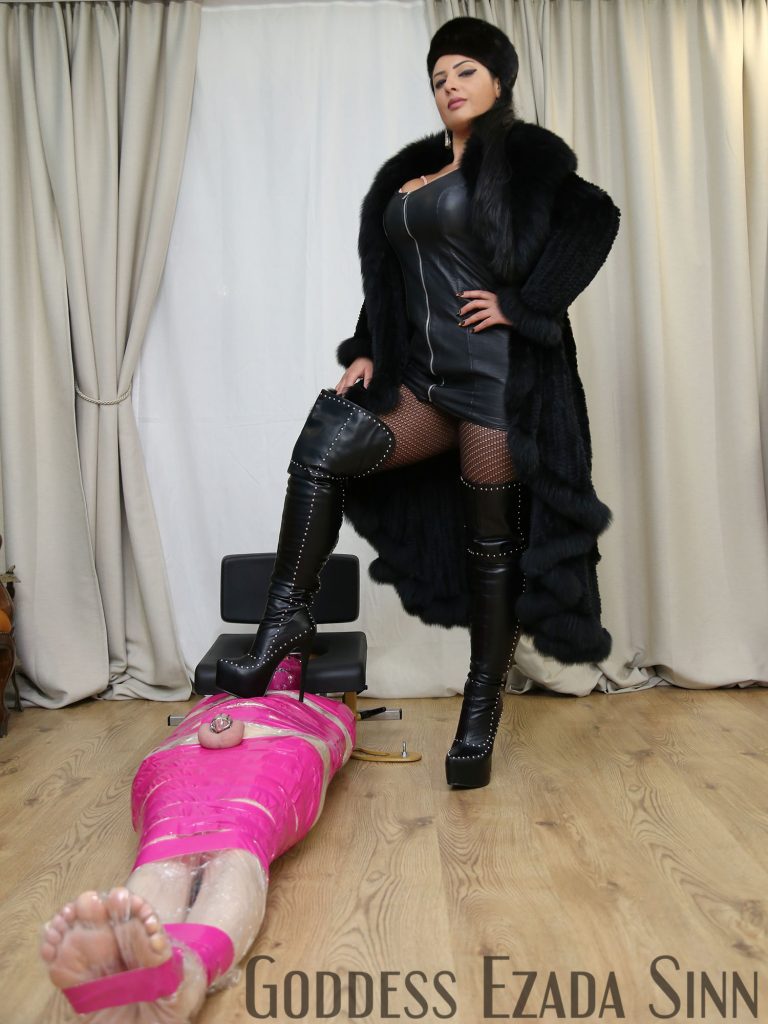 So, this is how i will spend my visit, mute, blind and used. Nothing more than an object to be used by The Ladies of The House of Sinn, the highest honour a male can achieve.