There's been several months already since I have a new slave in training. I call him "sit". Because he is a tool for Me, because he is below Me, because he is useful to Me, because he is always there, waiting silently for Me to use him when I want. I am pleased with My sit and this October he will serve Me in person in Costa Rica, at the DommeTrip event. I like when My slaves in training share their stories with everybody – this is the best way for My fans and followers to learn how I like to be approached, served and how I like to train My slaves. If you like the story below, read also his
amazing blog
.
"There are instances, when Goddess Ezada plainly pulls me to my knees, in utter surrender at my weakest of moments.  She claws and rips my mental fortitude and physical skin bare to the bone.  The reasons are numerous why Goddess rattles my cage; Her eyes, Her smile, Her figure, Her wardrobe, Her whippings, Her dominant Female stature, Her vicious imagination, Her sadistic glee, it seems Her sit could go on and on without end eulogizing Her virtues.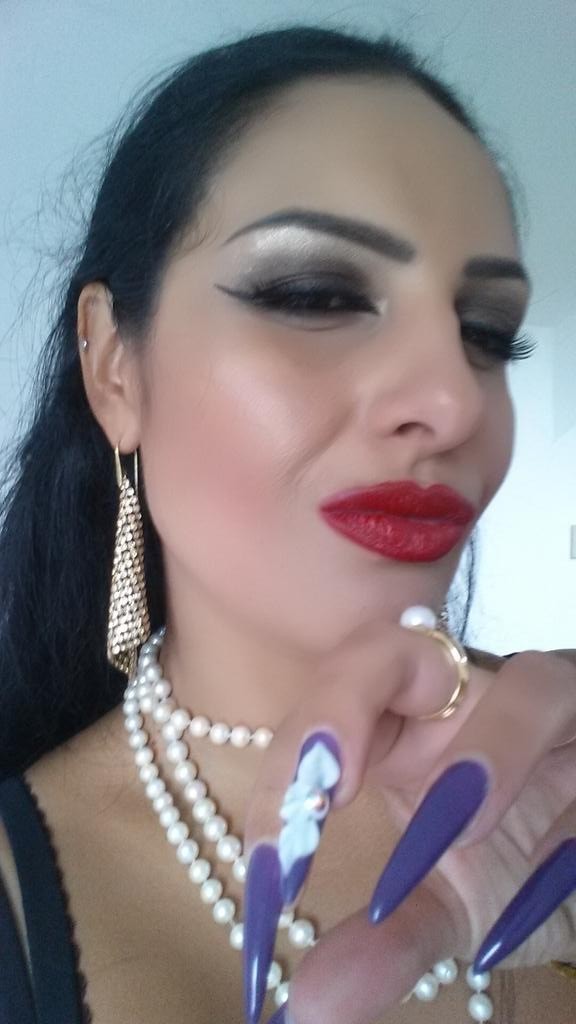 One of the first videos She ordered me to watch, was one She created for Her "stiletto nail bitch."  i remember every moment of that video so vividly.  Her long stiletto nails, meticulously painted in brilliant hues of purple and adorned with detailed white flowers and pearls.  Goddess kept weaving Her hands methodically around in front of the camera lens.  Those fingertips caught my fancy, yet Goddess had me locked in chastity while viewing the video.  i am sure She knew, well ahead of time, that the cock cage would prove confining, restrictive and painful.
Her nails glistened, entranced, and captured me.  Her hand movements waxed hypnotic and completely mesmerized me.  Her slave's cock was swelling, bursting, and erupting at the seams, with no relief in sight.  Still Her nails pulled me in deeper and deeper, to a place of utter capitulation and defeat.
There i was, completely vanquished, overwhelmed, and conquered, with my head tipped back, neck exposed, mouth opened, and dry.  Goddess's own eyes revealed the depth which She has just raped and emasculated my soul.  The smile on Her lips haunted me with the truth of my resign and surrender.  The five points of desire, in each hand, held me like a ball about to be tossed up into the air, a toy to be fetched.  Her stiletto nails grabbed my soul and left me breathless and exposed.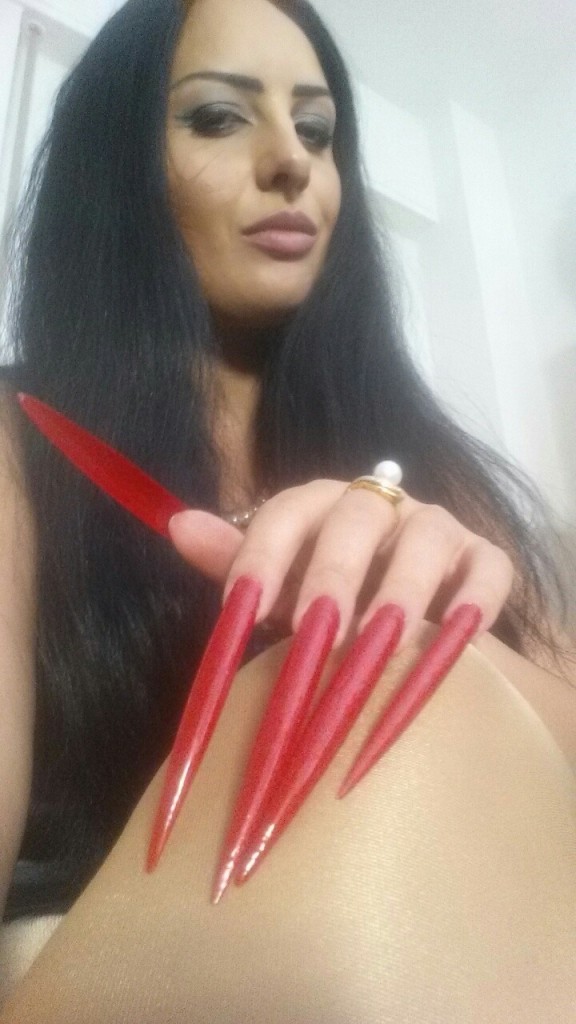 There are some nights, after evening altar's worship, where i just can't shake the image of Her stiletto nails from my mind.  i silently beg to feel their magic touch upon my skin, the pressure of their sharp pointed tips pricking into my dermis, torturing my flesh.  Her stiletto nails personify Her already magnetized female lure and temptation.
Goddess Ezada's nails drive me to the weakest place a slave-in-training can inhabit.  A locus in which nothing else matters but Her control and Her ownership of me.  Her stiletto nails help drive me deeper to the point of no return and ultimate abandon and servitude under Her rule."