Usually I would take slave s. down with Me for breakfast to serve Me there. These hotels all have a huge and sometimes confusing breakfast buffet. The quality of the food for the most part is very good but in the morning I sure do not feel like wandering around and searching the bits and pieces for My breakfast plate together as if was on a quest for the holy grail. So in My holiday manual that slave s. had read and studied on the plane, I had given him exact advice of what I like for breakfast. As the variety of hot and cold European and Asian dishes was usually so abundant, I would then walk up and down the buffet once and point out to him the food I felt like trying, mostly fresh fruit that I really love.  slave s. would then collect that on different plates, arrange it nicely and serve it to Me from a tray. While I was eating he was kneeling on the floor next to Me and when he had behaved well so far I would feed him with some of the leftovers of My opulent breakfast.
Once again, My valued readers might not believe this, but never ever has anyone approached Me and complained about the kneeling slave. It was as if he hadn´t been there for the rest of the world. A humble invisible servant at My side.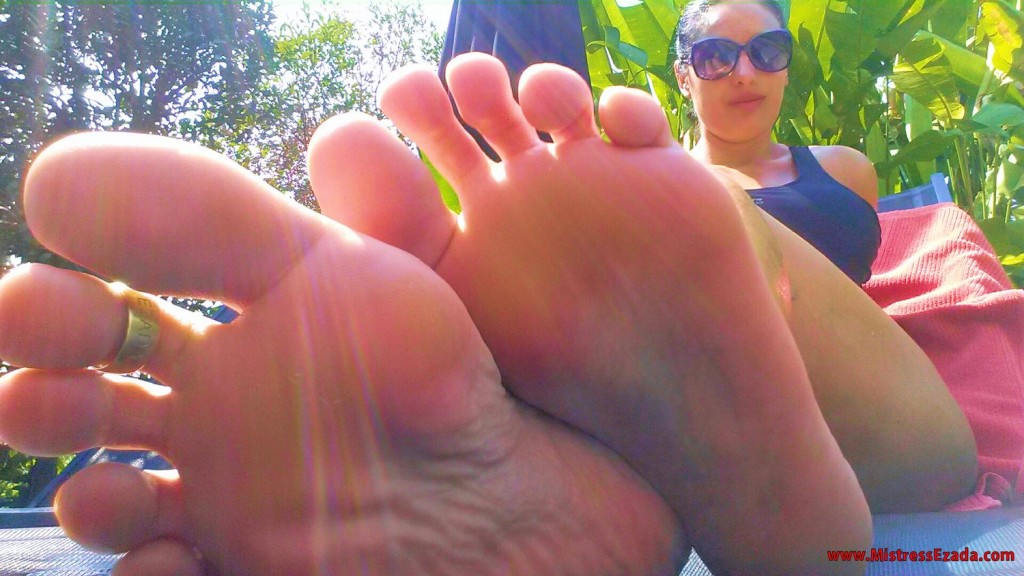 Before I had finished My breakfast  slave s. had to return to My room to tidy that up together with the hotels chamber maids. During the preceding day and at night I would normally just have left My clothes lying on the floor where I had taken them off. It was so unbelievably hot and humid in Thailand that I virtually had to change My sweat soaked outfit several times during the day. (There really were days when the sweat licked and gathered from My armpits where  slave s`s entire but surely sufficient supply of drinking water including all the necessary minerals). Having enough dresses to change was no issue, because  slave s. was instructed to have everything washed and ironed again for dinner that same evening what he had found lying on the floor in the morning. My delicate underwear had to be hand washed and the other stuff handed over to the hotels laundry service. All the shoes had to be cleaned attentively in the morning, regardless whether I had worn them the last day or not. Oh yes you might call me just a little bit peculiar when it comes to My shoes. There was a pair of boots I had taken along but never put them on because it was just too hot. So  slave s. has brushed and polished them just for the sake of the intense cleaning. I love it when My attire is always kept nice and neat for Me. And I for sure did not want to be limited in My choices what to wear over the day.
In order to test and then enhance his attention a bit I had to help  slave s. on one of the first mornings. My naughty foot had just incidentally pushed one of My silk thongs under the bed by a few inches. The observant slave sure would have noticed but sloppy  slave s. hadn´t. So in order to pay better attention next time, he had to ask Me for a dozen of face slaps in his stupid face and then instead of the usual hand washing he had to pick the delicate fabric up with his mouth and carry it to the hotel laundry exactly the same way. I told him exactly what to do after I had finished My face slaps: At the laundry he was about to have the pleasure to explain why the thong came so late for washing and why his cheeks were so flaming red. Explaining to the employees there before taking it out of his mouth of course that meant. While I was talking he looked at Me with loving eyes full of tears of devotion and humiliation. He looked so ridiculously pathetic standing there with the slip hanging out of his dog´s snout ready to carry that through the hotel. How much he had changed already I realized with satisfaction. He was no longer  slave s., no longer the disobedient young man who had left with Me for his journey. The man that had cared more about his pathetic red suede shoes than for My convenience and comfort. he had become a servant, a slave, a thing , something without a human name.
"pantyboi, now go and do as I have told you!"
he hurried away. My pantyboi. That is how I have called him ever since, how I have introduced him to others and so at the same time explained his position without the need for any more words. My pantyboi. Needless to say that when W/we did not have any more problems with pantybois laundry service after this little incident.
The longer O/our trip went, the more My pantyboi found into his role of being My slave and servant. I sure helped him with that to the best of My abilities. And the best help was to keep him constantly occupied, physically and mentally. I used him as My cycle boy, i.e. driving Me around in the hot midday sun for hours in a bicycle rickshaw. In his brighter hours I had him kneel beneath Me and lick My feet when lying at the poolside. I even let him join a group of field hands for a whole day that I had spotted from the car. Some peasants weeding on their knees to make a poor living. he later told Me that it was inconceivable and a tremendous experience for him how devoted these people were to their slave like working existence. So day after day I felt that his own wishes, plans and fantasies faded more and more and after a while disappeared completely. In fact he did not have any time or opportunity to look after himself and his own needs. I sure kept his body and mind busy constantly. And last but not least: I sure kept him in strict chastity. So it was as if I was a strong magnet and he was a pile of iron filings. The iron filings can´t help but align with the magnetic field.
I think in the end he had well earned some reward for his service. I made him a big present in Bangkok airport on the way back. he was still wearing his black rugged dress he had gotten so used to in the meantime that he hardly remembered ever having worn anything different. W/we were already sitting in the departure hall waiting for the call of O/our flight. That is, I was sitting in the outermost seat of the row so that My pantyboi could kneel on the floor beneath Me. I told him to get up and stand in front of Me. The hall was quite crowded, the flight was fully booked so quite a few bored eyes seeking some distraction from the tedious waiting were attracted by the action.
"I will tap My sole on the floor ten times now and exactly upon the tenth tap of My shoe You will cum for Me, inteles?"
His face lit up as if illuminated by a big spotlight. he nodded eagerly.
"Da Stapana mea, bine inteles!"
His right hand grabbed into his bulged trousers and grabbed the naked cock. he could now do so for the first time in weeks because I had just released him from the steel chastity device before W/we had gone through the security control. he started wanking. Right there in the middle of the crowded hall, not caring about the people watching him.
My heeled right foot started tapping. I could see that  slave s. was so aroused and horny that counting until five would also have been enough for him. But I had said ten, so it was ten. I saw some of the other passengers turn away in disgust. Some people changed places. Others could not take their eyes of the weird scene. I sure was satisfied. The voyage had led him where I had wanted him to be. An obedient follower of My orders. Immune and unreceptive for everything but Me and O/our communication. How different he had become from the selfish and self-confident male he had been when W/we had left for Asia.
… eight – nine – ten.
Upon the final tap I watched his whole body tremble and then quiver in convulsion when he jerked off. his squirting cum trenched the thin fabric and left a big dark spot in his trousers that sure would have remained apparent if My caring thoughtfulness would not have proved to be so helpful for him once more: Before W/we split to enter the plane I told him so lick the disgusting filth out of his pants before the flight attendants would come around with dinner. As s kissed My hands in gratitude his eyes were filled with tears of love and devotion.
Not My last Asia trip for sure.