Between May 13-17, 2015, I will be in Berlin, Avalon Rezidenz, with Madame Caramel, Fetish Liza and Governess Painless. If you want to be one of the slaves serving Us there, fill in the contact form: short or long slave training sessions, overnight imprisonment possible. 100% female supremacy!
"I made a dream or it's just what will happen to me…
Last night, I was dreaming at my future night in the cell of Avalon Residenz.
Before going to sleep, my Mistress with Madame Caramel & Mistress Liza said good night slaves, sleep well, and they leave the underground by laughing. The light was switch off and I start to be in total obscurity. Few minutes after, I heard the heels of my Mistress on the cold ground. She opens the door of my cell. She was wearing a big bucket full of water and ice. She splashed me from head to toe. Then She took care of watering the entire cell, especially the small mattress that I had available. She put my leash around my collar and I follow her until the entrance of the dungeon. It was difficult to walk on all fours because I have my hands handcuffed in my back. In front of the main door, My Goddess looked into my eyes and I could read a sadistic smile on this lips. She is so awesome when she does it. She said:
"You will wait Your Goddess out, in the cold. You will dry out".
She opens a little bit the electric roller, just to have the space to walk below in all fours.
"On the middle of the yard, inspection position."
Then She closed the door. This position was the most difficult because I was on my knees on the concrete floor and I was exposed to the strong wind Berlin had this night. I was completely wet and the outside temperature was around 10°C, with the cold wind I felt around 3-4°C. The time was so long for me that I can't stay in the "Inspection position". Due to the cold, I have the goose-flesh so quickly and to limit the cold feeling, I stay like a fetus. I don't know how many time I stayed here. But I was anxious that my Mistress will never come back.
Suddenly, strong lights were switched on. I heard the Mistress arriving. When Mistress Ezada opened the door, She was surprised to see me in this position. She said instantly:
"back into right positon, useless slave".
She comes back 2 minutes later with Domina Liza and Madame Caramel. Domina Liza holds in her right hand a single Tail, Madame Caramel a Bullwhip and my Mistress, a Dog whip with a metal end. They force me to go up and linked me to the fence on the river. The three Mistress was wearing leather from Head to Toe and They were so impressive that I was speechless and terrified. My Mistress said with an incredible ton of voice :
"you are not able to support this cold weather, so we will whip you extremely hard until you are not able to feel cold on your skin… and shut up. We want to enjoy the sound of our whip on your pathetic body"
They start to whip my back, my ass, my legs during 5 minutes. My Mistress gave me the hardest strokes. I felt that my back was already bloody. I can resist only few minutes before I start to cry. My Empress comes and She pulled my head back strongly so that I watch Her sadistic mood .
"you could cry as long as you want, we are no mercy tonight, piece of shit". And she spit in my face a huge load of Her saliva. Then she pulled down, against the fence, my head. She gave me 10 strokes full of force. I am sure that it was possible to see the mark of her 10 whip lashes 1 month later. I fell down on the ground to ask mercy, but Madame Caramel and Domina Liza continues the whipping with 10 strokes from each hand. Then My Mistress wants to whip my chest with 10 strokes very well located. I was full of tears in my eyes.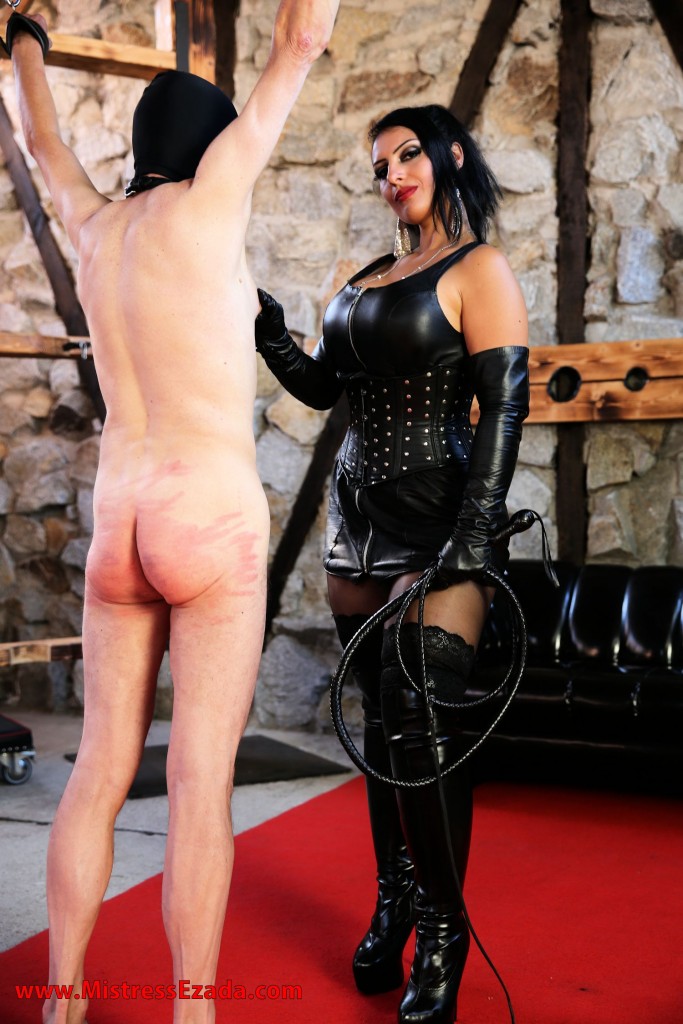 Then Madame Caramel and Domina Liza leave the Yard without any glance toward me and my Mistress lead me very quickly (so it was not possible to follow her pace) inside. I receive hard kick in my ass to go until my cell.
She said: "don't disappoint me again slave, ai inteles!"
"I want you on waiting position under your bed on the wet floor the whole night. I can come back at each time. Then She leaves the room by spitting on me."
It was around 2 A.M I was so afraid to fail again at my Mistress wishes, so I don't sleep at all during 5 hours. It was clearly impossible to stay like that in the puddles on the floor and in this uncomfortable position. So I start to fall asleep around 8 A.M Unfortunately, 10 minutes later, my Mistress arrives and She discovers me. She wakes me up by stepping on me. She pulls me off the cell and just after, she took off her beautiful but terrible black belt She wore on Her leather pants. Then She starts to apply it on my back. It was horrible. The pain from the yesterday whipping was always present and I didn't know how I was able to support more than 2-3 lashes. Moreover She kicked me everywhere: in my balls, my chest, my ass, my back, in my ribs… I don't know but maybe 1, 2 of my ribs was cracked. I was on the verge of passing out, I stayed on the ground completely broken. My Goddess pulls me by my hear until the "Mysterious and black hole".
I just look Her and She Said : "IN!"
I didn't remember how I was able to go inside because I have so much pain even to drag myself on the ground. She closes the roof and said :
"you are nothing, not good enough to be one of My slave! You will stay the next 24H here without any food and drink, is that clear piece of shit?".
Mentally, I was on the way to collapse. Why my Mistress push my limits so far? Does She want to keep me under Her Power? I am not strong enough for Her? Why I accept to live this extreme Femdom camp? Didn't I deserve to be collared by my Goddess?
1 day later. She comes with Madame Caramel and Domina Liza. She looks in a strong mood. She asked me :
"How are you, poor slave? Are you hungry, thirsty? "
I haven't eat and drink something since more than 32 hours.
"Yes" with a very small voice I answered.
My ladies friends will feed You. " Are you aware about the honor you have?"
"Yes Goddess"
Madame Caramel and Domina Liza piss and shit over me. To be honest, I just have the chance to taste a little bit the caviar of my Empress. It's not my fantasy, but it's the most intimate reward from your Goddess. Moreover I never eat a huge quantity of Mistresses' caviar. And I thought that I will do it only with my Owner. My Mistress Said: "thanks us and Pofta Buna!".
Then They leave me there in the hole covering of shit and pee. Even if I was not willing to eat the caviar, I have no choice. It was a need, a real need this time. It was very difficult but I eat and drink everything. 12 Hours later, so at the end of the Slave camp, Mistress Ezada comes. She opens the roof of the hole.
"you are so dirty, Out" She said.
I follow Her, stand up to go out. She took the garden hose and she started to wash me. It was cold water, but I don't feel really the cold on my body, now. Then we went inside and she led me in the Toilet room. Now slave, You will enjoy your dinner: She offered me Her divine nectar and Caviar. It was so good. When I finished, I wash my mouth and thank Her by kissing Her boots. She looks into my eyes and said:
"I am proud of you, My slave. you belong to Me forever. I will push Your limits again and again."
I was broken, tired, humiliated but I was so happy to be at her feets, here. And now with Her most beautiful smile, She said :
"I am going to whip You for My fun".
I never had so much pleasure to be whipped sensually by my Mistress. She is unique, wonderful and divine. I love my Goddess and it will be never otherwise.
purcelus, property of Mistress Ezada"
Fantasy written by My slave purcelus