This is how W/we arrived at the hotel in downtown Bangkok. While slave s. bustled away with the luggage I went for a drink in the hotel bar in order to give My slave some time for his additional tasks. Here in Bangkok and also at all the other stops during O/our tour, slave s. would not only have to bring the suitcases upstairs but also unpack them and put away all My clothes and belongings neatly into the wardrobe and drawers in My room. he had ten minutes for that and there was a given order he strictly had to follow because I sure did not want to cumbersomely search around for My stuff. So he had to know exactly where to place all My little pots and cups and tubes from My vanity bag in the bathroom. he had to learn that the underwear had to be in the top drawer, the stockings in the one below and so on. In fact this defined order of things was once again something he had to learn painfully during the journey. And I brought that concept to more and more perfection every day. Oh, I am so much into perfection and accurateness. And into protocol as well. It is so important that My slaves exactly follows their given orders. It will have an educating influence on their minds that are so weary in its natural state.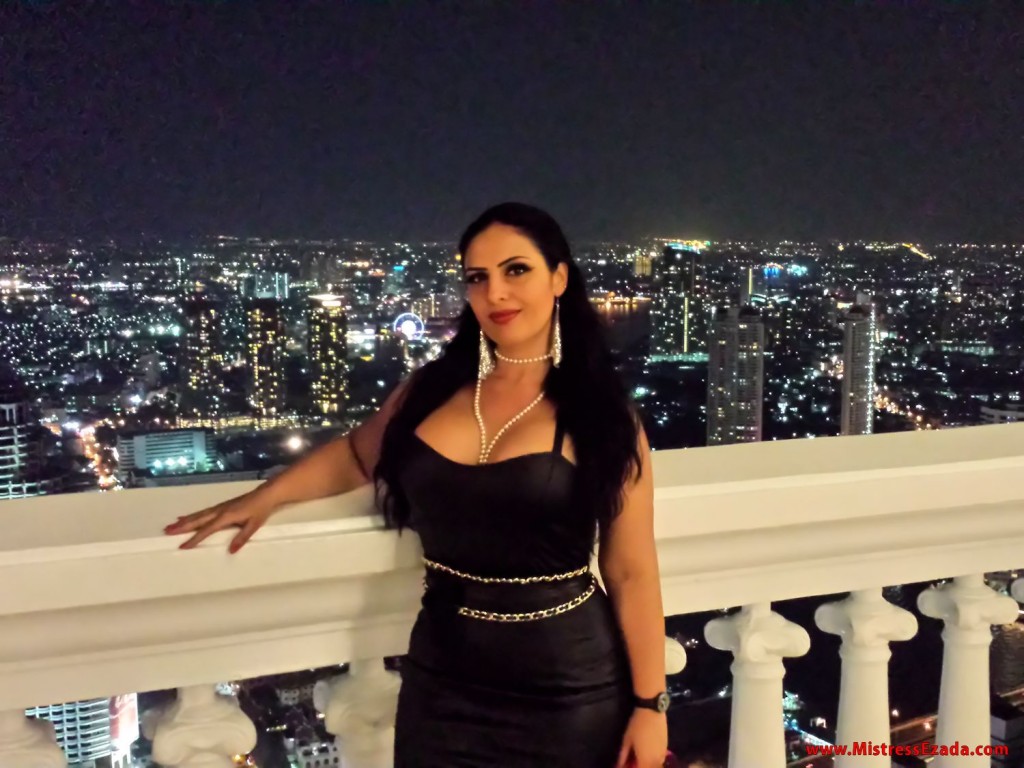 When the ten minutes were over,  slave s. would have to expect Me for inspection. That means he´d be naked and in "waiting position". For those of you who are not familiar with My positions manual (shame on you!) that is kneeling with his face down on the floor, the arms stretched out straight, the palms showing up, the ass up in the air. My whips and crops had to be laid out over the bed ready for My choice.  slave s. expecting Me for inspection does not mean that I would show up then. Sometimes I´d feel to stay at the bar or go for a walk or for dinner or whatever. So  slave s. would stay like this for hours, kneeling in waiting position, ready for inspection in every sense.
Unfortunately for slave s. My careful inspections generally caused justified dissatisfaction. slave s. learned the hard way. But he learned. For example I had told him that I always wanted to have the toilet in a separate little room and not in the bathroom. The little WC cabin makes a nice little prison cell for a slave while he is not needed. So every time I found My hotel room to not have that little extra room I had ordered,  slave s. had to see that he´d get Me another room. he should have better listened when I had told him first.
I had given order to  slave s. to book his places where he would spend the night in close vicinity to My place so he would be no more than five minutes walking or rather running distance away from Me. I always wanted to have the opportunity to call him for My service during day and night. For example if I needed an extra pillow from the wardrobe or wanted to turn the air condition up or down and did not feel like getting up from bed once more, I could easily call slave s. to take care.
Five minutes away … 300 seconds from room to room that is. I am not an unfair person, I had told him precisely from the start. All My orders are given precisely and I simply expect that they are followed as precisely. I do not see anything complicated or unfair in that. Therefore I do not quite understand why so many slaves have their difficulties with that simple concept. To My disappointment  slave s. had his difficulties. Or maybe he hadn´t listened close enough. Well this sure is not My fault. And he should have known that I would assure Myself of the adherence to the 300 second time limit.
I started the stop watch on My smart phone exactly when I had hang up the phone after I had told him to show up immediately. I pushed the stop button when he knocked on the door. Sometimes he needed seven or eight minutes before he showed up with his lungs bursting. Behind his breath because he had run for his life in his attempt not to lose too much time. What a sight that must have been, the man in the shady black dress, shaven hair, barefooted, dashing through the hall of the luxury hotel. I was astonished that they had left him in at all. But it was all in vain. he more often than not just did not make it on time. Bad luck for slave s.. Every additional second cost him one lash of the whip. His arse turned flaming red on the first night and remained like that for the whole four weeks. I can see nothing unfair in that. he only tried once to excuse his delay with the slow elevators. My whip helped him to understand that I am not interested in explanations of shortcomings or even in excuses. Not at all interested.
One of the things that I love about traveling in Asia is how submission is taken as a matter of course. Never did I encounter any resistance or objections being accompanied and served by a male footman. Quite to the opposite, I rather felt that people regarded Me with deep respect, when they understood the relation between U/us. slave s`s degradation seemed to even more elevate Me. And the longer I was there, the clearer it became for Me why that was. I understood the Asian mentality better and better during My stay. The etiquette of the people, the respect they were taught to show to their superiors from early childhood, the formal protocol that regulated their life in every detail. This was all so close to My concept of Female supremacy that My lifestyle seemed to be a perfect fit to theirs.
And it was not only the general inequality in the strange society that appealed to Me. During My travels I found numerous concepts that were genuine Femdom. Fascinated I watched what seemed to be a religious cult at the famous temple "Wat Arun" ("Temple of Dawn") where a row of people approached a beautiful woman on their knees offering her food and asking for her blessing. In anthropology museums I learned about remote matriarch tribes where women completely rule the life of their community and males are nothing but workforce following the orders of their wife's. It was just wonderful to see all that.
But back now to my own voyage and its own little rituals: slave s`s day would begin kneeling in front of My room. Sometime in the night, he would not know when, I would send him a mail or an sms telling him at what time I´d expect him to be at My threshold the following morning. As he never knew when the message would arrive, he could never really be at rest. he was forced to always stay alert and at least half awake in order not to miss My order. Because even after having been summoned for the morning he could never be sure whether there would be a change during the night. One morning he was late though, but that was only once. I made him sit next to reception of My hotel the following night and write the sentence "i have to get up on time to serve my Mistress". Just to make him remember. Not once, not ten times. But a thousand times. And for My control convenience he had to number the thousand lines as well of course. That worked better then for the rest of the holidays.
I think he did not find too much sleep in these four weeks at all. Thinking back now, I can hardly remember one full night of sleep for him. Sleep deprivation has been a recognized instrument of torture for centuries and from My own personal observations I can tell you that it really works. If it hadn´t been for serious face slaps and authoritative usage of the whip he would have been in danger to fall asleep over the day. But My deeply felt solicitousness sure kept him awake.
Again, the indicated time to arrive at My door would not at all mean that I would use him then. It meant, that he had to be there. Nothing else. Sometimes I would let him in immediately because I had waited with My morning toilet for his arrival. Sometime I would have already gone for breakfast when he showed up. So in this case he might have kneeled in the aisle in front of My door for hours. Waiting for his Mistress to return. Nailed to the spot like a waiting dog. I loved to see him like a dog. So obedient. My pet, My animal. No longer a man. he knew that leaving his post would have had drastic consequences for him upon My return. So he waited in devotion, regardless of the curious, sneering looks he provoked.
Curious about the further progress of My Asian voyage? Stay tuned to My blog for the next part to be published shortly.