by My collared slave sit
"A wise slave learns to never assume, at best we react only to Goddess Ezada Sinn's wishes and desires, Stapana's directives and cravings. She is the only One who defines the path slaves ultimately must choose to follow and obey.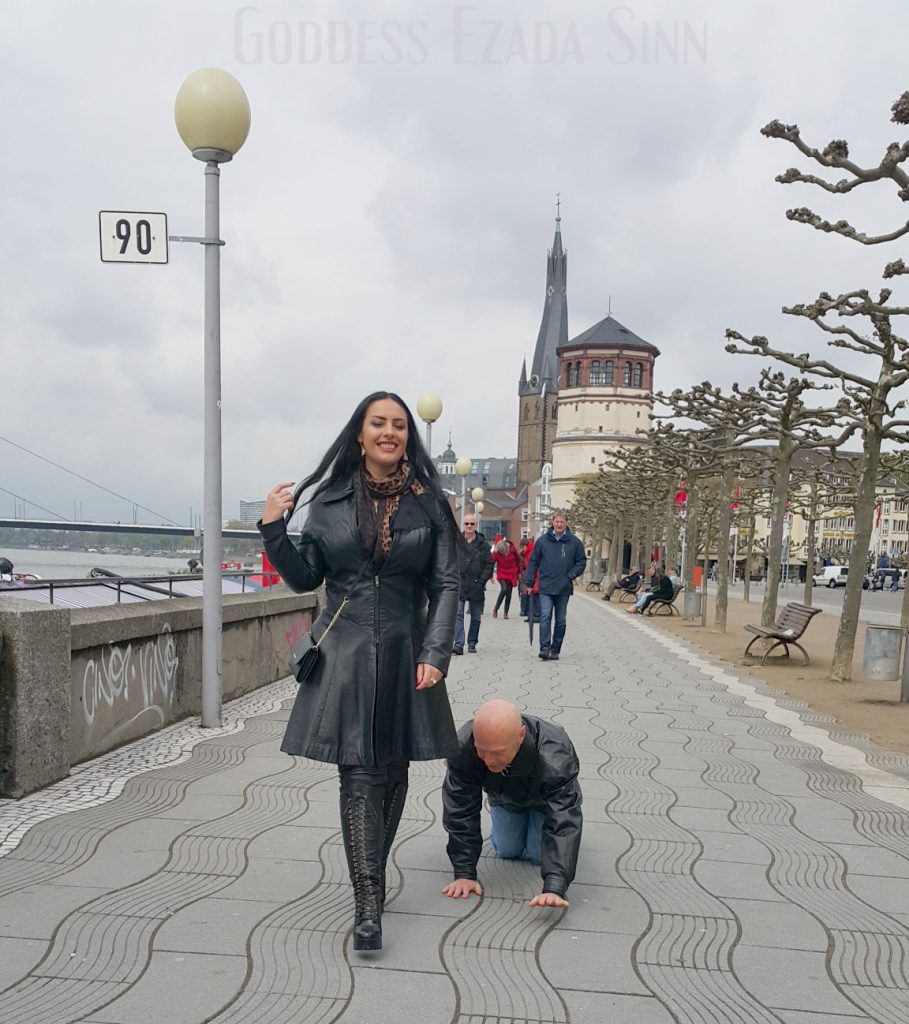 Stapana Ezada extends to us the portage of slavery and the ones who worship Her remain totally at the mercy and directive of Her whim. Yes, i fear Her whip, Her wrath when i fail, Her use of long term orgasm control and chastity, and i utterly fear displeasing Her to a point where i am dismissed forever. Still, the more robust my obedience, the absolute my surrender, and capitulation to Her will, oh those actions boil forth outright consummate euphoria within my slave heart and soul.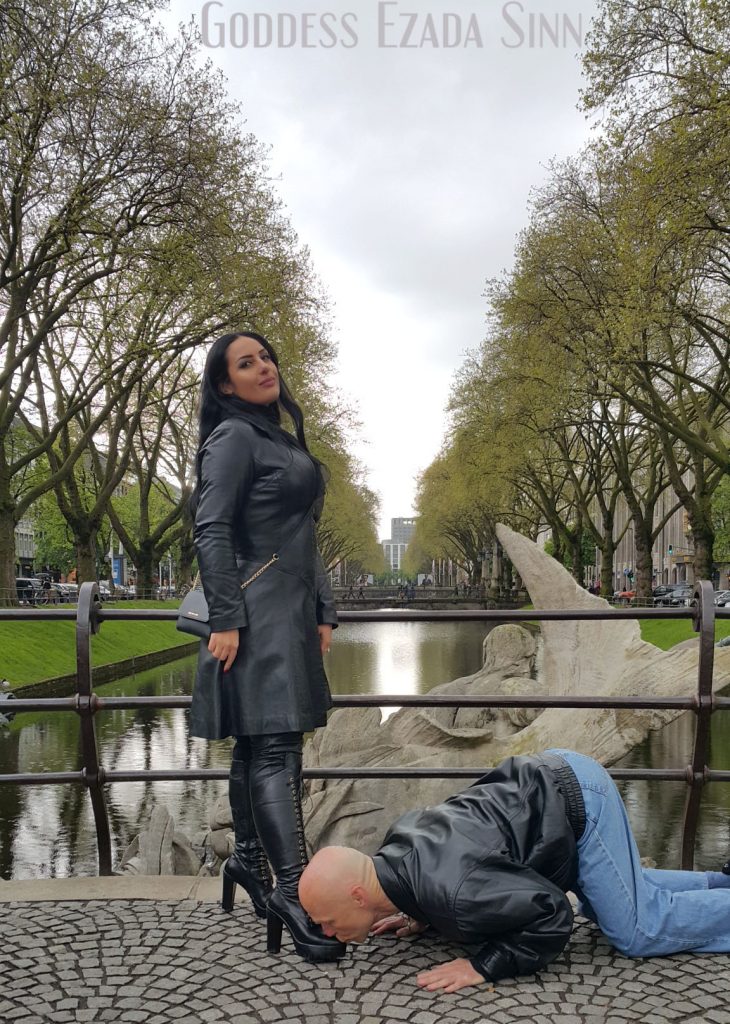 In Her presence as morning begins, crawling to Her feet with coffee in hand, my eyes remain focused downward. Being allowed to greet such a human Goddess by placing a reverent kiss on the tender arch of each foot and then caressing Her sole with the skin of my facial cheek, pure heaven. What was once a dream is now transformed into a solemn daily ritual to start each day. I legitimately question if slaves are allowed to scream for joy in front of their Owners, or does the story of my jubilation adequately seep out from my eyes to Hers?
Stapana's big toe astutely hooks my slave collar, plugging me closer till Her finger gains full control over my tilted neck. i am jerked within inches of Her lips, and the stream from Her balmy breath moistens the thick air between us.  "Good morning sit," audibly coats my eyes causing them to solidly shut tight. my hunger to scream impossible, as i'm incapable of any immediate breath.  With just three words, Goddess has sliced open and exposed the submissive weakness of my soul. The power of my male will is again raped and stripped barren.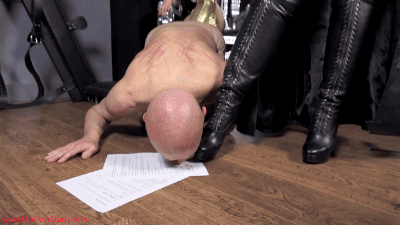 However in moments soon to be, i kneel in waiting position before Stapana in the presence of Her dear friend Mistress Evilyne. Goddess is holding in Her hands a contract, an Ownership Contact that She is offering to me. Our deeds and actions showcase purpose and goal, but for human kind it is the written contract, one sealed by signature, which remains a finalized and cast in stone agreement. The weight and reality of this moment stun. i feel suspended off the floor, not connected to my feet given the gravity of what She is extending to me. Seconds in time become frozen as She drops the multi page document to the ground just inches in front of my bowed head.
"Slave I want you to read the Ownership Contact out loud so Mistress Evilyne can bare witness. She understands the importance of ownership and what a contact such as this ultimately means." The name Stapana has bestowed upon me is penned in thick black, it is the only name that matters to Her from here forward. The topic points are magnified in bold font style. The definitions of each are explained in clarifying directness.
Stapana codifies who We/we are, the purpose of the contact and most importantly the Symbols of Ownership She has placed on me. The outward symbols that reflect Her control and my chosen lifestyle to belong exclusively to Her and Her alone. my Duties of Servitude, my Expenditures, my Allowance, my Exclusions are all listed. This contact is formed in such a manner that Goddess can easily modify any of the points She wishes. Stapana makes it very clear that She will modify the contract over time to fit Her liking.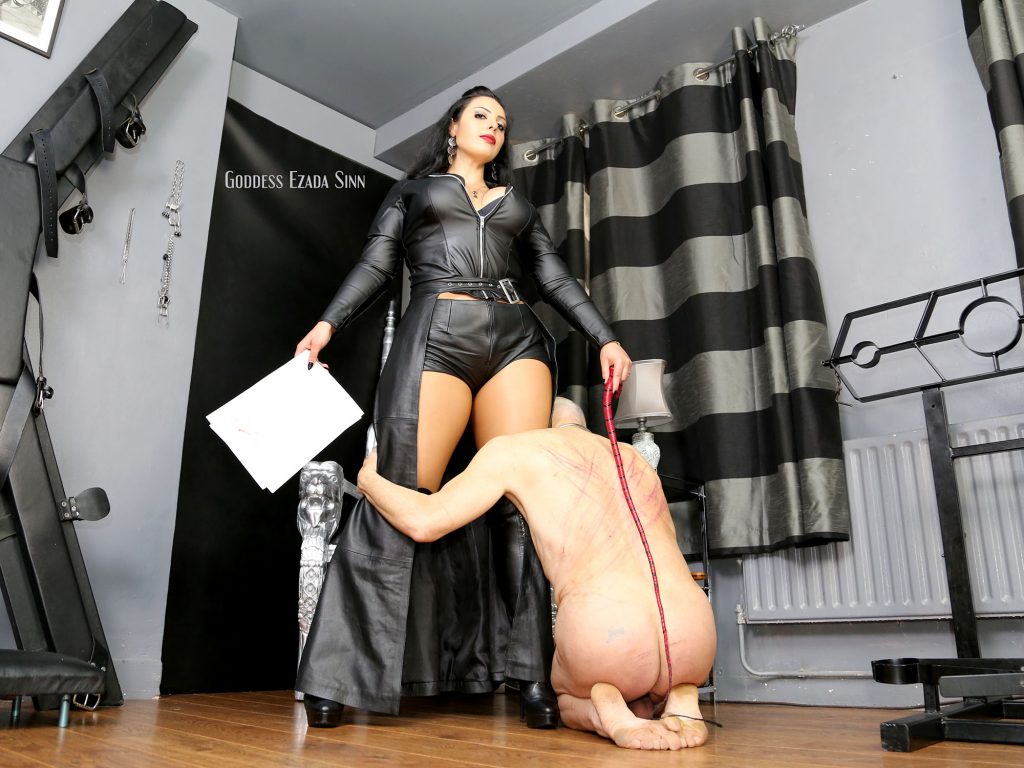 The section entitled Obligations is laden with 13 heavily worded definitions. The first is about Her obligations, the remaining twelve begin in kind: slave hereby acknowledges; slave shall address; slave shall be; respect includes; slave shall not; slave shall remain; slave shall pay full attention; slave shall sit, stand, walk, kneel, and lie where and when; slave shall not remove; slave shall dress as; friends and relative of Owner will be; respect and obedience are the two most important; failure will be punished.
However within one definition lays a weakness that will trap me in my duties and lead to pain. my command of the Romanian language is nil to the point of being absurd. The simple pronunciation of "Stapana" will highlight my faults and short comings. The strike of Her signal whip rains down on my backside with dissatisfied impatience. Goddess Ezada is more than unhappy with me, and i cannot correct my mistake given chances by both Her and Mistress Evilyne. Fifty whip lashes shall be administered while i am still tasked with the job of plainly reading the remaining contract points for Mistress Evilyne.
This whip is new, unbroken, its marks not pitted from the cracker but instead the stiff leather sows long red solid welts from the yet rigid shaft of the whip maker's 16 plait weave. The whip does not need to crack to inflict pain, it slices the air more like an arrow breaking wind as it flies past. Her repeated lashes speed up the cadence at which sit speaks. At times my words become garbled, impossible to understand. Time and time again Goddess Ezada and Mistress Evilyne pull me back on task, while the whip, over and over dive me off onto the submissive ditch of the road.
my eyes are streaming tears when i've finished the final thirteenth point. Stapana and i pen Our/our names in heavy felt tip black, yet She is still obsessed with the need of redder ink to secure my signature. Goddess will extract my DNA, my blood to seal my mark. With eight final full strength whip lashes, my backside skin splays wide open and She harvests slave blood to complete the signing.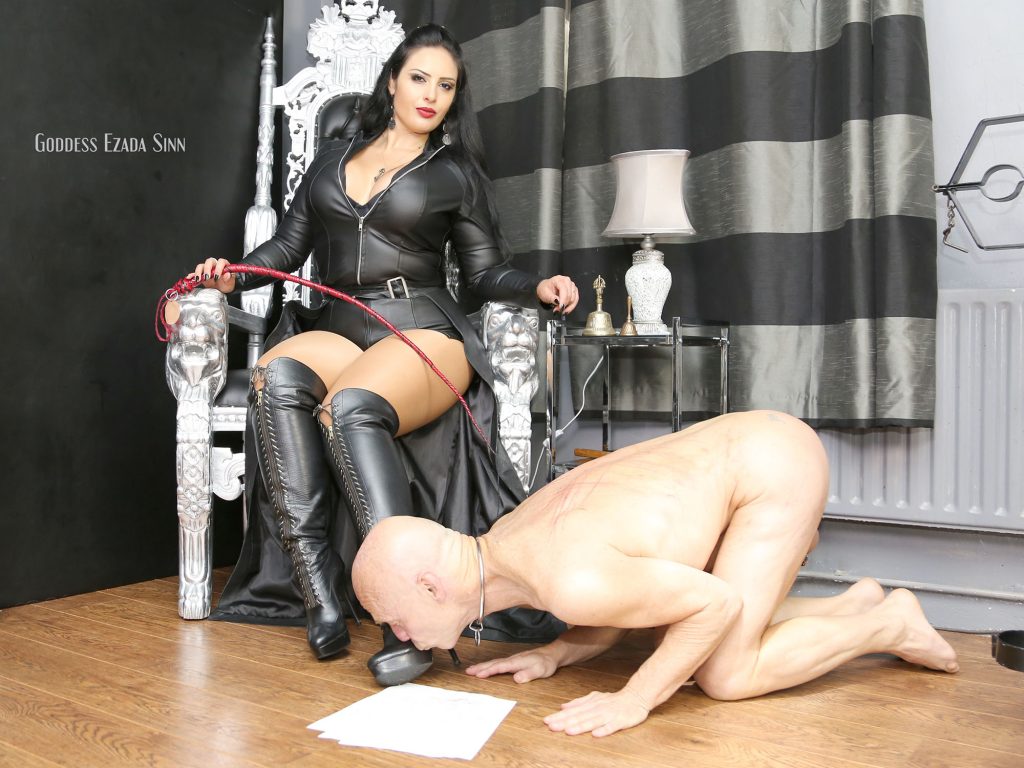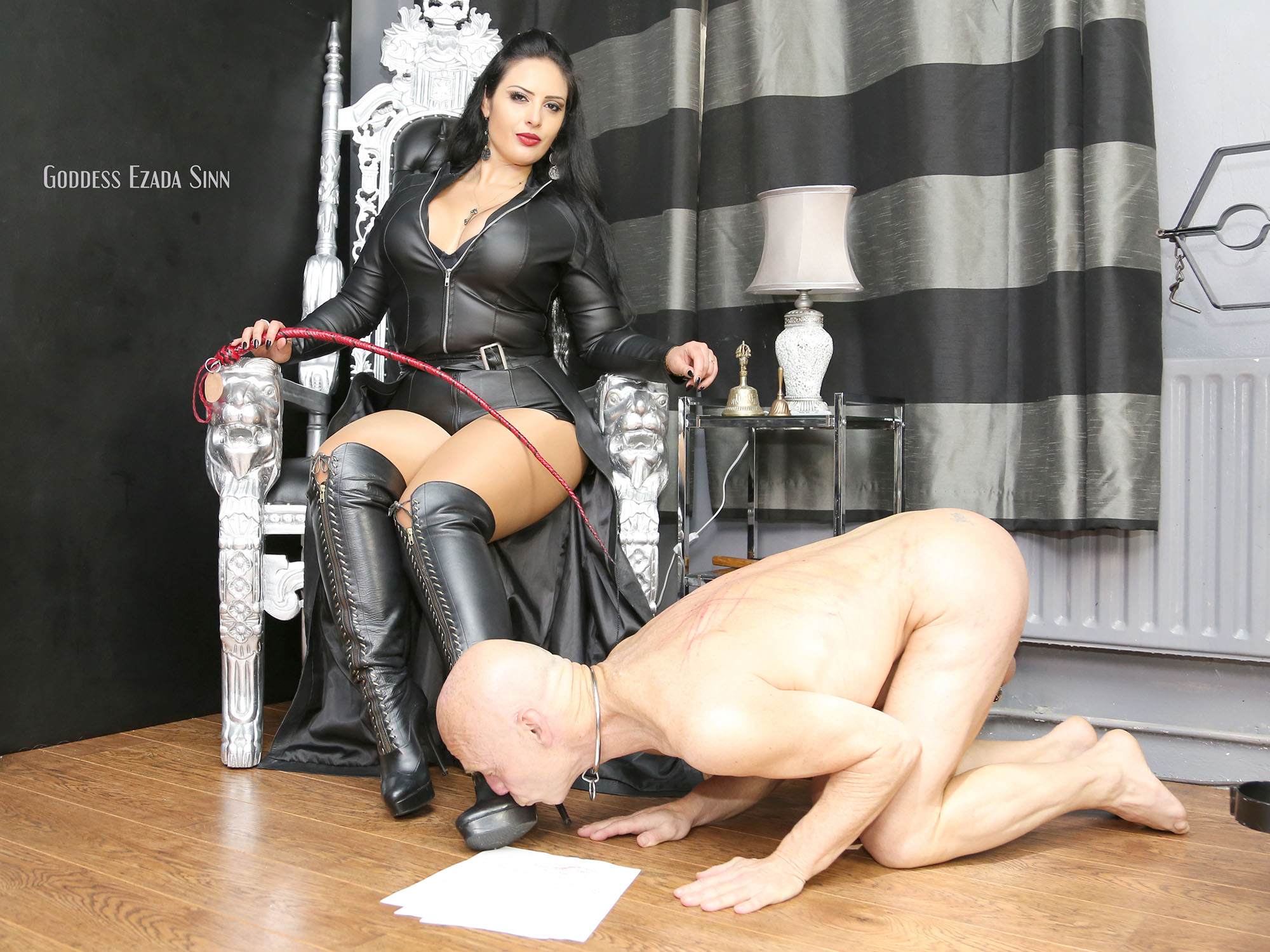 The contact pages are tossed freely to the floor and Goddess retorts in full vibrato to "Kiss My name slave." In all my slave years i've kissed images of, shown respect for a Ladies whip, Her shoe, Her boots, Her cock, Her garment, the ground She walks on, and Her hand. Yet never have i been commanded to kiss the signature of Her name.
This mere act burns indelible into my psyche. The words have been written, the signatures attached, my life-force extracted, and the solemn act of an Ownership Contact, enforceable and in place. Every time i bow in the flesh before The One who owns me, i am pulled intensely by Her acts.  Willingly and unexpectedly seduced to even deeper levels of submission that can only lead to one concrete destination. Total slavery under the Goddess Ezada Sinn.  Maybe there is a chance that my life, a life of a slave will find true purpose. Yes, i am blessed and there are signed words which help reminds me of that joyous fact. That i am the realized and bound property of the One who contractually owns me.
Stapana mea, the Goddess Ezada Sinn."
I like to catch  important moments of My life on camera. you can watch Me take ownership of sit here: www.EzadaSinn.com/15795074
Curious to read the ownership contract? Download it for free here: Femdom consensual ownership contract between Goddess Ezada Sinn and slave sit