Chapter 2.  Shinny, solid and round …
you don't dare move.  Goddess Ezada is hovering over you; She's watching you.
your breath is shallow.  you are frozen in place yet bubbling hot under your naked skin.  A bead of perspiration pools off your right temple, running down the outside of your face.  The slave waits in Her "waiting position."  Are my hands correct?  Is my butt too low?  Is my back too arched?  Is She displeased?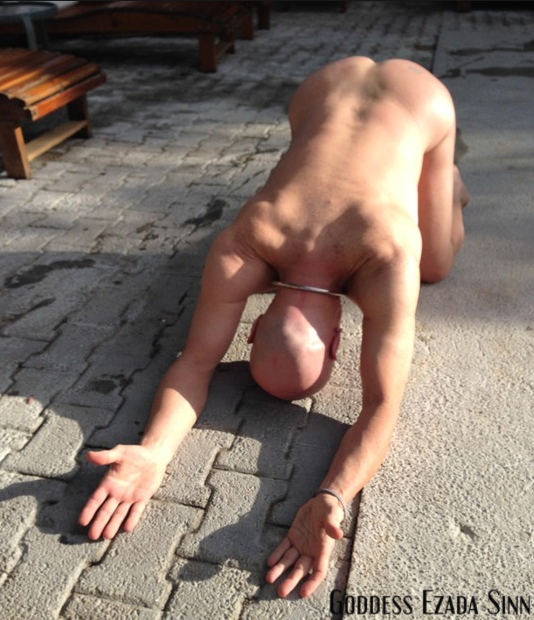 you are waiting forever, then finally an unexpected touch descends directly onto the middle of your back and spine.    Her hand?  Her nails?  No, it's the leather trip of Her whip; the dragon's tail that's ripped so many skins wide open.  All those pictures of all those slaves, in utter agony and here you are naked and defenseless.  No where to run, no where to hide.  you shutter in icy fear, this is the first time you have met Goddess Ezada and already is She going to tear into my flesh?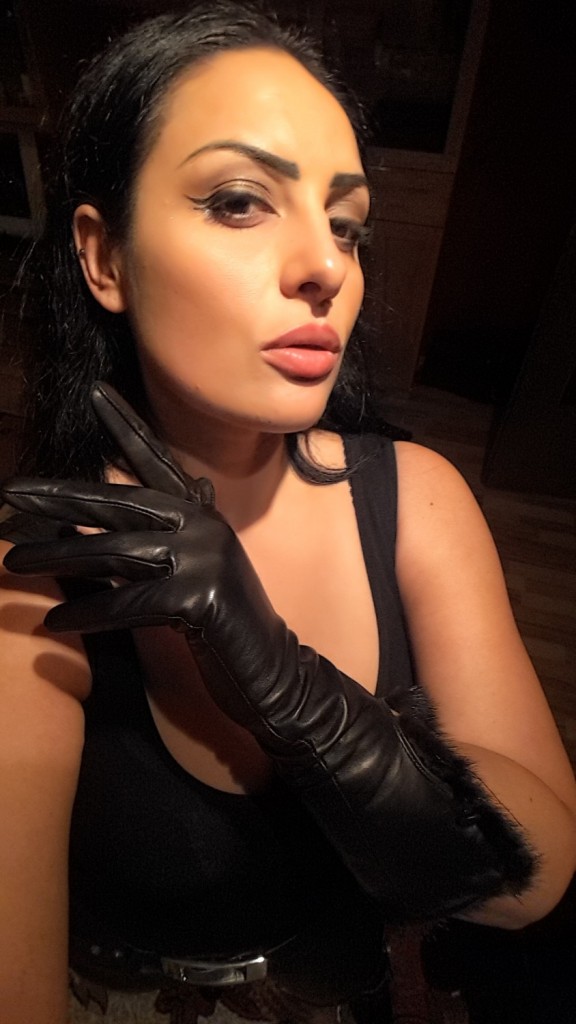 Goddess Ezada loves to whip; Goddess Ezada loves to cause pain.  i close my eyes and silently beg to please Her, yet why is She punishing me so soon im the process?  The leather is dragged sensually, down then up my undulating spine.  i feel every centimeter of travel; i feel like a cat being scratched.  i squirm on every different cell of contact She glides over.  The dragon's tail is brushed between my trembling shoulders and finally falls to rest just before my lips.
"Kiss the whip slave … !"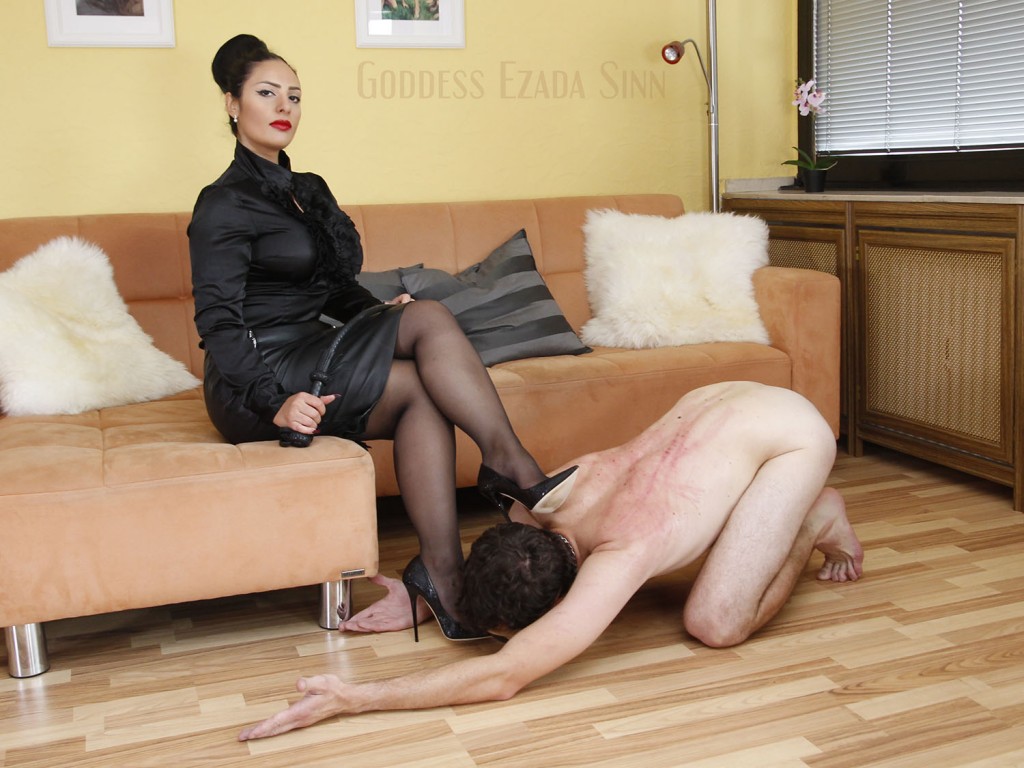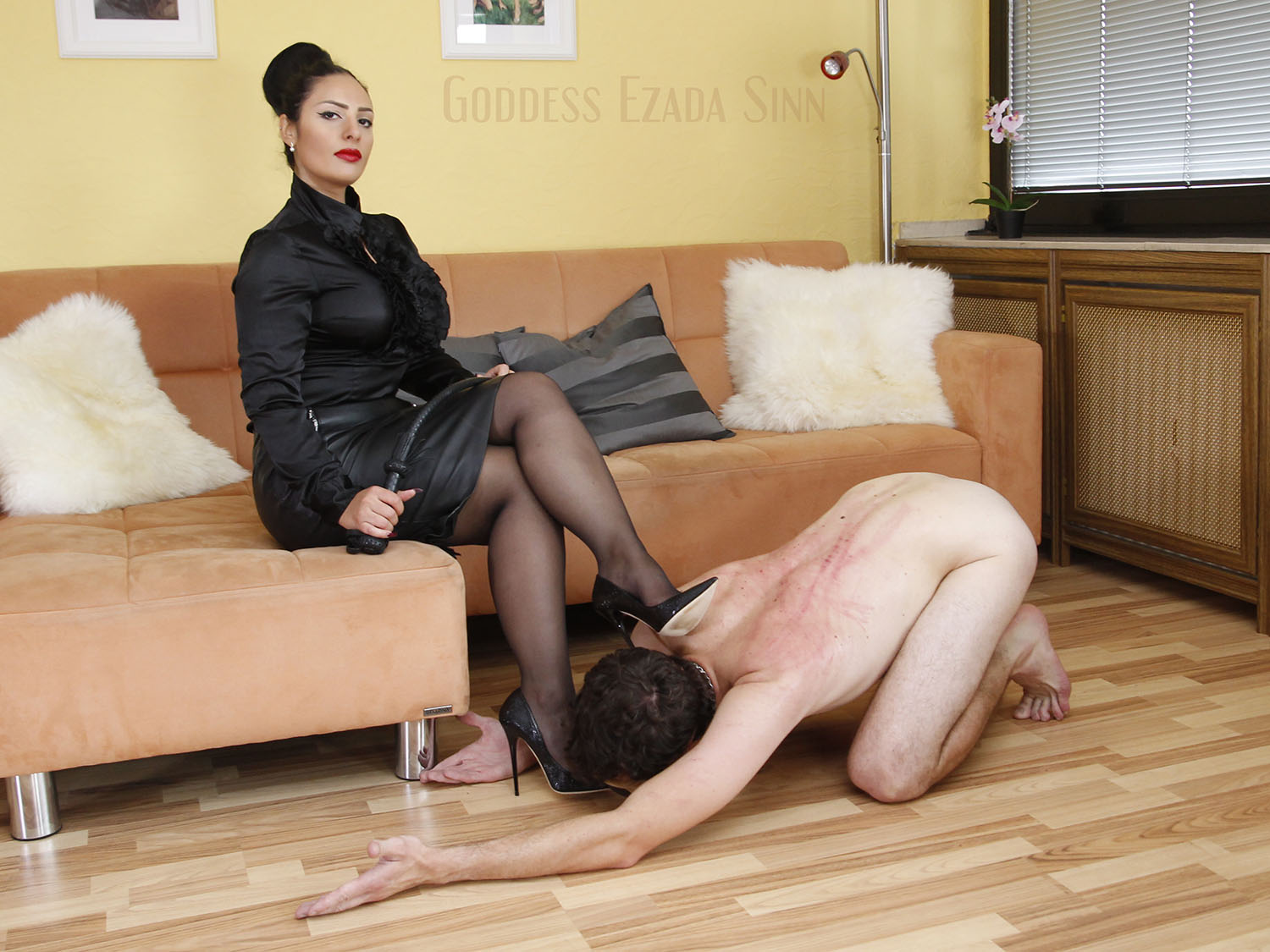 you finally get to move Your head and comply.  "Good boy."  Yet, you quickly recover to the waiting position and freeze again, with eyes closed.
The click of Her high heels on the marble floor, informs you that She is moving.  Blindly you sense and feel every step Goddess Ezada takes.  She comes to rest with both of Her feet inside your outstretched arms, inches from your head.
"slave, one gentle kiss on each tip of My shoes."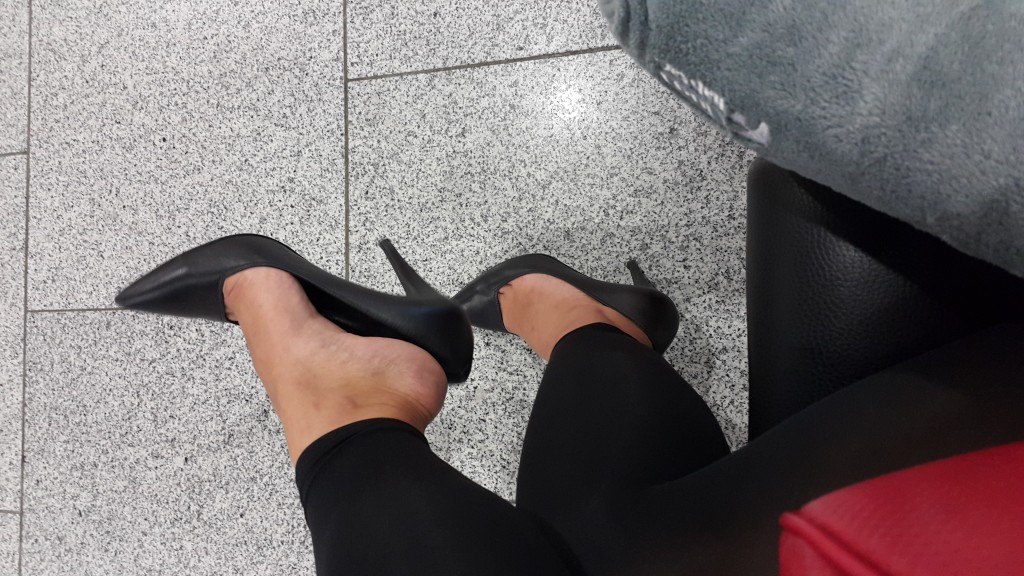 "Oh gosh yes" you silently scream inside, yet your back and forceful exhalation completely tell Her the whole hidden story.  Finally, i am worshipping the Woman i would die for.  One kiss, each tip of Her shoe.  i am so weak, so subjunctive, yet i crave this so.
She finally sits onto the supple black leather couch before me.  my slave forehead has returned to the floor.  This time the tip of Her long stiletto nail pokes under my chin as She raises my head upward.  "Come here, kneel.  Look at me slave."  my eyes rise slowly.  Her tanned and muscular legs, a tight fitting red Nappa leather skirt, a soft black satin blouse, Her deep Feminine cleavage, Her proud neck, Her strong chin, Her luscious red lips, Her chiseled cheekbones, and finally Her piercing eyes.
i must remind myself to breathe, yet so little air rushes in.  my chest and throat are frosted; Goddess has numbed me solid in my own tracks.  i can only witness the deep dominant stare in Her eyes, while She scans right through my bones and every cell of my body.
i immediately spread my legs to an inverted "V" and place both hands locked behind my head.  Her eyes drift for the first time to the metal chastity hanging between my legs, and She laughs out loud.  "Such a tiny worthless dick you have slave, so useless.  How long has it been locked shut with no orgasm?"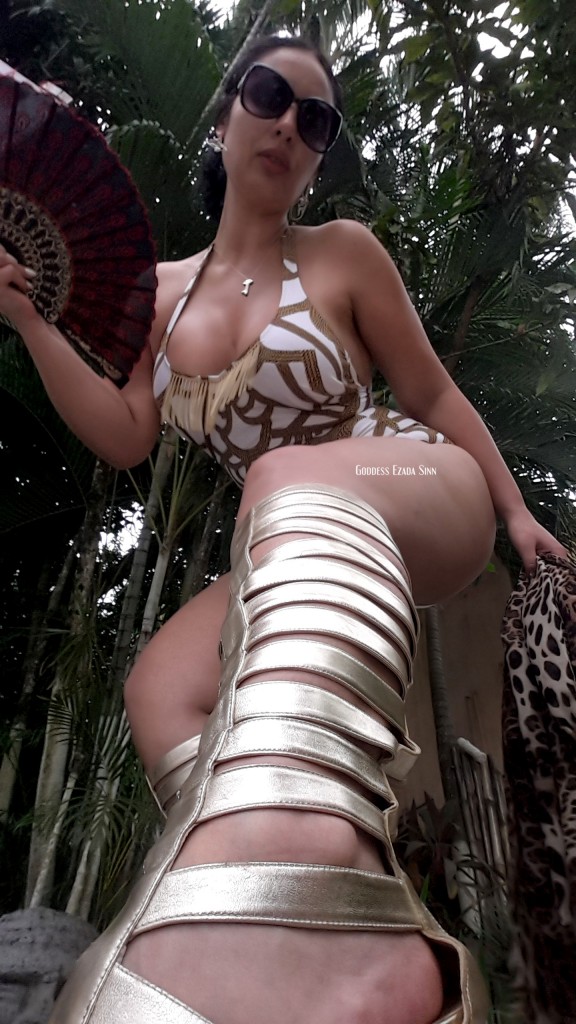 i start to reply, but Goddess knows the answer all too well.  Laughingly She retorts, "250 days with no orgasm, you are pathetic as a man, slave."  my eyes glaze over, knowing full well that She is correct.  Being in such a short steel chastity, my dick has shriveled to just a fraction of it's once proud manhood.  She has purposely failed to allow me any orgasmic release in these last 36 weeks.
"slave, crawl over to the table and fetch."  i do, returning with a soft velveteen velour black satchel.  i reverently hand Her the bag, and She smiles as i return to kneeling before this dominant force of nature.
She tenderly makes short work of the satin ribbon bow holding the satchel closed.  Her hand reaches inside the bag and ever so slowly does She pulls out this brilliant shinny, round, sold stainless steel object.  It glistens, even in the dim light of the midnight hour.  She holds this piece up to Her face as my eyes again fix upon Hers.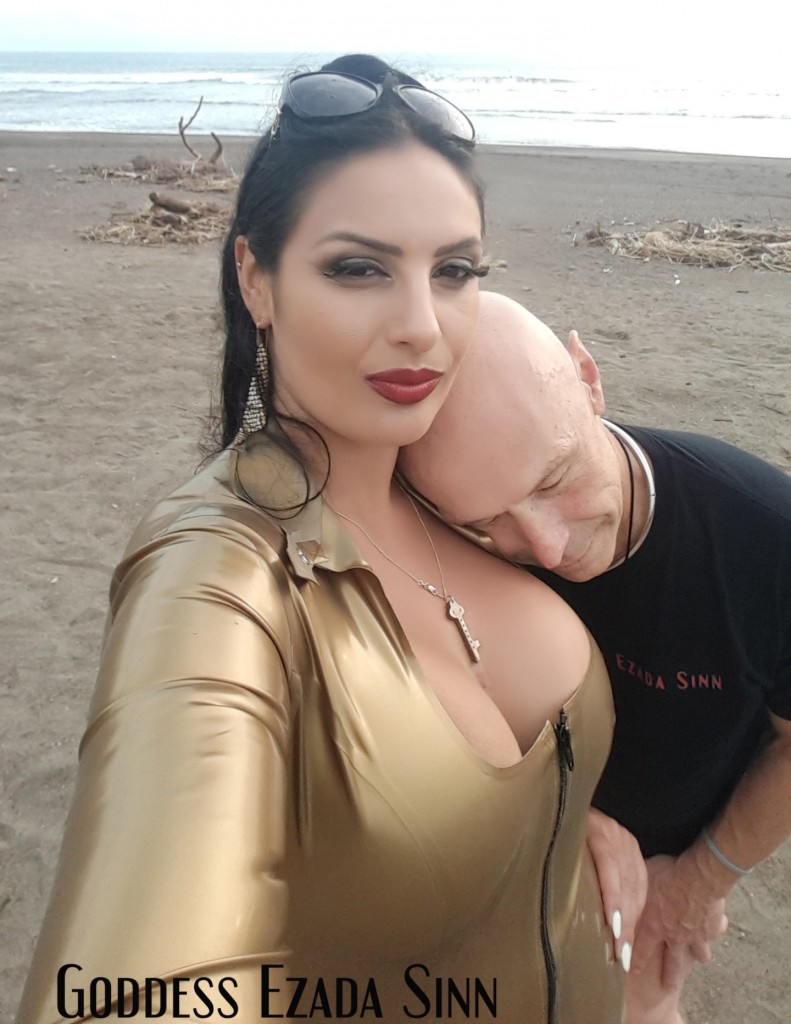 Oh my gosh, i comply.  "Come closer," as i hear the point in the metal collar slide open and pull apart.  She rests my head into the crease of Her leather clad skirt.  my breath is moist and reflects off the rich scented skin that encases Her thighs.  i must be dreaming, but the cold shiver of metal closing around my neck snaps me back to the reality i'm now living in.
The metallic closing sound is defeating to my ears, to my mind, to my soul.  She adjusts the collar and tightens it in place using a special key that drapes around Her neck.  Goddess Ezada is holding one other key there as well, the key to Her slave's tiny stainless steel and gold titanium chastity.  She now lifts my head up, not using my chin, only the solid stainless steel rod that sits boldly around my neck.
She reaches off to the side of the couch, and grabs two lengths of solid nylon black bondage rope.  She binds my arms together tightly, then repeats the fettered knots on my lower legs.  Goddess pushes me solidly onto my side right in front of the couch.  The floor is cold yet my skin so alive and warm.  She sympathetically places a pillow under my head, and turns away.
New sounds.  A drawer opens; a raw metal chaffing and the drawer closes.  Goddess leans over Her slave and locks one end of the hefty chain onto Her slaves new neck collar.  The other is fixed around the entire end of the couch, and She locks it soundly as well.
Goddess again straddles my face with Her shoes. "Kiss."
"Good boy, I trust you will sleep well here tonight.  In the morning before I release your limbs, I shall ask for you one question, slave."
"What did last night mean for you and the rest of your life?"
"I suggest you spend some time before falling asleep to contemplate your fate and then craft your response well."
"Yes, Goddess," are the only words i can seemingly mutter at this moment.
She smiles and walks seductively away.  The sound of Her heels falls faint in the distance.  The dim light bathing me suddenly turns black.