The Fear of Arrival …
The Torment of Departure …
Chapter 1: your Arrival              
An hour before touchdown, your gut starts to rumble and roll, you realize this is real and there is no turning back.
you have lived your connection with the Goddess Ezada Sinn through the lens of a camera.  you've professed devotion, yet She is only an image propped up on an altar.  you've knelt and begged via cam; sill She sets several oceans away.  you've locked up your manhood, yet kept a secret key.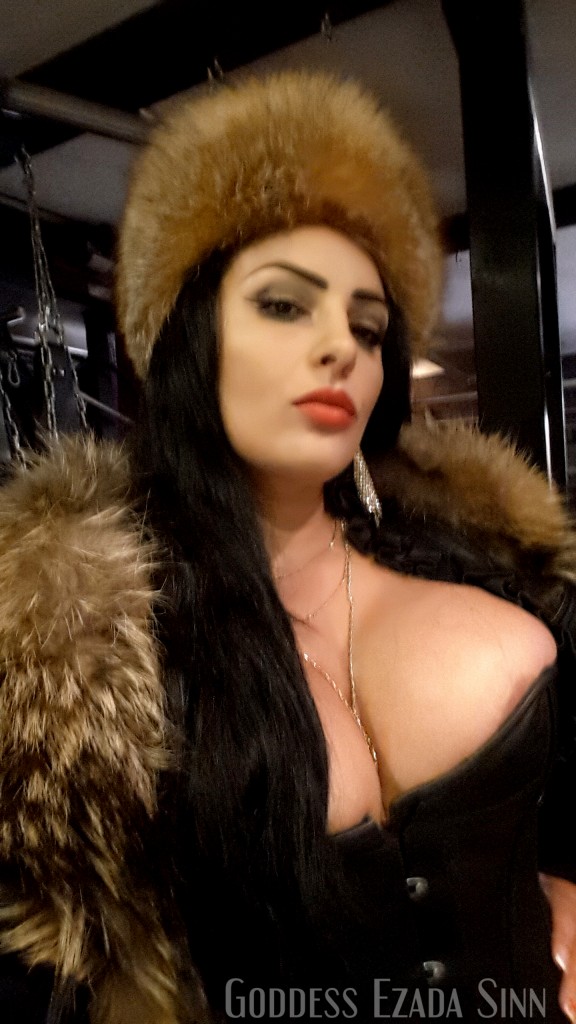 What you know as slavery, is in turn all but a fantasy and that fantasy will die.
you want this so badly, yet you hesitate to open the front gate.  you reach the door, yet pause your finger millimeters before pushing the bell.  you stand frozen in time, your blood pulses yet you can't hear your own heart beat.  you, the want-to-be slave must make a final choice, run away and live happily in your fantasy world, or step forward into the harsh light of Femdom reality.
you close your eyes, press the doorbell, heavily breathe out.  your life will change, radically change.  your life will crumble.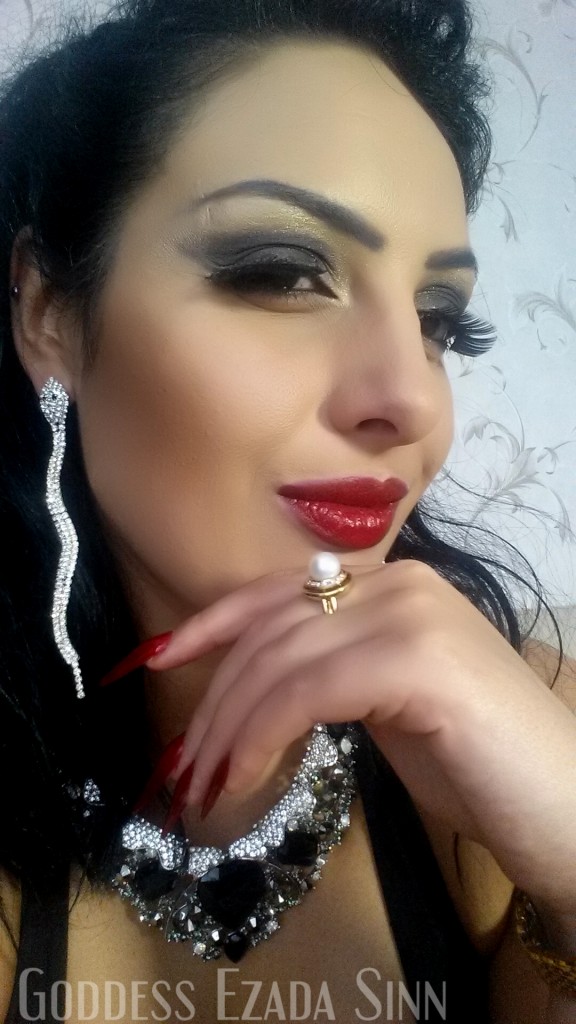 She has given you concise instructions, and you've memorized each one to a T.
you enter and strip naked, yet chastity remains attached and locked on.
you lay out on the table:
Goddess has illuminated the shower room where you have a scant 15 minutes to wash ands prepare.  The towel is rough and course in weave, still your rub every inch of your skin to dry off.  However you're now sweating profusely, you are not amused.  There is but one final command "go into the living room and assume the waiting position."
All the items you placed on the table, just a few minutes before, have all disappeared.  So where are you going to run now Mr. want-to-be slave?  No clothes, no money, no identity, no life?
The reality is you don't have that choice anymore.  They only trail left before you is the pathway to obedience.  There is nowhere you can run and hide.  You lower your eyes and you walk forward.  The dimly lit room contains one simple yet elegant black leather couch and a table with a coiled 4' 16 plat red and black leather single tail snake whip and 18" split hinged heavy silver ring with a lock.
you decend, one knee down, then the other.  you bend forward to child's pose and extend into the "waiting position" with palms turned skyward.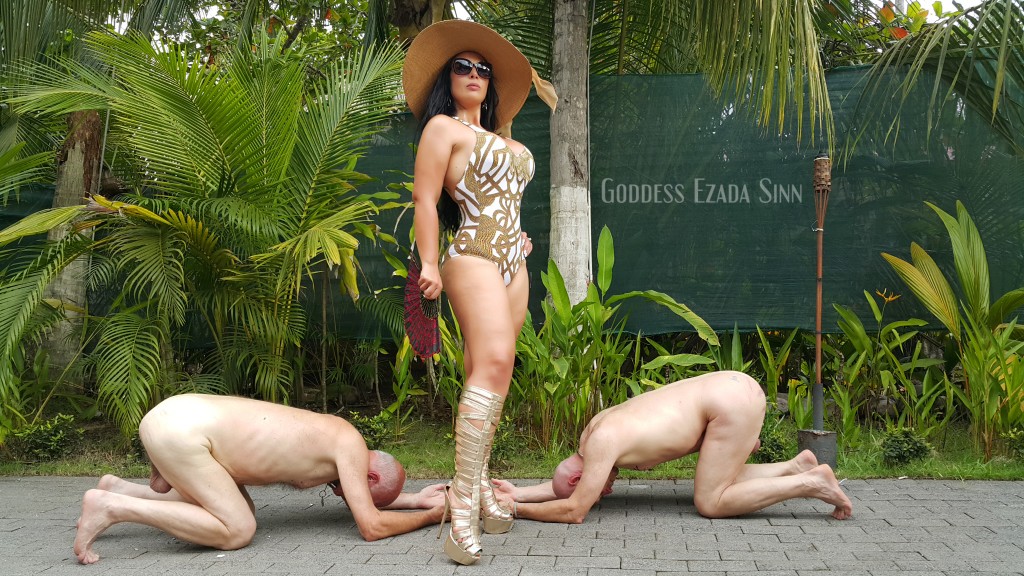 You breathe, you wait.  you wait forever.  your mind remembers Her blog "slaves require patience."  you wait some more.  you silently repeat Her mantra of devotion while your mind races and rages.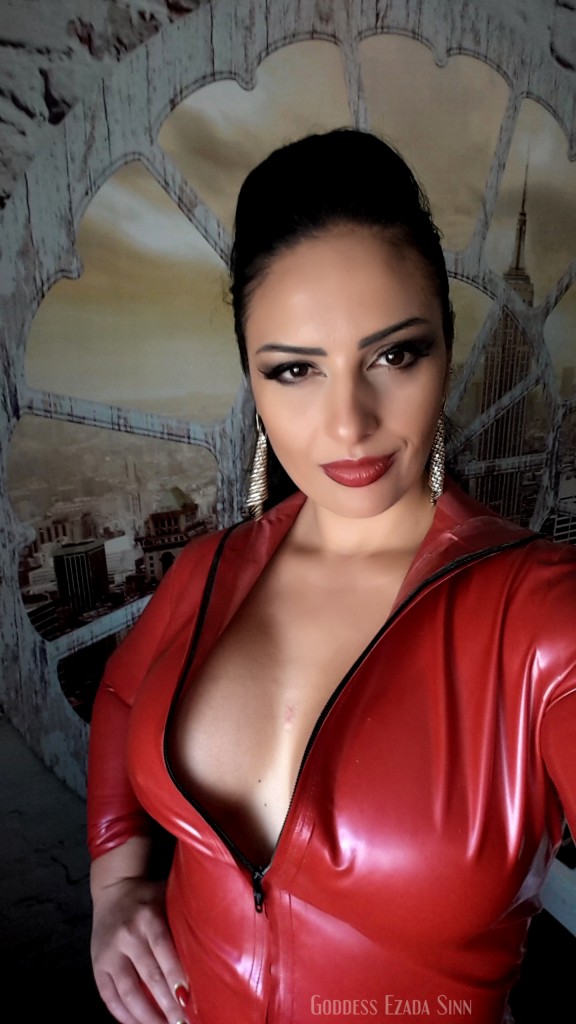 A click from Her heel resonates on the cold marble floor; you shutter yet dare not move.  Then a second, and a third, She stops.  Even in the sparse light She can see your shallow and labored breath.
The Goddess Ezada Sinn pauses then finally speaks "slave."
your fantasy just perished, it is slain and slaughtered.
The person you once knew as yourself, is dead.
you wait lifeless and extinct.
Only Ezada can bring you back.
Only Ezada Sinn can make you whole.
Only the Goddess Ezada Sinn can make you complete.