"It is no secret that Goddess Ezada Sinn loves to control Her slave's orgasms. Being in chastity to Her is a constant combination of tease, denial & frustration, and She loves to see the frustration. Being in chastity to Goddess Ezada does not just involve being locked in a chastity device, it begins with "mental chastity". No touching unless instructed, your cock is Her property, not yours.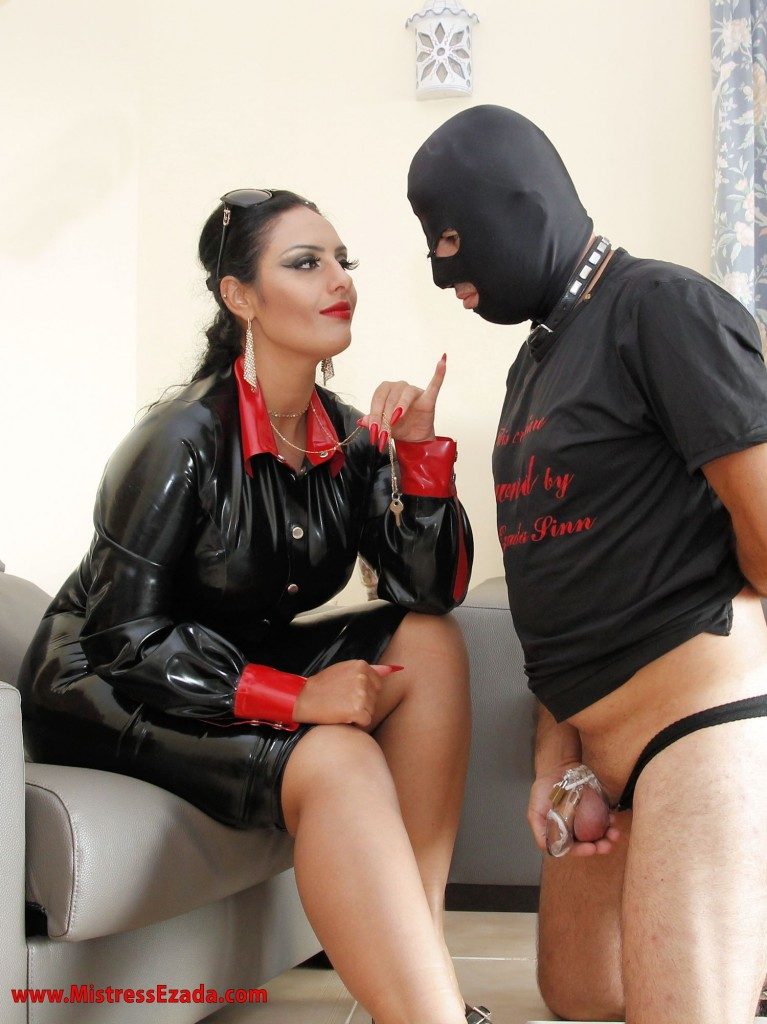 i have many times wondered which is the harder, chastity or mental chastity. It is somewhat of a moot point, as both bring nothing more than frustration. The time before i was locked in chastity was difficult, there was nothing stopping me from masturbation other than the knowledge that this is what Goddess wishes. This is the test of mental chastity, and Goddess' tasks ensure it is made more difficult. There would be weeks of teasing and edging to Goddess' clips, getting more and more aroused, but STOP! no cumming allowed. Stopping myself at the edge was so so hard, the temptation to keep going was almost tangible. A release was within reach, i could feel it so close. But i was not given permission to cum, so stop i must. It is impossible to describe the frustration one feels after edging 15 or 20 times and no release at the end. Or, imagine edging 20 times, then you are allowed to cum, but all that happens is a dry orgasm. It certainly amuses Goddess to have Her pets so frustrated. Goddess loves to send Her slaves tasks to edge to Her clips, then stop with no release just utter frustration. Over time, does the frustration lessen? No, not one bit.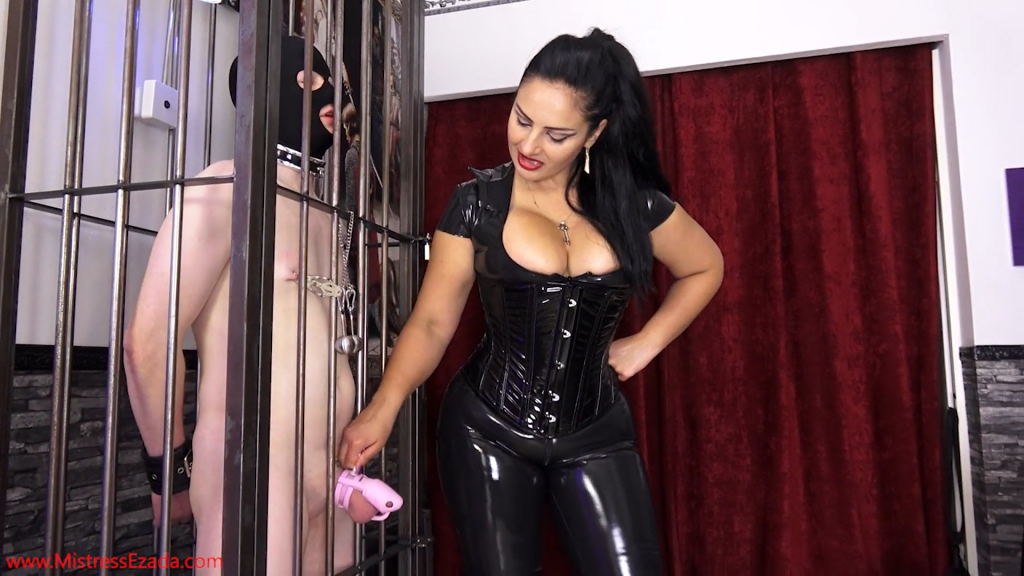 It was just over a month into my training when Goddess ordered me to purchase my first chastity device, a nice pink one of course. To compare and contrast with metal chastity is difficult; on one hand you have the temptation of being able to touch, difficult to resist; on the other, the temptation is removed but each erection is painful. However, the first difficulty i had was sleeping with it on. i prefer to sleep on my stomach, but with the chastity on i found this very uncomfortable. i spent quite a bit of time shifting around those first couple of nights to find the right position.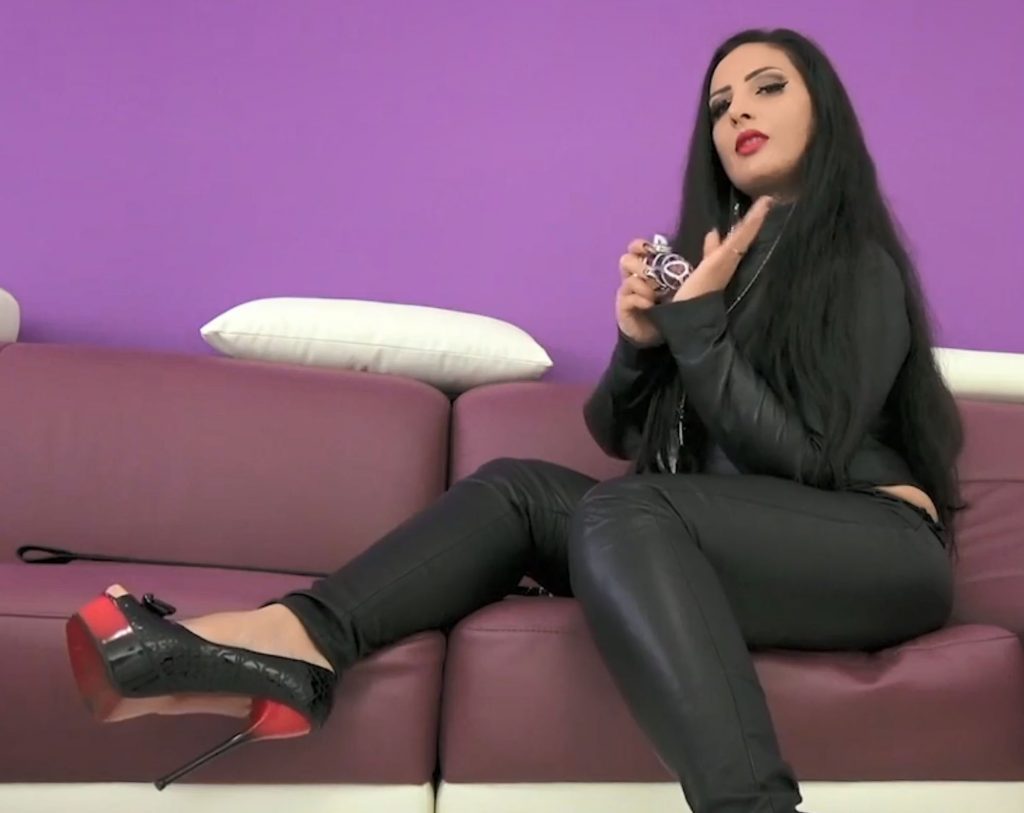 Does being locked in chastity save one from the tease, denial & frustration? Of course not. Goddess sets tasks specifically designed to bring arousal, to bring a painful erection and feel the ring pulling painfully on the balls. Many many times one will be ordered to watch Her clips for a prolonged period, arousal controlled by the device locked around one's cock. It is oh so frustrating, watching Goddess using Her slaves, perhaps even you, and being unable to touch it. The temptation to touch may be removed, but the frustration is just as great. And Goddess will use the frustration and arousal to train Her slave. Goddess knows an aroused male is a compliant male, knowing Her slave is frustrated Goddess knows they will carry out any task to amuse Her, no matter how painful or humiliating. The arousal can be used to condition a slave, to make him associate arousal and pleasure with the task. For example, an ass training task. Early in my training, locked in chastity, i had to train with bigger and bigger plugs to stretch my ass. While wearing the plugs i had to watch Goddess' clips, getting more and more aroused in the chastity. Only upon wearing the largest plug for the required time was i allowed a release. Oh, but is there a more effective motivation towards reaching that target than the feeling of utter frustration and arousal, i think not.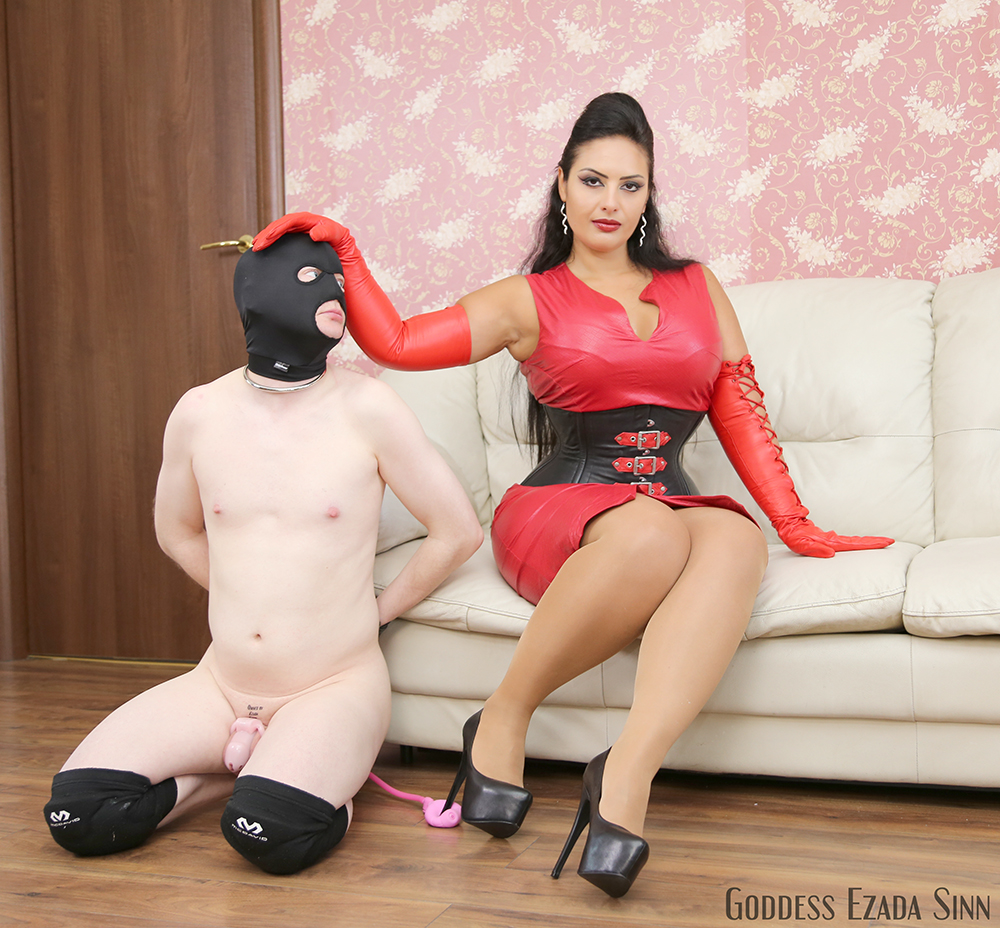 Just about a year ago, i was given permission to buy my current chastity device, a small holy trainer in pink. This one fits perfectly, meaning it can be worn all the time. Wherever and whenever, i can feel my Owner's control over my cock. It belongs to Her now, completely.
When a slave is in chastity to Goddess Ezada, he is occasionally unlocked. This could be to amuse Goddess by edging, or he may be given a release. Goddess knows that chastity training is most effective when a slave is given very rare releases, hope is a great motivator. Will the release be a full, real orgasm?…No! Goddess loves to ruin Her slaves orgasm, to see the hope in their eyes disappear as the orgasm comes without any fulfilment. Of course, She enjoys seeing it in person, to bring the slave to the edge and abandon it, letting everything dribble out in an unfulfilling orgasm. For slaves that can't serve Her in person, they will be trained to ruin their own orgasm for Her amusement. Imagine being locked up for 2 weeks, or more, and being told you would have a release, only to be told you would have to ruin it. i have had the pleasure of this many times, and oh it is frustrating, but Goddess' smile makes it worthwhile. Now, imagine being told to bring yourself to 80 ruined orgasms in 5 days. It is exhausting and utterly frustrating, and only the thought of Goddess' smile keeps you going. i tell you, after such a marathon, chastity seemed like luxury. But, i would do anything for Her beautiful smile.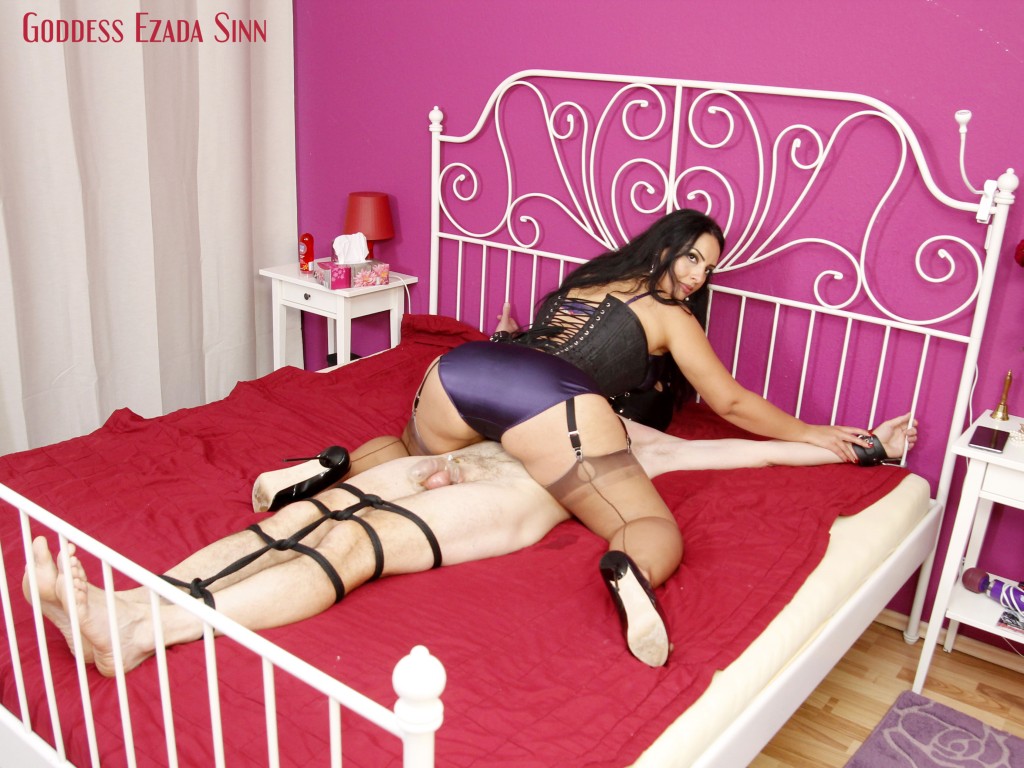 So, here i sit, writing this story, locked in my pink chastity. i belong to Goddess Ezada Sinn, and i couldn't be happier."
by pink poodle