People often ask me about communication. How important that is to Me. Well, it sure is. In fact I think it is the most imporatant things of them all. Without communication there is no interaction. Without interaction, there is no Femdom.
Now in Femdom, the communication is mainly a top/down thing. The Domme acts and the slave reacts. But not only, the slave also communicates with his Mistress. Even if he is not talking. Constantly he does. His body speaks to her. If she is able to understand that means.
But let´s start with the Mistress first. Naturally her communication will be giving orders mainly. And it is of such utmost importance that the slave understands those correctly and then immediately reacts to them. I really cannot stress this point enough. It is the basis of everything. Mistress and slave will only be able to reach this ultimate goal of total power exchange if this basic understanding is there and works.
So for the sake of enhancing the interaction of Mistress and slave I have put together a manual of basic orders that I think are crucial for every Domme/sub relationship. This is not just a play for a session in a dungeon. It is for real. For Me, this is the way I communicate with My slaves. It is our language. Always, everywhere.
In general he will first have to learn that he is always "under" Her. In a spiritual sense and – to demonstrate and also reinforce that in his head – in a very practical sense too. So that means that his head will always be beneath the Female, he will always look up to Her and She will look down on him. It shall never be the other way round. If that is not possible, for example because you are walking around in public, he shall always be behind his owner, never in front. Remember: She leads, he follows.
You will be surprised of the big impact that simple rule will have on your interaction.
The Domme shall see that he carries out the orders exactly as they are defined. His ultimate goal will be to succesfully do so. This is why I have enclosed photos to show the exact performance of the positions. I expect every slave who applies for a session with Me to know these commands by heart before he comes to see Me for the first time. They are simple enough to be memorized even by an unenducated male dog. If he does not, I´ll kick him out. Period.
Every order can be given in two different ways: By a spoken command or by a silent gesture with My hands. The spoken command is just simply the name of the position, the gesture is shown beneath on the photos. If I want to use the gesture, for example when in public, I announce that with the sound of a "clicker". The clicker is a very useful simple device used in dog training. It makes a short clicking noise that My slaves are conditioned upon. Upon hearing this specific sound they will immediately get down on their knees (if not in public) and look at My hands to "read" from there and then follow the given order. This is very convenient because it allows Me to direct them precisely even over longer distances without the need to yell around. The clicker is a perfect stimulus, it tells the slave that I am just about to interact with him, it raises his attention and sharpens his senses. Ever seen a dog pricking up his ears and swaggering his tail when called upon? That´s the idea.
These positions are designed against the natural comfort of the body in order to increase the slave's focus on the position of his body and make him feel more vulnerable, at his Mistress's mercy.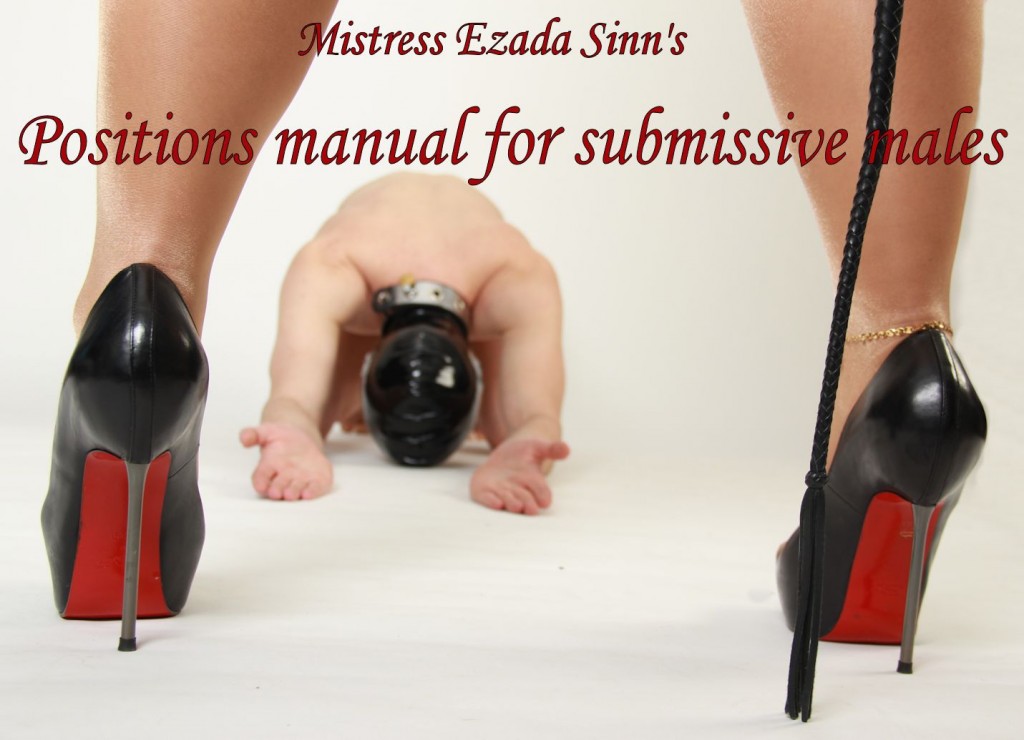 photo by drysin
The Positions Competition
I will now publish the first ten basic positions, one by one. In order to enhance the learning process, there will be just one post every week. That shall give the slave enough time to practice hard and really learn and remember every position.
Those slaves that are collared by a Mistress sure will get enough motivation from her to learn fast and well. For those, not being so lucky to be owned and enslaved I have thought of how to accomplish even more learning success. So, finally I had the idea of a little competition, that is open to everyone: Just send Me an e-mail with the photo of you being in the position of the week until the next Friday after it has been published. Amongst the slaves that have sent in their ten photos completely and in time, I will choose the three best. These three lucky competitors will then be invited for an online final via Skype. The ultimate winner will earn a free session with Me in Bucharest or a city I will be visiting during the next six months after the final. This should well be motivation enough to get you all practicing.