And so my weekend serving Goddess Ezada begins with a kiss on Her hand. A weekend during which I would face pain & humiliation, meet some amazing people, watch an artist in action and have some amazing new experiences (and provide Goddess Ezada with a new experience too, but more on that later).
On first seeing Goddess Ezada i am struck by Her bearing. She walked across the airport so regally, there was no doubting who would be in charge (as if there ever was). On facing Goddess i was struck by Her beauty, so much more intense in person than Her pictures can ever do justice. The weekend begins with a taxi journey across to the dungeon, i am struck by how warm and engaging Goddess is. i had felt this during the distance training but to feel that in person was something else. Goddess manages to combine the ability of putting one at ease with ensuring one is aware who is in command. As the day went on i began to learn what it meant to be under Goddess' control, i no longer have a choice in anything. When to eat, what to eat, in fact all decisions would be made my Her. one exists only to please her, as Her property one no longer has the right of choice.
We go to a nearby restaurant, it is here i earn my first punishment. Taking Goddess' coat, i unintentionally allow it to touch the floor. Intentional or not, this is unacceptable and Goddess has no hesitation in telling me how many whiplashes i have just earned. We enjoy a very pleasant meal, chosen by Goddess of course, and return to the dungeon. Here i would have the pleasure of meeting Madame Caramel and Mistress Lilse, it was a genuine pleasure to meet them. Despite my nervousness and Their clear superiority, i found it impossible not to warm to them.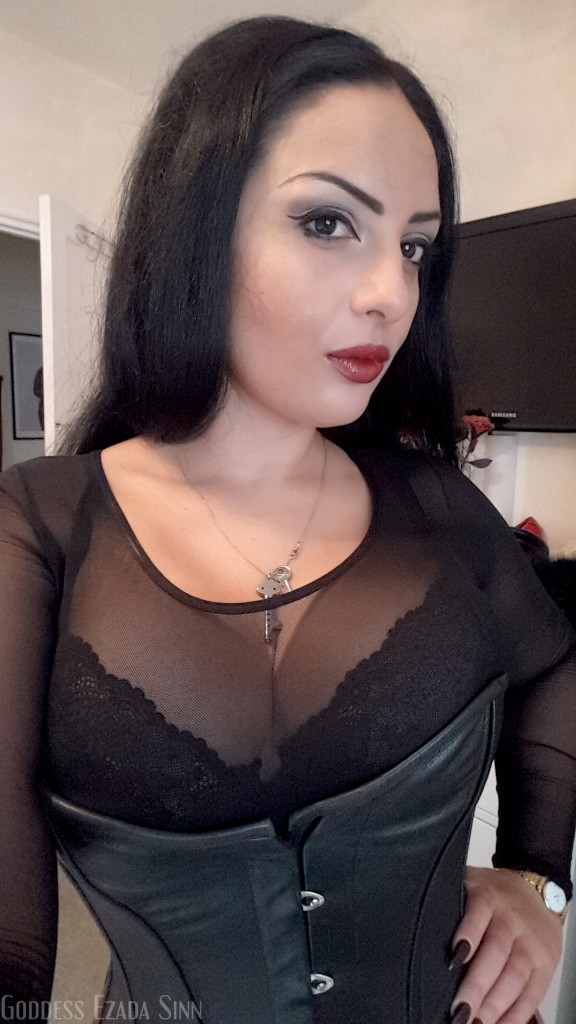 Goddess wishes for me to entertain Her and Her Friends. First i am to change into my pink poodle outfit, coming back into the dungeon Goddess and Madame Caramel (Mistress Lilse would arrive a little later) cannot help but laugh. i display myself, wiggle my tail and generally humiliate myself for
Their pleasure. It was humiliating, but hearing their laughter and pleasure mattered more than my ego ever could. After a while it is time for a change of outfit, Goddess leads me into the bedroom to change. Before changing Goddess gestures for me to move into Collaring position, the moment i have been waiting for so long. Goddess places the collar around my neck and closes it, now i truly feel like i belong to Her. i change into my next outfit, pink hair, big boobs and a pink tutu. Madame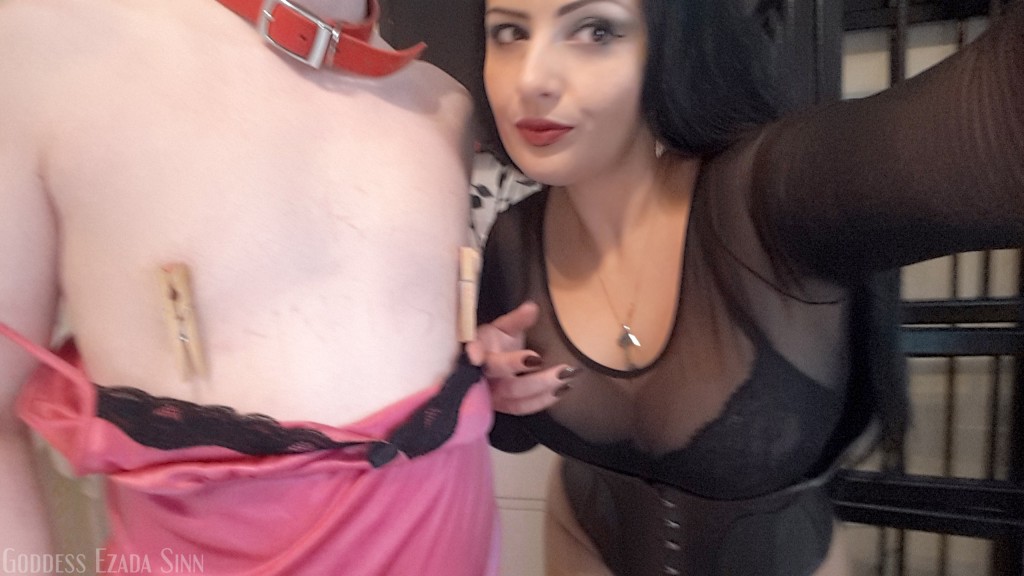 Caramel teaches me how to serve champagne properly, something i would very much like to thank Her for. During the evening i serve Goddess and Her Friends, i also dance around and make myself look stupid for their pleasure. This is deeply humiliating and yet i revel in it, I find Their laughter and Their clear enjoyment so infectious that my humiliation becomes irrelevant. After a while it is time for Madame Caramel, Mistress Lilse and joris (Madame Caramel's property) to leave to go for dinner.
It is at this point i make a grave mistake and the one i would suggest i am most disappointed about. i am to prepare Goddess some food. Sadly i allow myself to be so distracted by the situation that i do something which i would never normally do. i peel and handle a banana to prepare for Goddess Ezada, however, i neglect to wash my hands. This is a grave error and one which shames me even now. Goddess pronounces Her judgement.
A little later a slave arrives for a session with Goddess, whilst the session is carried out i am to wait in the bedroom until needed. Being in there while Goddess is in session is intriguing, i hear muffled sounds from the dungeon. Goddess' mocking of the slaves, the sound of whips but most of all Goddess' laughter. i love to hear Goddess laugh, not only does it mean She is enjoying herself, but it has an almost musical quality to it.
After the session has completed it is time to face my punishment. i have earned a total of 30 whip strokes. i am worried, this will be the first whipping i have ever taken and to add to this Goddess has decided that a punishment is best done publicly and so this will be in front of Mistress Lilse.
Sometimes in life some things are inevitable and one must accept them. When one is owned by Goddess Ezada then pain is inevitable, whether this is for punishment or just for Goddess' pleasure.
The only thing to do is take the pain and enjoy Goddess' obvious pleasure. It is to be a spanking this time, Goddess straps me down to bench and begins my punishment while i count. Mistress Lilse points out that i miscounted and 5 more strokes are added. By then end my ass is stinging and looking rather pink but i am through it. i realise this is only a starter, but it is a watershed moment for me and Goddess seems pleased. i am released and ordered to clean the dungeon, a task i willingly carry out several times over the weekend.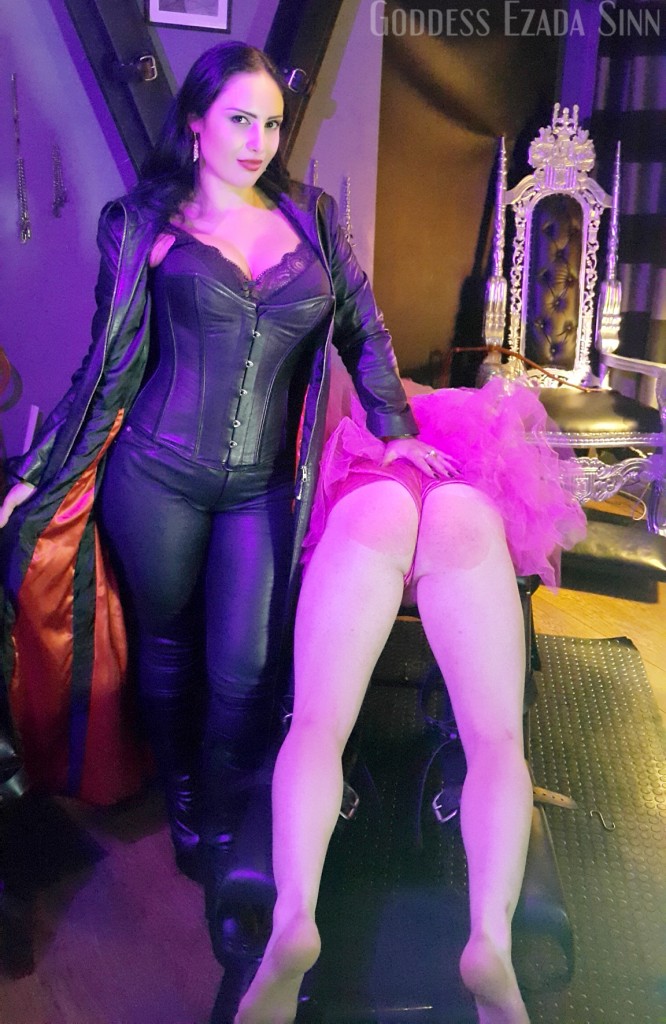 As the evening draws to a close i serve Goddess and Mistress Lilse as they relax, i manage to earn more punishment which will be delivered the following day. Mistress Lilse leaves and Goddess and i retire to bed, i have the floor of course. To look up at Goddess before one goes to sleep is a wonderful feeling, i feel myself drawn into Her eyes.
A kiss on Her hand signals the end of my first day in Her service, a wonderful start but the following day would bring a new experience….for both of U/us………