Story based on real facts, written by My collared slave len. Some of the pictures attached to story are low quality because they were taken with My phone. 
Follow Me on Twitter
 for real time updates about My lifestyle.
"Mistress Ezada Sinn is the ultimate Female Supremacist. In Her world male creatures exist solely for Her pleasure. They have no other use or function. This is no game. This is Her life. Her passion.To be granted slave status in Her world is the greatest honour and privilege that can be bestowed upon the humble male. Once a slave understands his position in Her life he is washed over with a wave of elation and pleasure. His pride.
In Mistress Ezada's world there is a direct and strong correlation between the emotions of passion and pride and this is evidenced in real life experiences.
Recently I was summoned to serve my Mistress in Bucharest. I knew that She had been very busy and a little stressed over the previous weeks and that my presence in Her company was intended to help Her relieve some of that tension and pressure. To relax, to pleasure Herself by using Her slave. To fuel Her passion for Her lifestyle. For me, the humble slave, it was an honour to be the one chosen to serve Her in this way. Slave pride fuelled.
She had deliberately chosen a hotel suite where the furniture and fittings lent themselves perfectly to Her intentions. As we entered the room I was a little fearful of what was to follow as it was clear on the journey from the airport that She was absolutely determined to relieve Herself of all that pent up emotion of the previous weeks. And yet I felt a rising sense of pride knowing that I was to be used for Her pleasure in this way. My body was about to become the canvas on which She would paint a picture of Her passion.
There are times when Mistress Ezada does not need to speak to make Her expectations clear. This was one of those times. A steely look from Her dark entrancing eyes and a gently raised eyebrow and the message was clear.
"Strip, be quick about it and assume the waiting position"
I did not dare hesitate. As She left the room and I started to remove my clothes Her heady perfume lingered behind and pervaded my senses. I know that Mistress likes to receive gifts from Her subjects so whenever I see Her I always enjoy presenting Her with some gifts from Her Amazon wish list. One of the items I bought this time was a 2 piece leather warrior set. It consists of a heavily studded leather strap halter neck top and collar and studded leather G string. I check Her wish list regularly and as soon as I saw this item I knew I had to get it and thought She would look great in it. I fumbled in my case for the parcels and lay them on the table before assuming the waiting position.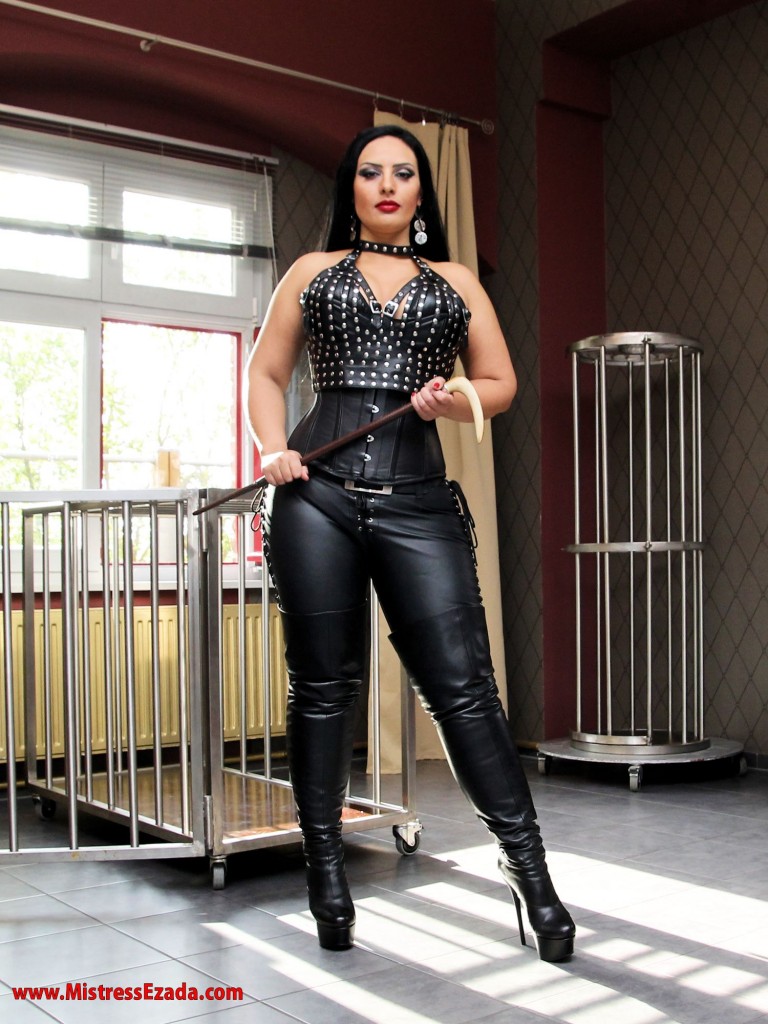 My heart always beats faster when I hear Her footsteps and as She entered the room and sat down She said "Come here slave" and as I crawled to the chair She motioned for me to assume the collaring position. I placed my head in Her lap for my collar to be fitted, a symbolic and also for me an extremely proud moment. She turned Her attention to the parcels containing Her gifts and I presented them to Her one by one. She was clearly happy with them and seeing Her smile of pleasure gave me such a warm and satisfying feeling. She seemed particularly pleased with the leather warrior set.
"Waiting position slave"
I resumed my position and waited. Some time later I heard Her slow deliberate footsteps and felt that heady emotional mixture of fear and excitement. She entered the room and stood immediately in front of me. All I could see were Her fabulous black patent leather boots but the smell of new leather and Her perfume was mind blowing.
"Look up at Me, slave"
I lifted my head and was greeted with the most amazing sight I have ever seen. She was wearing the new leather warrior outfit! I had thought it would look great on Her but this surpassed every expectation! With it She wore her black patent leather boots, black stockings and a stunning black patent leather corset. Her beautiful long black hair framed Her exquisitely made up perfect features. I could hardly believe my eyes, I have seen many amazing outfits worn by my Mistress but this has without doubt been the best yet. She smiled that smile which says "you're in trouble now!"
Fear gripped me but I felt an inner resolve driven by my pride at being the property of the most amazing Goddess in the world. She led me by the collar to an adjoining room where a timber framework by some adjoining stairs provide a perfect whipping station. Mistress Ezada is highly skilled in all manner of restraint, including ropes and in no time my hands were tightly bound and my arms stretched out in front of me and secured to a horizontal post. This had the effect of pulling my torso tightly against the front post and Mistress also deftly passed the rope through the ring on my collar which pulled my head forward and down. My feet were bound together and secured to the post and this in turn caused my chastity device to press painfully into my body as I was pulled tightly into the post. Finally Mistress fitted a butt plug and secured it with further rope. I could not move a muscle and was in a perfect whipping position. Mistress came to the side of me and I felt Her warm breath as She spoke in that amazingly sultry and sexy voice.
"I am going to whip You. Not as a punishment but just for My pleasure. I am going to whip you for as long as I want until My desires and feelings are satisfied. You will suffer for My pleasure as My whips decorate Your puny body with a mass of stripes and welts. You will not have the luxury of knowing how many strokes You will receive, it may be 50, 100 or 200, maybe more. Are you ready to submit to Me, to suffer for My pleasure?"
The passion in Her voice was palpable. I nervously mumbled "Yes Mistress" at the same time being acutely aware of my growing cock pushing against the steel restrictions of its environment. Was that my pride?
She warmed me up with some lusty blows of Her flogger and I could sense Her power and passion in the weight of the blows.
"Now slave I am going to show You what a kind and caring Mistress I am. On the table behind Me I have laid out 4 of My favourite whips. You may decide which one I will use on you. Give Me a number between 1 and 4"
"3, Mistress"
"Good boy. You have chosen well. You have chosen My favourite, My red snake whip!"
I was glad I had pleased Her in this respect but I knew from previous experience that this is a most painful implement! I braced myself and as the first streak of fire erupted on my pale skin I heard Mistress's first purr of pleasure. It was to be one of many. I gritted my teeth as the lashes from Her whip rained down on my back and ass. I could feel the passion and sense Her arousal at the patterns She was painting on my skin.
"I like to mark You slave, it arouses Me to see the stripes of pain on Your skin. And it arouses Me even more to know that You will bear My marks for many weeks to come" She breathed in my ear as Her bright red stiletto nails traced some of Her strokes on my very sensitive skin. "But I am not yet satisfied so I am going to whip you some more"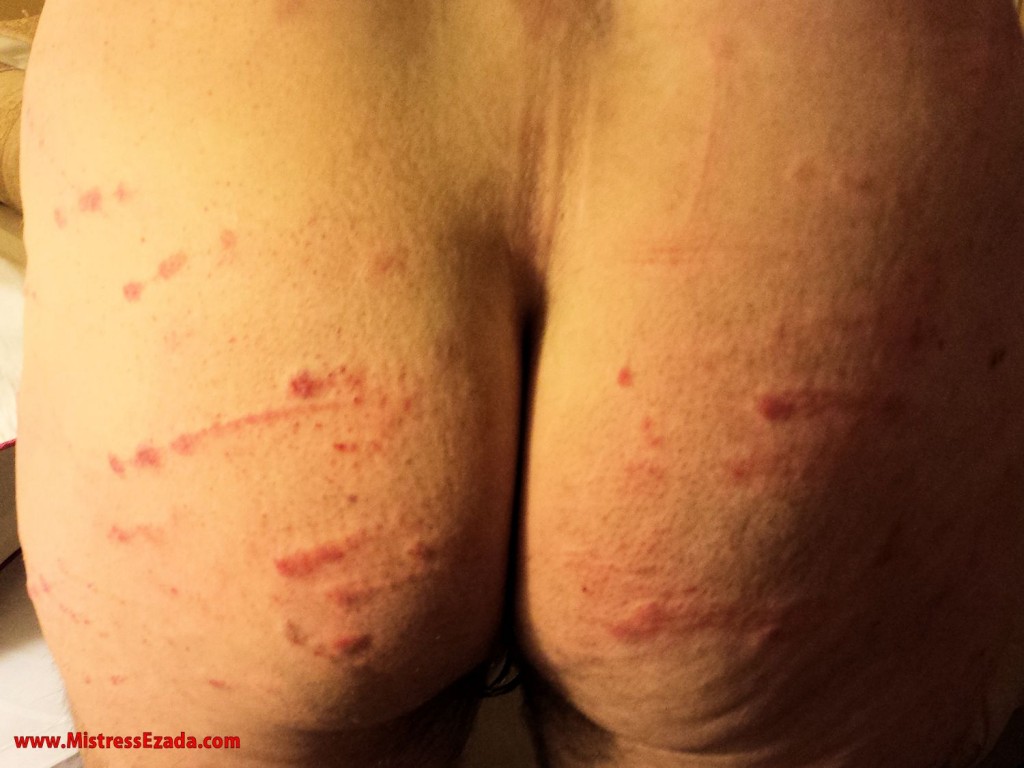 The hard blows from Her snake whip cut into me as I screamed in pain, but this just seemed to heighten Her arousal. This was by far the hardest whipping I had ever received but I could hear in Her breathing and words how much She was enjoying it. I was quite proud of the fact that although I released a few screams i did not break down entirely and was thus able to contribute to Her enjoyment.
"I like to see the blood of your ass, it excites Me. So I am going to whip you with My other favourite whip that I use on you. I think you know it is My cat of nine tails with the steel tipped tails that rip into your flesh. I love it!"
This is a brutal whip and She wielded it with grunts of pleasure and satisfaction taking great delight in telling me how my ass was now totally covered in small cuts. She was now in a high state of aroused excitement as She released the ropes that bound me so tightly. Seeing Her like this had the effect of forcing my cock tight against its metal confinement in a most uncomfortable way.
"Lie on the floor on your back"
She towered over me. With Her Black Russian whip in hand She  knowingly smiled as She said "Do you like nipple torture slave?!" (She knows I hate it which simply accentuates Her pleasure)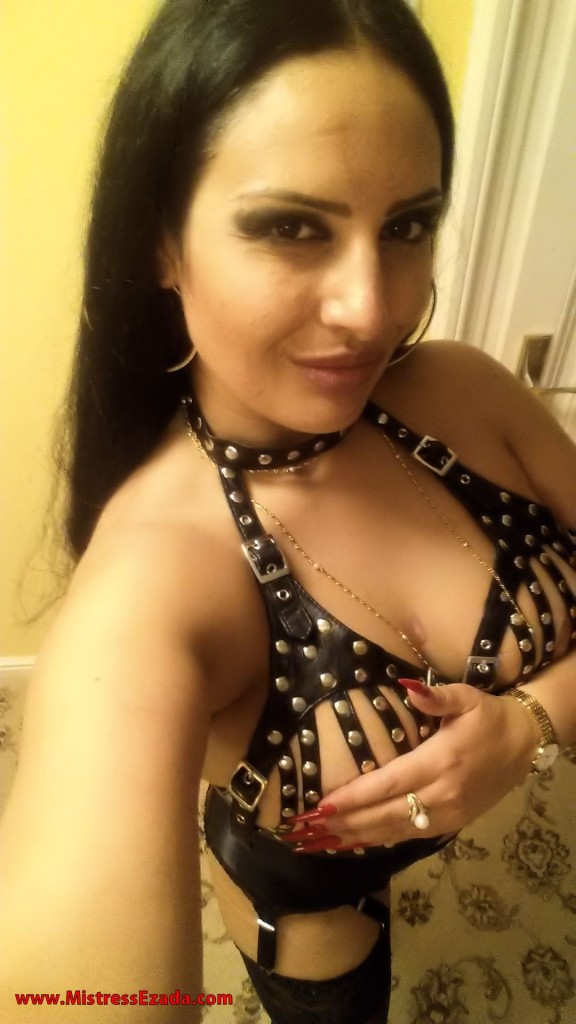 With that She brought the whip down with severe force on my left nipple that made me double up in pain. As I regained my composure She lashed my right nipple. Time and again She brought that whip down with great force and unerring accuracy. The pain was excruciating but this just made Her more and more aroused. My chest and sensitive nipples were burning as She stood astride me and unbuckled the thin strip of leather, now dripping wet, that scarcely concealed Her Sanctum.
With Her booted feet either side of my chest and facing my feet She lowered herself over my face.
"Tongue out slave. Lick My ass. I want to feel Your tongue deep in My ass. Deeper, slave, deeper."
I struggled to breathe as She mockingly pulled at my chastity device telling me over and over again that slaves do not get to orgasm yet She will enjoy many.
My jaws ached as I pushed my tongue deeper and deeper inside Her and I heard Her moans of pleasure as She enjoyed a series of strong orgasms. As She stood up, Her sadistic thirst quenched, I instinctively rolled over and slavishly kissed Her patent leather boots in complete submission.
She relaxed in the chair and I knelt beside Her totally in awe of this amazing Lady. "You have pleased Me slave, I am satisfied. For now"
It had been the most intense of experiences and Her words made me feel so proud. Later that evening I managed to look at the marks in the mirror and She had indeed painted a vivid picture but I am so proud to wear those marks knowing that they are there for my Mistress's pleasure. Even as I write this some weeks later the marks remain and every day I look at them I am filled with the same pride.
Mistress is so passionate about Her life and Her life style and that emotion is evident in every thing She does. And the more a slave submits to Her desires the more proud he becomes.
Passion and Pride – inexorably linked in the world of our incredible Goddess Ezada Sinn."