Factual account written by My slave purcelus after he served Me in Avalon Residence.
"I was waiting this moment for weeks. It was a dream for me to go to Berlin, not to visit the German capital but to discover one of the largest caves of Female Supremacy: The Avalon Residence.
The days preceding my departure, I sail on the Avalon website to harvest valuable practical information but mainly to start to shiver by where I was sleeping, I was going to stay in my penance waiting obediently my Empress. By dint of thinking, of fantasizing about it, I will have the great honor to live this experience owing to my Mistress.
I remember the day I confirmed Her my presence, She answered with Her mischievous voice, sensual with an ounce of sadistic pleasure :
" Maybe, it will be too much for you : be My prisoner, sleeping in the cold and dark cell among other slaves. you will not support it!"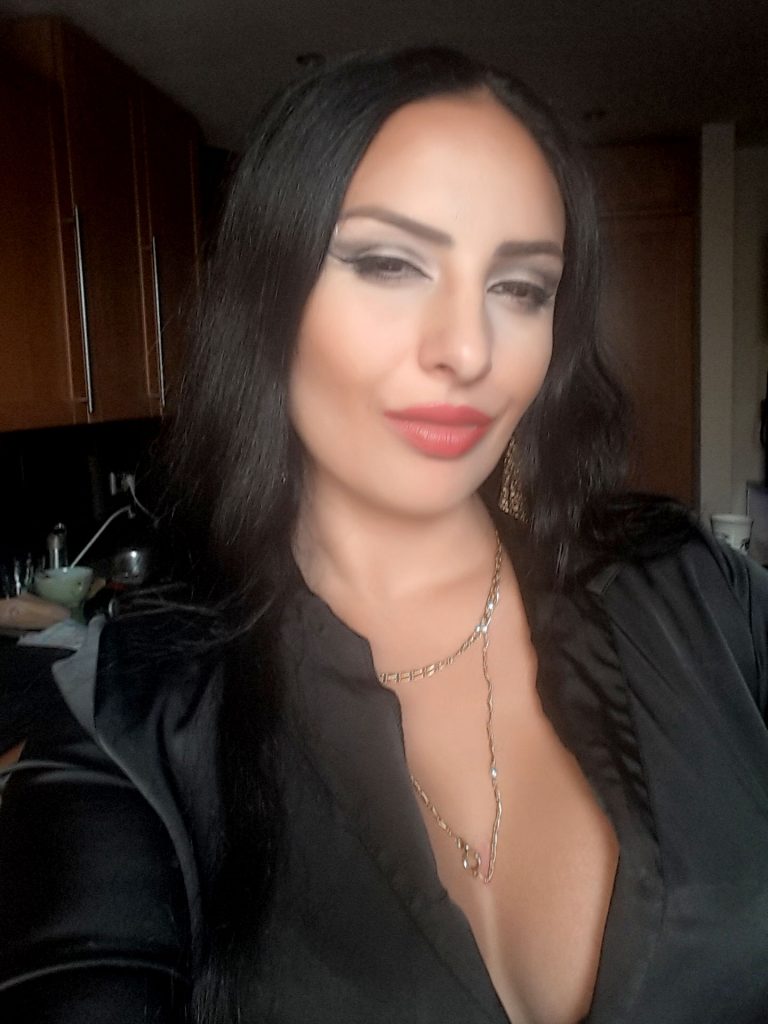 Then She sketched an unequivocal smile. She certainly knew She will pushed my limits towards borders that I did not imagine.
She gave this sentence, also, I suppose, for two reasons:
– To challenge me because She knows I love the competition. Showing me that She underestimate my will to serve  Her with perfection, it irritates my slave's low pride and I prepare myself  not to disappoint Her. I must admit that She likes to play with my competitor character for contest with other slaves, for example, to use the most of my body, my mind and my devotion. To be honest, I sometimes feel this need, but Her charm, elegance and natural superiority, everything is present for me to go beyond my limits and offer even more my body, my mind to the masterpiece done by my Goddess.
– To fear me several months ahead and dream about what will happen in Germany.
I landed at Berlin-Tegel airport in the late morning. The appointment is taken for 13 H at the Avalon residence. I could prepare my route to get me to the dungeon of Lady Marlon and Lady Mercedes. The airport is only 6 kilometers from the dungeon and it is the only noise you can hear from the deep basement of this large residence. I could take a taxi but I admit that I wanted to feel the tension, anxiety and chills go up gradually along my path.
Along the way, I find the beautiful landscape and I stopped along the Spandauer Schifffahrtskanal to realize a picture (in the waiting position, completely naked). I send it by MMS to my Mistress to show Her that I'm on the way and I think of Her, as always.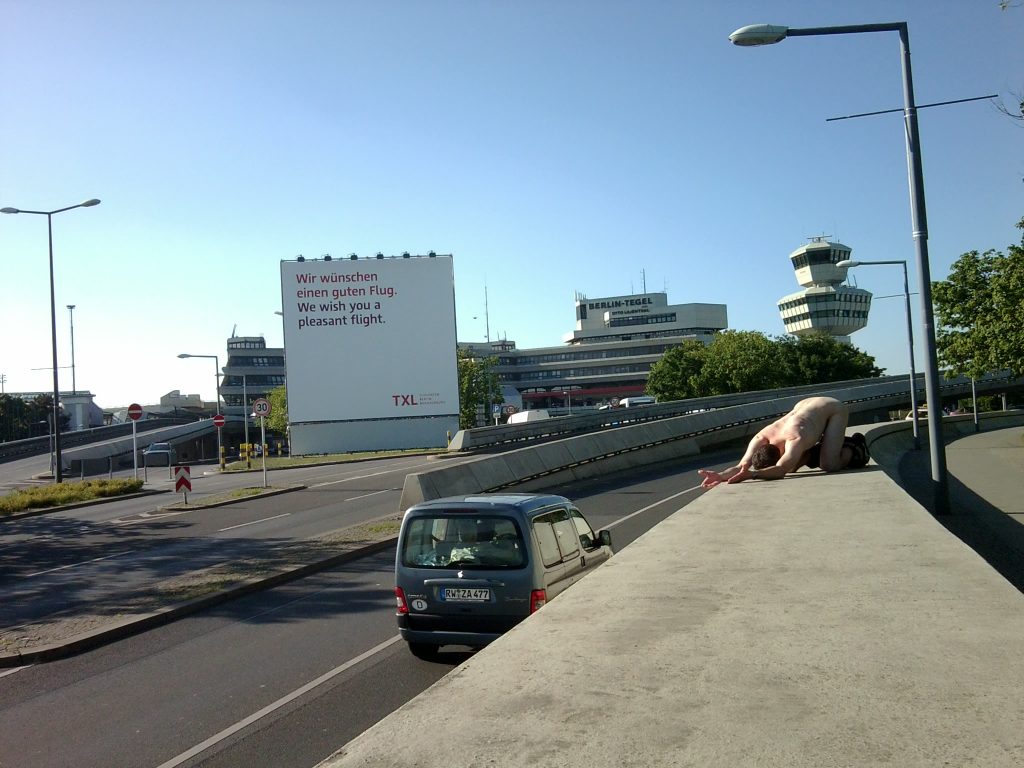 I finished my walking few minutes later, taking care to eat a sandwich. I prefer to prepare myself because I know I will not have anything to eat or drink for a very long time. My Mistress  decide when it's necessary to feed me. I confess that to increase the intensity of a "total power exchange", it is essential to control the diet of Her slave. Nothing is more intense than to start being really thirsty or hungry and your Mistress decides is She will offer a precious spit or Her Divine champagne that can, at once, raising my slave soul, but also help me to keep my spirits a minimum. One day, my Mistress will feed me only thanks to Her fluids and human waste every week. I am sure that this day will happen and I know that i will belong to Her forever.
I arrive in the neighborhood of the Avalon Residence. My excitement is so great that I was to the Avalon studio and not to the residence. Despite I looked at the photos on the website and I doubt that I'm not in the right place but my Mistress made me lose my mind already when I feel Her presence so close. At the entrance of the studio, a very elegant Woman opens the door and asks me. She quickly understood that I was at the wrong door and She decided to take me with Her car at the residence. It was easy to know, but I understood later that this Woman so haughty and friendly, is none other than the owner of the premises : Baroness Mercedes.
We arrive at the residence. The door opens with a man, and I see my Mistress sitting at a table with Mrs. Caramel, Governess Painless, Fetish Liza and 3 other men talking, laughing. My Mistress is so beautiful, She wears jeans with Her famous "flat boots" and a black top suggesting one of Her pretty shoulders. I had not seen Her for nearly two months, and each time I feel the same, I fall in love. I thought it was due to the huge lack of sensation when I'm not with Her,  but I feel that She is even more beautiful, day after day, month after month, year after year.
Baroness Mercedes says :
"I found this poor slave lost on his Way."
My mistress answers :
"Idiot, idiot, slave"
and She slapped my face and forced me to kneel to kiss Her boots.
I remain kneeling and I met the other Mistresses, kissing their feet one by one. I confess I am still intimidated when I meet other Mistresses, ruling the world, especially when other men (not slaves) are there, sitting at the same table. But the presence of my Mistress allows me to overcome that shyness.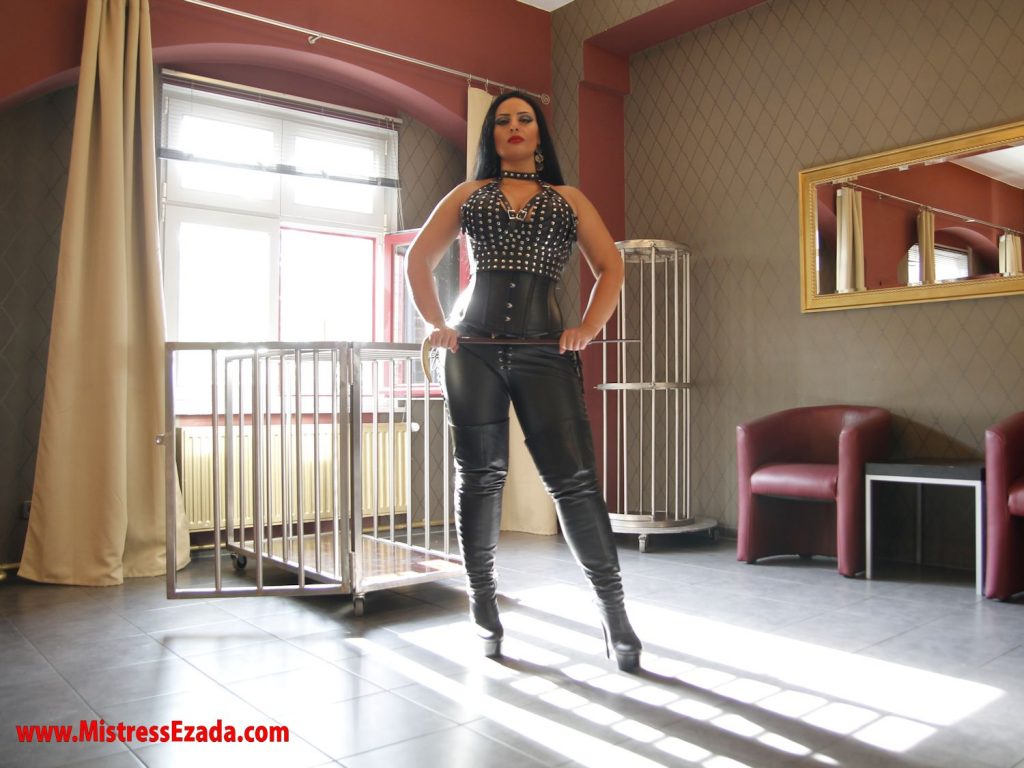 After brief introductions, my Mistress takes me to a small dressing room. She asked me to undress and leave all my belongings in a locker. I'll meet them until the end of my stay. In each shelve, there is a prison uniform. My mistress preferring to see me naked, she decided that I will not wearing that uniform. Before undressing, I offer a gift to my Mistress, as always. For the occasion, I planned a small romantic speech in Romanian. My language and my pronunciation mistakes causes a scathing and chilling response from my Mistress during my love note:
"I understand nothing from what are you saying, leave this present here. Strip of, faster, slave."
I think my Goddess was right, my Romanian was pitiful, but I doubt that She was also eager to show me Her power by transforming me into Her prisoner.
She puts me Her Collar, so synonymous of a total ownership.
Once completely naked, my Teacher tells me the gesture for the heel position and I'm in all fours, slightly behind Her, on her left. To humiliate me, She takes me to the dining room to kiss the boots of other Dominas.
"It's time to go to Your cell, slave"
with a cold voice, Goddess Ezada tells in front of everybody.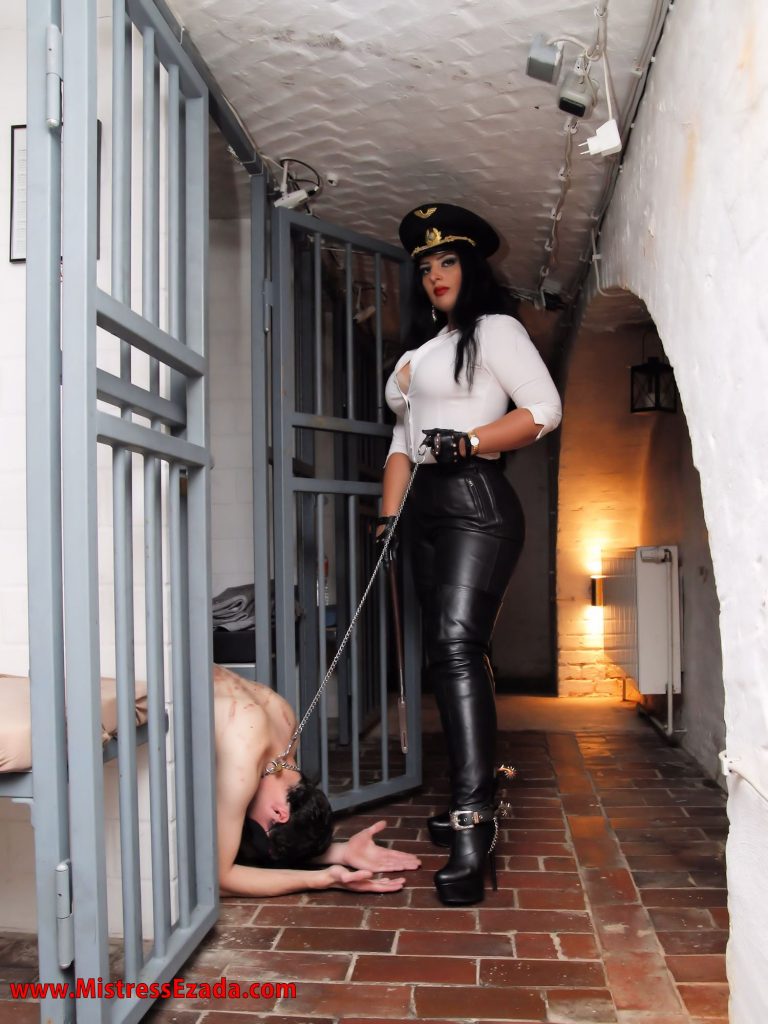 I follow her with some difficulties due to some stairs in stone, metallic stairs … My Mistress makes me a short visit of the Residence : St Andrew's cross, cages, inhabit different parts of first floor. On the ground floor, a large shed where my Mistress asks me to kiss Her boots and announces:
"Presents balls !".
She gives me a strong kick in the balls. Like every time we meet; it is a ritual that indicates that now I will suffer for Her as long as She wants.
She shows me the different instruments (a little sulky, winch in the middle of the hangar to fix slave who could receive shots from very long whip …) Then she announces:
"I am in a bad mood, tired and displeased with the long road I did from Düsseldorf. You have to distressed me so that make me feel good by taking all the pain and humiliation i will inflict You".
It was scary to hear my Empress saying those words. When She is happy, smiling, She has not a light hand to show me that She can transform me into Her object, Her piece of meat … But when She is in a bad mood, I expect the worst when She will expresse Her cruelty with no mercy on my buttocks, my back, my sex, my balls…
Then She pulls me by the ear to go down in the vaulted cellars of the Residence. She shows me the different cells much scarier than each other, I began to panic when my Mistress stops in front of the "famous black hole." I do not know if I'll be able to stay here for 48 hours. You cannot move, lie down. You can only crouch and wait.
Fortunately my Mistress leads me in the cell No. 2. A small cell of 1 meter wide and 2 meters long with a very narrow bed.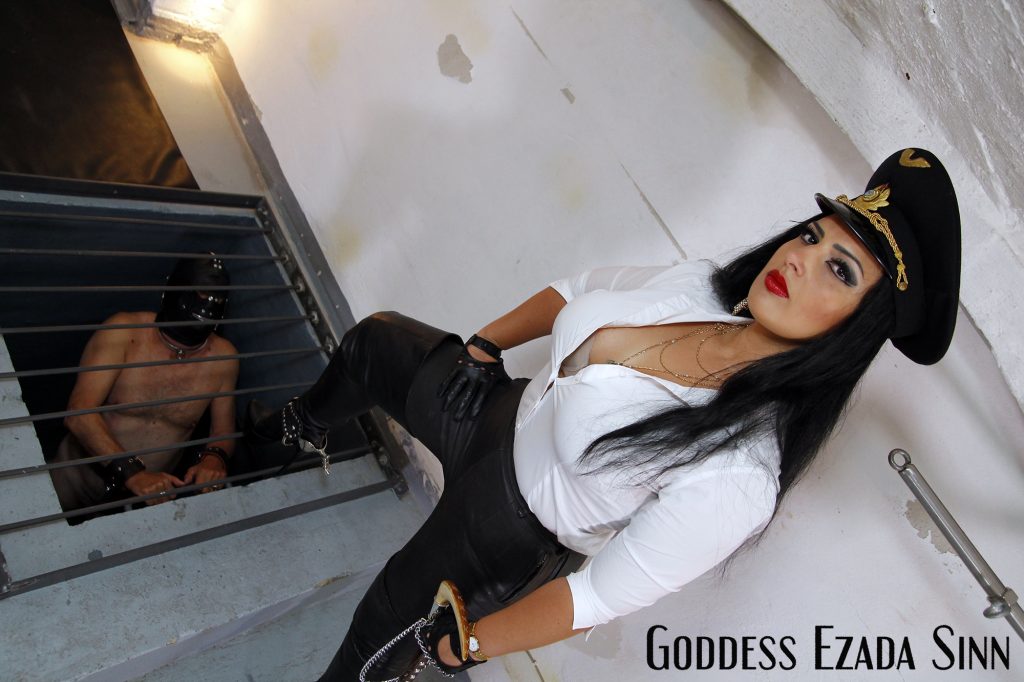 "It's Your cell, purcelus, I hope You will love Your bed. Other slaves will come later, You are lucky to have the whole place for You."
I answer timidly : "multumesc Stapana"
She shows me the infrared camera to indicate that She could watch me, keep an eye on me at any time. In addition, She said that there is a switch in case of i cannot support the isolation but She doesn't know where it is.
… "Any way, You don't want to disappoint Me, slave, so you don't need to know "
In a snap, I understand that I have to kiss Her lovely boots and then She gives me kicks in the balls to push me in the cell. She closed the door securely with a padlock and She walks away without any glance to me, so beautiful, so cruel, so dominant, laughing :
"Don't you think that we will have a lot of fun here"
with a laugh that freezes your body from head to toe.  She closes the heavy door to the cellar and cuts all the lights.
Anxiety takes me immediately. I plunged into the deep, impenetrable black with a manner so fast, so brutal. There is no window, light source in this space where the Women reign on, crush men who dare enter in this Keep.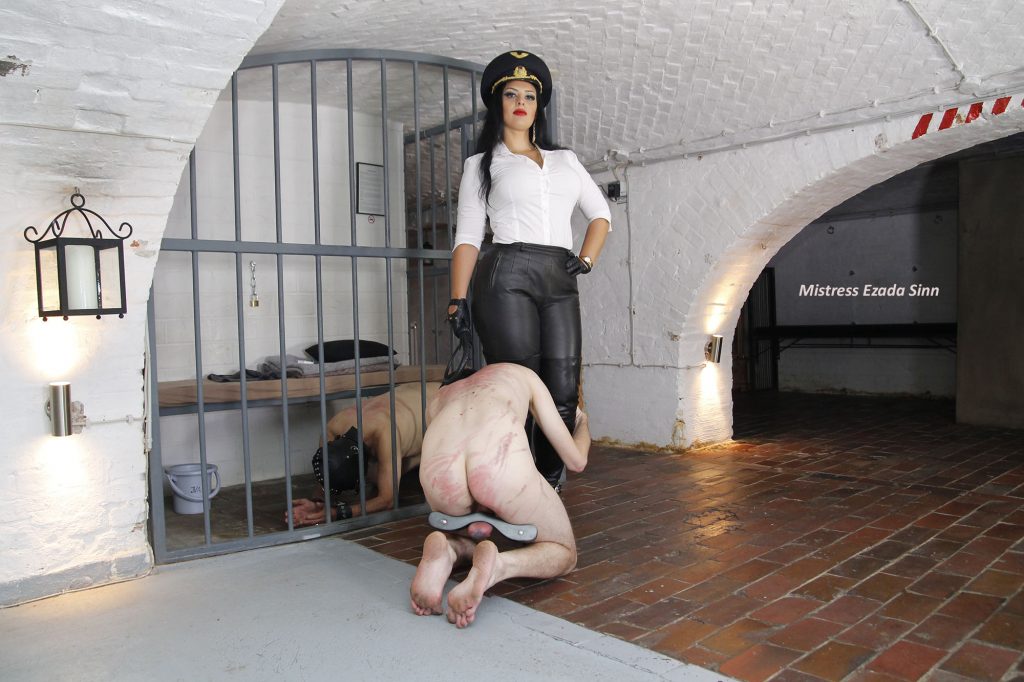 I decided to lie down on my little bed and tries to rest there.
I don't know how long I stayed there, alone, watching the little red circle of the infrared camera that continuously watches me. I quickly lose notion of time. 1 hour, 2 H, I don't know. I start to become very aware of all the little noises that I can perceive. I must admit that in losing sight, my hearing takes increased responsibility to keep my cool-blood.
Suddenly, I heard the sound of my Mistress's heels on the floor, upstairs, leaving the living room and going down by the metal staircase. No doubt, She comes to pick me to … I don't know … to break me, to humiliate me … I don't know.
I prostrate myself in the waiting position to the foot of the bed in front of the bars of my cell and I start to shiver. Goose-flesh wins me :  the cellar door opens…
I do not know how long I stayed there, alone, watching the little red circle of the infrared camera that continuously watches me. I quickly lose track of time. 1 hour, 2 H, I do not know. I am very aware of all the little noises that I can perceive. I must admit that in losing sight, my hearing takes increased responsibility to keep my composure
Suddenly I heard the sound of my heels Mistress on the floor of the upstairs living room and down the metal staircase. More likely, she picks me to … I do not know … to break me, to humiliate me … I do not know.
I prostrate myself in the waiting position to the foot of the bed before the bars of my cell and I start to shiver. Goosebumps wins me: I mean the cellar door open…"
To be continued