Morning breaks on the second day of my service to Goddess Ezada Sinn, it is a day which will bring surprise for both Goddess and i.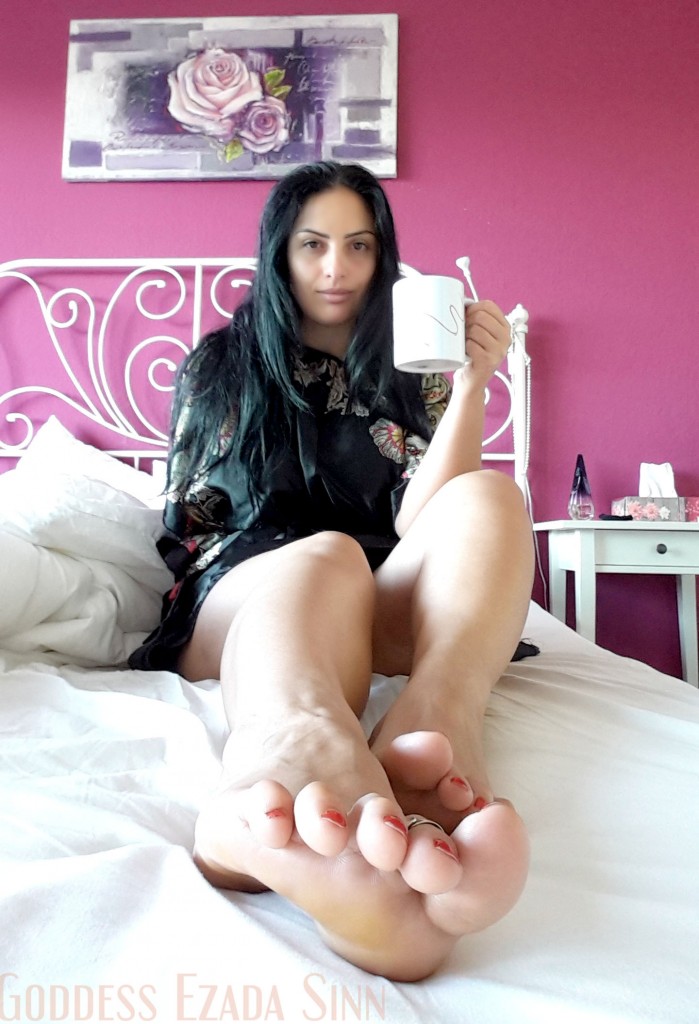 The day begins in the most wonderful fashion, worshiping Goddess' feet. i have never before had a foot fetish but find this has changed, to be kissing Her feet while looking up into Her beautiful face is heaven. Every time i look up into Goddess' eyes in this way i fall a little more under Her spell (if that is even possible).
Serving Goddess Ezada is not the 24 hour dungeon fantasy that i am sure it is in many male minds, there are many domestic tasks which Goddess requires to be done. Serving Her by performing these tasks brings just as much pleasure because it pleases Her. First coffee and breakfast are served, after this i am allowed the honour of brushing Goddess' beautiful hair. Goddess has such beautiful hair, it was a pleasure to carry out this task.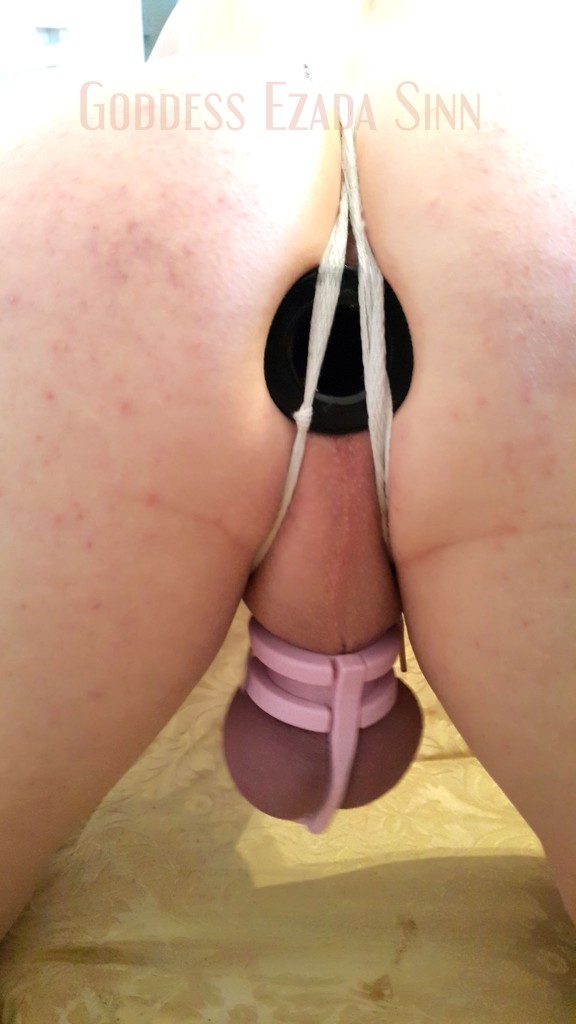 Goddess decides She wishes to play a little with Her poodle. First i am on all fours while Goddess inserts one of the butt plugs from the training set. This is the medium one so it goes in quite easily, but i have no idea how long it will be in. i look over my shoulder and bark at Goddess Ezada and Her smile fills me with contentment. Goddess, however, is not yet finished. Goddess likes cages and i am to try one out for the first time, there is a standing cage in the corner of the bedroom. i am ordered in, it is only once i am in that i realise how small the cage is (it is fortunate that i am only small). Goddess locks the cage with a smile before leaving the room to go into the dungeon. i hear Her picking through things in the dungeon and wonder what torture i am soon to experience. When Goddess returns it is with some nipple clamps and a chain in Her hands. my movement is soon even more restricted as the clamps are fitted and the chain around the bars to keep me still. The pain of having the clamps placed is one thing, but Goddess pulls and twists them to increase the pain levels.
Goddess enjoys teasing and torturing my nipples before going back to the dungeon once more. Soon i find myself gagged with a penis gag while Goddess continues to torture my nipples with various clamps and Her fingers. By the end my nipples are quite sore and rather sensitive. However, the biggest torture is yet to come. Goddess returns with a blindfolded which is soon placed over my eyes while She gets changed. Oh what devilish torture, to know Goddess is getting undressed right in front of you and be unable to witness it.
Once dressed Goddess has something new in store, She has a new flogger and requires a test subject. Luckily, She has one stored in the cage in the corner and so i find myself ordered from the cage and onto all fours. Goddess' new implement is a rubber flogger, a very new sensation for me and quite different to any other whip i will feel over the weekend. Goddess begins to flog my ass and i find there is a burning sensation with every strike. It is indeed a quite painful flogger, but certainly a beautiful looking piece of equipment. Goddess continues until my ass is a nice pink colour and She decides She has properly tested Her new flogger. my task now is to clean the equipment Goddess has used. my ass is pink and stinging, my nipples sore but i have loved every minute of Goddess' attention.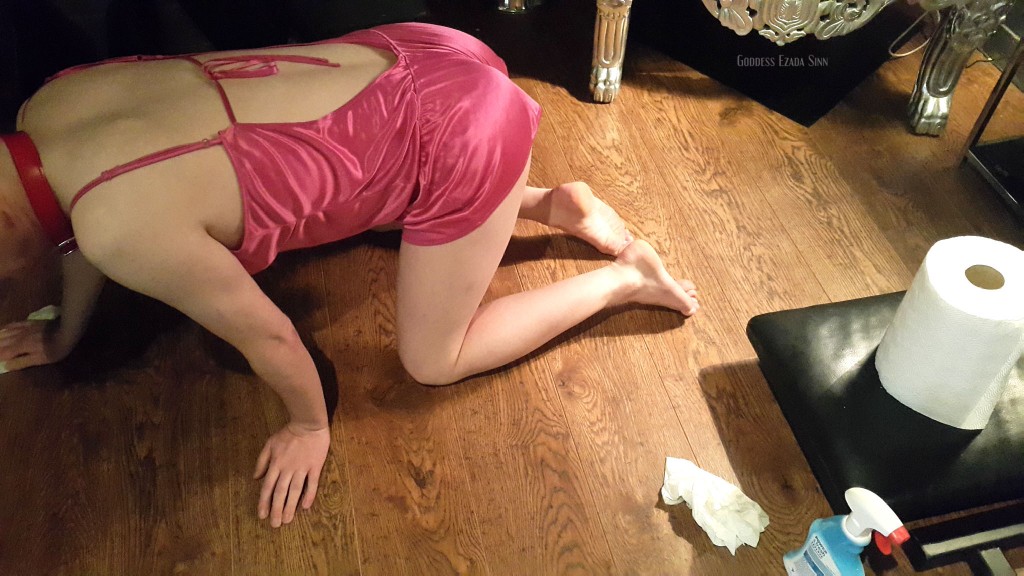 During the day Goddess has a few sessions, while this goes on i wait in the bedroom until Goddess requires me. Many times i hear Goddess laughing, it makes me smile to think of Her enjoying Herself. After each session i am required to clean the dungeon and all the equipment that has been used, Goddess has standards and anything that is missed brings punishment. In between sessions i serve Goddess some food, chopped banana and pear. Whilst eating Goddess gestures to me to get into position and i am given a real treat, Goddess chews the banana and feeds me directly from Her mouth. It is the best banana i have ever tasted, the gift of Goddess' saliva is a wondrous gift which should always be savored and treasured.
At the end of the last session one of Goddess' friends arrives, Mistress Devina, followed a little while later by Sardax. Sardax presents Goddess with a gift, a beautiful portrait, it is a true piece of art which captures Goddess' beauty perfectly. Goddess is generous enough to allow Her poodle to join Them and share in a bottle of wine. W/we have a very pleasant conversation before preparing to go out for a meal. Before getting dressed i have the medium butt plug inserted, i am to wear it to the restaurant. i've never worn a butt plug outside before and i find myself rather nervous and self- conscious even though no one else knows.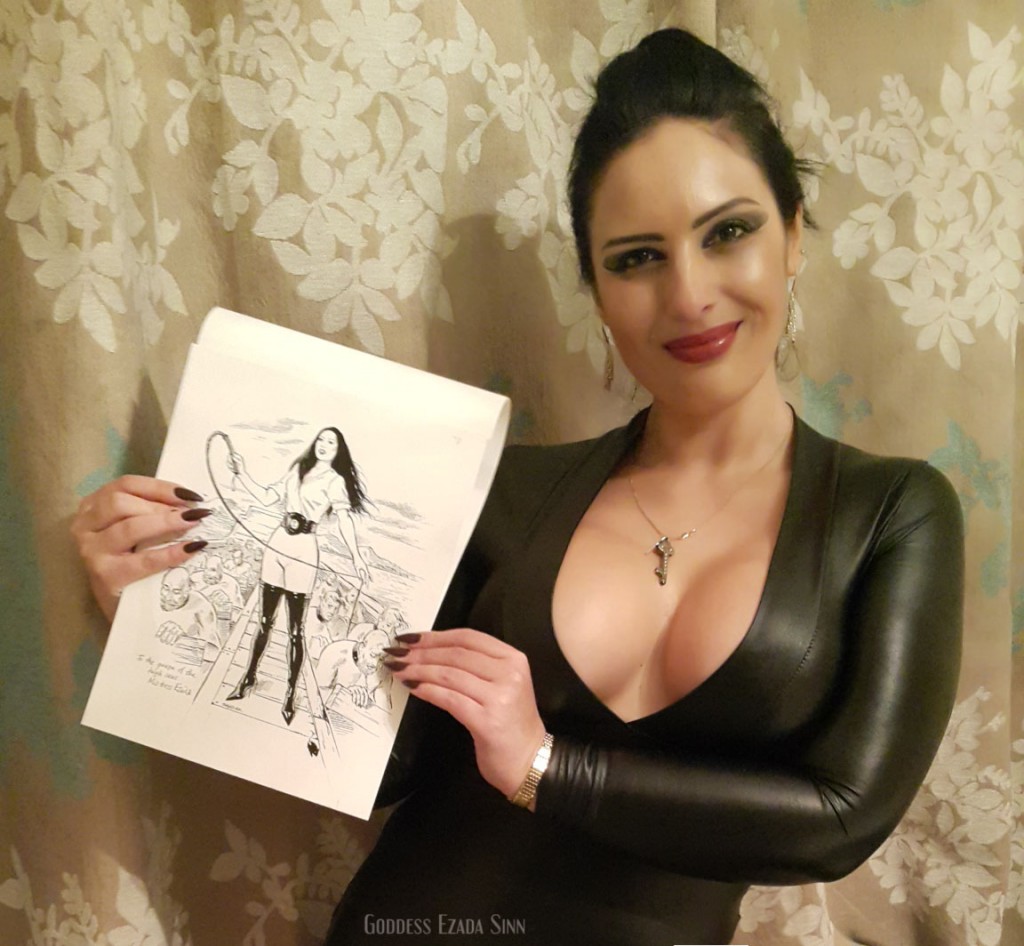 We walk across to the restaurant and here i make an error, i go to sit down before assisting Goddess with Her coat. Goddess has no hesitation in announcing i have earned 10 whip lashes, i have no idea if anyone overheard but this is simply irrelevant. What anyone else thinks is of no concern, only Goddess matters. As previously mentioned, Goddess controls everything, and so She orders O/our food, Steak with peppercorn sauce. Goddess is generous enough to add Her special spice (saliva) to the sauce. i do not know or care if anyone else noticed, Goddess holds my attention. Over dinner W/we enjoy a pleasant conversation, i am struck by how the essence of conversation is little different to a vanilla conversation. There may be some elements that are different, the subject of FemDom for example, but at the core the discussions are still about people's relationships. After dinner W/we are provided with a treat, almost as great a gift as Goddess' saliva, Sardax makes a pen and ink sketch of Mistress Devina. It is quite amazing to watch a true artist in action, what i would give to have even an ounce of the talent i am able to observe.
We return to the apartment, and after allowing the food to settle it is time for the dungeon. First it is time for my punishment before Goddess has some fun with Her poodle. Over the day i have earned 20 whip strokes, an improvement on the first day but this would be a whipping rather than a spanking. For this i am to be put into stocks, it is a kind of torture in itself to be manoeuvring into position the equipment which will immobilise you. The whipping begins and the pain is quite different to the rubber flogger, this provides more of a stinging sensation. They are both painful in different ways, but the flogger is perhaps more unpleasant. i count the whip strokes and reach 20, my ass is starting to feel rather warm now. However, Goddess decides that more whipping is needed just for Her enjoyment. By the end my ass feels hot and stings, if i could see it i am sure it would be very red.
i remain in the stocks while Goddess gets Her next piece of equipment. This is not for punishment, but for Goddess' enjoyment. As Goddess walks in front of me, She is wearing what looks to me to be a huge strapon (i know there are much bigger ones in the dungeon though). i take it into my mouth, trying to put into practice the banana work i had been doing in Her distance training. i take it as deep as i can, gagging on it several times. Goddess enjoys fucking my mouth and making me gag for a while before it's time for my other hole to be used. i am just a toy to be used for Her pleasure and helpless to do anything about it. She walks around behind me, i'm nervous, will it fit? How will it feel? Will it hurt? These things are pondered as Goddess prepares to put Her cock into my ass. It goes in easier than i expected, it seems the training has stretched my ass well. Goddess fucks my ass for a bit, but the position is not comfortable for Her. A change of plan is decided, i am about to find out just what it feels like to be teased by Goddess Ezada.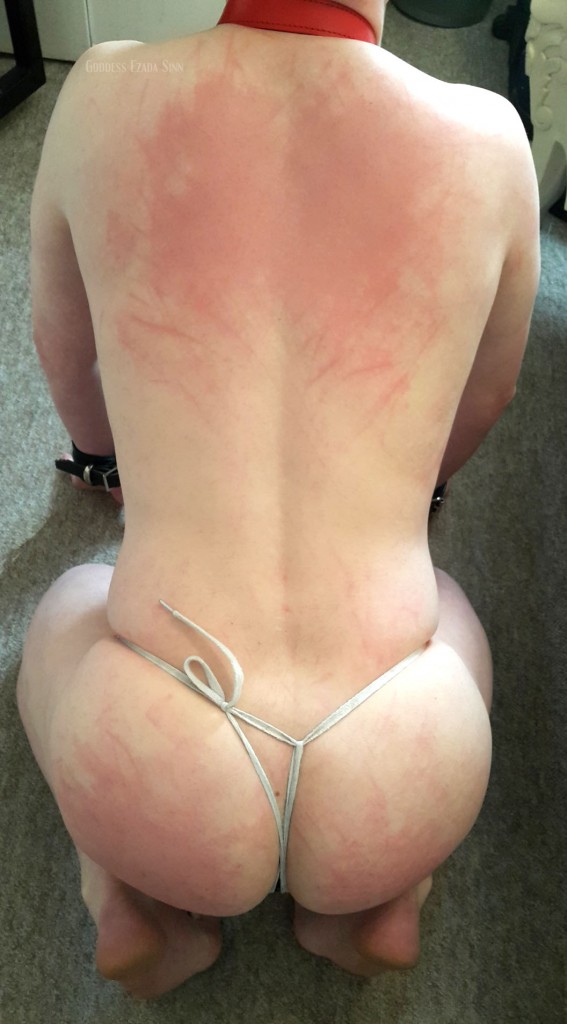 i am strapped down to the bench, Goddess delights in informing me that if i cum without permission i will earn 100 whip strokes. 100 whip strokes!!!! So far i have not even taken half of that, i am desperate to avoid this punishment. Anyone who has felt it will know, but Goddess Ezada makes an art form out of tease and denial. Under Her manipulations you will writhe and squeal as you are taken to the brink just for it to stop all of a sudden. To be teased so while trying not to come is the greatest torture yet and at the same time it also feels amazing. i am trying with everything i have not to cum but the sensations are just too much. Goddess tells me i must tell Her when i am about to cum and reminds me of the punishment for cumming without permission. Her ministrations take me to the edge time and time again, it really is torturous delight. i am straining not to cum so much that Goddess will later comment that She thought i was in more pain from that than the whipping.
Eventually i announce to Goddess that i am about to cum, there is simply nothing more i can do to stop it. Goddess, however, has other plans. Just as i am about to cum She squeezes Her (my) cock to trap the cum in the urethra. The pressure is immense, it is building up inside Her (my) cock. This is the most intense feeling i have ever had. Goddess keeps a grip on Her (my) cock but the pressure isn't subsiding, the feeling of Her hand is only fuelling it more. The pressure continues to grow, Goddess hand is forced away and i have the most intense orgasm i have ever felt. i feel I've let Goddess down, but Goddess is laughing. i look up and see another surprise, there is blood coming from Her (my)cock. It doesn't hurt, but there is definitely blood there. This is something neither of U/us has experienced before and so as a precaution the session is ended. While i clean up Goddess phones Her personal slave to check if there is any information on it. It seems the pressure was so intense that a blood vessel was burst. Such is the skill with which Goddess can tease She can make the cock bleed.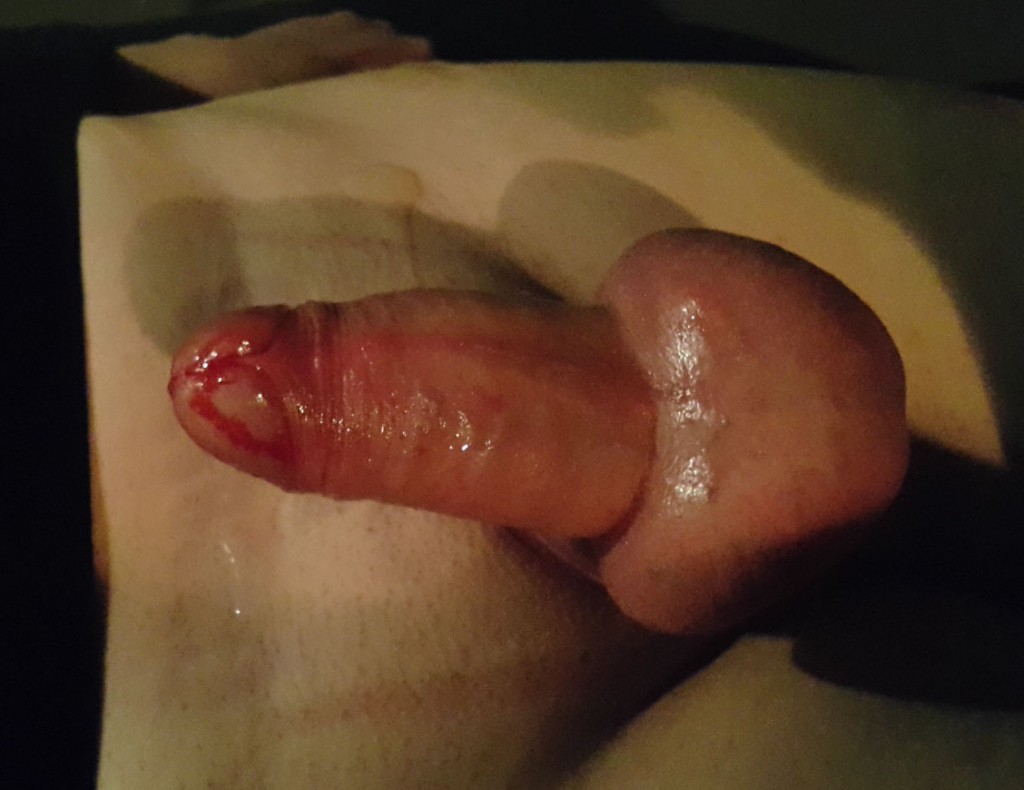 And so my second day in service to Goddess Ezada draws to a close in a most unexpected manner. i have the honour of worshipping Goddess' wonderful feet before we take to O/our beds (floor in my case). The following day would bring my sternest test…