…morning breaks on the third and final full day of my service to Goddess Ezada Sinn, this day would bring the sternest test i will face. The day beings with foot worship, i am in heaven as i look up into Goddess' face while kissing Her feet. The ritual feels so intimate and looking up into Goddess' eyes makes one feel so submissive and owned. There were many wonderful moments over the weekend but, as i look back now, it is the morning foot worship that i miss the most.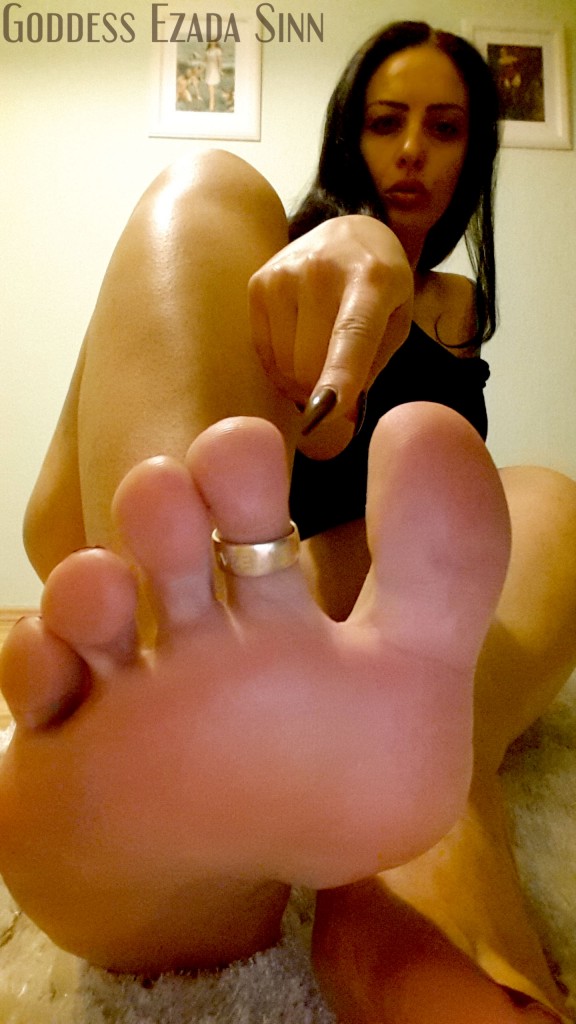 i serve Goddess coffee and breakfast before She begins to prepare Herself for the day. Goddess has a few sessions today and it is my task to clean everything up after each session, i try my best not to miss anything as i already have plenty of whip strokes coming later. During each session i wait patiently in the bedroom until Goddess has need of me. Every time Goddess walks into the room i look up and Her beauty makes my heart skip, Goddess truly is breath taking (in many ways, as i would find out later). After one of Goddess' sessions She tells me what happened in the session, how much She enjoyed it, and that She wishes to re-enact it later. With that i set to cleaning up, one of the items i have to clean up is a latex sleep sack/body bag. As i am cleaning it i realise it is highly likely i will find out just how helpless one feels when inside.
During Goddess' last session i am instructed to train my ass for Her. i have 4 butt plugs with me (for those who are interested they are from this set http://www.honour.co.uk/magnum-ease-in-anal- dilator-kit.php and it is the smallest one i didn't have). i am to wear each plug for 20 minutes, working from smallest to largest, and post on twitter. i work up to the largest one, this one is 6 ½ inches (16.5cm) in diameter at the biggest point. As it nears the end of the 20 minutes Goddess' session finishes and i am required to start cleaning, by the time i am given permission to remove the plug it has been in for an hour and i am feeling really stretched.
In the afternoon W/we visit Madame Caramel for tea. Goddess tells me i am to dress up in my pink outfit, i misunderstand and go to get dressed for the taxi journey. Boy, was i relieved when Goddess told me i was to put vanilla clothing on until we arrive.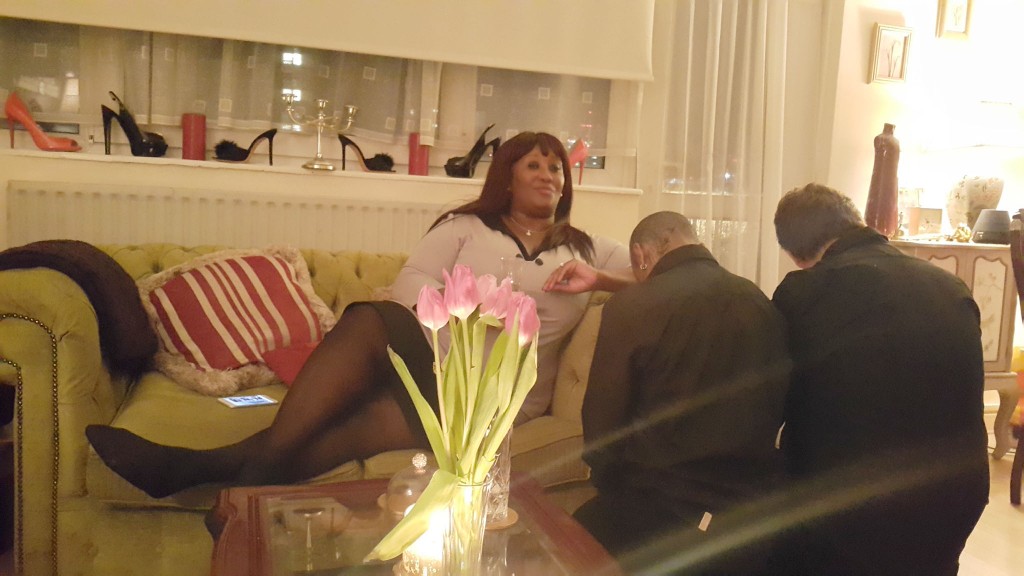 When W/we arrive, Madame Caramel has a surprise for Goddess and i am taken upstairs to assist in this surprise. As it happens, i am to be the surprise, Madame Caramel has a wonderful pink maid's outfit which i am to wear. i realize i should be embarrassed at the thought of being dressed so, but all i can think of is how much Goddess would like it. Soon i am dressed and ready to present to Goddess. i descend the stairs and enter the room with a curtsy, as taught by Madame Caramel, Goddess is delighted and Her smile is wonderful to see. Along with Madame Caramel's 2 servants, i learn how to serve afternoon tea. i am very nervous as this whole situation is entirely new, but i desperately want to please Goddess. Afternoon tea finished, we clear the table and are allowed to eat. i am honoured with the gift of Goddess' leftovers, it is an even greater honour when Goddess adds Her spit. Of course the food with Goddess' spit is to be eaten first as it is most precious.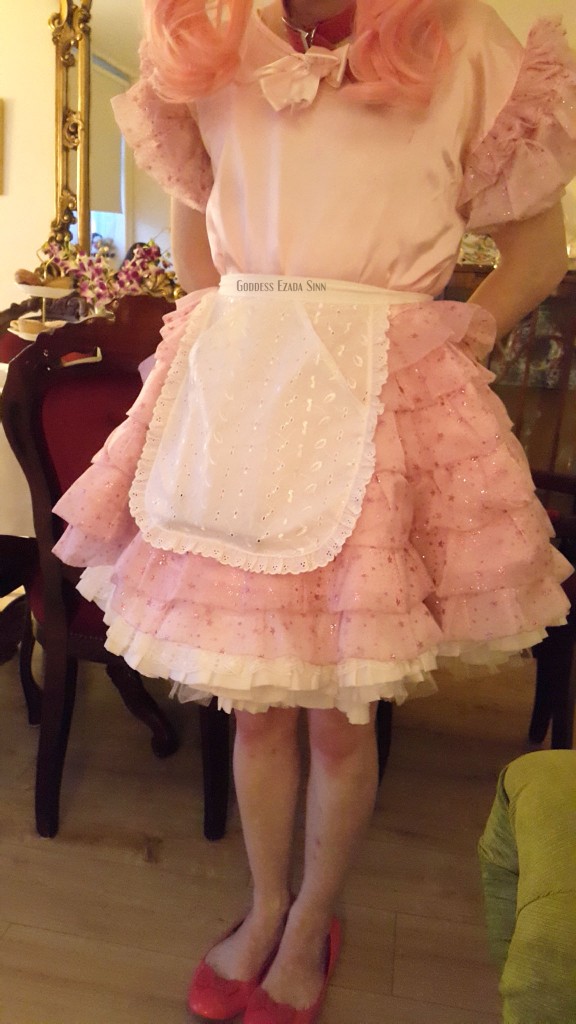 Afternoon tea over with, Goddess and Madame are relaxing. i am beckoned to kneel before Goddess feet and give Goddess a foot massage. This is not a skill i have any practice at, but Goddess explains how She likes it done and i believe i get a little better (but still in need of a lot of practice). i love kneeling before Goddess, it just feels right. i change out of the maids outfit and back into vanilla clothing before the next entertainment. Joris and i are to show how well we know the slave positions at Goddess' command. We begin with following the verbal commands before moving on to just hand signals. During the hand signals only, a clicking sound is used to signal for us to look up at Goddess' hands. Goddess seemed pleased with my performance, in particular that i knew slut position as this is not in the manual. Knowledge of the slave positions is very important to Goddess and this is something i have been practicing. i would suggest to any hopeful slaves to learn the positions well if they wish to enter Goddess' service.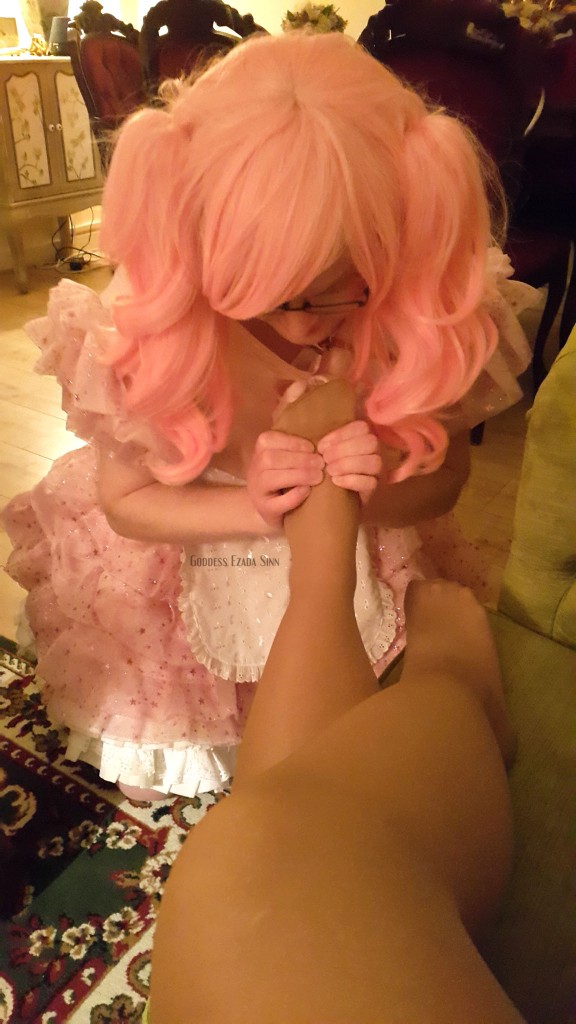 i would like to take this opportunity to thank Madame Caramel for the evening, it really was a most enjoyable experience and i learned a lot.
W/we return to the dungeon and, after i am allowed something to eat, it is time for me to face my punishment. i have earned no further whip lashes during the day and so i have "only" 100 whip lashes to face. Before this weekend i had never been whipped and the most faced so far has been around 35. i will admit to being scared, but i was determined to take the pain for Goddess. First i am put into a cage in the dungeon, Goddess turns the light out and leaves the dungeon leaving me alone in the dark to contemplate my fate. Lying locked in a cage in darkness allows one to contemplate what is about to happen, this only serves to increase the tension building inside of me. 100 whip lashes, i don't think i will be able to take it, it sounds like far too many. i lie there going over and over in my mind how it will be, and it gets worse the more i think about it.
Eventually i hear the door open and Goddess walk in, Her heels click across the floor as She approaches. The cage is unlocked and i am ordered out. Goddess takes Her time, everything is done very deliberately allowing the tension to build as i wait for the punishment to start. my wrists are changed high above my head so i am stretched a little, i feel Goddess behind me as She comes up close. Despite the situation i can't help but enjoy Her closeness, Goddess' presence is intoxicating in any situation. Goddess asks me if i'm scared, my answer pleases Her as i admit that i am. Goddess continues to take Her time, clearly enjoying my discomfort and fear. The whipping starts, it is the same whip with which i received my punishment the day before. It is painful, but worse is to come. i count every whip stroke, the count reaches 10 and i receive a brief respite as Goddess pauses to come up close to me again, enjoying my tension. The whipping begins again, with a brief pause every 10. i find myself using the count of 10 as a way of getting through. The whip is changed to the rubber flogger that Goddess tested out on me, but the strokes feel harder this time. Every whip stroke burns, i count, i cling on grimly determined to get through and take the pain for Goddess. i am now looking forward to getting to 10 and the pause. Goddess alternates the focus of Her whip strokes, my ass, my back, my ribs. No area of my body is safe from Her attention. By 50 i am hurting, my hands are clenched tight and i feel like the tension in my body can be sensed for miles around. There is still 50 more to go and the single tail whip to come, i have no idea what this will be like but will soon find out. The pain of the single tail whip is very different to the other two whips. It seems to be a more intense pain, more focused, but it doesn't have the burning feel that the flogger does. The sound of the single tail only adds to the tension. The whipping continues in sets of 10, with Goddess coming up close against my back, even in the agony i enjoy Her touch. i repeat Her mantra to Her, it helps, focusing me on why i do this. "i worship You Goddess Ezada Sinn, i belong to You". The count reaches 80, everywhere seems to hurt but there are just 2 more sets of 10 to go. "i can do this, focus on who you do this for", i think to myself. The count continues, 86, 87, 88, 89, 90. My moment of relief is broken as Goddess continues, it feels much worse without that brief pause but i hang on for all i am worth, my hands are clenched so tight i am surprised my fingers haven't dug holes in my palms. Finally the count reaches 100, everything is on fire. Goddess unchains my wrists and pulls me to Her, holding my head, comforting me. i am not ashamed to say i cried, i was so determined to hold on, the tension in me so great that the release of it brought tears. Goddess tells me She is pleased with how i took it and i feel pride. i am in pain but that no longer matters, i got through it for Her. i am sure there will be more painful whippings in the future, but this was my first real test and i got through it. This is what it means to belong to Goddess Ezada, to sacrifice oneself in pain to prove your devotion to Her. i worship You Goddess Ezada Sinn, i belong to You, never have those words felt more true than that moment.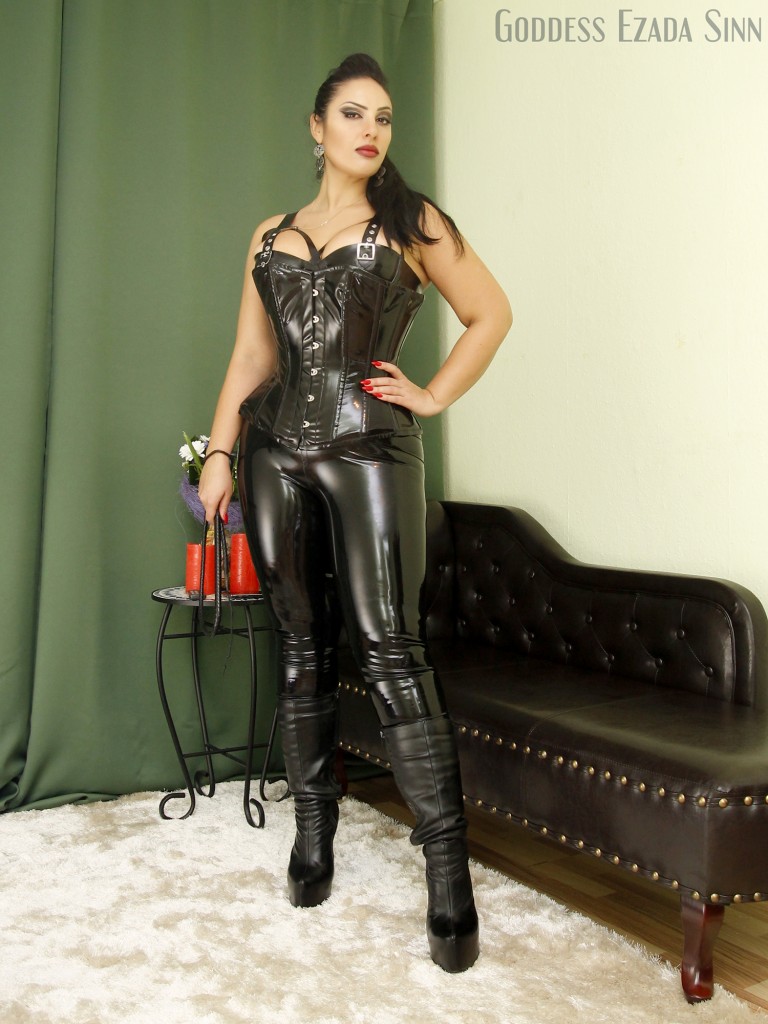 With the punishment over it is time for Goddess to have some fun. Of course Goddess enjoyed the whipping, but this has aroused Her and She wants to re-enact the scene from earlier in the day. First i fetch the latex body bag that i cleaned earlier. The bag is laid down on the bench against wall and i lift myself up onto it. Before i am fastened into the bag Goddess collects a medium sized butt plug, it is a bit longer but not as thick as the large one i had been using earlier. Despite the earlier training ireally feel it hit home as it is fully inserted. Once i am plugged Goddess fastens the bag and i am helpless. It is an arousing feeling, the slickness of the rubber against your skin coupled with being completely unable to prevent Goddess doing whatever She wishes. The body bag has some convenient access points at the nipples and the groin. Soon my nipples feel Goddess' attention as clamps are attached, these bite into my nipples but the pain in my nipples is also arousing. Goddess plays with nipples for a while, enjoying my expressions as She increases the pain. It is now time for Goddess to prove how much control She has over Her (my) cock. She teases me, bringing my to the edge time after time before stopping before i cum, it is a sweet torture, but torture nonetheless. i am about to learn about ruined orgasms first hand. Goddess continues teasing me, the tension builds and builds then, just as i am about to orgasm, Goddess stops. i cum, but there is no orgasm for me. my first ruined orgasm, but certainly not my last, not even my last that night. Goddess starts with the teasing again, again She expertly builds the tension, i am desperate to cum. By the time Goddess is finished, i have had 4 orgasms, all of them ruined. That is the most i have had consecutively, but Goddess tells me Her record with one of Her slaves is 11. Goddess collects the Doxy massager, i've had my orgasms (albeit ruined), it is now Goddess' turn. She gets up to sit on my chest while using the massager. i feel Her weight on my chest, taking my breath away. i watch Goddess getting closer and closer to orgasm, wishing i could be involved but unable to do anything but lie and watch as Her pleasure increases. Very soon i get my wish to be involved, Goddess moves forward until Her crotch is by my face. The submissive feeling as you look up at Goddess from this position is amazing, i am just there for Her pleasure. Goddess sits on my face and i am in heaven, i can smell Her arousal as She uses my nose to bring Her pleasure. As i said earlier, Goddess is breath taking, and never has it been truer than this moment.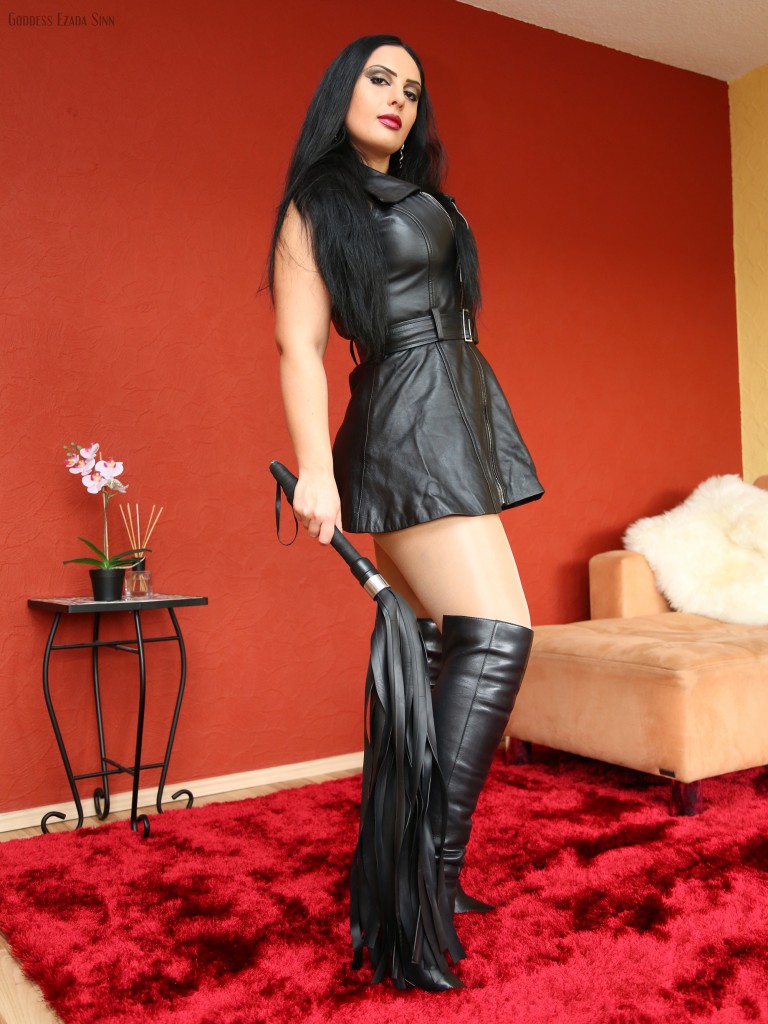 Goddess' arousal sated, the session is over. i have suffered pain and ruined orgasms, but the session has been amazing and i would not change a thing. The marks on my body will show for days, but i wear them with pride, to suffer pain for Goddess Ezada is something to be proud of. i clean the dungeon, wash the body bag and hang it up to dry before going into the bedroom. Before bedtime Goddess wishes for a foot massage with some massage oil. i feel very privileged to be able to provide such a service to Goddess Ezada. i don't start off very well, but Goddess explains how i should do it and i think i improved and in the end Goddess was happy. With a kiss to Goddess' feet is time for sleep, Goddess lies down in Her bed and i on the floor.
The next morning starts with the foot massage ritual. i do this with mixed feelings, i love worshiping Goddess' feet but it is mixed with the sadness that this is my last morning in Her presence. i serve Goddess coffee and breakfast for the final time. Once everything is cleaned up and packing is all done, it is time for us to part. Goddess tells me She is pleased with how i served Her, i am now a slave in training for the next 100 days, if i do well i may be collared. i am elated, nothing would make me happier than being Goddess' collared slave, but i know there will be many challenges involved. i kneel before Goddess so my collar can removed "your collar is removed, but My ownership of you continues" Goddess tells me. i leave to get the train back home with a skip, my head is all over the place, but i am on cloud nine.
The weekend was truly the most amazing time of my life, never has Goddess' mantra rang more true.
i worship You Goddess Ezada Sinn, i belong to You