Story written by My slave nuli, after meeting Me for the first time, in Dusseldorf. Pictures were taken with My phone, during the meeting.
"On July 16, the great time when i would be under Goddess Ezada's direct control came. i had been so eagerly longing for the time that when the time was approaching, i got more and more nervous. Goddess Ezada had occupied fully my heart and mind, there was almost no space for anything else. Every morning just after i got up and every night just before i went to bed, i tortured my nipples for Goddess Ezada, expressing my worship for Her: "i worship You, Goddess Ezada. i belong to You." Now i was in Her presence, so close to my Goddess, i really did not know how to behave and what to say to Her. Though i had seen so many Her clips and photos, and so many times each, still i was shocked greatly by Her beauty, charms and gentleness.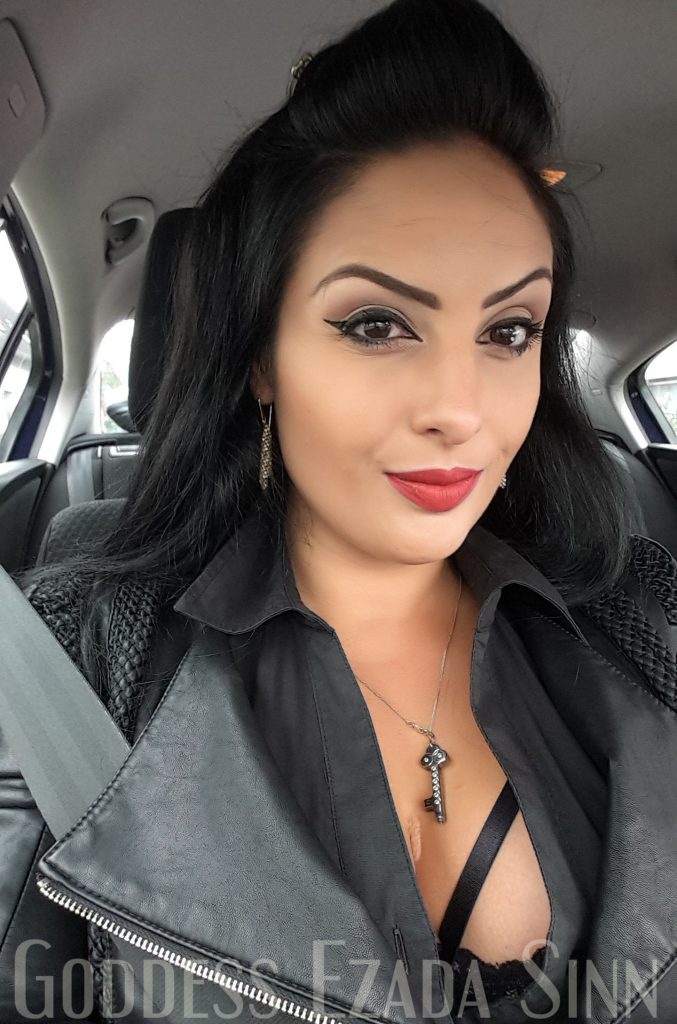 She picked me up from the railway station, and took me to the dungeon for me. On the way, She told me that i would be trained like a dog. After arrival in the dungeon, i was ordered to take off my clothes and shoes, then, She put a collar around my neck, and let me crawl into a cage. Now the two days' training for me to be Her devoted slave began.
After a while, i heard the vigorous sound of high heels knocking on the tiles, Goddess Ezada thrust one of Her pretty feet in a brand new shining high heeled boot between the bars of the cage. "Kiss it!" i showered my kisses on Her boot. How many times i had dreamed of kissing Her miraculous feet either in shoes or boots, I could not tell, but now the dreams came true. i stopped kissing at Her word "enough!" Then i was ordered to crawl out of the cage and to Her throne where She was now sitting. Again i was allowed to kiss Her boot as the beginning of the ceremony to present my gifts to Her. i was so happy when She told me She was fond of them all.
Then i realized the key moment came, which would decide if She accept me to be Her slave or not. But i was so nervous and clumsy that even in the first test about if i kept Her instructions in mind, i forgot all the positions She had told me beforehand to practice and remember except for the first one—the waiting position. Several of my failures in the test caused the accumulation of whippings as punishment increasing to the number of 65. So i was led to the rack attached to the big bed in the sleeping room, with my hands fastened to the both ends of the crossbar of the rack. Goddess Ezada tried different types of whips on me. At first She flogged me, letting me count the number myself. When i counted to ten, i began to feel the sharp pain. But i saw Goddess Ezada waving Her flog in the mirror. Even when She was flogging hard, She had such a special beauty and elegancy, that my heart melted. Being flogged by such a miraculous beauty, i felt myself in the paradise. my heart was full of gratitude to Goddess Ezada, because the flogging She inflicted on me brought me closer to Her, not only physically but also spiritually. i love to be whipped by Her, no matter She used any kind of whips, some of which even bit into my skin and broke it, especially when the whippings landed on the same spot, just like salt spread on a wound. But i just wanted to express my gratitude to Goddess Ezada, this made me able to resist any pains and sufferings. i just eagerly felt like telling my Goddess: "Thank You, my Goddess Ezada!" and "i worship You, Goddess Ezada. i belong to You!" With these words, all my sufferings and pains were gone. my soul got sublimed. i realized that to be Her slave is the only bright way for me to take; that under Her control and whips, i can learn how to live for the Goddess i love wholeheartedly, how to be a useful, helpful and selfless gentleman, defying any difficulties and hardships in my life.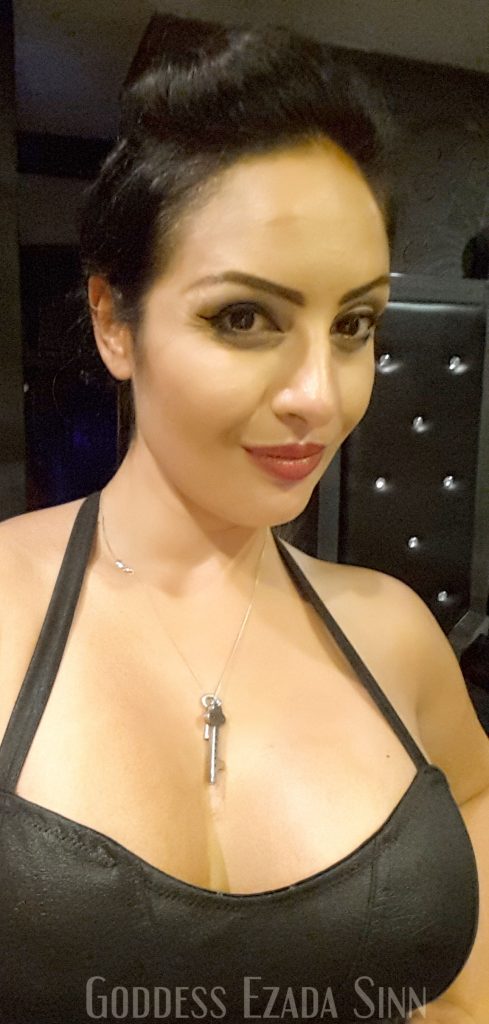 The whippings brought me especially spiritually closer to my Goddess Ezada. So the same day and the next day, i went through more sessions of whippings where Goddess Ezada increased Her strength and hurt more painfully, i felt them more tolerable just because i believed the fact that whippings please Goddess Ezada is not based on Her need of Her slaves' pains and sufferings, but on Her divine love for Her slaves. Generally speaking, slaves only need know, to take pains and to suffer for the goddess they worship, would please her, it's enough. They just try their best to prove that they really love and worship her, no matter how she treat them, and what costs they have to pay for the worship to their goddess. But i have further explored my relationship to Goddess Ezada, i found that no matter how She tortured me and how harsh and strict She was to me, She always cherished a divine love for me, to make me give up useless and surplus desire, desert selfishness and arrogance, pay more attention to my manners, always try to be a polite, modest, selfless gentleman, and respect women, especially respect and worship my Goddess obediently and unconditionally. i even miss to be whipped by my Goddess Ezada. Of course, i will not make mistakes on purpose so as to be punished with whippings just for the sake that they keep our relationship closer. But i will be ready to accept any punishment from Goddess Ezada, if i ever make any mistakes. For example, during the two days, i was so stupid not to have understood Her orders to keep me where i was. i just stayed where i was for a short while, then i thought of Her earlier order to have me go upstairs to take a shower, so i made the mistake of ignoring Her orders to keep me where i was, and saw Her changing clothes in the doorway. Immediately She got very angry, i knew my mistake, and felt very sorry for it, but i did not make any unnecessary explanation, just accepted the whippings willingly. By the way, while she was whipping, i found that my Goddess Ezada looked so beautiful, so fascinating, so sexy, even when She got very angry. i apologized in mind for my stupidity to have made such a stupid mistake, and offended my divine beautiful Goddess. This made me to be very attentive when listening to my Goddess' words, and other people's words as well.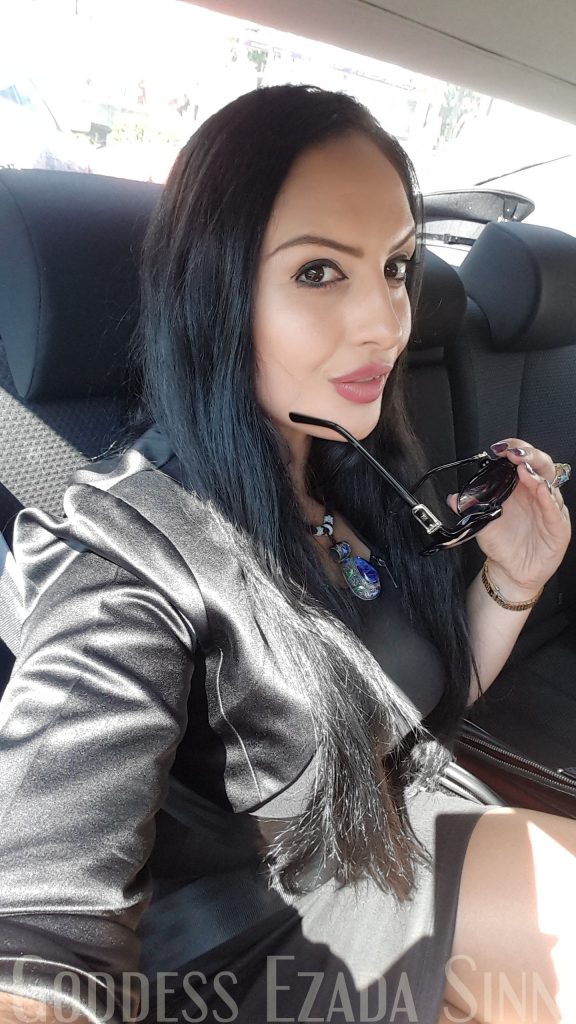 In short, i found Goddess Ezada's whippings on me mean so much for me. They left some marks on my back, especially on my hips. But by now, almost all of them have faded. But just as Goddess Ezada told me, "Marks will fade, but I will be in your mind." Yes, Goddess Ezada will always be in my mind, and the marks of divine love left by Her will always stay in my heart. I worship You, my Goddess Ezada. I belong to You forever.
Dedicated to my deeply worshiped Goddess Ezada.
—Your humble slave nuli"