I have to admit, that sometimes I even get inspired by male slaves. Like it happend some weeks ago with the Twitter postings of one of My slaves presenting some of the work of the great Spanish Femdom artist Juan Puyal, who has his website here:
www.puyal.eu
. A veteran of the fetish comic scene, now in his late seventies.
I had a deeper look into his work that was not that familiar to Me so far and have to admit, that I really liked it. In fact to tell you the true, I not only liked it, it aroused Me.
First of all he is a very talented artist with a sharp eye for the human body as you can see here for example: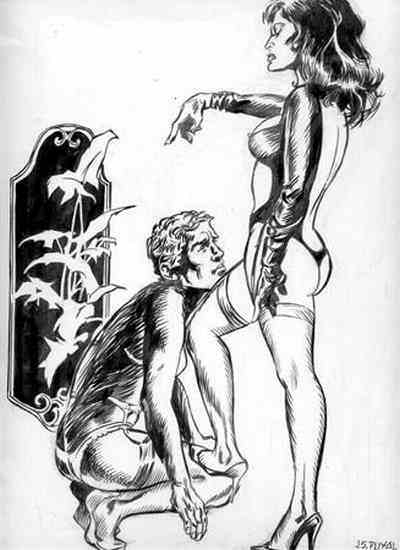 I like this "raw touch" that he has in his drawings.
Then even more important, his favourite topics seems to center around just the very same thoughts and fantasies that also make Me feel so very special, topics that conjure up this warm lingering feeling within Me, that special feeling that has its home somewhere deep between My legs…
Topics like the sissyfied male that is forced into domestic service for his Mistress/Owner, like in that scenery here: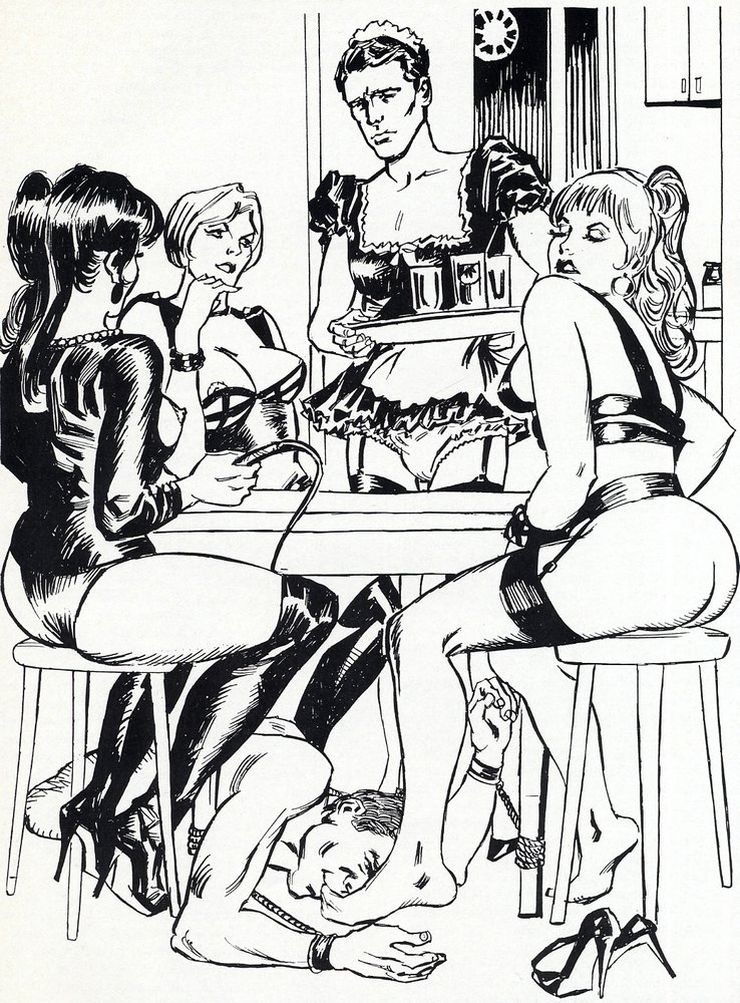 Oh, this picture has it all: As it is already great to be served by one male alone and in private it is even better to have two or more obedient creatures there to make themselves useful. As one of the guys sucks the toes the other one will serve cold drinks. And they will not only do so for Me in private but it will be together with My Lady friends to share the joy of supremacy, the ideas for subjugation, the fun of humiliation…
Domestic service seems to play an important role in the inner world of Puyal, so it does in Mine. Have another look here, the female led submissive husband, turned to be a servant, isn´t that just wonderful?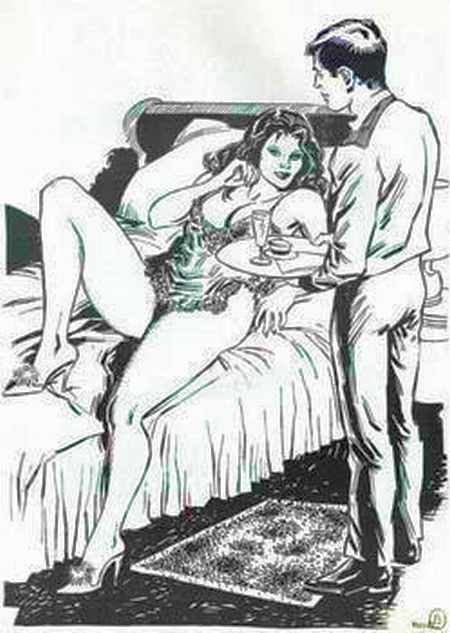 See how She physically overpowers him. Her reign over him is apparanty not only spiritual but stone cold stury as well.
Then take it a little further: The male as a servant…. Yes. But is the true core of the ideal relationship between Women and men not just the same as between Mistress and her puppy dog? (Notice the stunning furrish tops that the Ladies seem to wear here)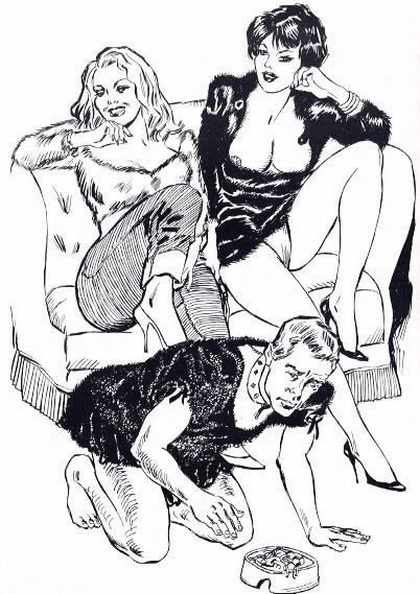 And has the male not really found his true home until he has learned and understood that he will no longer eat his meals sitting at the table with Her but alone and on all fours, from a dog bowl in the kitchen, so that Mistress can spend all the money saved with this feeding on beautiful luxurious night gowns, a wardrobe full of corsets and elegant lingery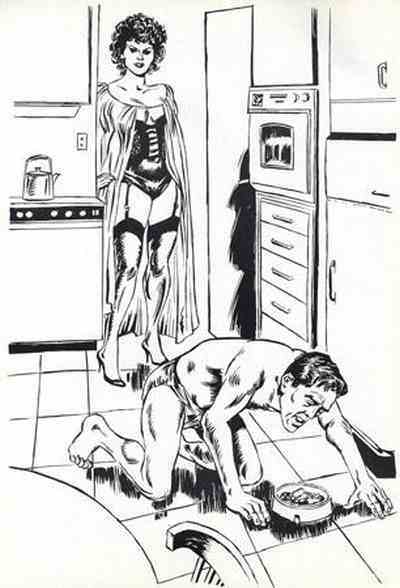 and will he then so not finally end up there, kept outside, in the kennel, overjoyed when allowed to lick his keeper´s boots?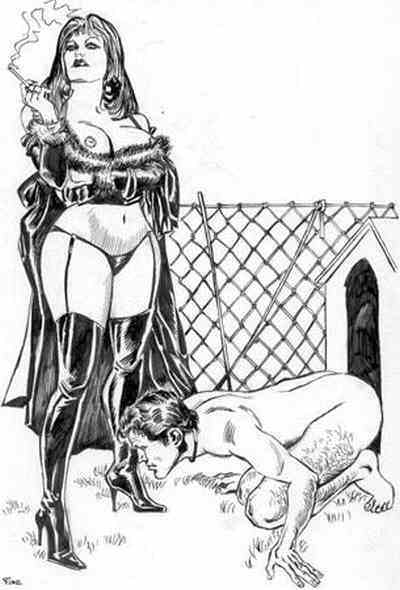 Not too many things I have found from Puyal about one of My other all time favourite thoughts. Femdom society in ancient Rome. But still there is some. Just like here: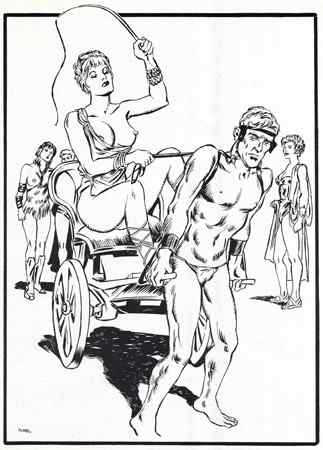 A male slave pulling his Mistress around in a cart. Her look is so wonderfully self assured, the way she holds her whip so naturally. She sure is a beautiful woman with full round breasts and he seems to be one of the more appetizing exemplars of the weak gender, still, their relationship is just this: he is the Mistress´s beast of burden, reigned by Her whip, nothing else.
Then, finally, to close this little tour through Puyals imagery, I chose this: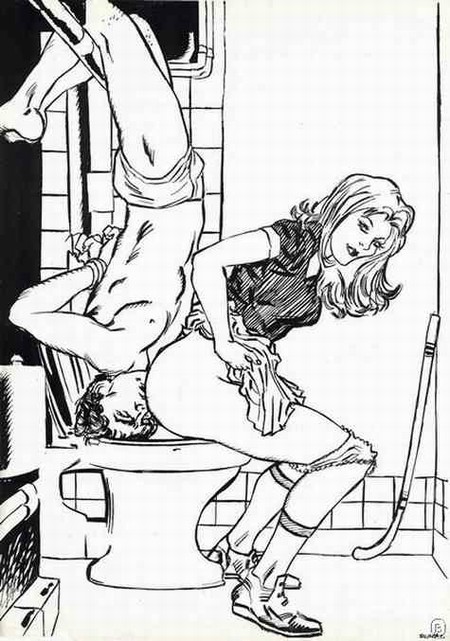 Can anybody think of anything more humiliating than being installed as a living toilet paper? Ready to lick clean the Mistress´s sweaty ass cheeks who has just relieved herself after a sudatory hockey game…
Still I am sure, after posting this, I will be swamped with applications for volunteer service …
I do not claim any copyright in the picture(s) shown and dealt with in this article. The article is merely meant to cherish the beauty of the art and it is not at all intended to infringe any third party copyright. So if you are the holder of respective copyrights and want to have the picture(s) removed, notice Me on info@dominare.ro and I will do so immediately.