At the beginning of June 2016 I visited Prague again, on My way back from the OWK. I couldn't miss the opportunity to meet "the boy" that made a strong impression on Me several years ago. Such a well behaved, educated young boy!
This time I wanted more than just a stroll in the city and a long chat. This time I wanted to try My discipline methods on him. And below you can read the story that he wrote, at My request, after our last meeting. Pictures were taken with My phone, during the meeting.
Now I could say that My huge interest in orgasm control was partly due to him – if long term chastity helped this young boy behave so well, I can probably use it on all My slaves. And I was right!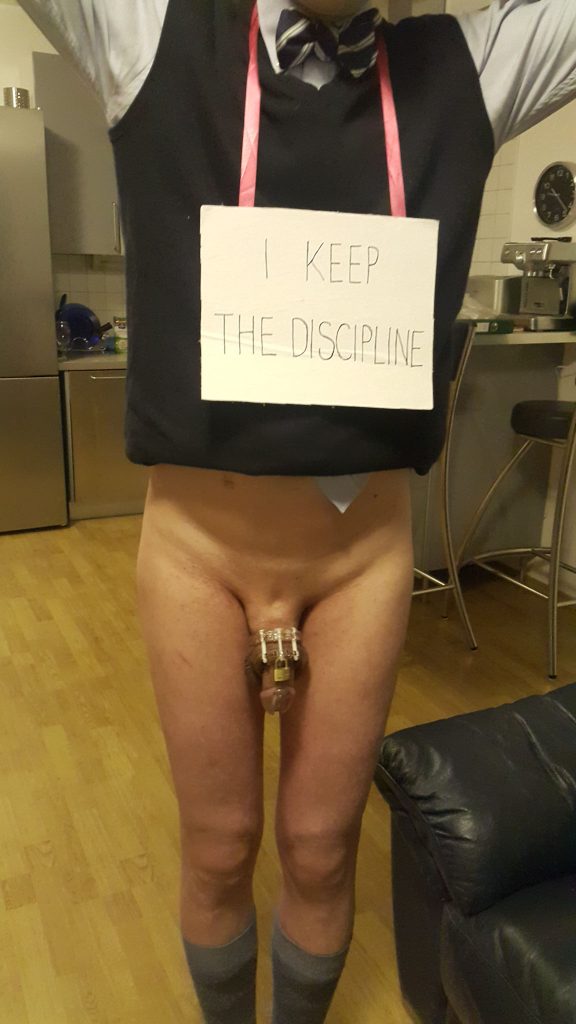 "First time i met Doamma Sinn years ago. Those times She was not world famous Mistress yet and She visited Prague with Her friend after a OWK visit. She was not looking for any slave, both Ladies just wanted to meet someone who would show Them the city and would be a gallant behaved guide. The meeting was remarkable, we split late night after several hours of a such interesting discussion about topics of D/s, etiquette, female supremacy and traditional discipline. Femdom from a little bit different perspective than most of people know Doamma Sinn now. If i write a few words like "A guide to the correction of young gentleman" or "Governess magazine" some of you will perhaps know…
From this very first meeting we have been in touch. So it was nice to hear She will spend some time in a town and She will like to see me again. This time, not just a guide, but as a proper behaved submissive boy who would deserve some discipline. I've got instructions how to be exactly dressed – She insisted on boyish short trousers, kneesocks and shirt with properly tied bowtie. i don't need to add i had to be locked in a chastity belt. Moreover i had to bring  heavy wooden humbler, heavy wooden ruler, two brushes, menhol and camphor ointments and last but not least piece of a ginger…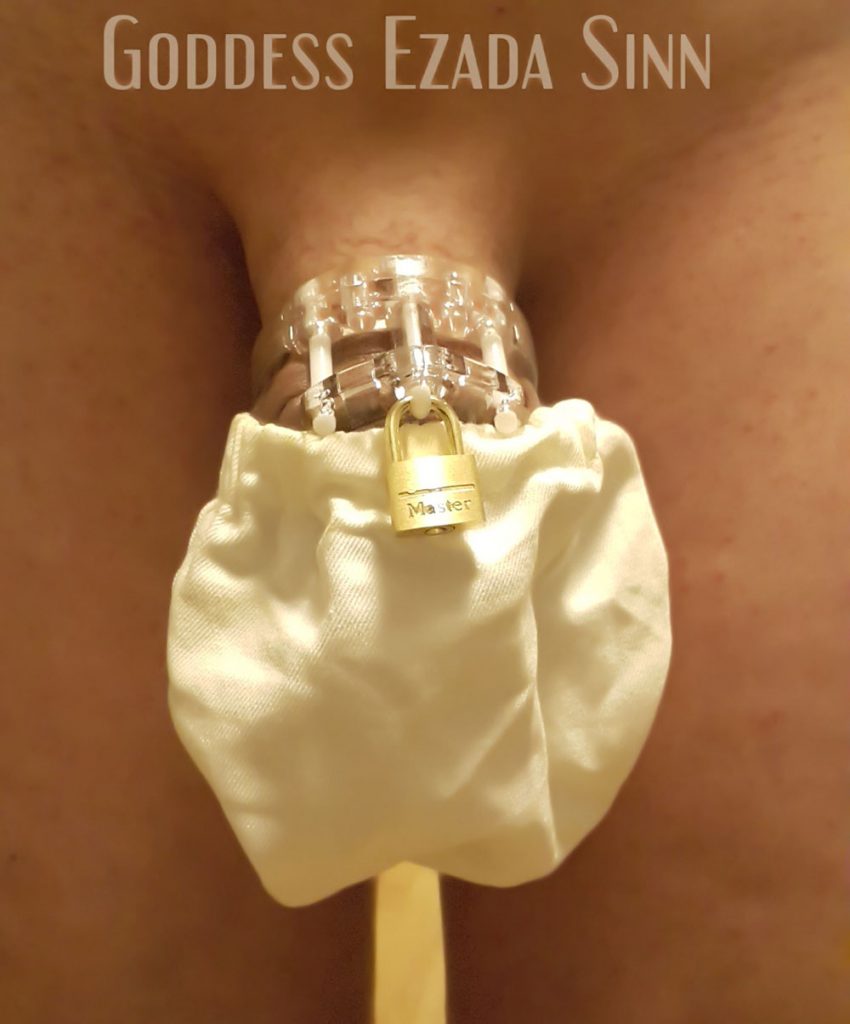 When i came to Her apartment i was deeply affected how She is elegant and beautiful. She was dressed into elegant conservative business shirt neatly tucked into black pencil skirt. She wore black stockings and black high heels. She had red lipstick and red fingernails, perfect make up and Her hair was tied back. An archetype of a confident and successful Woman.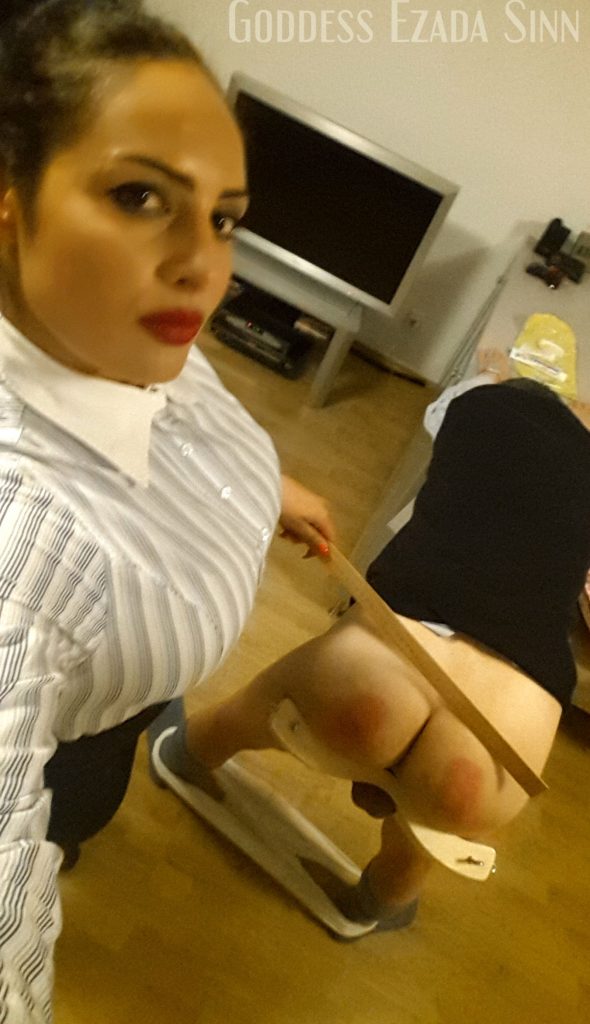 i was allowed to kneel in front Her and kiss Her hand and immediately pass the keys of my chastity device to Her. She knew i was kept in chastity for several moths before this meeting, but first of all She checked my dress code. She explained me, how She treats slaves, but She has high standards and strict rules for young boys like me too. Boys, she believes should remain chaste, behaved and completely innocent. Boys who should be kept away from a submissive lust and perversity. Boys who should be disciplined under traditional and old fashioned rules. During Her speech i had to lower my eyes and keep my hand over my head. She stood just a few inches in front of me, i felt Her perfume and even Her breath. Her voice was calm and rigorous. She held wooden ruler in Her hand and She checked all my clothes thoroughly. If my bowtie is tied neatly, if my kneesocks are lenght enough  and if my shorts are short enough. Sadly this was something i had not pass. She explained me, She insists young disciplined boys should wear much shorter trousers to be clearly visible, they are under a strict discipline. Which brings me to the next.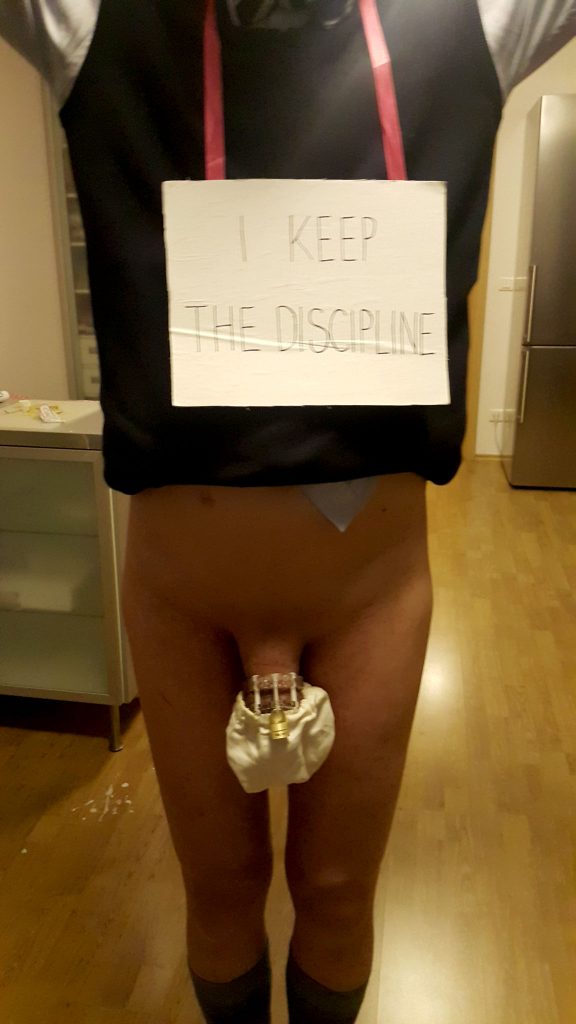 She put A4 paper with a writing "i keep discipline" around my chest and i had to wear it for the rest of our meeting.
Then She removed my trousers and checked my underwear. i don't need to write that after all months in chastity, i felt quite uneasy locked in a tight chastity device. She proceeded formally and methodically while totally ignoring my humiliation. Without any problem She removed my underwear to check my protective sack i had to wear over my chastity device. She found this simple piece of cloth highly useful and effective to protect underwear from any stains and dribs. i had to still remain in position with my hands over my head. She grabbed my testicles under the cloth with Her hand and painfully squeezed them. With a calm voice, She told me, She will remove protective sack, She will unlock my chastity device and She will check my little willy. Then She added, She expect – as i am young boy who knows how to behave in front of a Lady – to keep my willy flaccid and if not She will deal with it. And moreover, while removing chastity device, i will be put into a humbler, with my testicles tighted enough to feel discomfort they deserve. And with these words She began to unlock…"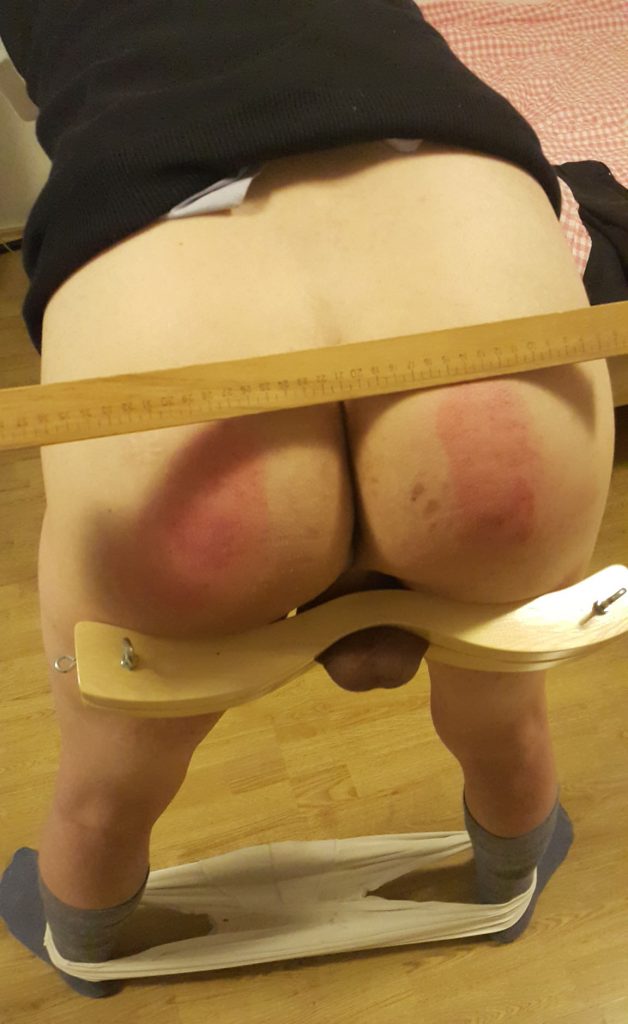 Boy was forced to admit all his mistakes and be disciplined accordingly: spanked with the bare hand and the ruler. Fresh ginger was put in his ass and because the little willy became harder in a very inappropriate way – an abrasive brush was used for punishment. Followed by some extra minty toothpaste and camphor cream. And because boy kept addressing Me in a way that I didn't like, he got a homework – writing My name by hand 100 times.
Good behavior requires discipline.