Fantasy written by My slave in chastity, andy.
"John was a guy who had confidence with women. He was a reasonably good looking guy and was on a stag do with his friends from the UK. They had chosen to go to Cologne They'd had the usual day that men usually do on these trips, strip bars, visited the red light areas, had far too much to drink, and generally making fools of themselves, whilst thinking they were cool.
It was around 9pm and the group of guys went into a bar. Whilst the others continued to do shots, John had noticed a woman, who was alone, stunning, and at the end of the bar on her own. He was tipsy but not blind drunk and decided to approach the lady. Fortunately she spoke english and rather well. He offered to buy her a drink which she accepted. He asked her name. She replied, "Ezada, I am actually from Romania."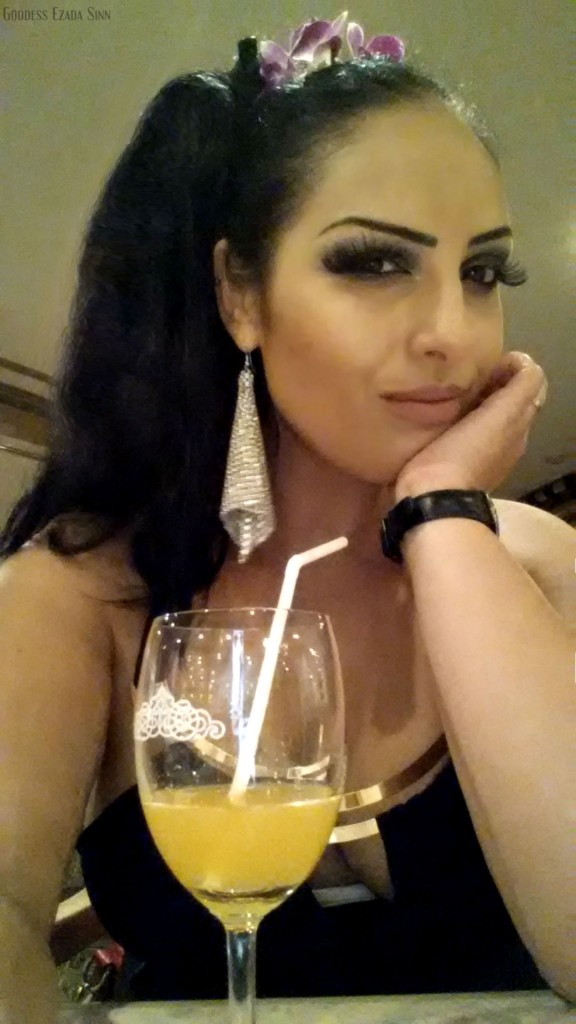 John was mesmerised by how beautiful she was. In his mind he knew exactly what he wanted to do to this goddess. She was asked many questions as John was intent on chatting this lady up to the point where he hoped to get lucky! All the other guys were on the pull, he thought he had a chance of really hitting the jackpot. He discovered Ezada was into personal training as she described it as well being a film producer.
After about an hour of chatting John plucked up the courage to say, "do you live nearby?"
Ezada replied, "yes, would I be right in thinking you want to come back to my place? Ok, if you do, I must tell you now, I am not your everyday woman, I am very demanding, if you come with me now I will change your life forever."
He could not believe his luck. The best looking woman he had ever seen in his life was asking him back to her place. He of course accepted.
As they left Ezada said, " I am giving you the chance now to go. I have warned you I am very demanding. Once you enter my domain you will be back again and again. You will have no choice, but also want to."
John replied, " look, Ezada, you are gorgeous. Of course I want to come back. I am a single guy. I'm not cheating on anyone. I want to be with you. And without being cocky, the sooner I get back to your place, get naked, I'll do anything… anything you want. I'd do anything for you! I'd  suck a bloke's cock if you asked me too. Christ I'd be your slave! Anything, lets just get back to your place."
Ezada replied, "Really. Oh good."
The taxi ride was only a 5 minute ride. John paid and they went into the flat.
John walked up behind Ezada and started kissing her neck. He was pushed away and told, "all in good time, lets have a drink first."
Two glasses of wine were poured. Ezada was aware of exactly what John wanted but was going to give him the shock of his life. She discreetly dropped a very strong sleeping pill into John's drink. He took the drink and they carried on chatting. Before long John could feel his eyes closing, and as much as he fought it, fell asleep very quickly.
John started to wake. His eyes heavy, but slowly opened. The room was dimly lit, he realised he was laying on a bench and felt a little cold… he was naked. He went to get up but realised he could not move. He was tied down and started to wonder what the hell was going on. He remembered Ezada and called out her name rather loudly. With that the door opened. There she stood. Leather boots, seamed stockings, leather corset with a bust that would excite any man and a different look to the one John had met the night before. He said, "Ezada, what the hell is going on?"
With a wry smile, she replied, "Never again shall you call me Ezada. I am Mistress Ezada. I am a Dominatrix. You are now my slave. I gave you the opportunity to go. I told you if you came here your life would change. You said you will do anything I say. You accepted. Now you have no choice. Your new name is slave and you will do anything I say without hesitation, you exist to please me. You will accept I own you. Your cock is now my property. I decide when it is used. You will only speak when I ask you a question and you will always answer inserting Mistress Ezada into any reply, you will accept punishment and thank me for it. If you do not know it already, you will learn that men are inferior to women, your purpose in life is to please women. Yours is now to serve me."
John replied, "wow, i've heard about this kinky shit, I always wanted to try it, wicked, yeah i'm game!"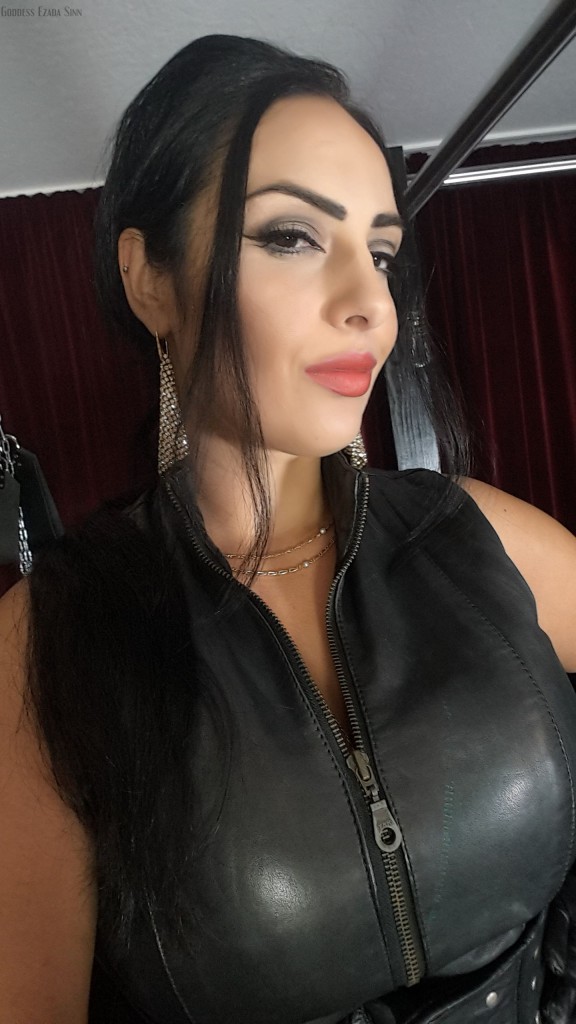 With that a crop appeared from Mistress Ezada's side and a firm stroke was applied to John's cock. "Mistress Ezada! Mistress Ezada. You will use that everytime or you will be severely punished. Already you forget. You are a pathetic specimen and I know you are going to be hard work. You will soon realise, this is NO GAME as you say. I am a lifestyle domina."
John in his mind still thought it was part of a act. He felt the pain of the crop but in the back of his mind had visions of fucking the most beautiful woman in the world. He said in an almost patronising tone, "Sorry Mistress Ezada, I accept I am now your slave and you own my cock, i'll do anything you say, but I will say this, I can't wait for you to get your lips round your cock as you call it. And when you decide you want your cock to fuck you, it will be the best you've ever had."
Mistress Ezada turned away, walked to the cabinet, took out a box and walked back to her new slave. A slave who had no idea exactly who this stunning woman was or what powers she had. But he was going to find out. She grabbed her new property and said, " so slave, you told me you are single. How often do you masturbate this pathetic dicklet?"
John replied, "everyday Mistress Ezada, at least once, but usually more, 3, 4. I even wank at work in the toilets. I watch porn on my phone. I suppose I do it too much Mistress Ezada."
Mistress Ezada opened the box and took a brand new cb6000. The ring was placed under the new slaves balls, pins attached and the tube inserted over her new property which was trying to get erect. After some firm pushing the cage was in place and the padlock inserted through the locking hole. Mistress Ezada now had another slave and owned another cock.
She said as the padlock was clicked shut, " well slave, you won't be touching let alone wanking that pathetic dicklet unless I give you permission. Do you understand slave?"
A worried slave said, "yes Mistress Ezada."
The new slave was unstrapped from the bench and lead on his hands and knees to the throne of the beautiful Mistress Ezada. A collar was placed around the slaves neck and he was informed how honoured he was to be allowed to wear this.
Soon the new slave was instructed to lick Mistress Ezada's boots. This slave had lead a life of thinking he was superior to women. He had never done this before and it showed. There was no effort and no realisation of what a privilege this was. Mistress Ezada decided her new slave needed a quick education. She lead him to the corner of the room and attached his hands to a hook on the ceiling.
"Now slave, I told you from the beginning, you will be punished whenever I choose, and especially if you are not doing something right. You will now get 20 strokes of my whip. You will count them and be grateful. If you are not, you will receive another 20. Understand slave" The slave replied nervously, "yes Mistress."
The strokes were applied, heavily, causing deep marks, but considering the slave was new, taken well and followed his instructions and thanked his new Mistress. In his mind he was beginning to realise how real this was.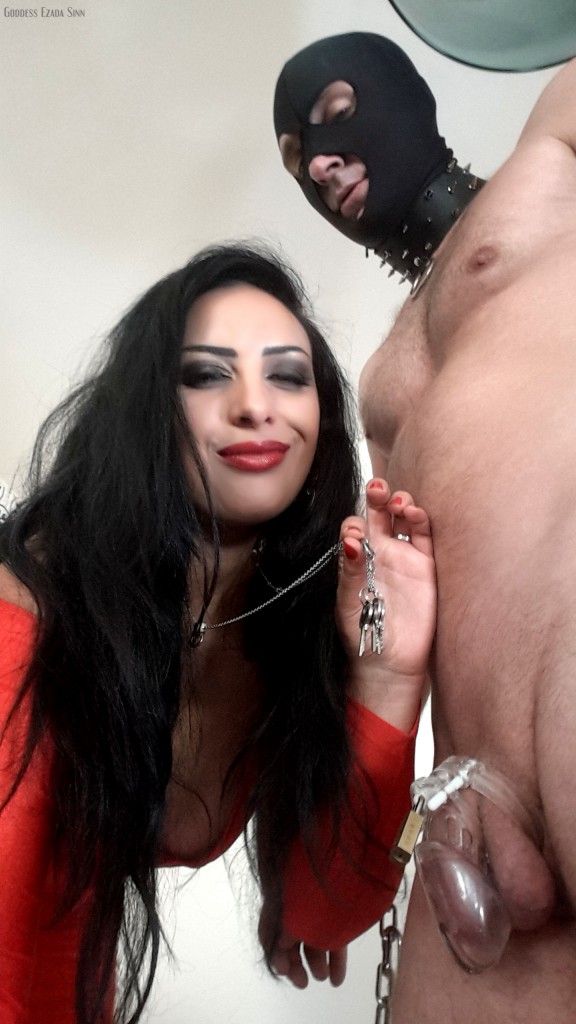 Mistress Ezada unhooked the slave and lead him back to her throne where he knelled at her feet.
Mistress Ezada said, "well my new slave, I think you understand you are now mine. I own you. I think in time you will be a good slave. I don't think you ever imagined this but now it has. If I said blowjob to you I expect  my property would start getting hard. Yes.. Of course it would." Slave of course responded with, "oh yes please Mistress Ezada."
The slave was instructed to stay where he was. Mistress Ezada left the room. Two minutes later the door opened and she walked eloquently back to the throne with a male slave on a leash on his hands and knees. She sat and ordered the slave she had lead in to stand. He was of course locked in chastity. She took a key which was attached to her necklace and opened the padlock and removed the chastity device. The slaves cock soon began to respond to its release.
Mistress Ezada spoke. "Slave, you have been locked in chastity for one month so I think it's time you had a release."
The slave was obviously excited and thanked his Mistress.
With that she turned to her new slave and said," right, slave, that blowjob, will be you sucking his cock! If you say no, complain or dare refuse, I will beat you with the cane until you bleed. You will suck this cock for me. You will enjoy it and if you do it well, I might let you have a blowjob before you go. From him."
To be continued…