A nice drawing by Alex Székely (1901-1968) here. A very talented artist, famous mainly for his erotic drawings that he produced in the 1920-1940´s.
I especially like this one I must say. As always it arouses Me to see a man in a social position that is inferior to the one of the woman. Like this hotel footboy (in the true sense of the word) who has to clean the shoes of the Lady guest … while she is still wearing them. See how small he is. The way the artist has exaggerated the difference in size between the two accentuates the difference in class and position of the two persons on the picture. Her attire is more than negligent, the naked shoulder, the stockings. The scenery tells us, that she has no intention to seduce him … she can dress so carelessly simply because the little boy does not count as a person. He is nothing but a servant. His thoughts and his potential arousal are meaningless. The only reason for his being in her boudoir with her is his service for the Lady. And her smile shows us how much she enjoys…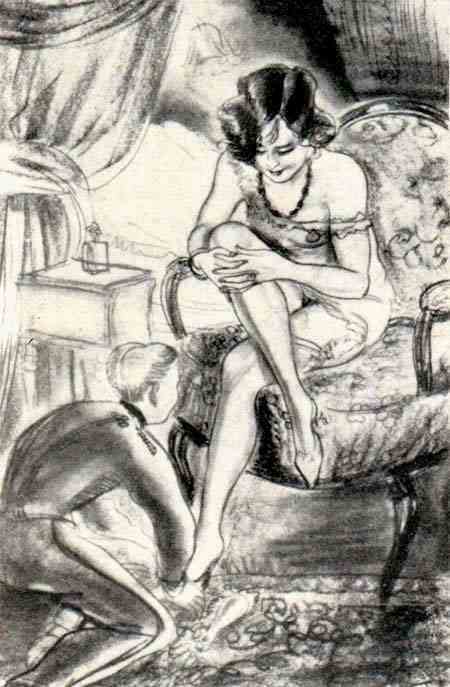 I do not claim any copyright in the picture(s) shown and dealt with in this article. The article is merely meant to cherish the beauty of the art and it is not at all intended to infringe any third party copyright. So if you are the holder of respective copyrights and want to have the picture(s) removed, notice Me on info@dominare.ro and I will do so immediately.