This is American Actress Mary Brian (1906-2002) and even though it seems to be a vanilla photo, I still like it. Because it depicts just the kind of Female/male relationship that I love. The man so devoted, mesmerized by her sheer beauty and presence. He is deeply sunken into kissing her hand, worshiping her. Nothing on the world that could distract him now from his beloved Mistress, nothing on Earth matters more to him than her.
And same time as she accepts his worship, her attitude is quite different. She does not concentrate on him as well. Not at all, it seems that she is hardly taking notice of his adoration. Her look is directed over him and beyond. To new adventures, more worshipers, more capable adorers. Soon she will leave and break his heart the picture tells us …. and he will suffer while she already forgot about him. We can see that coming but he does not… That´s the story of the picture and that´s why I love it.
Apart from the pearls of course … and the fur, oh those wonderful furs they had …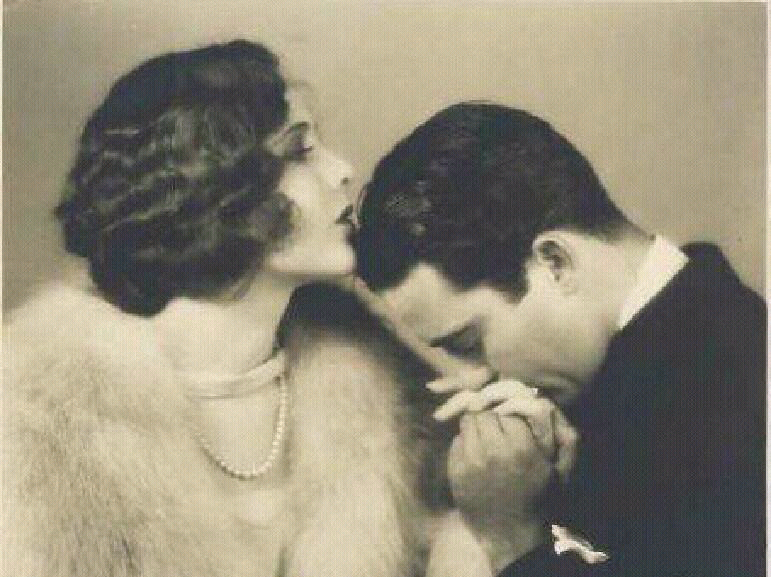 I do not claim any copyright in the picture(s) shown and dealt with in this article. The article is merely meant to cherish the beauty of the art and it is not at all intended to infringe any third party copyright. So if you are the holder of respective copyrights and want to have the picture(s) removed, notice Me on info@dominare.ro and I will do so immediately.