"After the three femdom Queens  who I was honoured to be serving had left the toilet area – their cruel laughter and clicking heels still echoing down the corridor – I quickly cleaned up as I knew i would be summoned to the inner sanctum almost immediately to wait on them hand and foot. I showered, making sure all traces of Mistress Shane's Goddess piss was removed from my hair and body but still tasting the warm tang of her amber nectar in my mouth, an honour indeed to be used in this way by such a famous Dominatrix. I tidied up the bathroom  area and just as I was about to close the door heard the inner sanctum bell summoning me, the slave, to attend to the sublime ladies. When this bell sounded the slave must drop everything and proceed immediately to the foot of His Dominas throne, waiting position, hands upturned for further instruction.
So it was that I found myself positioned thus at the feet of not just one but three magnificent Mistresses. All beautiful, all cruel when they needed to be, all very demanding and extremly bossy and dominant. This was female superiority personified in one special place.
The two American mistresses had changed their clothing, gone were the outer street garments, and in their place were leather and latex outfits. They looked magnificent.
Mistress Shane wore a red and black leather catsuit, showing off her magnificent womanly figure and ample bosom, topped off by a pair of black leather thigh high boots almost coming up to Her heavenly crotch, a crotch that had been only inches from my face ten minutes earlier. Her long hair flowed down Her back like an Amazon Queen.
Mistress Larou wore sheer black tights under a white latex basque that accentuated the curves of Her magnificent ass, a zip ran from Her divine pussy right around to the top of Her ass. She also wore thigh high boots, red patent leather shining wickedly in the light.
My Stapana Ezada as usual was magnificent, but tonight She  looked especially wonderful. She wore a white frilly shirt, with a black studded leather corset set off by a matching black leather jacket. Her beige jodhpurs showed Her magnificent ass cheeks to their best advantage and knee high riding boots and crop completed the riding Mistress look. Her hair was pulled back in a severe pony tail. What a sight, the jodhpurs especially making me go weak at the knees. I guessed I was to be the pony. Even in the presence of the other two magnificent Queens my owner Mistress Ezada's beauty and natural superiority dazzled me. I decided I would beg Her at a later date to brand and tattoo me with Her mark so I would truly be Her owned goods forever. I blushed at the sight of such overpowering female supremacy gathered in the one place and dropped to my knees in awe.
Mistress Shane said "aw the poor boy, it looks like its all too much for him, he is going to faint" Mistress Larou laughed and said " and we haven't even spit roasted him yet". All three Domme Queens laughed loudly at this, then with a click of Her fingers my Stapana said
"No he will perform absolutely brillantly…or else he will be whipped within an inch if his life". I slowly regained my composure.
"Come here slave demanded Mistress Larou, I want to examine the merchandise" The three sublime ladies were seated at the tea table to the right, that had not yet taken their regal places on each of their thrones. "Can we see his cock and balls Ezada"? It's hard to know what he has in that chasity device. "Of course my dear" said Ezada. "Slave quickly present balls" I crawled across to my Goddess and assumed the present balls position. My Stapana took a key from around Her neck and threw  it on the floor. "Pick that key and chain up slave, but in your pathetic mouth, and then unlock Your cock cage".  I knelt low and picked up the key in my mouth after about five different attempts, the dominant ladies laughing at me all the while. My cheeks flushed from the ridicule and humiliation. Eventually I took the key in my hand and unlocked the chasity device. My cock and balls swung free for the first time in three  whole months, I had almost been  reprogrammed to not have any erections at all as my slave cock was severely constricted in the device and the metal sides cut into it when it swelled with an erection. I wondered if I was becoming impotent and if I was able to gain an erection at all any more?…maybe that was the ultimate goal of my Stapana? She wanted a flacid impotent cock for Her slave, that never got hard any more but balls that still could be emptied by  prostate milking.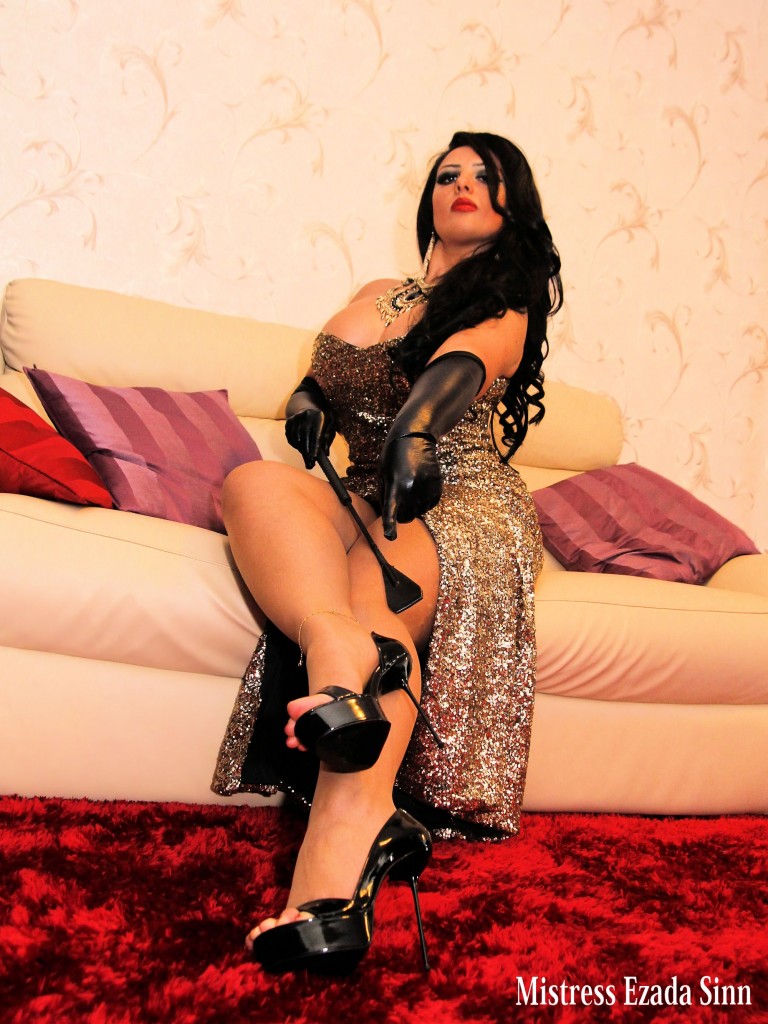 "Hmm, said Larou, a decent sized cock, and huge balls, when was the last time they were emptied sister?" She said laughing turning to Mistress Ezada. "Not for three months Larou, punishment, I caught him wanking with a pair of my filthy knickers from the laundry basket. He was licking the brown stain from where my ass had been".  "Ah, a shit licker" said Mistress Larou, "aren't they all, I might have some use for him later…after dinner" At this the three Goddesses laughed hard at me, Larou slapped me hard across the face and I felt myself getting hard, not impotent after all, not yet anyway.
Mistress Larou said "Slave, here are some special items that I want you to present to us on a silver platter. You must approach head bowed bearing the gifts", with this She took three medium sized strapons from her luggage. "There are three rubber cocks snd harnesses for each of us Goddesses slave, now quickly arrange them on the platter  and present them to us."
I looked at the three strapons, one was black, one flesh coloured and one was red. All three cocks were about eight inches long with regular girth,  they were bigger than my cock. I took the three and arranged them on the platter and then crawled to each Mistress with head bowed and hands outstretched holding the platter for inspection. Mistress Shane chose the black cock, my Stapana the red one and Mistress Larou the realistic flesh coloured one. I helped them to attach the cocks via the harnesses and placed a condom on each one. I kneeled and gazed at the three dominant Queens sitting in front of me their strapons thrusting out before them. I hung my head in servile wonder, so blessed to be in their presence and allowed to serve.
Without a word my Stapana yanked on my chain and directed my mouth onto  the head of Mistress Shane's rubber phallus. "I have trained You many times slave to deep throat my strapon now show these sublime ladies" I bobbed my head up and down  on Mistress Shane's dildo until I felt myself gag. " Good boy, and now Larous" said my owner and Goddess Mistress Ezada, as she again yanked my neck by the chain and forced me to go down on Mistress Larou's flesh coloured rubber cock. "Thats it slave, lube up my shaft with Your servile mouth before it is deep inside your tight little asshole" said Mistress Larou, obviously enjoying very much the sight just below her.
I then was passed around in turn from one Domina to another as they took it in turns to yank on my leash and make me suck their rubber cocks. My total degradation was complete as they  continued to humiliate  me, my own slave cock was as stiff as a board, twitching below me, three months worth of cum hoping to be discharged somehow.
After tiring of this strapon mouth violation My Stapana suddenly harshly Yanked the chain, grabbed my balls and ordered me on my back on the tea table. Still gripping my balls, She pushed my legs in the air and thrust her strapon deep into my slave ass, whilst at the same time Mistress Larou prised my mouth open and once again forced me to gag on Her rubber dick. "Welcome to the reverse spitroast You fucking piece of slave meat" said Mistress Larou. I could see she was enjoying herself and  now she was deeply aroused, the wonderful smell of pussy juice started to fill the air.
My Stapana had been banging my ass relentlessly with her strapon, I could feel Her cock deep inside me and pushed against Her to try and take as much as possible into my bitch hole. For that was what I now was to these exquisite ladies, just a submissive man whore for them. All the time Mistress Shane  simply watched, resting her boots on my chest and hitting my cock with Her crop occasionally. My Stapana still gripped my balls  in Her hand as she shafted me rhythmically up the ass. I could feel the strap on touching my prostate and wasnt sure if I could be made to cum like this?
After a while I heard the words uttered "Ok flip the bitch over" said Mistress Larou. I was turned from being on my back to being bent over the table. The two Dominas also changed ends with my Stapanas rubber cock now lodged deep in my throat and Mistress Larou about to take  me up the ass from behind with Her flesh coloured strapon. She had full control of me by pulling my collar via the leash and by squeezing my balls roughly that were cupped in Her gloved hands. My  Slave cock was stiff  again but as Mistress Larou gradually edged Her strapon up my ass my cock once again shrivelled up and receded. Her Domina cock larger in length and girth dictating when I even had a hard  on. I could feel Her excited breath close to my ear as She fucked me deeper and deeper, I groaned in fear but also satisfaction knowing I was now a strapon bitch to these three powerful ladies. My Stapana pulled my head down on her cock again and Mistress Larou and Herself laughed and french kissed each other as they continued to defile me at each end. Just an animal being spitroasted for their amusement. Finally after which seemed like an eternity Mistress Larou slid the phallus out of my hole and forced me to lick the condom  clean, I then was ordered to peel the condom off the strapon with my mouth and swallow it whole. The three sublime ladies all crowded around towering above me hands on their hips to watch me lying on the floor eating the filthy condom that had only now just been up my bitch ass. My humiliation was complete.
"Ah, the poor jaded little bitch" said Mistress Shane "he must be exhausted, but you have performed well slave, I see your male member is hard again and twitching away of its own accord, you deserve a treat". It was true now the rubber cocks were no longer up my ass my slave cock had yet again sprung back to life.
"We will each one of us supreme Goddesses, present a booted thigh high toe to you. You have two minutes to jerk yourself onto each toe tip, you must squirt equally your male mess onto each of the three toes in turn, a ritual to reinforce your complete debasement at our feet. Needless to say afterwards you must lick up every single drop of your slave semen from each of the boots".
I quickly began to tug at my cock before it was too late and could feel three months of slave cum beginning to rise from my neglected blue balls. I finally shot forth a long groaning length of jism, remembering to in turn shoot my slave load onto each of the Dominas boot toes. "Listen to the animal as he makes his mess" said Larou laughing, as the glistening slave cum dripped from all three of their boots. "Now get down there and clean up that disgusting man filth, with your slave tongue, every last drop you piece of shit" said my Stapana. All three ladies laughed and peered down at their  humiliated, debased and spent male chattel as he desperately attempted to lick the sticky mess off the floor and their boot tips with his flicking servile tongue."
fantasy by slave r