This beautiful drawing by Wighead I like a lot because it evokes our fantasy to contemplate this three person relationship. And because it is so instructive about the role of the male.
Set in a 1920´s kitchen I think it shows two chambermaids of the house and their landlord beaten up with a riding crop. The flying apron and the bended crop convey the energy and dynamic of the whipping. As the sitting girl watches with enjoyment the punishment administered by her colleague, the enslaved male kneels before her, devotedly worshiping her feet. The cuffs around his ankles tell us that he seems to live a life in constant degradation.
I look at the picture and I imagine how the former chambermaids have taken over control in the house, how they have turned the roles of master and servant upside down, how they have converted their employer to a lowly creature happy to lick his new Mistresses feet, addicted to their beauty, reigned by their whips …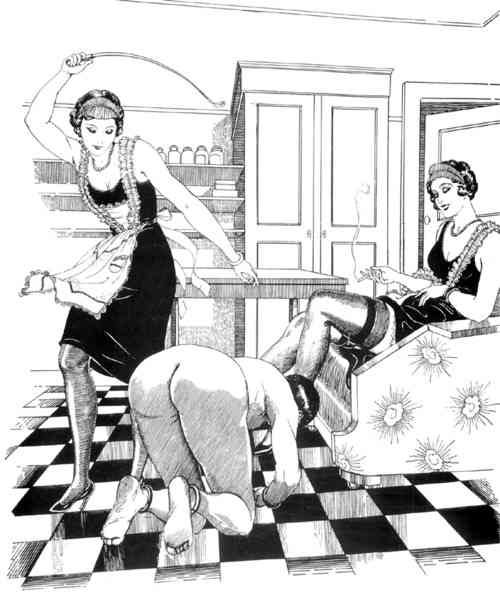 I do not claim any copyright in the picture(s) shown and dealt with in this article. The article is merely meant to cherish the beauty of the art and it is not at all intended to infringe any third party copyright. So if you are the holder of respective copyrights and want to have the picture(s) removed, notice Me on info@dominare.ro and I will do so immediately.