If you are My fan or devotee and you want to learn more about My lifestyle, you must set up a Twitter account and follow Me. I post new pictures almost every day (most of them real time selfies), I write about My experiences and I am in touch with My followers.
If you want to dedicate your profile to Me and show Me your devotion this is what you should do:
choose your unique Twitter name, ideally similar with the one you use on other kinky profiles (so Me and other people that you are in contact with will know who you are). If you were in contact with Me (online training, devotee, etc) you may ask Me for a name. Don't call yourself  "Ezada's slave" out of nowhere – it is rude to pretend to be something that you are not.
set your profile picture – it should be a picture with you (not necessarily with your face), an avatar, or a picture with Me and you (if you have any). It's cute when subs put photos of their Dominas as their profile pictures, but I find this annoying since it's easy to mistake the Domina's profile with the sub's profile.
set your header photo – if you want to dedicate your profile to Me, you should put a picture with Me here. By setting a profile picture with you, but a header picture with Me, nobody will mistake your profile with Mine, but everybody who visits your profile will know that you dedicated your profile to Me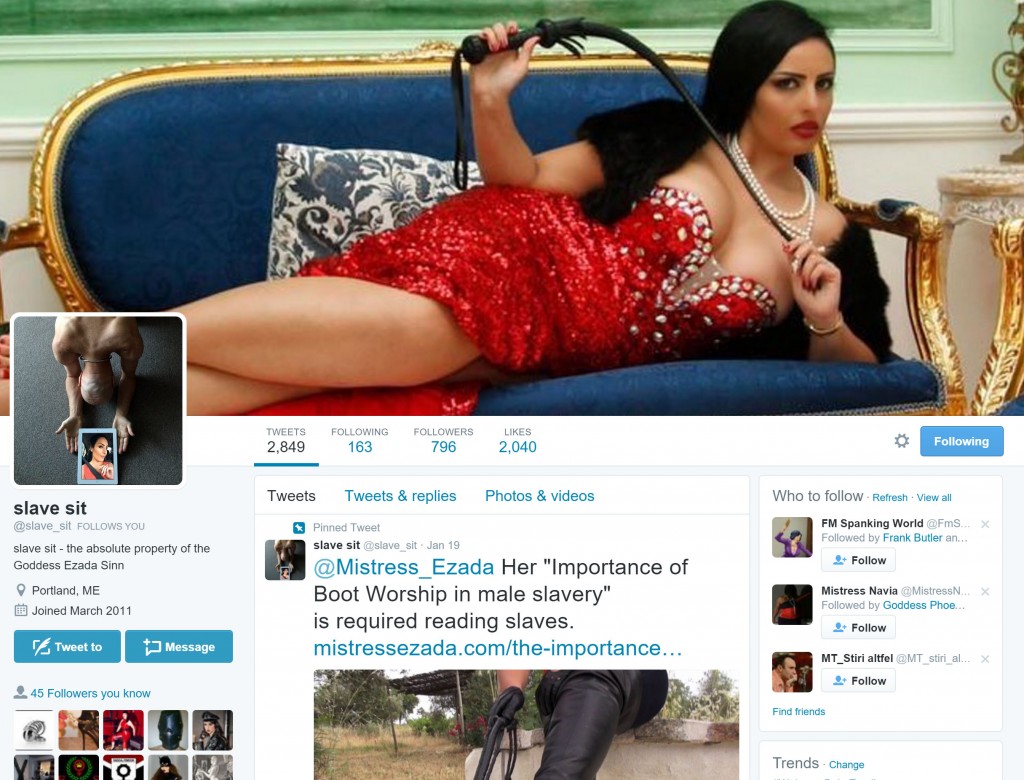 start to follow people – follow Me, My lady friends and My official subs first. Feel free to follow as many people as you like. The more the better. Don't forget to turn on notifications from Me (the yellow star under My header if you are using a mobile device) so you will see every time I post a new Tweet. When you follow lots of people it will be more difficult not to miss anything.
be active – comment, re-tweet, love. Don't be shy. But think twice before you post a new Tweet.
work for Me – help promote My clips and spread My religion – retweet My tweets, take printscreens from the clips you bought and tell people about them, post pictures from and links to My clips. Show Me your devotion, your genuine willingness to make My life easier and more pleasant. See some of My favorite devotees' work below. Good examples for you all, My devotees, to follow.