So here it is: Sardax Art, "The Gag Shop"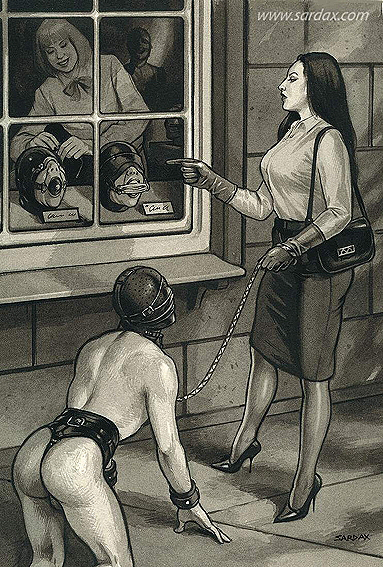 that came to life exactly four weeks ago today.
The greatest Femdom artist alive had recently pictured the four of Us, Madame Catarina, Lady Victoria Valente, Madame Akella and Myself in a beautiful series of paintings for a Japanese magazine. We had never met before in person but seeing us there together in that beautiful Femdom dreamworld, We knew We had to join shortly and let the artists phantasy turn into reality. Then after reconciling our tight schedules, choosing the most talented Germinal as the best photographer, agreeing on Lady Valente´s place in Stuttgart as the right venue … We finally came together for the big event in early May this year. And what a blast We had. How could Sardax have known that We would fit so perfectly well together We thought…
Not only has it been a great shooting … with a fantastic result … but maybe even more importantly it has been making friends with those other three wonderful Dommes as well.
So, this is Me, in Gag Shop ….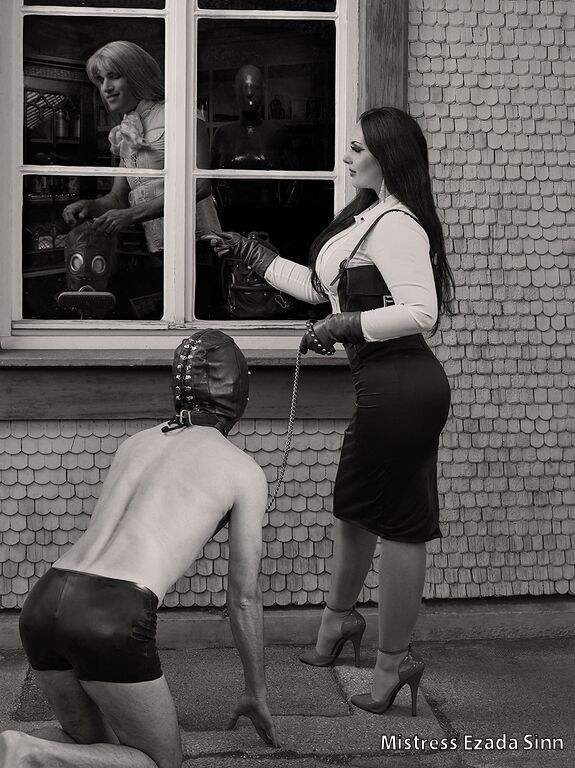 and to see the whole story…
don´t hesitate to visit
http://blog.madame-catarina.com/
http://www.ladyvictoriavalente.blogspot.de/
http://www.mistressakella.com/blog
Enjoy!
and…
Geminal – the brilliant photographer
Sardax blog – from whom everything started
Madame Catarina's personal servant: slavepj blog
Arachne Shop in Stuttgart – who was very kind to let us use the location for the shooting