"She was a savage in satin, waiting to degrade and destroy him"
I mean, honestly…: What more can a male ask for?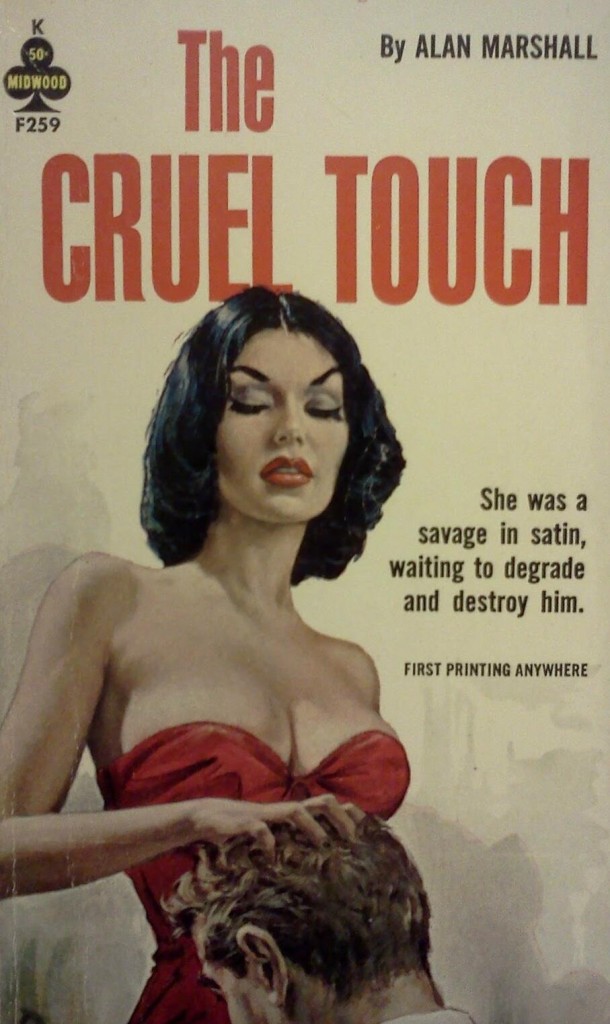 I have to admit that I love those vintage pulp fiction covers, pure sleaze… This is for a book by "Allan Marshall" a pseudonym, the real name of the presumed author was in fact Donald E. Westlake (http://en.wikipedia.org/wiki/Donald_E._Westlake). He wrote a whole pile of crime and science fiction novels and also some soft porn stuff, published between 1959 and 1964. However the name Alan Marshall was also used by other authors in these days so we don´t really know…
The artwork is by the American artist Isaac Paul Rader (1906-1986), unjustly almost forgotten by the art world in general as they say so truly on his website (http://www.paulrader.com/index.html). Rader was known for being a prolific illustrator of pulp paperback covers, for the best part showing strong seductive women. Let´s thank him for that.
I very much like the picture. Her possessive grip into his hair, her arrogant look down on him, his head, humbly bent forward. Great.
Imagine that this was first published in 1963, a time and age that we today associate with the aseptic plain vanilla beauty of Doris Day and not with women indulging in degrading men. Quite obviously a misled perspective that we are having there, there seems to have been a great deal of adorable sin under the cover of false faced reputability….
I do not claim any copyright in the picture(s) shown and dealt with in this article. The article is merely meant to cherish the beauty of the art and it is not at all intended to infringe any third party copyright. So if you are the holder of respective copyrights and want to have the picture(s) removed, notice Me on info@dominare.ro and I will do so immediately.