Read the 5th part of this story.
It begins. I was really apprehensive; I was brought up to the main dungeon & punishment room. Mistress Ezada looked amazing wearing very pale jodhpurs with black leather over the knee high heeled boots, complete with a very feminine black Basque.
Well 069 I hope you are ready, although you have already been here for 14 days, today is when it gets serious. My wrist cuffs were secured to two chains suspended from the ceiling, my ankles cuffs were fastened together and these were secured tightly via short lengths of chain to 2 ringbolts sunk into the floor.
I was then gagged with the now familiar penis gag, and also blindfolded. The chains hanging from the ceiling were then cranked up thereby stretching my arms further upward, until my body was stretched out – necessitating in my having to stand on tiptoes.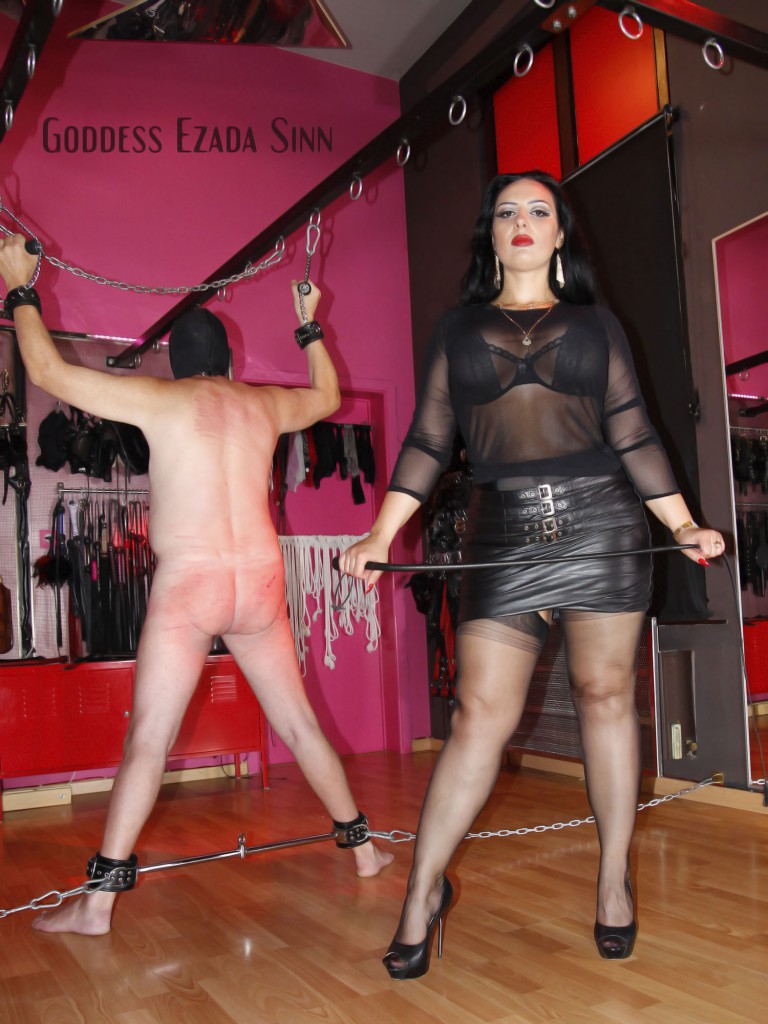 Mistress Ezada then announced, "Right 069 don't go anywhere"! and then left the room. It almost felt like waiting for the executioner. After what seemed like forever (but probably was only 20 minutes) I heard Mistress Ezada's heels clicking on the stone floor.
Ok 069 this morning we will commence with full-body whipping and ONEHUNDRED lashes from my beautiful but quite evil single tail whip! We will also move up the pain scale starting at number 5.
Within seconds the first lash seemed to explode into my body, and then what must have been a dozen or more in very quick succession. I could tell that Mistress Ezada was moving around me as the lashes were hitting different parts of my body. Then the pace seemed to slow down, each lash a little more spaced out. My muffled cries of course did not make any difference.
Then a slight pause! Surely there hadn't been 100 already. The answer soon came – crack! It seemed relentless. One painful lash after another. Eventually the whipping stopped. I vaguely think I heard what sounded like Mistress Ezada leave the room, and I was left alone to contemplate my situation.
A good while later I felt the chain above me being lowered. My blindfold was removed, by Mistress Ezada's personal servant. As I adjusted my eyes he pointed to a number of pairs of boots, "Mistress Ezada instructs you to clean all Her boots. Of course tongue only".
A chain was then attached to the front O-ring on my steel collar. As he pulled down on the chain I went down onto my knees, the chain was then locked in place – but with enough length for me to reach the boots. As I had learnt in Boot-Worship etiquette I followed the first 8 protocols' from the Manual.
After many, many hours of being secured in my cell. I heard someone entering the main room. The door was opened – it was Mistress Ezada's
personal servant. "Mistress Ezada has instructed that you are to be secured in order to be fed. I could see he was carrying a bowl which he simply emptied onto the tray. I couldn't really make out what was in it, it looked disgusting. I was to be secured into the feeding position. I could sense him lowering the yoke which came down onto my neck & shoulders as it had before. I had the effect of pushing my face directly into 'my dinner'!
Although I felt disgust I was hungry & started to eat as best I could. Within a few days I I soon realised that being fed leftovers – or effectively pigswill I was lucky as some days I only got dry crusts of bread.
My daily training continued. Mistress was a very astute Lady as She had predicted I found myself begging to be whipped more, and more. In return Mistress Ezada sat on my face more frequently. I was also rewarded one day with Her special bread pudding.
Day # 30 – Collared slave status – Assessment time I had been in the 'Waiting position' for over 30 minutes when Mistress Ezada entered the main dungeon.
"Well slave I am very pleased with your progress. I am also pleasantly surprised. I am delighted to tell you that you have reached the 'Advanced Masochist' status – however you may recall that this category is full. So you now have to make a further decision. I can grant you an extension & stay on the programme to achieve HM – Hardened Masochist".
"Of course if you do decide to stay on it will mean even more pain and more suffering. Instead of a daily whipping, it will be twice daily.
You will also be required to start cock-sucking for real. This will involve you being locked in a special cupboard – you will be secured on your knees – with your mouth open right in front of a hole. I will then present specially selected males – who will put their erect cocks through the hole".
"Alternatively I can allow you to leave today. However you have to know that if you decide to leave you will never be allowed to see me ever again". I will give you exactly 30 seconds to make up your mind"
Although the tougher training regime was daunting. The thought of never being able to see, let alone not serving Mistress Ezada filled me with complete dread. I had become totally addicted to Her dominance.
"Five, four, three, two, one. Time's up. Have you made your decision slave 069"? Yes, Mistress – I have. Please I beg you please allow me to stay on & train me further to become a HM Collared slave".
Are you sure slave? You will understand what is ahead of you? "Yes Mistress, I fully understand. I would very much like for my training to continue".
Mistress Ezada had a huge smile on Her face. "I believe you have made the right decision. It will be a lot harder for you, but I have complete confidence in you succeeding.
Pending slave competition "Now that you are staying for further training. I can now tell you of something important that is coming up, in a couple of weeks I will be hosting a Fem-Dom event for some fellow Mistresses. One idea I've come up with is a whipping competition between slaves. Now only one of the Mistresses – Mistress Sophia Larou has quite a Masochistic slave, but I don't think he's as advanced as you are – even now".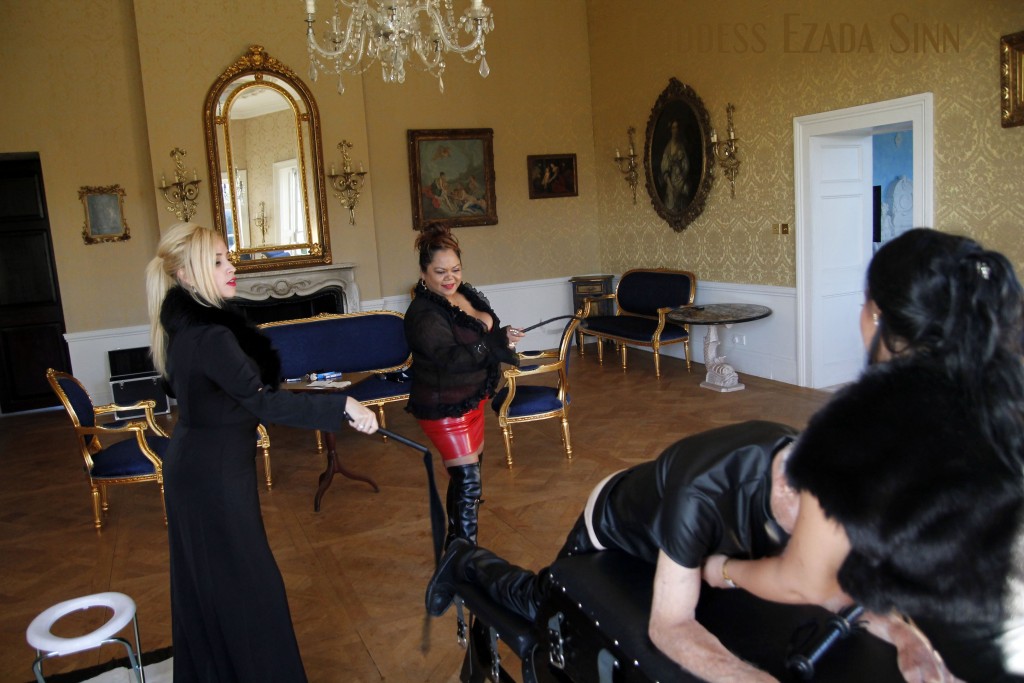 "There will be 2 tests; first being will be to see who can take the most lashes whilst in Mental Bondage. However extra points will be awarded to the Mistress whose slave takes lashes whilst remaining silent.
The 2nd will be to see which slave can take the most strokes with a dressage whip secured on the whipping bench. Now for this test to ensure fairness – each Mistress will whip the other Mistress's slave".
"You will not lose this competition is that clear 069? Yes Mistress – I will not lose. For this reason for Test # 1, I know you can 150 lashes but I want to extend this to at least 175 lashes to your chest in silence. For the 2nd test I will need you to have a substantial margin over Mistress Sophia's slave – fortunately for Me I have witnessed him being whipped. I know he will easily be able to take 250 lashes, but quite possibly 350 – therefore I will require you to be able to take at least 100 more than that. So in order to play safe I will need you to take 500!"
"So we will work on that. You will both be gagged, but in lieu of a safety word you both will have a ball valve which you will have to press quite hard – this will activate a buzzer – when this happens the slave's respective Mistress will stop the whipping".
"So it goes without saying that whichever slave activates the buzzer will be the loser. So hopefully you fully understand slave? To clarify. Under no circumstances will you press your buzzer. Is that clear slave 069? "Yes Mistress, I will not press the buzzer". "Now when I think about whatever number your opponent achieves you will take an additional 100 lashes. You understand"?
"Yes Mistress, I fully understand – I will not let You down".
"Good as this will also be an excellent endorsement for Me, as a 1st Class Dominatrix / Whipping-Trainer, as following this event I am quite sure Mistresses will be dying to send me their subs for advanced Masochist training.
The end. For now…