This long story was written by slave p (#069) and is inspired from his personal experience in My service. Because the story is very long I'll publish it in 6 parts, during the next weeks.
Chained in my cell on all fours, my mind drifted back to how & why I had ended up in this situation. Incidentally when I say chained I should elaborate. Around my neck I have a heavy-duty stainless collar with an internal locking mechanism – the collar also had the benefit (not mine) of having 4 O rings fitted to it.
Attached to one of these (using a threaded chain link– soldered to prevent removal) was a short length of quite a heavy duty chain the end of which was padlocked to solid steel ringbolt that secured to the straw covered stone floor, of the cell that was in a very deep basement of an old building. Consequently this kept my face quite close to the floor. In the nights I was allowed to lie on my back in order to sleep.
However I digress back to my daydream! The reason I was here was due to an addiction – no not to drugs or alcohol, but to the infamous Mistress Ezada Sinn, and subsequently to Her predilection of Fetishes, and BDSM pleasures, these being Boot Worship, Caning, Chastity, Face-Sitting, Tease & Denial, Strap on, and of course not forgetting Whipping, as Mistress Ezada loves to whip Her slaves!
My journey started some 13 or 14 months previously (difficult to keep track of time these days), (a little d. I had come to the realisation that although I had tried many times I was unable to deny my submissive & Masochistic desires. Plus having 1st hand knowledge that Romanian Dominatrixes were in a league of their own, I set out to try and find my true destiny. This led me to discovering Mistress Ezada Sinn's website. Just one sentence in Her Bio said it all to me, and this was:
Begging Me to allow you to suffer for Me, your soul will be in agony, and your flesh will be in pain". I was sold! This Lady was truly Dominant, and the ultimate Dominatrix! The way I interpret Her statement is that She wasn't going to just whip me, but wanted the pleasure of seeing /hearing me beg to be whipped more – even though I was already suffering from previous lashes!
So began my long journey. I sent Her with a respectful introductory email, requesting my desire to serve Her. I anxiously waited, after a month with no response, I nervously emailed again. After all, I thought it could be that my first email had not been received. I waited and waited for a reply. After a long 6 weeks – my patience was rewarded with a reply.
Mistress Ezada's email simply stated I should reply in 7 days stating why I should be given due consideration of being allowed to become Her slave. I replied as instructed. I stated I would do almost anything to please Her. That was my number one priority – to give Her Pleasure! Almost a month went by but then I received a reply – Yes!
In Her email – Mistress Ezada asked me how far was I prepared to commit body & soul in order to become Her collared slave.
She explained it would take a huge amount of commitment not only on me but Her also, further stressing it would not be easy, and would take a long time. She summarize what it would it would involve. Extensive long-distance training, known as Pre-Training (before actual Face-to-face) Training for real started at a location to be decided including – Long-Term chastity & consequently long term orgasm denial.
Learning slave positions, Boot worship etiquette. It would require weekly Skype chats to test me on various things & confirm continued chastity compliance.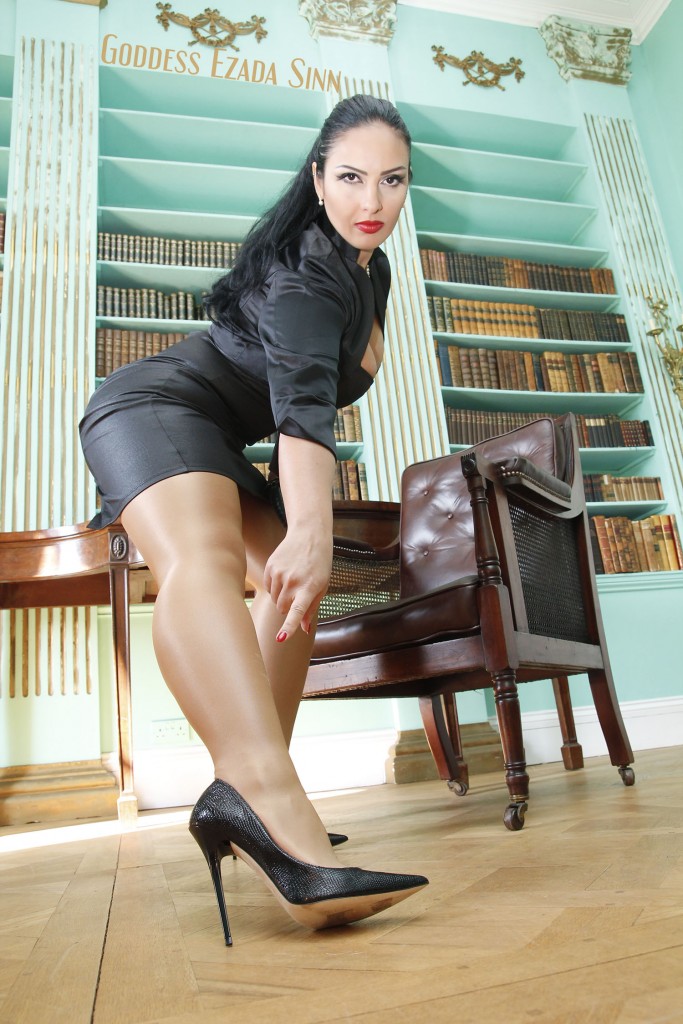 To leave me in no doubt as to the seriousness of Her view point on male orgasm denial I was informed that the minimum denial period during distance training would be 1 month, this however would be extended to 2 months, & then to 3 months – with authorized orgasms at the relevant time points being allowed.
However a twist to this meant if I accepted (option A) being allowed to orgasm at the above intervals would add an extra 6 months to the time-line. Oh my, this was a tough call, because a non negotiable Condition for being granted a Face-Face Assessment with Mistress Ezada would not be granted until I had been in denial for a minimum 3 months – it could be longer but not shorter.
The alternative option B meant it would be at least long 9 months before I could get to meet wonderful Mistress Ezada Sinn. I suddenly realized it wasn't a difficult decision to make. I knew deep down that it would be worth it.
I was told the importance of my pre-training as once my Re-education training began, prior to my becoming a fully fledged collared slave would be much much tougher, extremely tough.
I wondered to myself what that meant, but then as I continued reading She explained. Chastity would be 24/7 x 365 with only the possibility of a single orgasm & even that ruined per year. I would however be teased & denied on a very frequent basis.
Additionally there would be daily boot worship, daily whippings, and weekly canings. I guess the one respite – was that the much stricter regime would kick in after 2 weeks initial training.
Of course as a slave being re-educated you will not be allowed to eat normally or for that matter normal food! In respect of you getting fed, you will be lucky if I feed you my leftovers. Most times you will get dry bread only – although perhaps I should clarify – re-dried bread that previously had had a special kind of champagne poured over it. As I am also a very thoughtful Mistress, there will always be some liquid for you to drink!
For the Re-Education Training, this would involve minimum term of 3 months – with a possibility of extending to 12 months if I achieved Mistress Ezada's exacting standards.
So potential 'collared slave' I have one question: – "Do you still want to eventually become one of my 'collared slaves'? It was a very easy answer – "YES Mistress Ezada".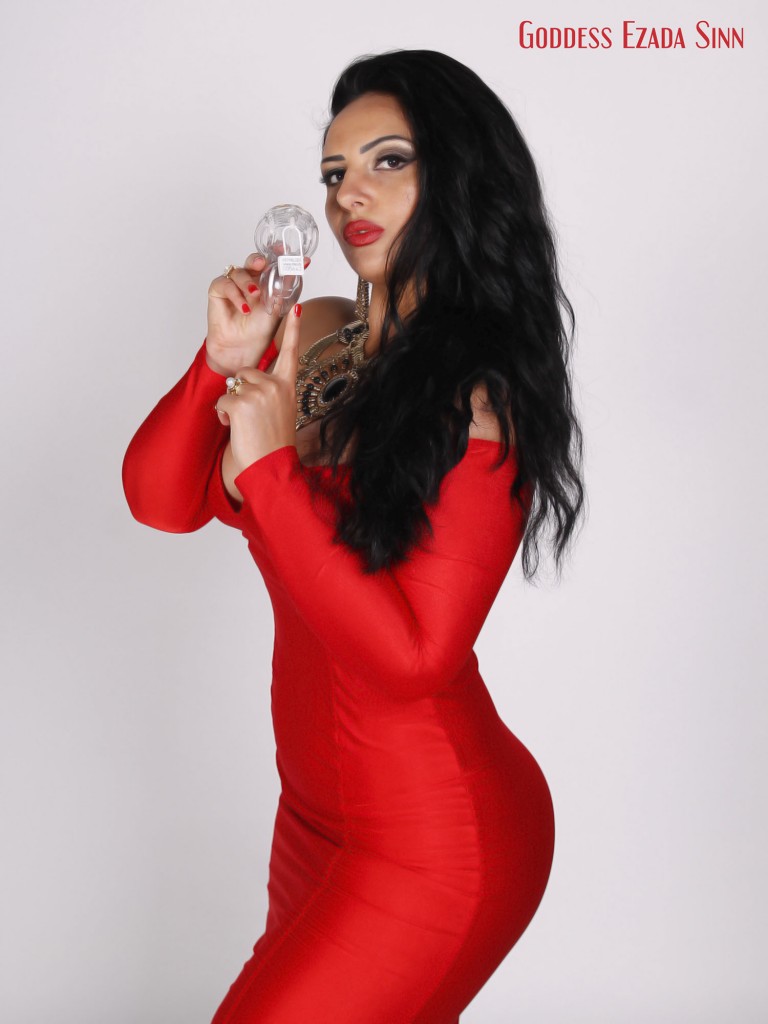 I was required to purchase a chastity & use plastic numbered padlocks. Once I'd received the chastity device I was ordered to put it on & secure in place using one of the plastic padlocks. This was all verified via a Skype webcam call.
Almost a year after first contact, I received an email from Mistress Ezada telling me I had earned the privilege of being allowed to visit Her for ReEducation Assessment, in order to check I was suitable for the full Training, and therefore deemed if suitable for acceptance into the programme, and by default the Mistress Ezada Sinn slave academy.
In fact only a small number of subs/slaves were ever selected to potentially become a collared salve.
Before I knew it, I was landing at the airport. The assessment being conducted over 3 days in Romania. Here I would fully tested for my tolerance to being whipped, & caned. Also tested on my slave positions, and also boot worship, including licking. My suitability for face sitting, and strap on – being taken anally. For some reason I was better able to take being whipped than being caned, so I remained hopeful.
For the whipping test I had been strapped down on a whipping bench & given 2 lots of 25 lashes with a dressage whip. Later on I had to be able to stand not secured with my hands on my head – this was called mental bondage, & just accept being whipped on my chest. I just about managed 50 lashes.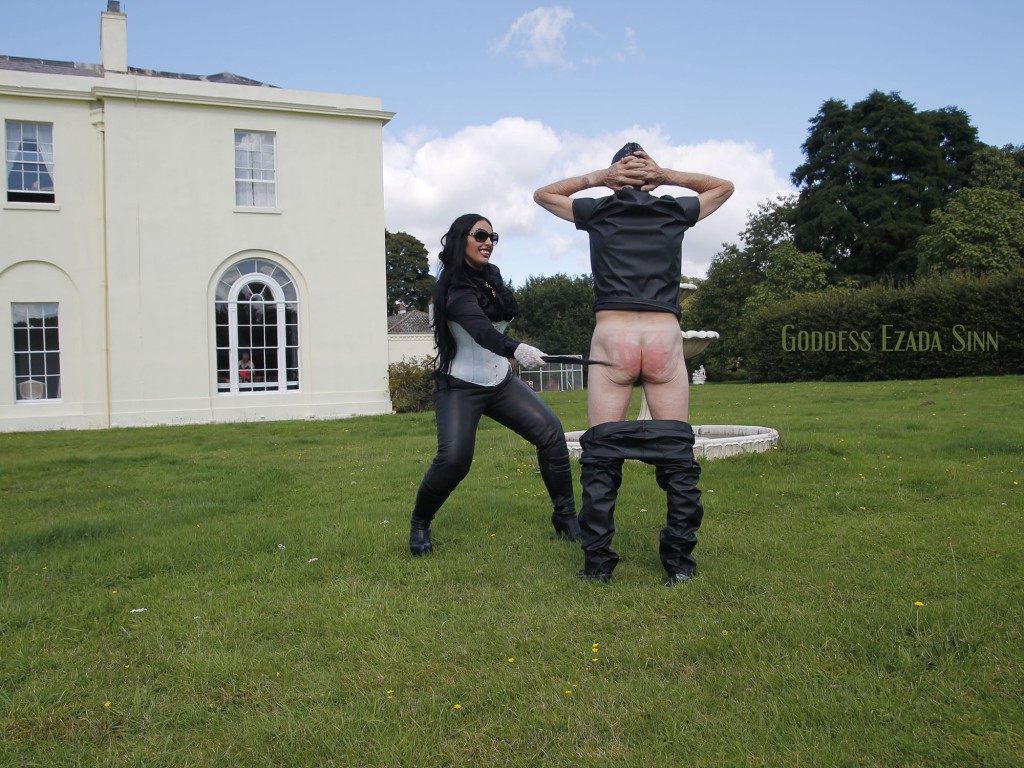 After a bit of respite, and more boot worshiping, I was secured over the whipping bench again to test me for the cane. This I wasn't very good at so only managed 30 strokes before pleading for mercy.
On another day I was secured in an X position to receive a full body whipping – with my wrists secured to the ceiling, and my ankles to the floor. Here I had to endure 25 lashes, counting out each lash, but because I was making too much noise, Mistress Ezada gagged me using a penis-gag for a 2nd 25!
Once the trial was over, Mistress Ezada confirmed that I had past the test, but only just. Mistress Ezada indicated to me that She saw a lot of potential in me to become a fully collared slave. I was told that when I returned home, although there would be little contact, I must remain in chastity, and of course in denial. I would receive an email to confirm everything.
The second part will be published next week.