"Are you thirsty frank?"
I spoke these first words during our encounter, the third time by the way that I had ever met him. I spoke them so smoothly as if W/we had already been in the middle of an animated conversation. My innocent voice perfectly hided the entrance of the trap. frank might have known. Perhaps he even knew. Perhaps the moth also knows when taking direction into the shining flame of the burning candle. Perhaps frank and the moth both just show the same degree of addiction to the light that burns so brightly.
"Da Stapana. sunt foarte sete"
his anxious efforts to talk to Me in Romanian were so charming. he had told me once that he had spent hours and hours over months trying to learn some our beautiful yet somewhat complicated language because he knew how much I Myself love it. His efforts might have been persistent, the success was sadly rather limited.
The willingness of his answer to My so innocent question revealed his blatant ignorance. Maybe he even thought that I would honestly go to have a drink with him. I think he really was that naive. Poor puppy.
"Pull over there to that gas station on the right and stop in front of the shop."
he did as directed. The big black limousine came to a halt and poor frank remained sitting in the driver seat unsure of what to do next.
"I want to exit."
I was curious to see whether he had already made enough progress to know what was expected from him now. Well unfortunately he hadn't. After opening My door he remained standing next to it. Quite obviously uncertain of what to do. The tall guy towering above me. I mean, how could he honestly dare to? I had to use the help of My flaming red nailed finger pointing to the ground to make him kneel down next to the car. I saw him biting on his lips when he became aware of the 3 inch stiletto nails he had only known from the pictures before.
So his laxness gave me justification enough for what I was about to let follow. Whereas, I had done it anyway. Justified or not, I felt like it, so I did.
"Waiting position."
My voice so calm, yet irresistible to him as if I had yelled the command into his ears with a giant megaphone.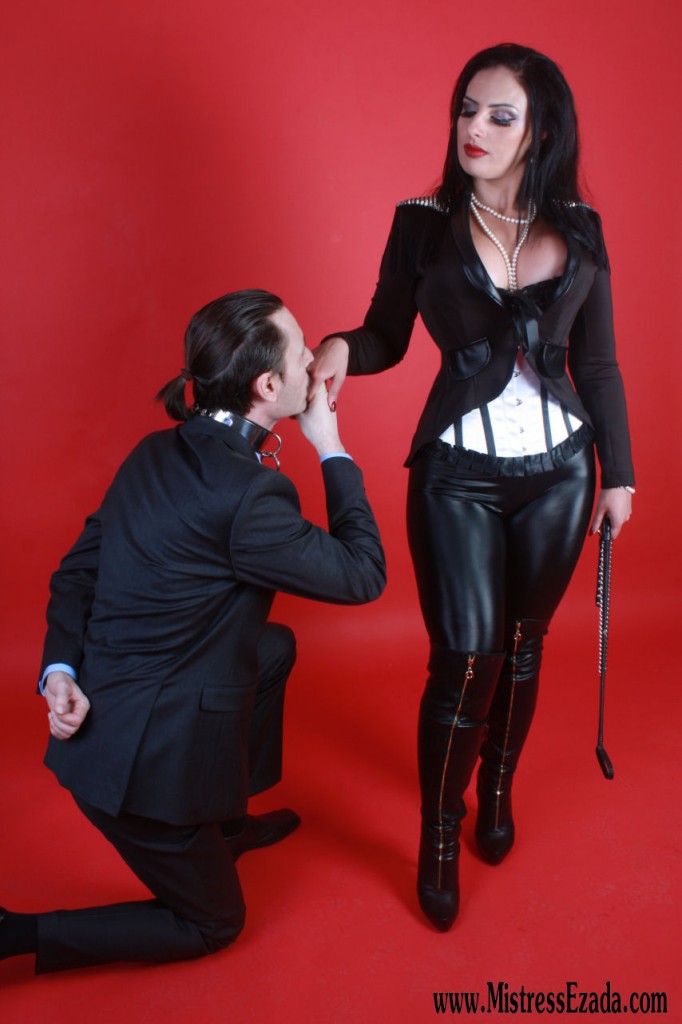 This was not the remote privateness of My Bucharest dungeon. Not even a dark corner of an empty Berlin street in the middle of the night. This was a brightly lit gas station in the midst of Zurich in the evening rush hour. As O/our car was standing right in front of the building, the scene was plain to see for all the other customers There were quite a few of them around and I realized that W/we  were causing increasing attention amongst those.
Not that it would have changed anything but I was pleased to notice that frank did not seem to hesitate. He got down on his knees, his face went down, the forehead touched the grey concrete, the palms of his hands opened to Me to demonstrate complete surrender.
I remained seated in the car, watching him through the open door. Spying for even the slightest move of the kneeling body but I detected none. We were not talking anything but the unspoken communication between us was like a torrential river.
"i am Yours" his silent body screamed.
"I take you as Mine" My calm body answered.
I couldn't help but to maintain the situation just in that state as it was. frank kneeling in front of the door, demonstrating his obedience to Me for the whole world, represented by a bunch of Swiss gas station customers.
I lay back in the comfortable seats of the Mercedes, feeling warm, safe, strong. W/we remained like this for about two minutes until I felt it was time to enter the next phase. I swung My feet swiftly out of the car placing them firmly just in front of his head. The tips of the high heeled boots were just an inch away from his bended head. Just a couple of more seconds before I spoke out the beautiful words he had waited for so patiently.
"You may kiss Me now for welcome."
he was well aware of the fact that "kissing Me" meant kissing My boots of course. His face moved just close above the ground until his lips and tongue had found the shining leather. Kissing it, caressing it, worshipping it. I must admit that the warm feeling within me clearly intensified. And it seemed to concentrate between My legs.
I did not have to move much in order to take the metal dog collar out of My handbag. He kept on licking the leather while I laid that symbol of our bond around his neck. I had to interrupt his wet worshipping for that very special moment though.
"Stop now to listen."
The little "click" has always been a huge turn on for Me. That special moment when the padlock of the collar closes. It so clearly demarks the watershed between man and slave. Hardly to be heard by anyone around, echoing like thunder in My ears and his
I grabbed My riding crop from My bag and got off the car.  With a sharp tug on the leash that connected My right hand with his throat, I withdrew his tongue from My boots.
"Follow Me."
What a sight that must have been to the brave Swiss. That voluptuous exotic woman in black leather pacing elegantly on high heeled boots. Walking slowly towards the cashiers house, throwing back a wave of black hair with her red nailed hand, dragging a man behind her on all fours like a dog.
When we entered the shop I took a moment to pause and look. And, quite frankly, also to be looked at. My head held high,  My sight telling the stunned spectators clearly and without any ambiguity: "Here comes Goddess!" franks feeling were at the other end of the scale of emotions though. The sentiment of oppression and fear on the end of My leash was so apparent that I decided merciful to help him a bit. I shortened the leash so tight that his head was roughly pulled against my leathered thighs. I could feel how he pressed himself against my warm body, so seeking the proximity and the protection of his owner.
The beverages were kept in cupboards and huge refrigerators. I wanted it to be the biggest bottle of warm Coca Cola they had to offer. When I had made out what I had looked for, I pointed My crop to the shelf.
"Adu-o, cățelul meu"
The excitement automatically made Me speak to him in Romanian.
I let go the leash. Dog that he now was, frank crawled over to the shelf, grabbed the 1,5 litre bottle of coke with his teeth, crawled back to me and looked at his Mistress with his brown eyes. Looked right into My eyes, so obediently and grateful like a pet that has just retrieved the stick the Mistress had thrown away for him. I felt happy and I know that he did too.
"Stai aici frank!"
He stayed put while I unhurriedly walked over to the cashier to pay for the bottle of coke. The guy could not make up his mind what he rather wanted to stare at. Me or the man-dog that I had left kneeling in the middle of his shop. He decided for Me. The drool literally dropped from his open mouth. Sometimes I think, I could have them all if I only wanted to.
On My way out I grabbed My dogs leash who eagerly followed Me out of there. When W/we came outside W/we faced a whole bunch of people there watching, staring at U/us. I felt a strong surge to carry on but I didn't. Enough show for the moment I decided. No encore of a nice whipping scene with frank lying on the hood of the big black car presenting his naked ass to the relentless beating of my ferocious crop. Not today.
he remained on his knees until i had taken place in the back of the nice Mercedes again. Then the discreet upward movement of the crop in My hand conveyed him the permission to get up again. he hurried around the car to his driver seat, started the engine and off we went, the bottle of coke still resting so innocently on my lap.