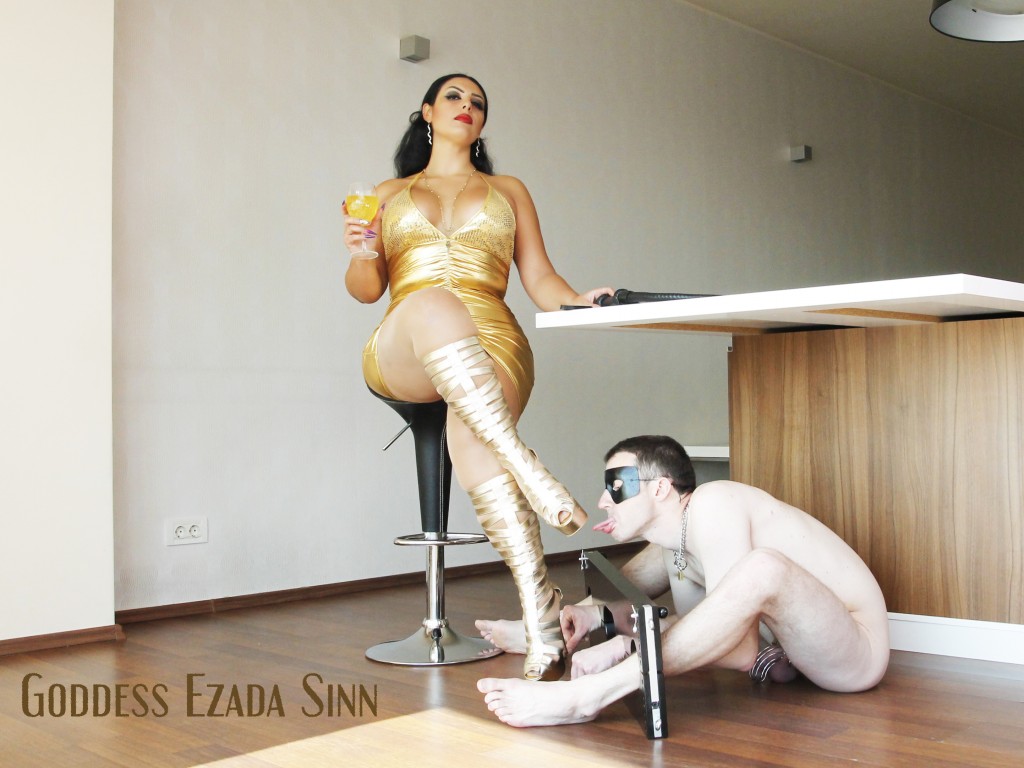 A little alphabetical fun whilst I was day dreaming of You today!
A is for Authority. Her authority in Her pets lives is calm, assured ant totally controlling.
B is for Beguiling. Her natural beauty is beguiling, bewitching and mind boggling.
C is for Chastity. Whether mental or physical Mistress is in absolute control.
D is for Discipline. Her slaves must be totally disciplined in their service to Her. Mistakes and failures are intolerable and lead to strict discipline until corrected.
E is for Ezada. Exquisite, enchanting and exotic. The world's leading Female Supremacist.
F is for Feet. Mistress's divine must be worshipped, pampered and massaged daily by Her subjects.
G is for Gift. We are grateful for the gift of our gracious Goddess.
H is for Heels. And killer heels. Mistress possesses a dazzling array of leather and patent leather  boots and shoes just waiting to be worshipped by Her salves tongues.
I is for Intelligence. Not just physically stunning Mistress also possesses a sublime mental beauty.
J is for Journey. Once a slave embarks on a journey of discovery under Mistress Ezada's control his life suddenly has meaning and purpose and becomes complete.
K is for Kiss. Whip kisses. The kiss of Mistress's whips induces feelings of great joy for the slave knowing he is giving pleasure to his Mistress.
L is for Leather. What else! The sight of our Goddess dressed from head to toe in Her favourite leather must rank as the eighth wonder of the modern world.
M is for Mesmerising. Her mesmerising presence will cast a spell on you. One from which you will never want to escape.
N is for Nipple. Your nipples become Her Playthings, Her toys, to squeeze and tease for Her pleasure.
O is for Orgasm. She will have multiple orgasms at your expense. You, if lucky, will have a very occasional ruined one. Orgasm control is one of Her specialities.
P is for Passion. Her passion, your pain, Her pleasure. Simple.
Q is for Queen. She is Queen of all She surveys, the absolute monarch in in the Queendom of Female Supremacy.
R is for Red. Her favourite colour. Whilst She looks regal in black She looks ravishing in red.
S is for Sanctum. To worship Goddess's Sanctum is the greatest honour that can be bestowed upon any slave.
T is for Torture. Her beauty and Her style will torture your mind and soul. For ever.
U is for Utopia. Her utopian view is of a Female led society where a male's only usefulness is to serve and obey. Perfect.
V is for Voice. That voice, so soft and sensual yet demanding and strict.
X is for X rated. The best X rated Femdom clips on the Internet in Her Clips4sale store. Now ranked in the top 25 studios in the world!
Y is for Yearning. Once you have experienced Mistress Ezada your yearning to serve Her grows by the day.
Z is for Zeal. We are zealous in our pursuit of Her guidance and Her control. We know it is the perfect way of life.
by My collared slave len