One of the great artists and most popular phtographers of all times who´s work definitely has a wonderful kinky fetish touch to it. Helmut Newton is one of the guys who has paved the way for Femdom imagery to make it from a dark and somewhat shady background right into the spotlight of fashion, art and culture. Like in this work here he did as a fashion shoot for Yves Saint Laurent back in 1981: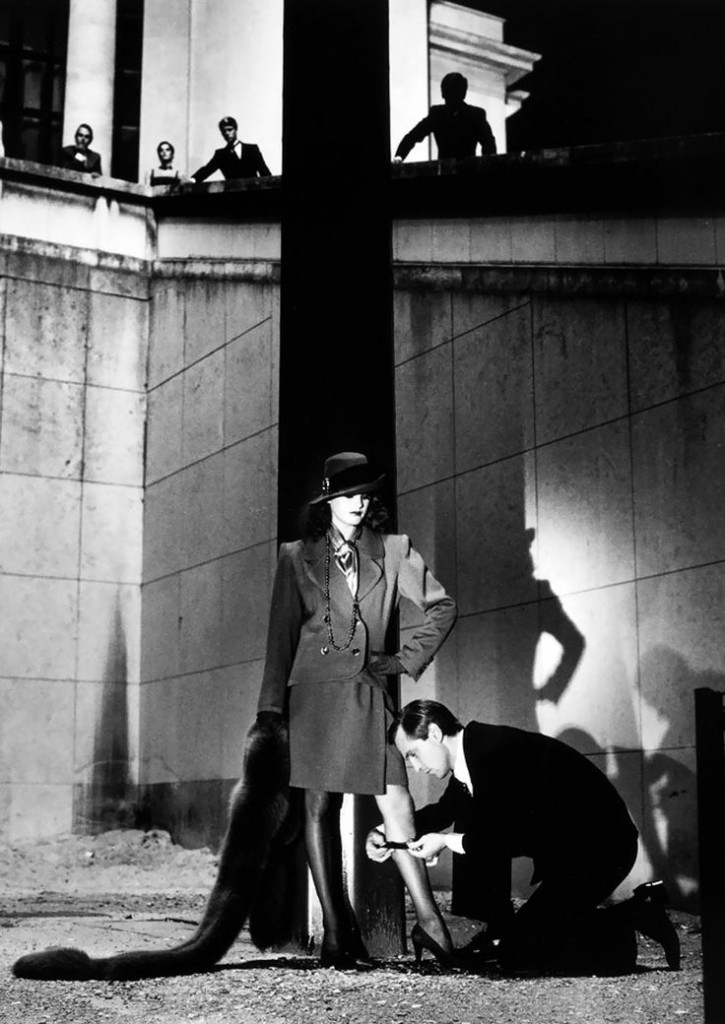 So much that I like about this photo: The scenery of course, the kneeling man in servitude and the towering womans arrogant look down on him from above. They are alone yet same time also watched by a curious audience. The picture makes us think and wonder, has she staged this little happening to demonstrate her power over him … or did it just happen coincidentally when she simply needed to have her stockings rearranged? Perfect light guidance, see how the light coming from above is just wonderfully illuminating the faces of the two persons; watch the shadows repeating the action going on in the front on the wall in the back….
And last but not least…. I sure love her fur collar that she holds as if it was a whip …
Ahh, this is all just perfect … and the Helmut Newton Museum (http://www.helmutnewton.com/) will for sure be worth a stop during My next Berlin visit.
I do not claim any copyright in the picture(s) shown and dealt with in this article. The article is merely meant to cherish the beauty of the art and it is not at all intended to infringe any third party copyright. So if you are the holder of respective copyrights and want to have the picture(s) removed, notice Me on info@dominare.ro and I will do so immediately.