Femdom Summer Camp 2014 is over. Most of you followed us on Twitter, so you probably know already how much We, the Ladies, have enjoyed Ourselves. I know lots of you wanted to participate, but since it was an exclusive event, only the best of Our slaves had the chance to serve us.
For the unlucky ones, not able to be there: Read the stories from The Femdom Summer Camp 2014 here, on My blog, look for the clips that will be published on My Clips4Sale store and on Mistress Evilyne's Clips4Sale store, and don't forget for the best of you, there will be other chances to serve Us, e.g. during the next Femdom camps.
The whole idea of this Femdom Camp was about service and not play, the purpose was for Us to be served, pampered, pleased, while the slaves' needs (not even talking about wishes) were disregarded. I wanted the Camp to be as close to a true matriarchal society as at all possible. First it seemed difficult for the males to adapt to this, they looked quite gloomy, but I had no doubts about the irresistable power of Female supremacy once it gets to work full force: I knew they would manage and so they did, even sooner and better that I had expected Myself.
As a foundation of Our community in the Camp We needed a strict set of rules to be followed by the males. And of course, as a symbol of their subjugation, the slaves had to be collared permanently.
Before the act of the collaring We, the Ladies, discussed about the rules that would apply in the Camp. Like in OWK, The Femdom Summer Camp 2014 rules were very different from the usual laws and rules valid in the outside world. The Camp rules were the guideline to Female Supremacy. have a look at them to see for yourselves.
Once We had agreed on the details, it was time to collar Our slaves and to instruct them about the rules. They had no say in discussing them, of course not, they only had to learn and follow the rules that We had set for them.
In the first evening, We dressed up for dinner. While We were sitting at the table in our elegant dresses, comfortable and relaxed, the slaves had to serve Us almost naked (wearing just their collars and underwear). They had no place at the table with Us, they were not even allowed to ever sit on any piece of furniture, only on the floor. They were here to attend on Us. And they did.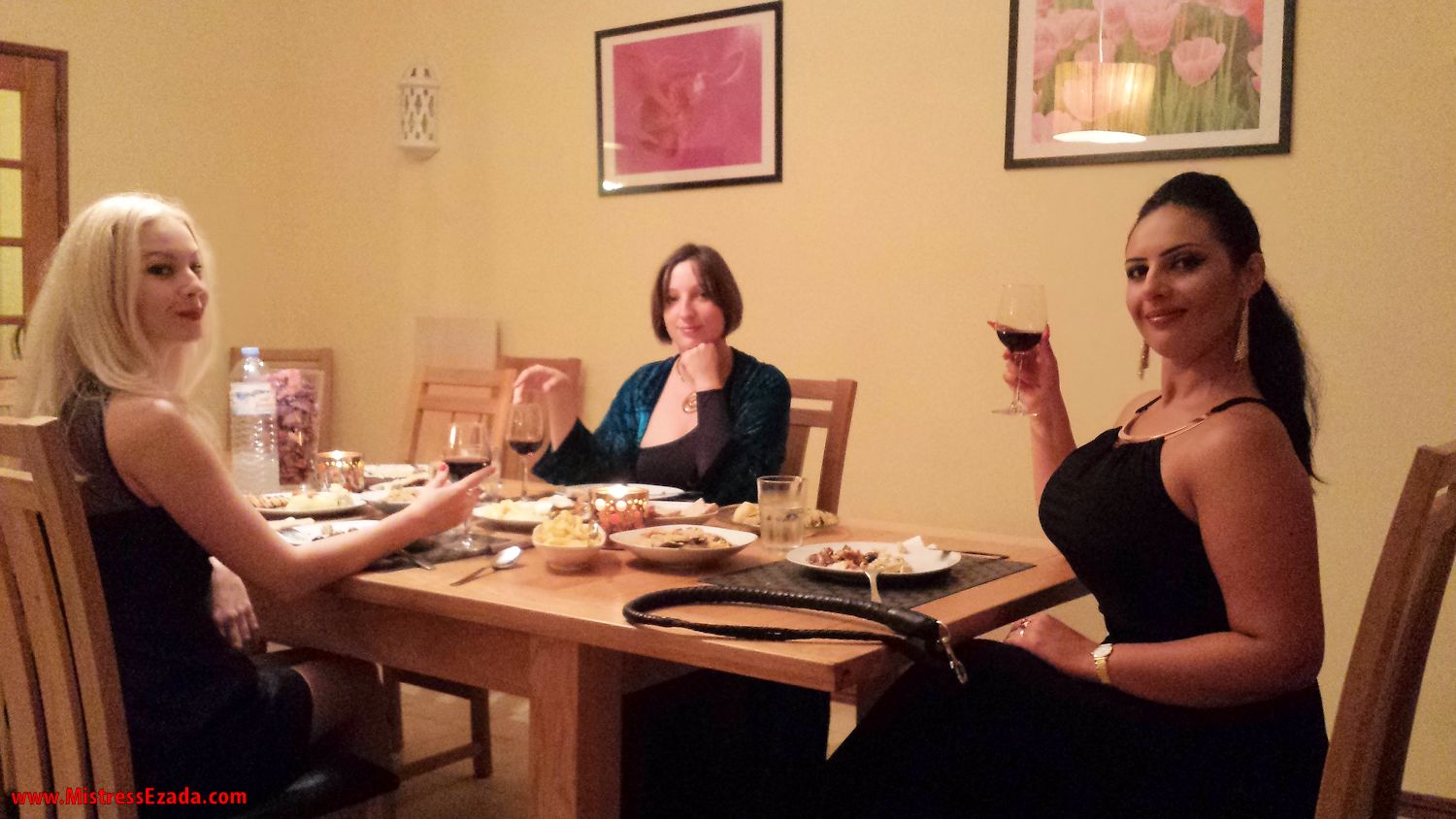 Still We also showed some generosity to reward for correct conduct. One of My slaves was allowed to keel very close to Me while I fed him with the most healthy pure seeds of the best black Portuguese olives that came directly from My mouth. he was kind of lucky but My other slave even more enjoyed the dinner I think. Placed under the table like a little puppy, first only allowed to sniff My delicious pussy through My panties while starters were served. Then for main course, gently rubbing his nose over My Sanctum, up and down and up and down… I felt no hurry at all to finish My delicious meal off.
After We had finally finished eating, We had the slaves put all the leftovers into a plastic basin and eat out of it, sitting on the floor. They should be thankful We allowed them to use spoons, otherwise they would have looked even worse than pigs. Surprisingly, most of them seemed not to be too hungry, even though they hadn't eaten all day. Strange creatures…
Before going to bed the slaves had to kiss each Woman's feet (a ritual they were to follow each morning and evening) and were told to wake up at 8 o'clock and get the breakfast ready before the Ladies wake up.
Lying in bed that first night, I could not wait for the sun to rise again to even take things at the Camp to a next level. The slaves in their little chamber sure felt a lot different.