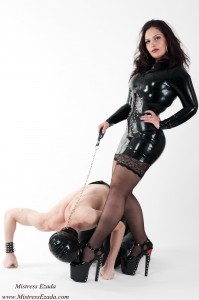 1. For those who don't know you, who is Lady Ezada Sinn?
For the most people on My street, I am just an elegant and mysterious female neighbor. But for those that have the opportunity to serve Me, I am the embodiment of their boldest Femdom fantasies. I one phrase, I can describe Myself as a lifestyle pro-Domina, who likes to use Her male subjects as much as possible for Her personal pleasure and amusement.
I live in Bucharest, but I spend a lot of time traveling through Europe with My personal servants.
2. Why do you enjoy dominating?
Even since before I found out about the Femdom concept, I liked to dominate men erotically. Over time, when I started to have sessions with submissive men (back in 2004), I discovered that dominating men is the only way in which I can get erotic satisfaction. I like to always be in control, to see men suffer for Me, accept the most degrading humiliations, how they give up their pride and ego in order to please Me. Being a Woman, My strength is not in brute force, but in taking control over men, over their dreams, secrets, shame, tears, desires, cocks and orgasms! Considering the above, how can I not enjoy dominating?
3. What made you decide to become a professional dominatrix?
In 2009, I wrote to the people from the Other World Kingdom, and I was invited for a video shooting session. After My movies have been released, I was contacted by submissives from around the world for professional services. I think that becoming a professional Dominatrix was a natural step, because this way I can combine business with pleasure.
4. Did you lose anything due to the decision of becoming a professional dominatrix?
In the beginning I kept a regular part-time job, but after a time, My co-workers found out about My preferences and I had to quit. That moment was not very pleasant, but now I realize it was the best thing that could happen to Me.
5. What are the downsides of the profession? And the advantages?
In Romania there is no legal framework for this activity, which makes Me spend a great part of My time outside the country, where people easier understand and accept alternative lifestyles. As for advantages: I am practically living My dream, most of the time I feel great with My slaves, I can wear beautiful leather, latex and other fetish costumes that turn Me on so much, I have My own dungeon and access to high quality equipped studios. Moreover, I have had the occasion to meet quality submissive males, people of brilliant intelligence and a vast culture, which made My life more beautiful and easy, pampering Me, adoring Me, serving Me, fulfilling My every wish.
6. Could you describe the BDSM scene in Romania?
In Romania the BDSM scene is at its beginnings, but it will definitely develop in the near future. Online, there are a few BDSM personal ads websites, blogs and message boards (like bdsmforum.ro, of which I am one of the founding members). As for the offline scene, in this moment there is only one place completely dedicated to BDSM: the Baroque Mansion, a luxurious place at the highest European standards that definitely deserves being visited by any Femdom follower.
7. What do you think about 24/7 relationships?
A 24/7 relationship is not appropriate for any submissive, thus it should not be regarded as the highest degree of submission that any slave should reach. At the same time, for Me it is the perfect way to train and use My personal servants. I am interested especially in 24/7 total power exchange relationships and although I already have one such relationship, I would like to develop one or two more new ones.
8. Do you prefer fetishist or masochist slaves?
I like submissives that put My desires on top of everything and accept pain even if they are not masochist, or are ready to adore My feet for hours even if this is not a fetish for them. I like to feel that I really have control over the male subject, and am not just an instrument for satisfying his submissive pleasures. Because of this, most times before the first session with a submissive, I want him to tell Me his limits and not so much his preferences, and during the sessions I will discover a common denominator for My and his pleasures. It is not important if they are masochist or fetishist, important is their obedience and the willingness to please Me.
9. Do you believe wearing fetish clothing is essential for dominating?
Although fetish clothing are often important to make Me or My subject enter the mood, they are not essential. Wearing Dominatrix clothes and having a whip in your hand is not equivalent to dominating a man. Depending on My mood, you may find Me corseted and costumed in leather or latex, with an arsenal of toys. At other times, there may be nothing more than an everyday situation and My overactive imagination. I can control My slaves with nothing more than a look or a word.
10. Do you also dominate women? If so, do you see any difference?
Sometimes I use submissive females in My sessions, but usually dominating them along males. I don't have the same pleasure torturing women, I mostly prefer to train them as sluts and as bondage bunnies.
11. Is it possible to keep a long distance BDSM relationship? Do you use Internet for dominating slaves?
Of course it is possible to keep a long distance BDSM relationship, but this depends very much on the willingness of the two partners to maintain this relationship. Communication and sincerity are of utmost importance in this case. I use the internet to dominate My long-distance slaves. My specialties are orgasm control and sissy training. The training of every slave is customized, trying every time to extend their limits, educating every one of them separately, according to their potential.
12. Do you believe you were born or that you have become into a domina?
I don't believe in the concept of "natural born Domina", I think our life experiences, the environment that we come from, personality, etc. mix together to shape our sexual preferences. Over time, I realized that this is what defines Me sexually: being into Femdom.
13. What are your favorite practices?
My favorite practices change according to My mood and the person in front of Me. Nevertheless, among My all-time favorites are: tease and denial, orgasm control, obedience training, humiliation, face sitting, pony training, whipping, caning, feet worship, predicament bondage, sensory deprivation, imprisonment.
14. Could you tell us any anecdote that happened to you during a session?
I choose to be discreet regarding My private sessions.
15. What is the most beautiful thing you have been told during a session?
I hear a lot of nice words from My submissives, but the most beautiful things have been told by their gestures. Seeing him trembling from humiliation, with tears of pain coming down his cheek, knowing that he submits to Me totally because of love – this is the most beautiful thing he can "say" to Me.
16. What is your favorite scenario?
My favorite scenarios are the ones that include a submissive that I know and has very wide limits, everything taking place in a well-equipped dungeon. Also, I have a special passion for outdoor pony training.
17. What are your vanilla hobbies?
I like reading, visiting new places, mountain trekking, debating interesting topics.
18. Could you describe us the slave of your dreams?
The slave of My dreams is a balanced man, very intelligent and educated, willing to submit to Me totally with pride and dignity. Our relationship is based on trust and strong mutual attachment. He must be willing to satisfy Me erotically, physically, spiritually, emotionally and financially.
19. Do you enjoy more short sessions (1 or 2 hours) or confinement for several days?
With a submissive that I have met before, a longer term confinement is preferred. But for a first meeting, a 1-2 hour session is the best option.
20. Would you like to tell something to our readers?
If you want to know more about Me, you are welcome to visit My website www.mistressezada.com, which is updated weekly with new photos and info about the events I attend. Also, together with Baroque Mansion, we are going to launch a new project dedicated to the total supremacy of Women over men.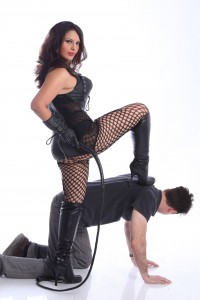 BeDeSeMe test
A color – red;
A meal – orange roasted salmon;
A place – Copenhagen;
A book – Nineteen Eighty-Four by George Orwell;
A song – God's Gonna Cut You Down by Johnny Cash;
A movie – The Diving Bell and the Butterfly;
A dream – general acceptance of BDSM by the society;
A fetish – leather;
A peculiar habit – never watching TV.