The second morning serving Goddess Ezada begins in a similar way to the first, with a kiss of Goddess feet. It is no less special the second morning, i could never tire of kissing Goddess' feet. After greeting Goddess and gathering our chosen clothes, sit and i head to the kitchen to help out with breakfast preparation. Today will bring some new first for this little pink poodle.
This morning's breakfast is a champagne breakfast served by the hot tub. All the slaves are busy bustling around ensuring the Ladies are satisfied. Goddess seems to enjoy having either sit or i nearby, our nipples nearby and accessible to be teased and tortured. we were truly blessed to be allowed to serve the beautiful Ladies as they relaxed in the hot tub.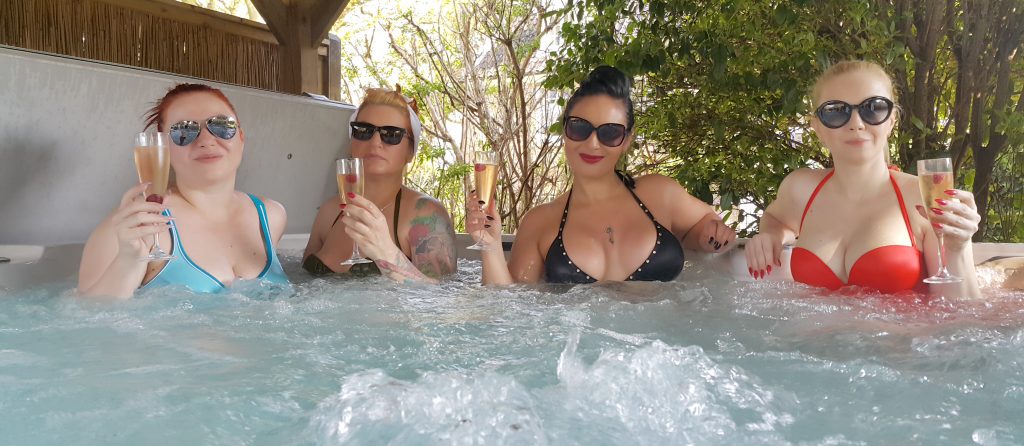 Later in the morning it is time for Goddess to use and train Her poodle. Goddess has decided there will be a few more firsts. As Goddess' slave one has to accept that one is Her property to do with as She pleases. Goddess likes to lend Her property to Her friends and is pleased to see it perform for Them. To advance this side of my training, Goddess has decided i will be serving Her friend Lady Yna as well as my Owner. i really enjoyed meeting Lady Yna, She is very pretty and i liked Her a lot.
The first training session is something i was not looking forward to. Goddess has informed me that i am to be trained as a human ashtray for Her and Lady Yna. i am not, and never have been, a smoker. The taste of cigarettes is something i rather dislike, however, this is what Goddess wants so there is nothing else to do but try my best to please Goddess Ezada and Lady Yna. i kneel between Goddess and Lady Yna in ashtray position, making my mouth as accessible for them as possible. As the ashes are dropped into my mouth i gag, the taste getting to me. i try my best not to, but it is an involuntary action. Goddess and Lady Yna laugh at and mock me. As the session goes on i find it no easier, my eyes begin to water and sometimes i am even gagging at the expectation of the ashes. Nevertheless i persevere, in truth i had no choice because Goddess had decided this was happening, but i also wanted to do it to please Her and Her friend. At the end Goddess and Lady Yna stub out the cigarettes on the floor (they are very generous in not using my mouth for this as it is my first time) and i have to pick the butts up with my mouth to transfer them to the bin. i think this was the hardest session i had, others may have hurt more, but i would say this was the biggest struggle. This is the truth one must face if one is to belong to Goddess Ezada Sinn, one must do things which one truly abhors in the knowledge that it will make Her happy. It is the sacrifice of the slave's dignity that proves to Goddess how much the slave loves Her.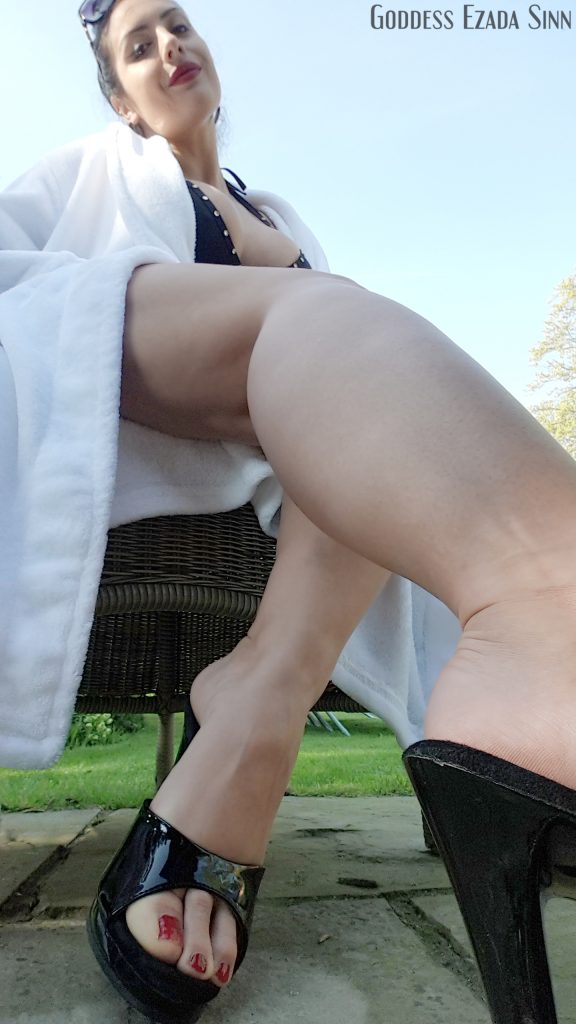 For the next session i am to learn how to worship Lady Yna's boots, i know many on reading that would feel this is a nice task. Of course there is a twist, while I focus on worshipping Lady Yna's boots, Goddess will be whipping me with the single tail whip. Until one experiences it, it is impossible to appreciate how hard it is to focus on something while being whipped. i'm sure we all think we have an understanding that it is difficult, but the reality is very different. When one is just being whipped one is able to focus on coping with the pain, but when one's focus is on a task the pain is felt more keenly. Lady Yna instructs me, i lick Her boots slowly and as hard as i can as She directs. Suddenly my ass is on fire as the whip lands. The whip strikes continue landing, i attempt to block out the pain and focus on my task at hand. Worshipping Lady Yna's boots is all that matters right now, the pain must be endured. i follow Lady Yna's instructions to the best of my ability, but still the whip lands; not for punishment, just for Goddess' pleasure. As the whipping continues tears come to my eyes, but still i must focus on my task. Only Lady Yna's intructions matter, lick slowly. The pain must be endured, it cannot affect my task. The whipping Goddess gave me felt very hard, i know now that it was, but still not full force. That is yet to come, and it will, it is inevitable. Eventually the session is at an end and i practically collapse. Both Goddess and Lady Yna seem happy, that is all that matters. This is my place, as it the place of all slaves, to suffer for Their pleasure.
The whipping session was intense but my ordeal is not yet over, Goddess has something else in store for sit and i. we are lucky enough to be allowed the opportunity for a release, but slave releases come at a price. Lady Yna has a little gift for us some wild "flowers" or nettles as they are more commonly known. sit and i will have to cum while being wanked with stinging nettles, oh what a devilish trial this is. It begins with Lady Yna teasing me and Goddess Ezada teasing sit. It is quite difficult to explain the sensations one is going through when a beautiful Woman is stroking one's cock with a bunch of stinging nettles. It also seems rather strange now typing that sentence. The Mistresses are most amused by our plight and also mock and humiliate us for our small size. As Goddess' (my) cock is stroked i am feeling aroused but the stinging sensation prevents orgasm. Nettles are also placed into the crevice of our backside, ensuring this is also most uncomfortable. Goddess' (our) cocks are also whipped with the nettles, this really ensures we are properly covered by the stinging sensations. Goddess and Lady Yna switch and it is my turn for Goddess' attention. we reach the count-down to cum, when Goddess reaches 0 then we are to cum. Neither us are able to, the nettle stinging keeping us away from the edge. The torment continues and we are given another chance. This time with our faces against Goddess' beautiful ass, with this inspiration i manage to overcome the discomfort of the nettles and cum. After the bliss of release all that is left is discomfort, such is a slave's lot. Goddess Ezada and Lady Yna appear to have enjoyed this very much. This being the final session i am able to have a breather, it has been a very intense morning. Despite the pain, discomfort and humiliation, i am happy as i have been able to please my Owner and Lady Yna.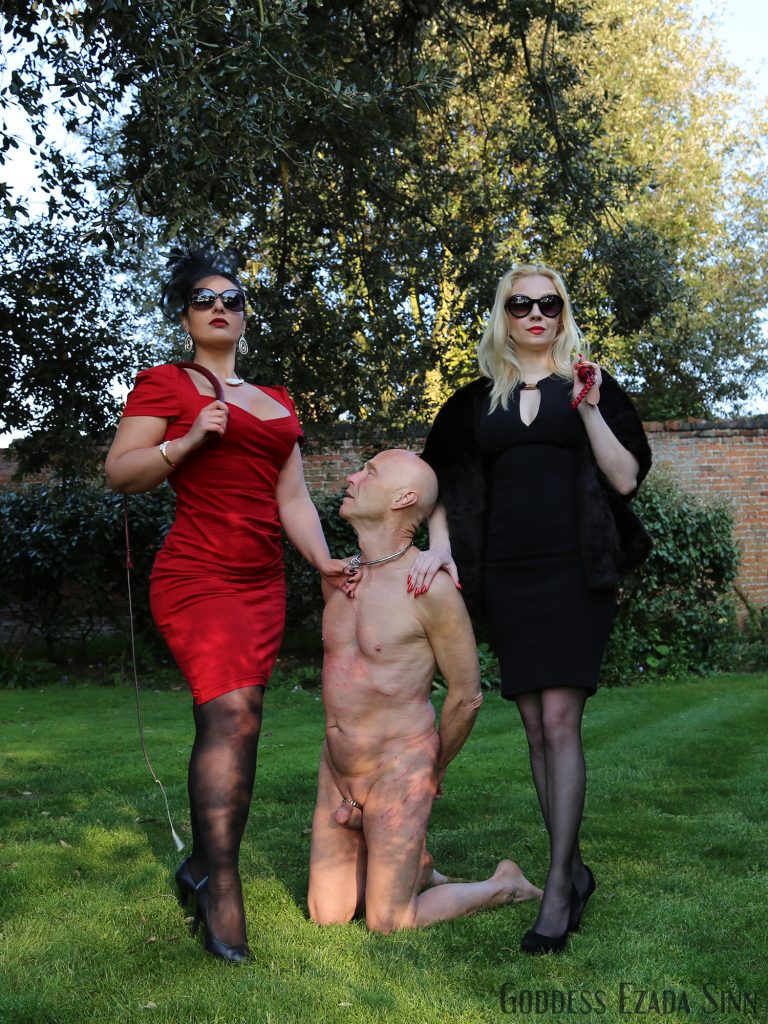 Through the weekend there were many points which deepened my submission to and worship of Goddess Ezada. There are, however, three which stand out in particular. The first one is taking Goddess' big black cock, once one has been fucked by a Dominant Woman with a strap-on there is no going back. you are Her bitch now. The second was a moment when Goddess was rather sweaty and She instructed me to lick Her armpits clean. There aren't many things that can indicate one's role than cleaning one's Owner's sweat, it is at the same time degrading and intimate. At that moment i felt closer to Goddess Ezada. If a few months ago i had been told that i would look back fondly on licking anyone's armpits clean i doubt i would have believed it. And yet, here i am doing just that. The third one that stands out happened later in the day after the nettle ordeal.
sit and i are still feeling rather uncomfortable after the nettles, Goddess has an idea. i am ordered to follow Her into the bathroom. i lie down in the bathtub while Goddess stands astride one foot on each side of tub so i am looking straight up at Her. At this point i felt very small and humble. i am sure the reader has a good idea what Goddess has planned. Goddess wants to help Her little poodle of course, and if urine works for jellyfish stings, maybe it will work for nettle stings. And so Goddess pees all around the affected area, i can smell it, it splashes towards my face. Goddess says "mine" as She marks Her property and once finished i am told to lean up and kiss Her sanctum. i don't think i have ever felt so submissive and owned than at that point, i loved it. It still surprises me that this is one of the moments that i look back on most fondly, but it is most certainly the case.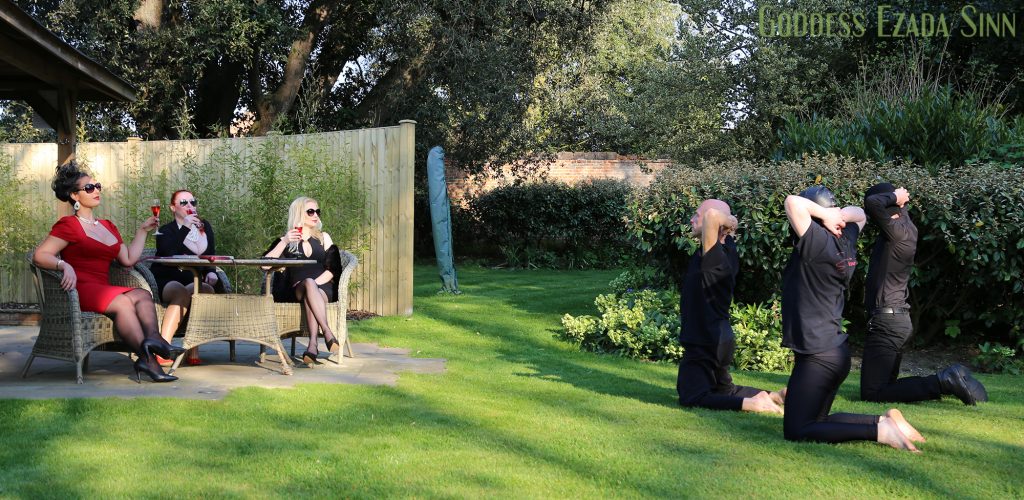 After afternoon tea has been served to the Ladies, there is to be some entertainment. Lucky for us it is provided by sergiu, sit and i. sit has put together a routine involving Goddess' slave positions. sergiu truly hates this idea, however, Goddess wishes for it so he does it. The routine goes well, largely down to sit, i merely follow what he does with a little improvisation along the way. Later in the day the routine is repeated with some additional elements so that Goddess can film it, the second time was a little better and even sergiu seemed to enjoy it more.
The evening would bring a new slant on a popular family game and some other rather interesting entertainment. But we will save that for the next chapter………