My weekend back under Goddess Ezada's total control begins with the seemingly simple act of closing a padlock. It is, in fact, highly symbolic, the collar will not be removed until Goddess Ezada decides. Goddess is escorted by Her husband and personal slave sergiu and another of Her personal slaves, sit. It is the first time of meeting either of them, it is clear they are well trained by Goddess Ezada and over the weekend i do my best to observe and learn from them; to become a better slave for Goddess Ezada.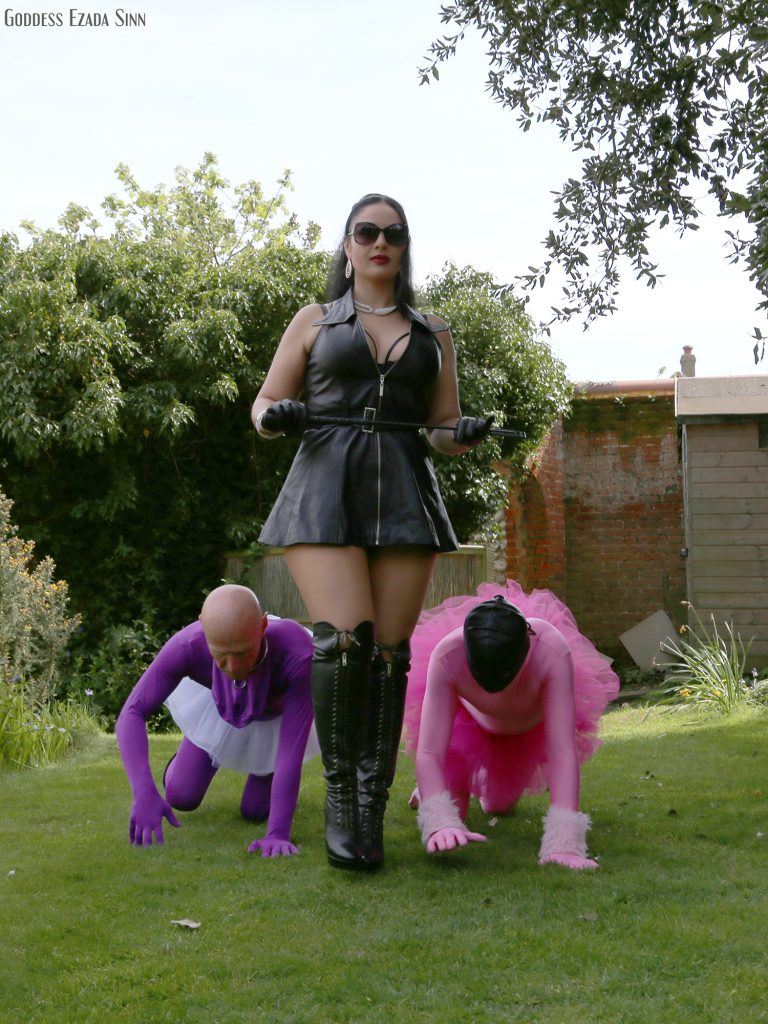 i will take this opportunity to apologise to the reader if events are not always in the order in which they occurred. So much happened over the weekend that some events have blurred a little.
As everyone is arriving i am able to meet Mistress Lilse and Mistress Devina again (whom i had the pleasure of meeting at Hoxton) and Lady Yna for the first time. The first evening is a relatively laid back affair, at least for the Ladies, slaves don't get rest. All slaves must work for the house as well as serving Their Mistress, so we all set to work serving dinner for the Ladies. Once dinner is finished it is the slave's job to entertain the Mistresses. sit and i are given a spanking with a crop, not for punishment, just for Goddess Ezada's entertainment. My ass is stinging, but this is a mere warm up for the rest of the weekend.
The whole time serving Goddess Ezada the slave is constantly reminded of it's place. Everything is controlled by Goddess, i am only to wear what Goddess says, mainly pink or nothing. Drinking anything other than water or eating without permission is expressly forbidden. There were times when i wished for a cup of tea or a Coca Cola, but i wasn't going to ask, just wait patiently to be allowed.
The evening draws to a close, sit and i kiss Goddess' feet to say goodnight before retiring for the evening. The next day would bring some much more interesting events……..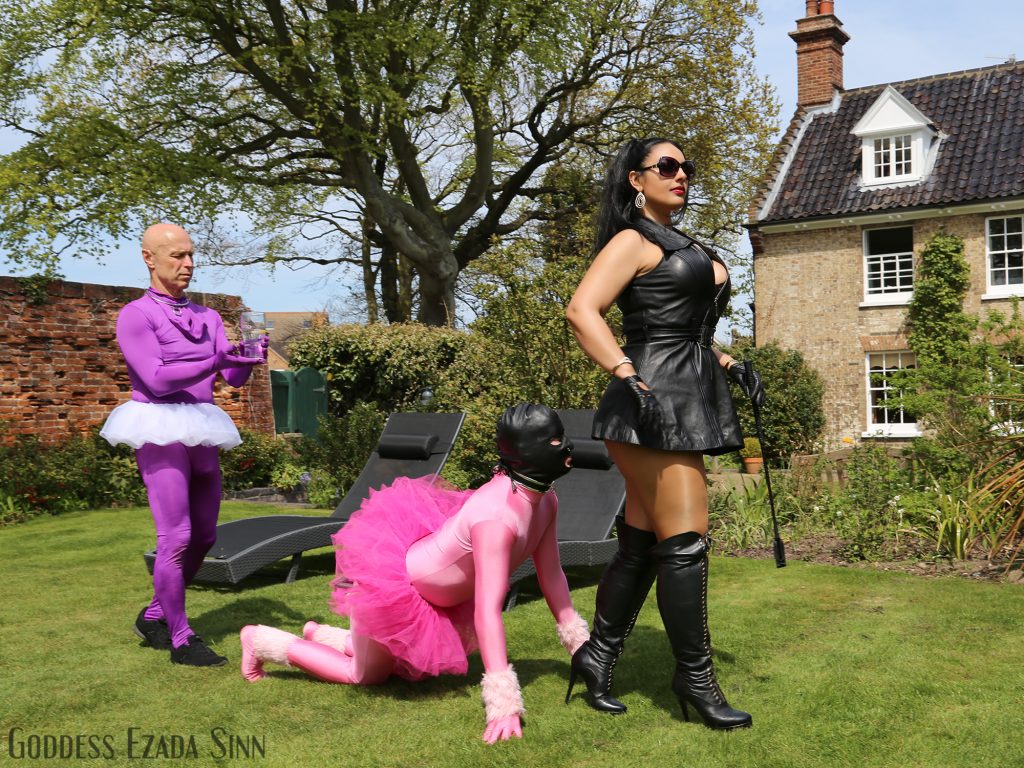 ……..As the morning begins sit and i kiss Goddess Ezada's feet and wish Her good morning before setting to serving breakfast. Today sit and i are to dress in matching outfits, me in my pink spandex poodle outfit and pink tutu, sit in a purple spandex suit and white tutu. After breakfast Goddess decides She wants to test sit and i in the slave positions. This would be my debut in Goddess' clips, Goddess would command us to get into a position; the one who is slowest would earn 10 whiplashes (you can watch Goddess have fun in this clip EzadaSinn.com/15645628). This is a devilish game, i don't want to earn sit any whiplashes, but i don't want to displease Goddess and i want to avoid whiplashes myself; oh the dilemma. The only thing to do is do my best and live with the consequences, this is often the only choice in a slave's life. One moment in particular stands out for me, i am laid down in doormat position when Goddess stands astride me and lowers herself onto my face. i love being beneath Goddess Ezada's beautiful ass. By the end of the game i have earned 40 whiplashes and sit has earned 70, but Goddess is happy and that is all that matters.
Lunch is next and all the slaves busy themselves serving the Mistresses. Over lunch Goddess tells the other Mistresses how bananas are used in my training, i blush as i explain to Mistress Ava what i have to do with bananas. We will come back to this later in the day. After lunch is finished, sit and i are instructed to stretch ourselves. we go to Goddess' room, i insert the largest plug and sit inserts an inflatable plug. Once fitted we return to assist in clearing up.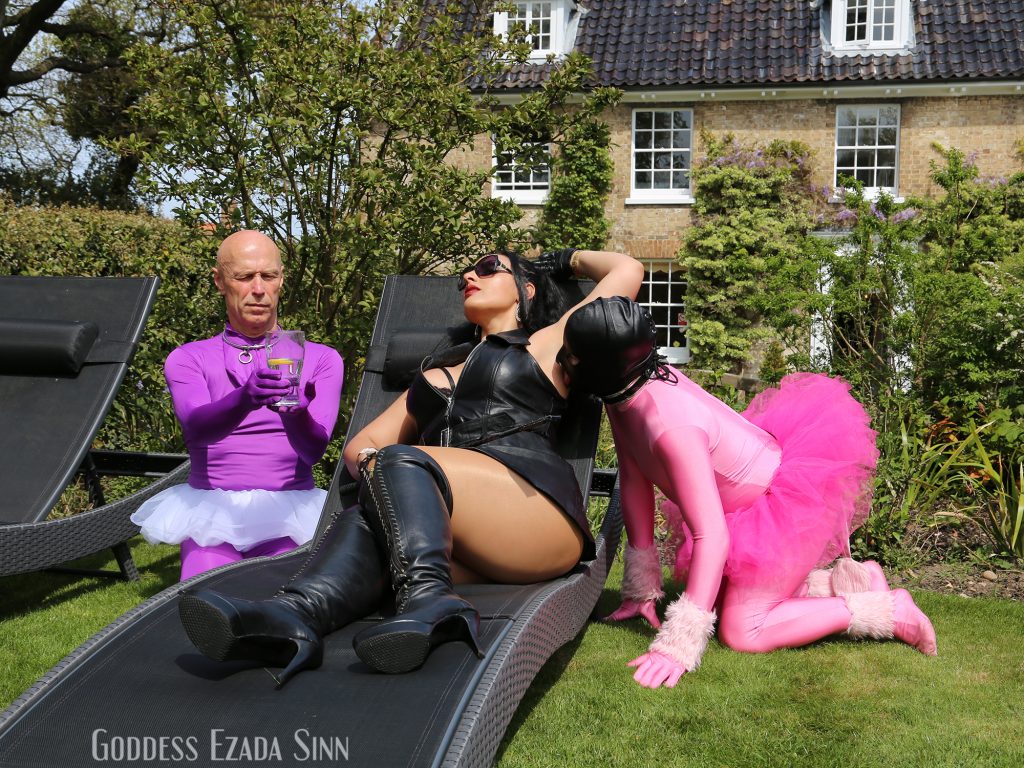 i am in the kitchen when i hear the noise of heels coming closer. Looking out the door i see something which makes my heart jump out of my chest; Goddess Ezada in a black latex catsuit and Her big black cock. i have seen Goddess Ezada wearing latex in pictures and clips, but to see it in real life is something else; Goddess looks just incredible. i am ordered to follow, i cannot help but get aroused at the sight of Goddess Ezada in Her outfit (despite the pink chastity), i feel like i'm ready to be taken by Goddess right now. Outside the Mistresses discuss how the scene will be played out, it is to be a gang bang; four Mistresses and four slaves assisted by the condom fairy (you can see the action in this clip EzadaSinn.com/15678142). This will be my first time taking Goddess Ezada's big black cock and i am anxious for it to start. Goddess orders me to go remove the plug and clean myself up ready.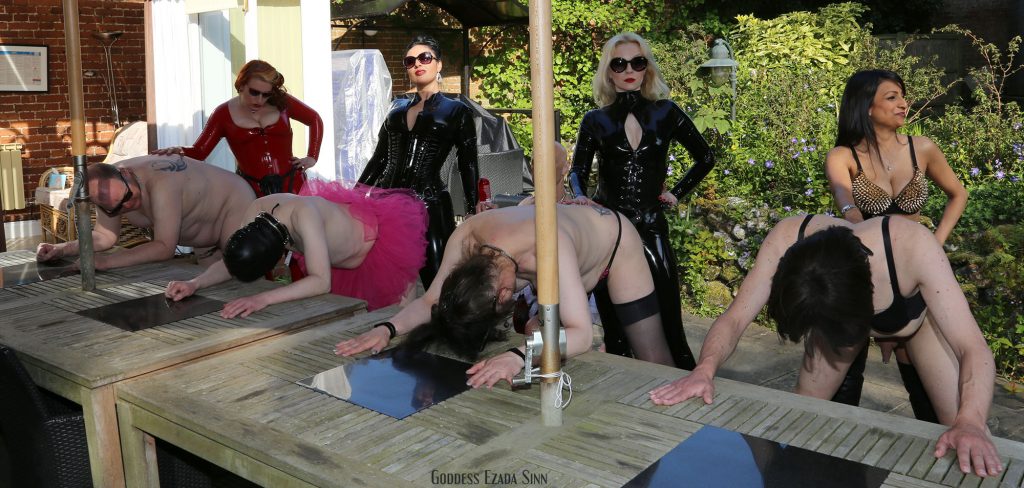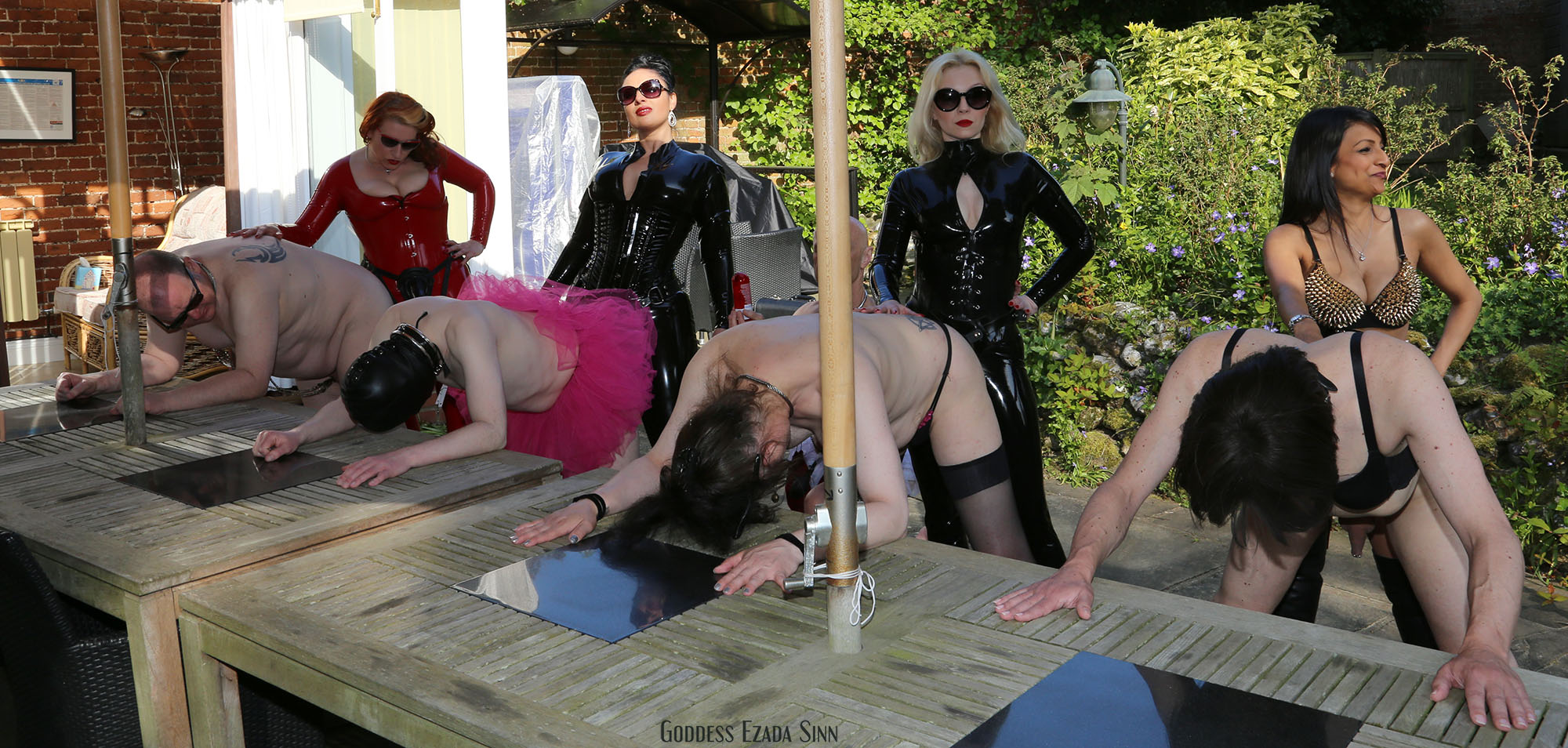 Returning to the garden, i am ordered to join other slaves in the line up. Four arses bent over the table waiting to be used. The Mistresses discuss which slave they want, i hear Goddess say "I will have the pink one". i'm so excited, i wiggle my tail which amuses Goddess Ezada and earns me a slap on my butt. As Goddess begins to insert Her cock i am glad i have been training my ass; my ass is able to stretch around the cock, but this is much longer than anything i have ever had inserted (i'm sure i will be introduced to bigger in the future). Goddess goes slowly at first, as i accommodate Her cock. It feels like the cock is going to come out of my mouth, but i love the full feeling. Bent over and impaled on a strap-on by a beautiful Dominant Woman is an incredible feeling; once you've been used in this way there is no going back, no doubting who is in charge. Goddess starts going deeper and harder; and i love it and start pushing back onto Her cock desperate for more. "wiggle your tail" Goddess orders, i shake my ass for Her amusement, extremely difficult with a huge cock stuffed up there. Goddess grabs my upper body so that my back is against Her breasts, this allows easy access to the pegs on my nipples. Goddess tortures my nipples (which i find very arousing) while fucking me hard. The next position is with Goddess sat down while i bounce up and down on Her big cock. It must have been most amusing to watch, four slaves bouncing up and down in their Mistresses laps. As the end of the scene draws to a close the Mistresses vote on who won the slut competition, the winner gets gang banged by all four Mistresses. i must admit to being disappointed at not winning, but Mistress Ava's pet deservedly won the big prize.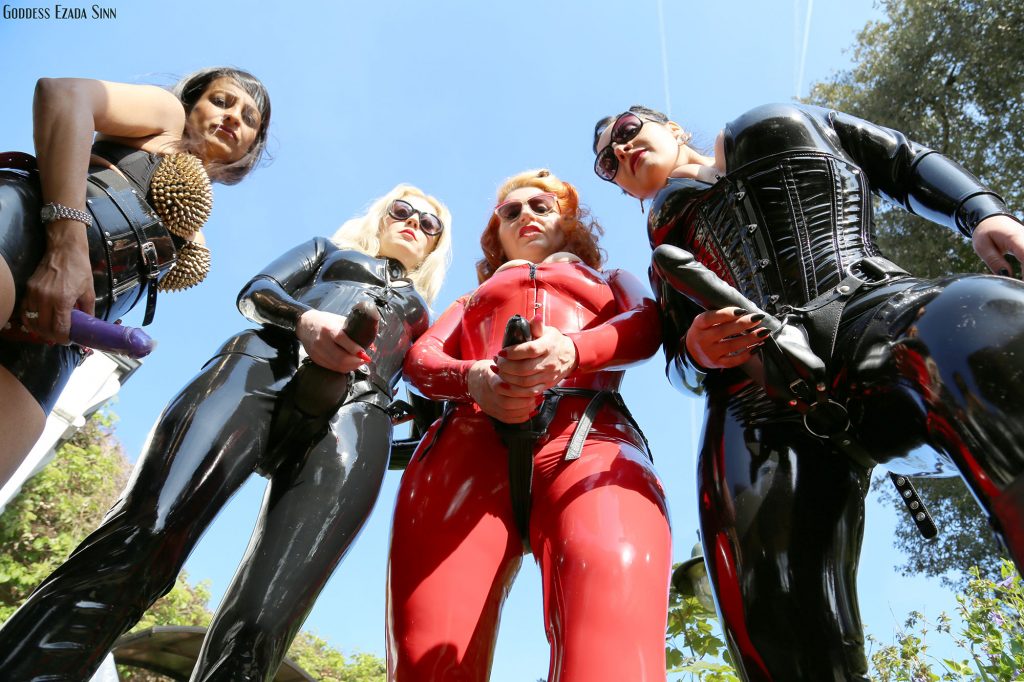 Once we are all cleaned up it's time to prepare and serve dinner. All the Mistresses agreed that the cook had done a fantastic job on the food, but of course They were also looking for any excuse to give him a whipping. Unfortunately (or perhaps not) he gives Them an excuse, the punishments would be given out that evening. The dinner is going well until disaster befalls as i try to be too clever. Clearing up i pick up the platter with crackers on, instead of taking that away i decide to try and pick up something else. The platter slips in my hand and the crackers fall all over Mistress Devina and the floor. i am devastated, a high protocol event and i have let my Owner down. i pick up the crackers and try to carry on serving as best i can but my mind is on only one thing. i know punishment will be coming, but that is not what bothers me, all i am thinking of is Goddess' disappointment in me. When serving Goddess Ezada service should be exemplary, and this was not.
In the evening we gather in the living room, the room where punishment and entertainment will be carried out. i kneel before Goddess Ezada, my mind on only one thing, failing my Goddess. i feel tears welling in my eyes. It is difficult to explain if one has not been in this situation; emotions run very high, one is trying so hard and so desperately wants to please one's Owner that when something goes wrong it can feel like the end of the world. Goddess speaks to me, telling me i will be punished. At this point i break down and cry, not because of the punishment, but my failure of my Owner. i should perform perfectly for Her and i have not, i fear Her disappointment far more than Her whips. Goddess tries to calm me, explaining that She is not upset but that i must be punished so that i will learn. i am sentenced to 90 whiplashes, 40 from the position test in the morning and 50 for the accident. It is what i deserve. sit has also earned punishment, 150 whiplashes, i am not sure what for as i was lost in my world of disappointment at the time.
It is my time to be punished, it will be a dragon whip, something i have never experienced before. i bend over so Goddess has access and the whiplashes begin. The dragon whip feels very different to any whip i have felt so far, it is like a long piece of flat leather. As the lashes land it is like an extremely hard slap which leaves the body stinging. The blows continue to land, there doesn't seem to be any break in between, they just land and land. i take them as best i can, i deserve them after all. By the end of the 90 my ass and back are stinging and i have some beautiful marks, but i have taken the punishment i earned. However the feeling that i let Goddess down is still there, i never want to feel that again.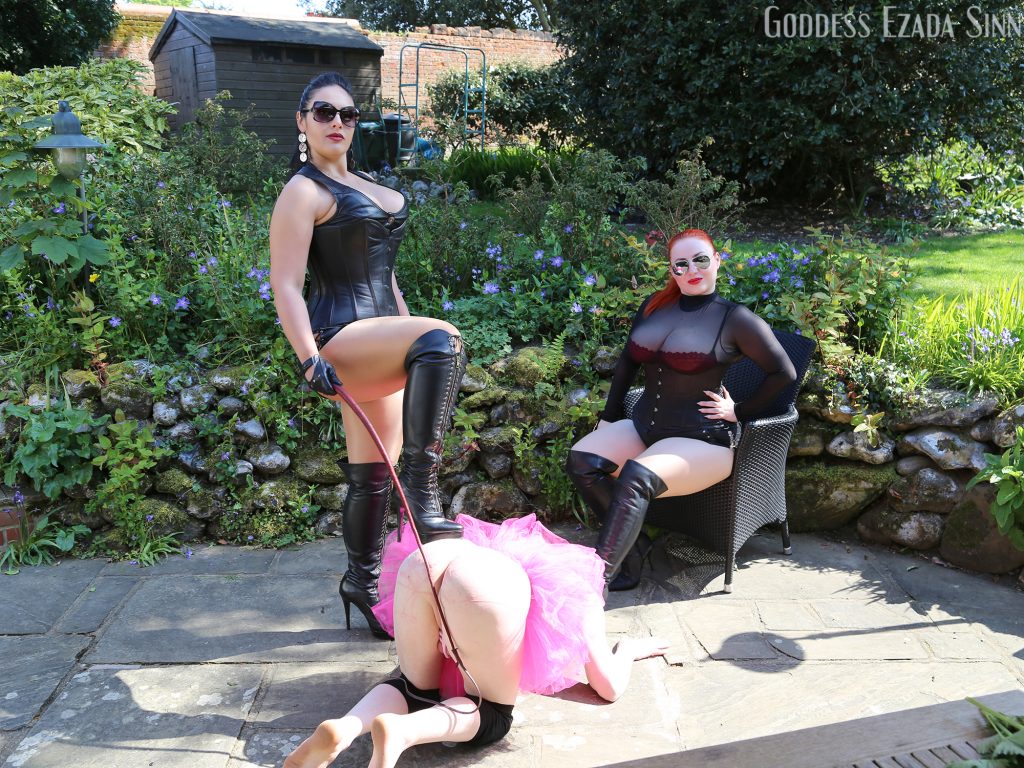 Once all the punishments are meted out, the slaves have to entertain the Mistresses. First sit has to dance for Them, sit is an excellent dancer and amazing at improvising. After sit, i am told it is my turn. Panic, i am no dancer, how am i supposed to follow that? i improvise as best i can, trying some slutty moves i think will amuse. i'm sure i was any good, but the Mistresses seem amused which is all that counts. At the end Mistress Ava has an idea and returns with a banana. i am to demonstrate my training. i slowly take the whole banana in my mouth, much to the amusement of everyone in the room. While the entertainment continues, sit and i massage Goddess' feet. i do my best to learn from sit, but i still have a way to go. In the end Goddess seems happy, so that is all that counts.
The evening entertainment eventually draws to a close, sit and i kiss Goddess' feet and wish Her goodnight before retiring for the evening. The next day would bring more firsts, and the moment when i feel more submissive than i have ever felt in my life………….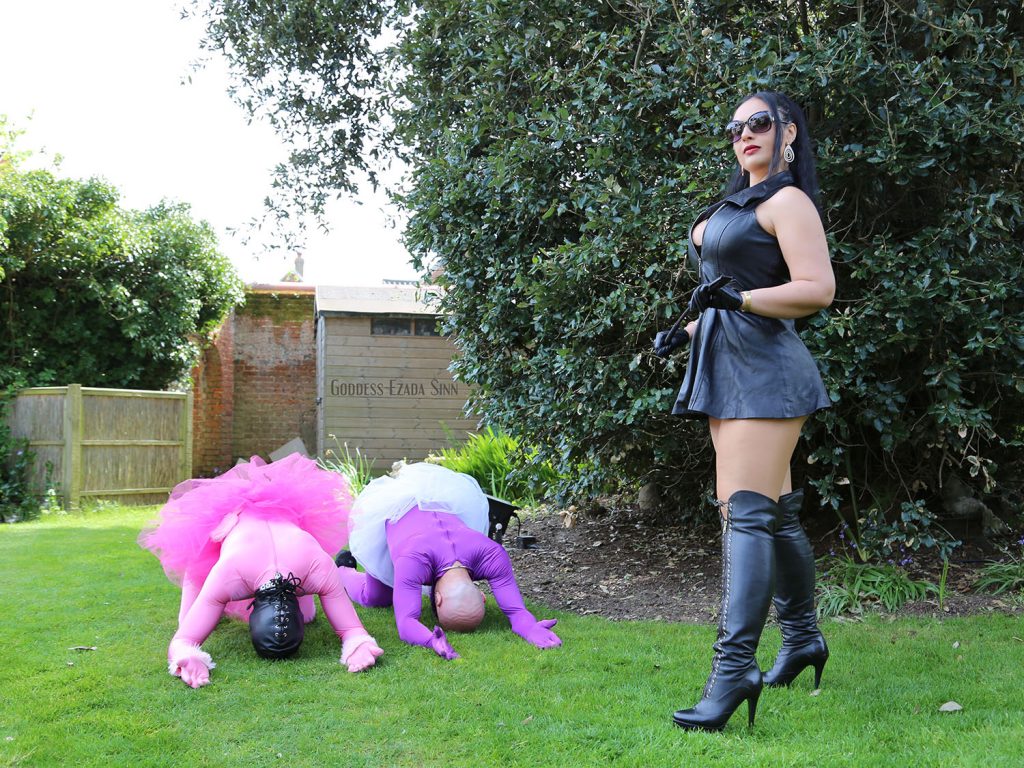 written by pink poodle