The OWK has long been closed but its ideas still live on. I've had wonderful experiences there years ago and have ever since thought about how to revive this paradise of Femdom in the flesh, even if only for a couple of days.
This is where the idea of the Femdom Summer Camp was born. I will host a gathering of leading dominant females accompanied by their slaves in a beautiful mansion under the warm sun of Portugal. This Femdom realm will come to life in September 19-26 2014 (the participating ladies to be announced). 
Single men are not allowed. Uncollared slaves can only attend accompanying a Mistress. 
Have you ever dreamt how life under Female reign will be like in reality? This is your unique chance to find out.

There is still a small number of vacant places and I will give away those on a "first come, first serve" basis. So if you are seriously interested write Me an e-mail to info@mistressezada.com and ask for details.
Looking forward to meeting you in Portugal.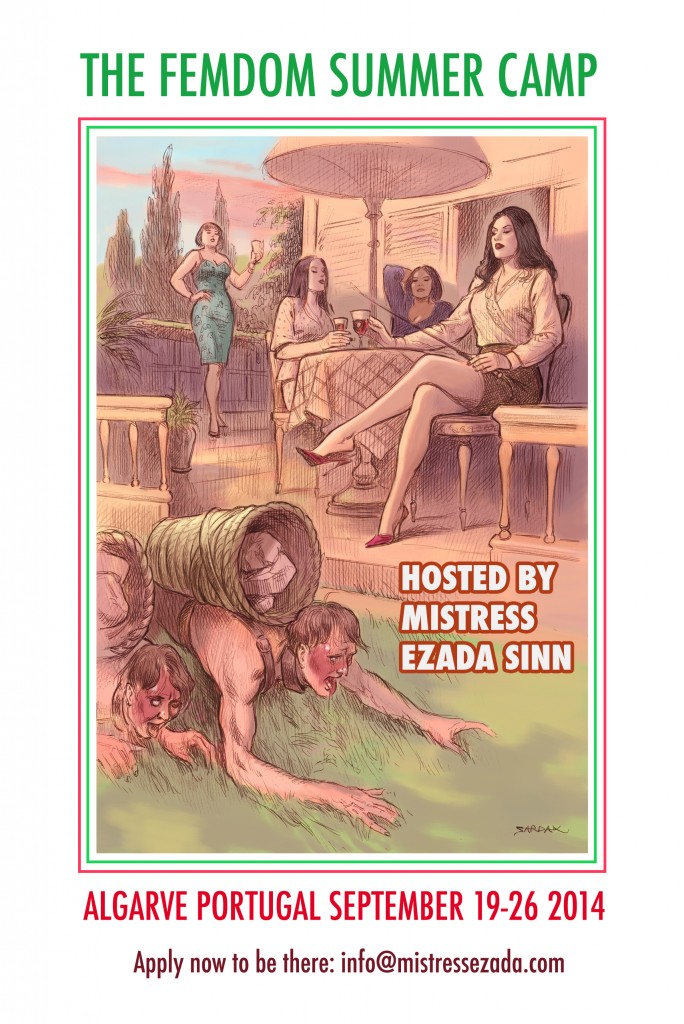 Poster by sardax


This is first and foremost a Female and not a male event so there will be no possibility for single males to attend. It is however a wonderful chance for every submissive male slave to invite a Mistress to a very special event.
If you are a single male looking for a Mistress to invite and sponsor or if you are a Mistress looking to be invited by a slave, I might be able to establish a contact. I have received quite a few single applications so far that I could bring together.
For the avoidance of doubt, there would be no obligation for the invited Mistress to enter into any kind of interaction with the inviting slave if she does not feel to do so. Inviting a Lady would just get the slave the entrance ticket. All the rest is completely up to her.
So if you are single and wish to find a contact, let me know.