One hundred and thirty. i counted on the edge crying. The last stroke of her whip hit me like a burning spear. Goddess knows when to hit the points that are already sore from the whiplashes before. Like she always knows Your weak point. When she got to know me at the beginning of my online training after some days she had found it and drilled into it. After a few weeks You will be putty in her hands.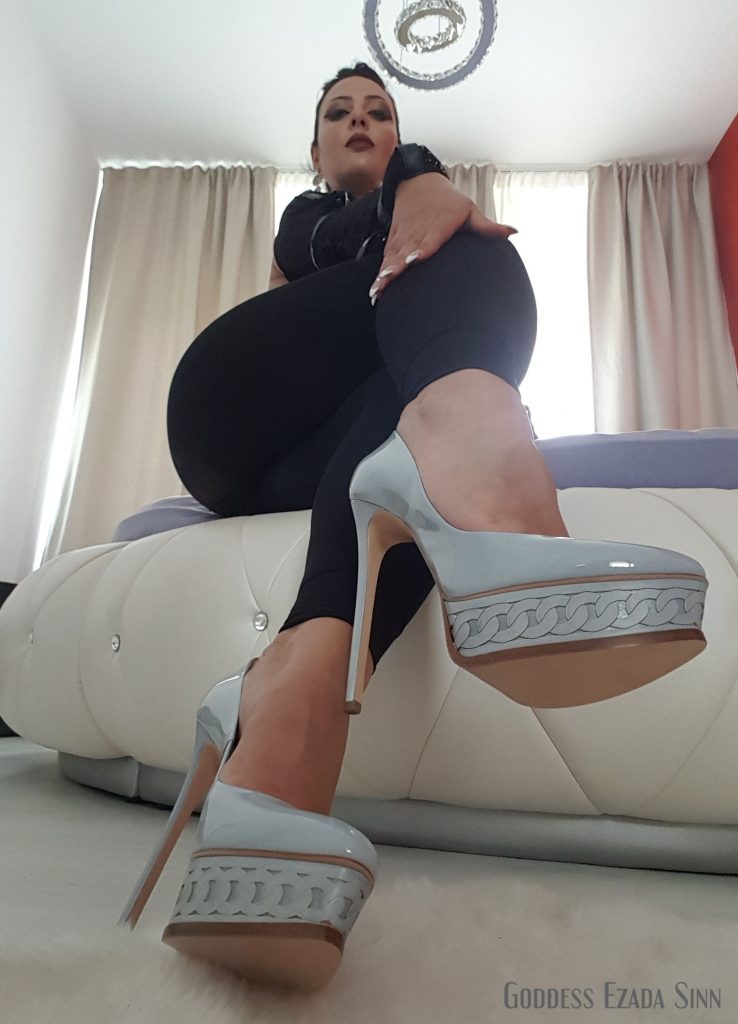 you have been a good boy. Now kiss my feet. After you have cleaned the mess that you left I will give you your papers and money and my boy will take you to the Airport. Look at all that sweat you left on the floor. i crawled to her twisting on the floor. my legs tied together with two leather belts and my arms fixed to the body the same way. i reached my Mistress kissed her feet and thanked her for the whiplashes. you´ve been a good boy. I´m very pleased with your service, now you can kiss my feet and say goodbye.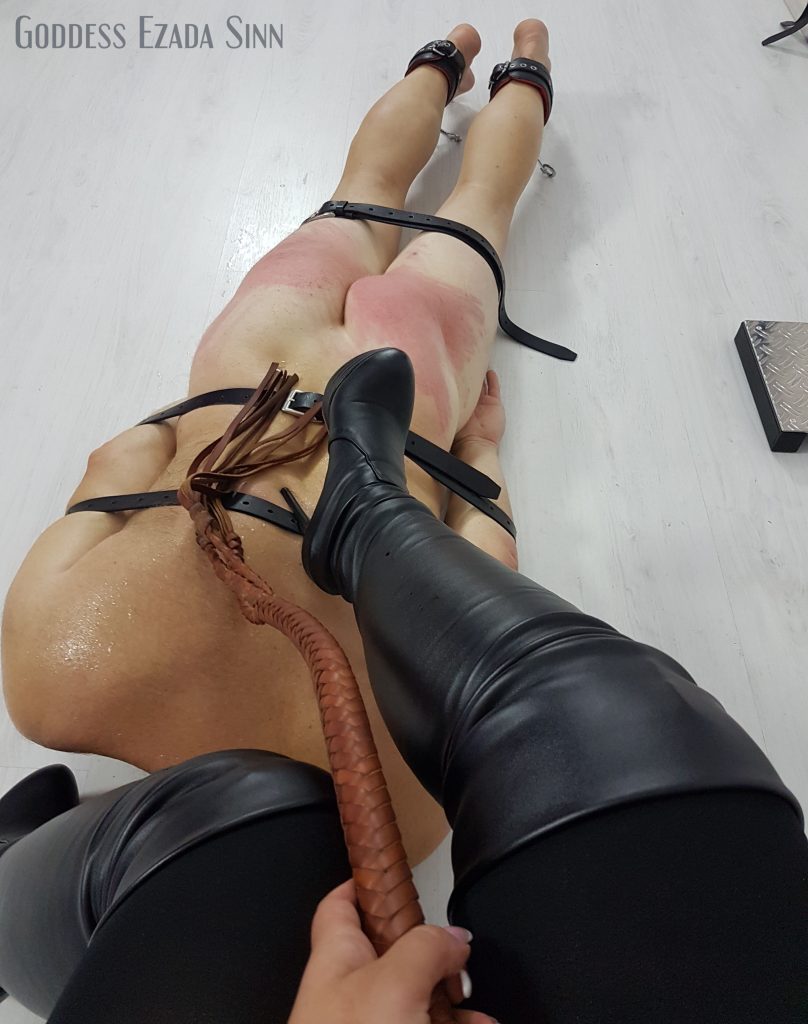 i always found female dominance fascinating but i haven't been into it for years and didn´t know if i was really into it. Until i ran over the twitter account and website of Goddess Ezada Sinn and was slowly guided into my position by this stunning beautiful and intelligent Goddess who leaves absolutely no choice. And now i´m sitting at my computer wearing chastity like i do constantly since two weeks (no that isn´t true, i´m allowed to edge for today, which is a seldom honor for me) and a collar writing about the luckiest time of my life. The time i live for and that nurtures me while i can´t be with beautiful Goddess Ezada Sinn.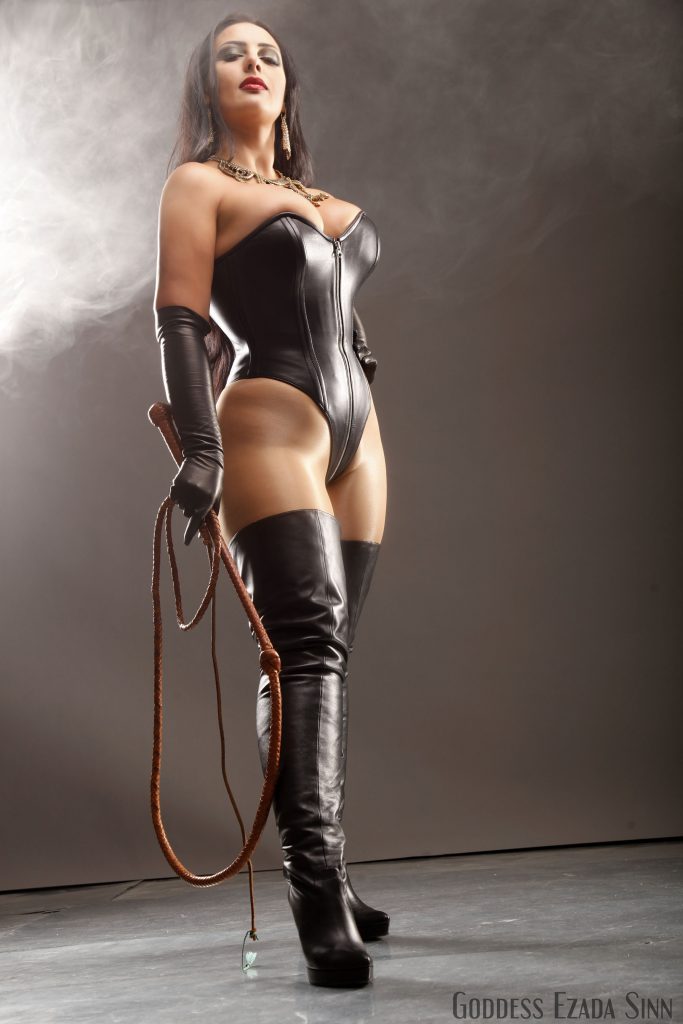 It all started with a message. you can visit me in Bucharest at the end of July. you will not touch yourself until you arrive. Bring your chastity device and a collar with you. For months i had begged to see my Goddess after joining her online training the year before. For me it was like a dream come true. The following three weeks flew away. No question that i followed her instructions. When i arrived at Bucharest i was fetched from the airport by one of her boys and taken to an apartment where i stayed for the following two days. When i arrived, she wasn´t there. Her boy told me to put my clothes of, to hand him my papers and my wallet and get into waiting position. i couldn´t count the time cause i was so nervous. Would i be able to meet her needs and to be a good boy for her? Alone in a city where i knew no one and without money. But i trusted my beautiful Goddess and never felt alone or anxious.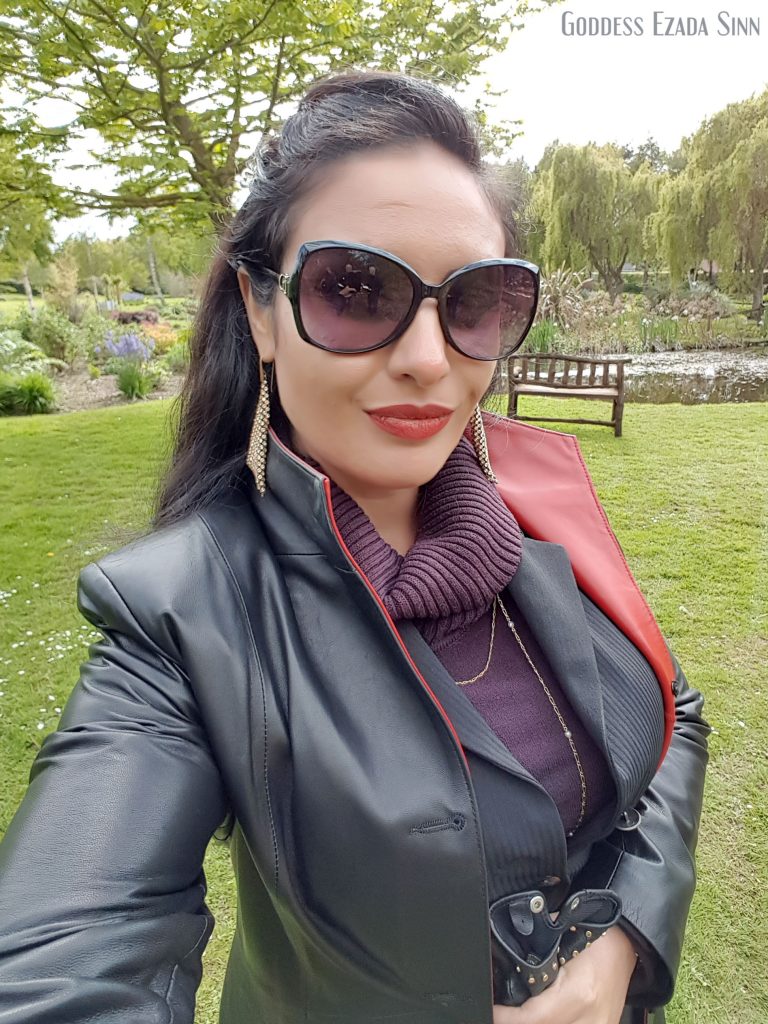 After a time which seemed endless to me she came in. Dressed in a black leather dress with thigh high boots and her now already visible baby bump. A pregnant Goddess! The dream i always had dreamt before knowing her and even more beautiful than i ever could have imagined. The most beautiful and fascinating woman on earth.
Present your balls. i went into position. Good boy. you have done well. Now put on your chastity device. Come here and kiss my shoes. Now worship my shoes. Collaring Position. A short click of the lock and the metal collar was fixed on my neck… what a beautiful feeling to know that i was under her control now. Good boy…. i was completely taken away by her beautiful scent and her stunning presence while Goddess ordered me to get up and put on some leather cuffs that she chained up to the wall. There i stood naked and helpless and the teasing began with some nipple clamps and a soft whip. In the following time i learned what it means to be tortured by a beautiful woman while i was moaning into my ball gag.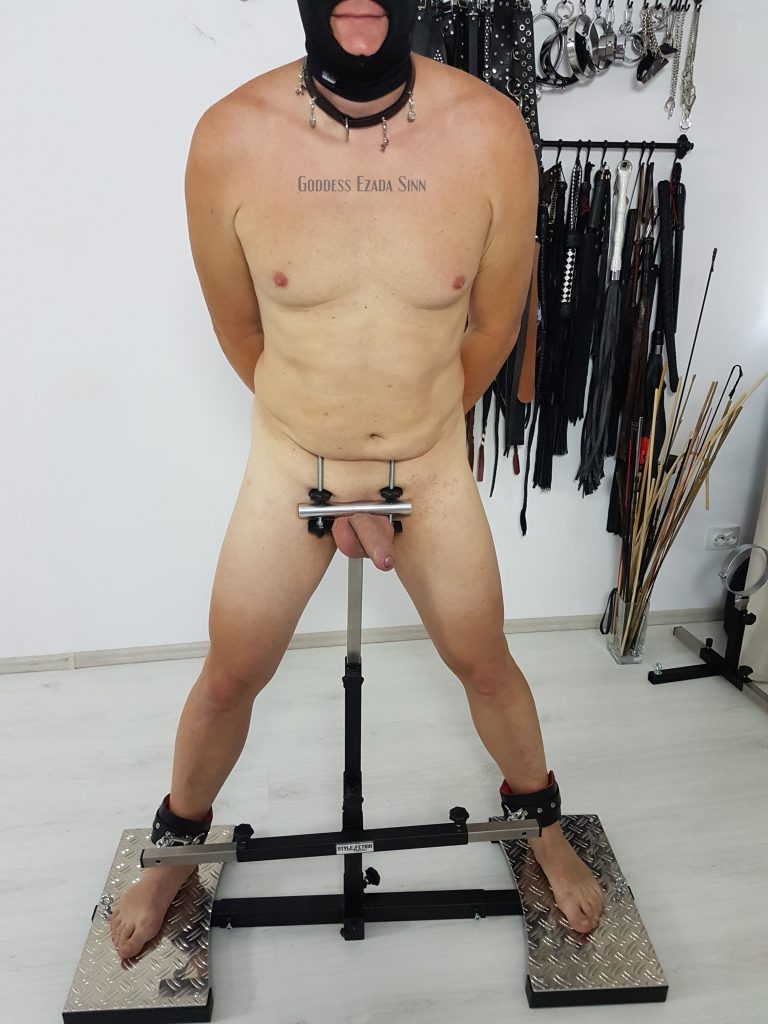 After a while she seemed to be satisfied. She set me free and told me to give her a foot massage before she showed me the old town of Bucharest. i learned about the history of this beautiful town and the beautiful buildings that stand there and have survived the communist regime. She is such a beautiful and knowing teacher. And every time i did something she didn´t like i was announced the whiplashes that would be punishment for this offence. And i had a lot to learn in the two days i spent at Bucharest. She kept me completely under her control and everyone who knows Goddess can imagine how she knew to hold me steadily aroused by her beauty and her wit…No relieve for me and all the fun for her. And every morning around four o´clock i was on my way to the water tap to cool down my hurting cock in the chastity device.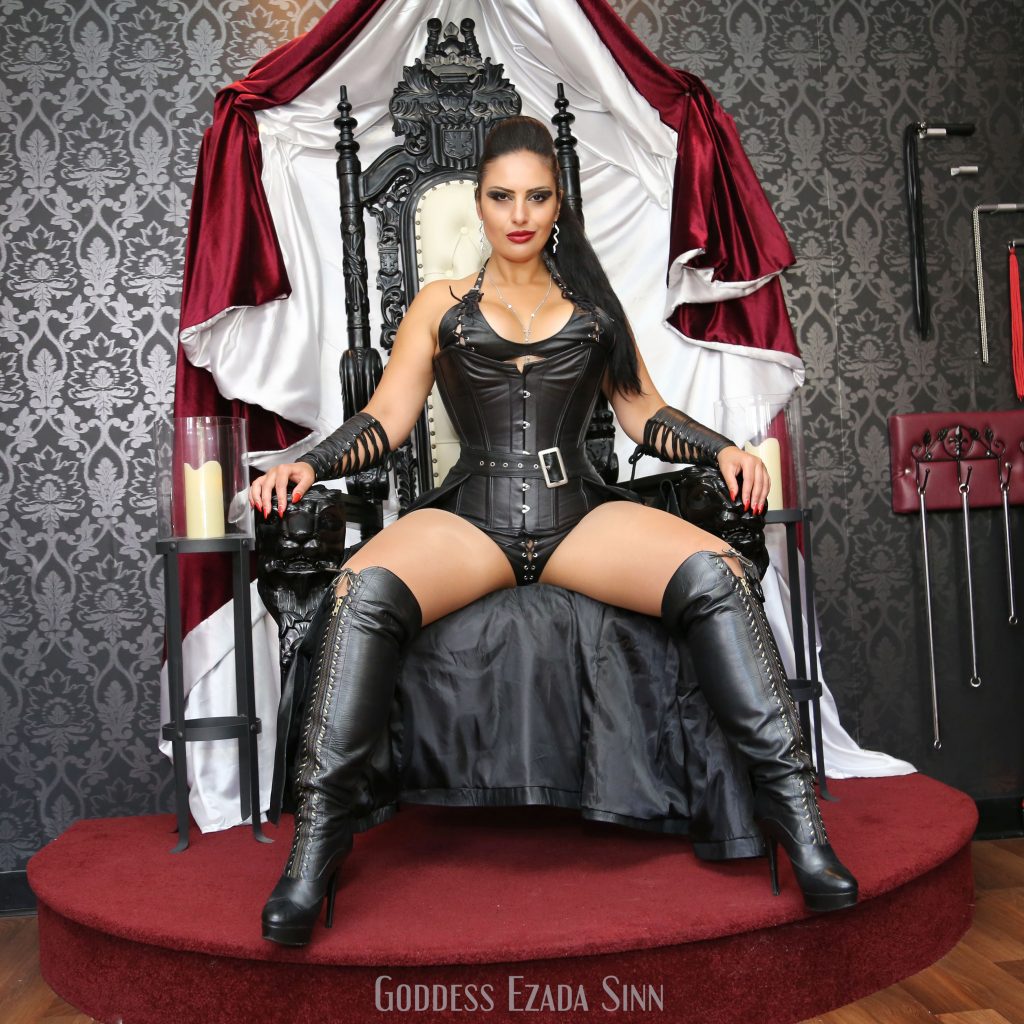 Then the weary day of my departure came. But first i had to be her guinea pig for a new fixation device i had to order for her and that she wanted to test as announced on twitter and to receive my punishment for the offences of the last days. She wore a black leather dress with thigh high leather boots and nude nylon pantyhose. i was completely blown away by her dominant appearance. First i received a back dog collar that i have to wear at home now as her pet. my hands were fixed with leather cuffs behind my back, my feet spread with a metal bar and my cock and balls fixed between two metal bars. To harden my predicament positon she put a leather belt around my legs and fixed it so well. Then she put on nipple clamps and slowly started to stroke my cock that grew stiff in no time after two days of steady teasing and three weeks without cumming. She played a little and then she suddenly finished went away and came back with a whip and a doxy wand in her hand. She grabbed the chain between my nipple clamps and pulled until the hurt was almost unbearable. You are my slave now! Yes Goddess! I own you! Yes Goddes! You are completely at my disposal from now on! Yes Goddess! I´m going to whip your cock, tease you until you have an orgasm and then I will whip you for your offences. you know post orgasmic torture is so much better. How many whiplashes? Sixty five.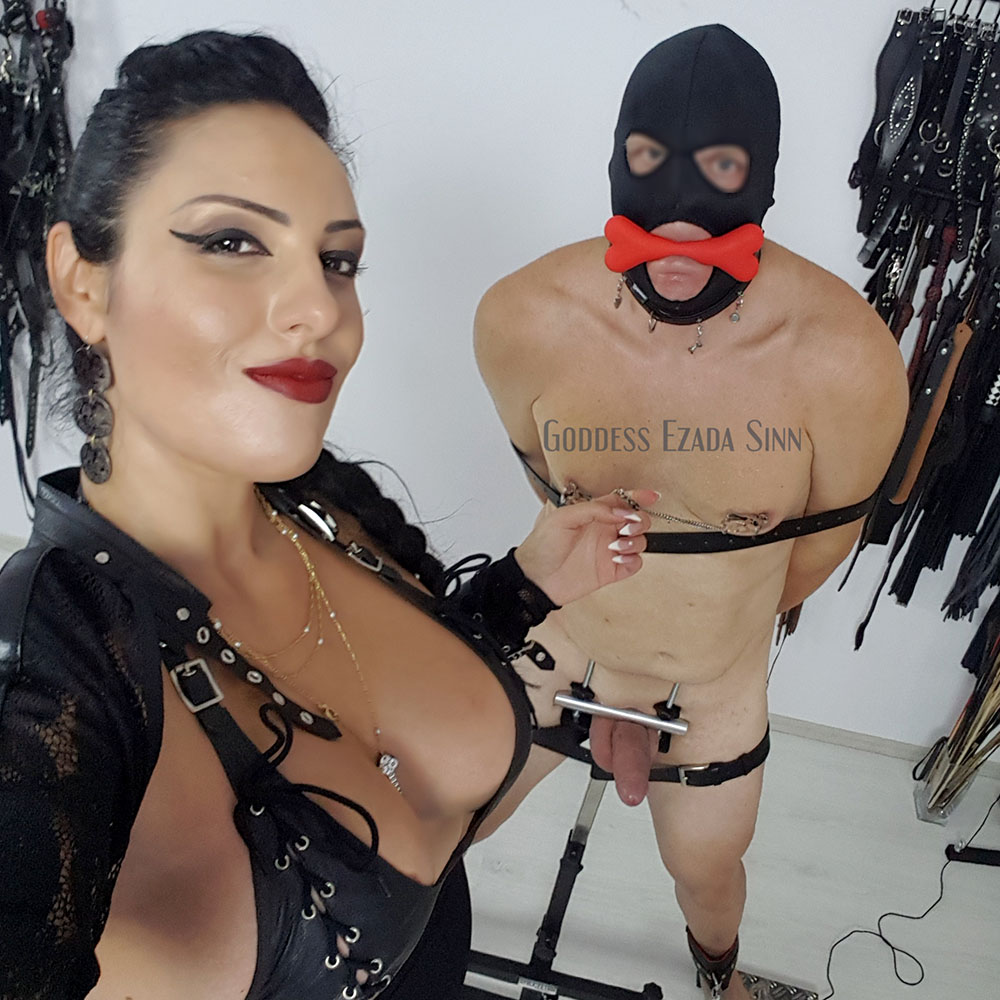 The whipping of my cock started. She stood there smiling while the strokes slowly hit my cock. After some lashes I started crying. you are too loud. A gag looking like a red bone went into my mouth turning me silent. And then the slow whipping continued. My cock would bear blue streams for several days. After a while Goddess stopped and began teasing my cock with her hands and put the nipple clamps of and then on again in a different position before the whipping continued. There was no escape from the bondage. Finally she stopped and began teasing my cock again with doxy. i was so aroused but couldn´t cum after the long torture. Not a good idea! She put me out of my bondage. Now that You can´t cum I will double up Your whipping. Down on the floor. you will count the strokes. How many? One hundred and thirty. And now Goddesses fun and my suffering began….
i know i´m still at the beginning of my journey and there will be many mountains to climb. But i´m so happy to be Goddesses pet now.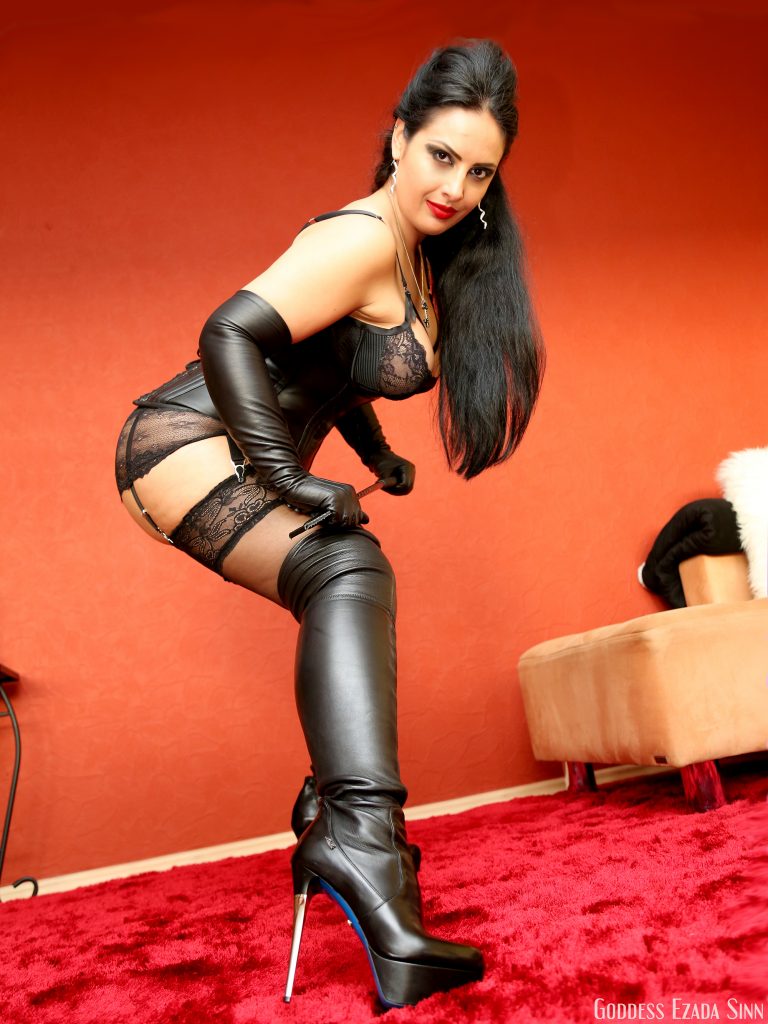 Story written by My pet, based on real facts.