It is February and I have just arrived to visit my beautiful Owner Goddess Ezada Sinn in Bucharest. It has been several months since I have seen Her beauty and been used and abused for Her pleasure. Goddess wastes little time in catching up on the abuse.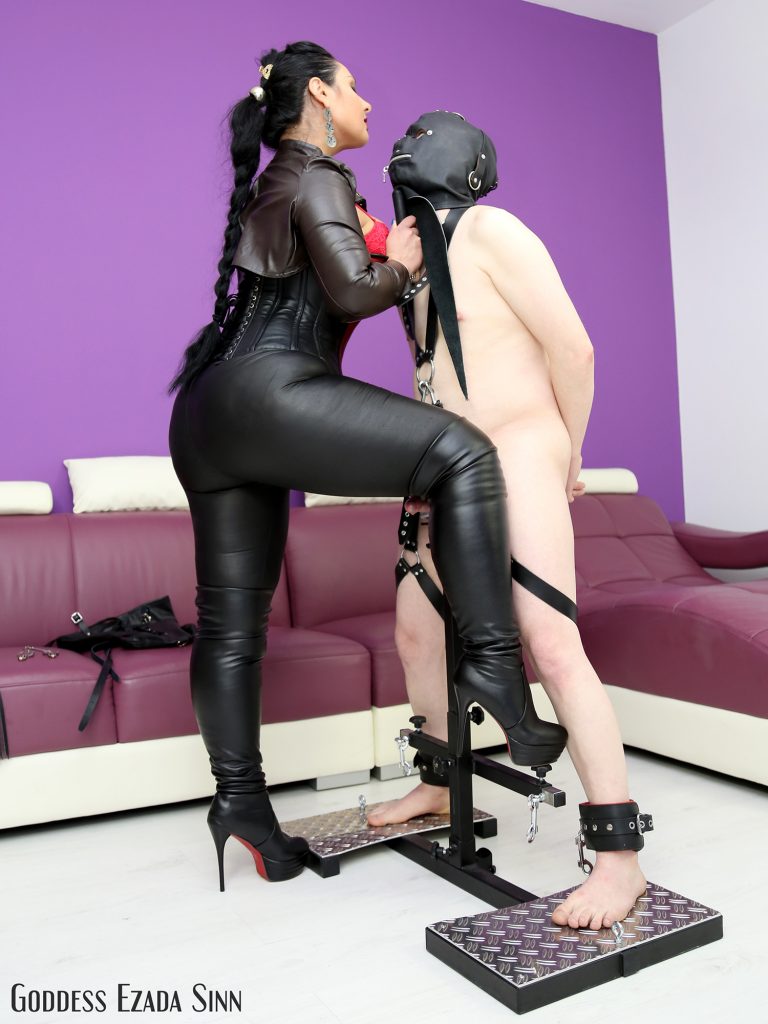 It begins with Goddess giving me a release, but this has nothing to do with giving me pleasure. my pleasure is not important here, only Hers. i find myself bound in the cockstock, arms behind my back in an arm binder, totally helpless to whatever Goddess wishes to do. Frustration is the order of the day it seems, as i find myself teased and edged time and time again before being brought to ruined orgasm after ruined orgasm. Soon i am totally empty and Goddess makes clear the reason for the milking. It is time for Goddess to introduce me to the cane and to make it more special, and more painful, She wants me to have no arousal left.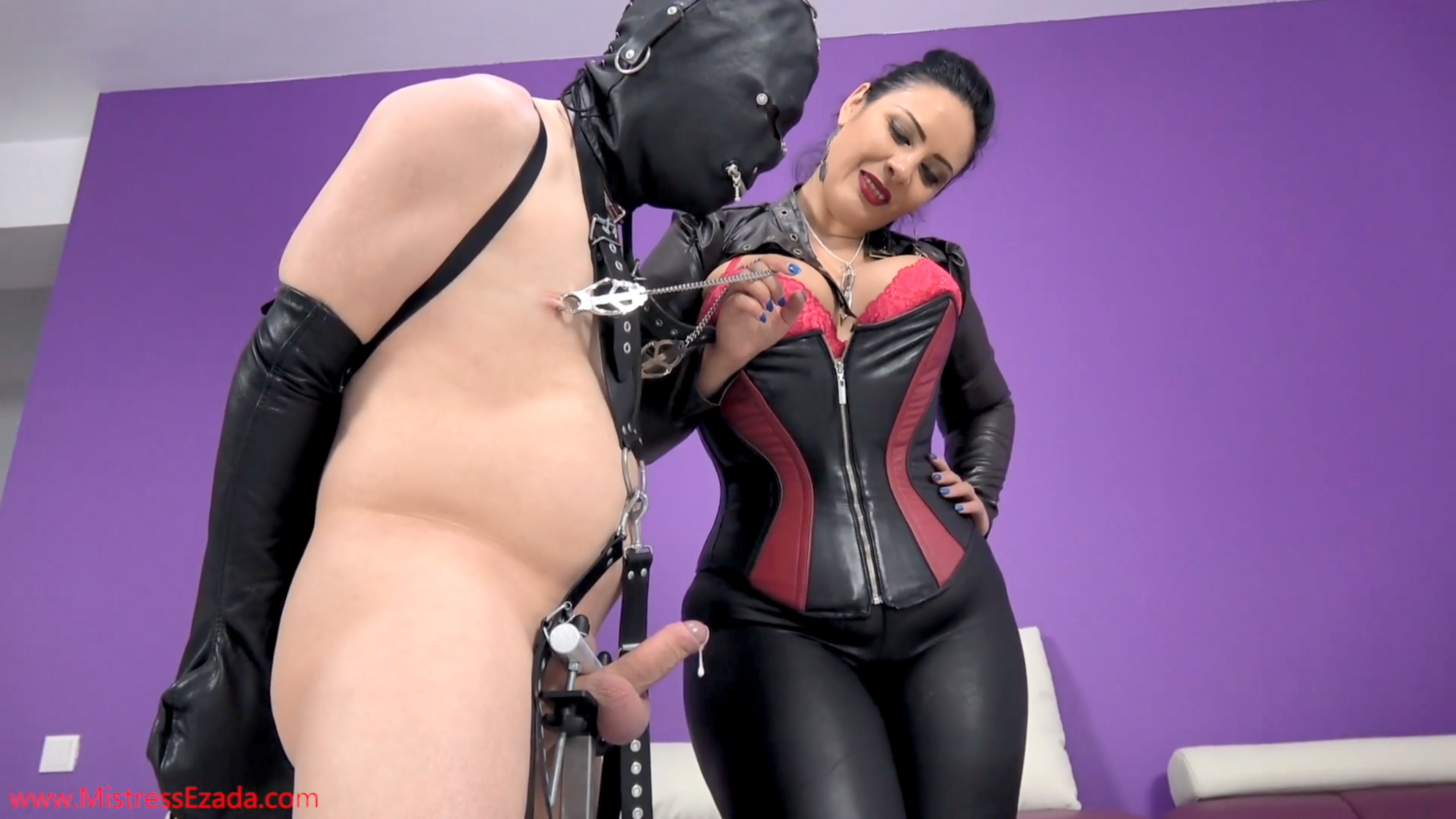 Buy the clip from My store: 7 ruined orgasms ball draining: www.EzadaSinn.com/19201175
So, now that all the arousal has gone, it is time for me to suffer for my beautiful Owner. Am i freed from the cockstock? Of course not. Goddess likes Her slaves in the cockstock, so why remove them. Much better to enjoy keeping them in it while also enjoying abusing them. First, the warm up, a flogger across my back and ass. It is painful, but nothing compared to what is to come, and it serves to make my ass more sensitive to the strokes of the cane.
Now it is time for the main event, the caning. i hear the sound of Goddess' heels as She walks behind me, then the swish of the cane…….It's a scary sound, but no pain comes just yet. Goddess walks around in front of me, cane in hand. Oh how beautiful She is as She stands there flexing the cane, the smile in Her eyes as She thinks about the pain She is about to inflict.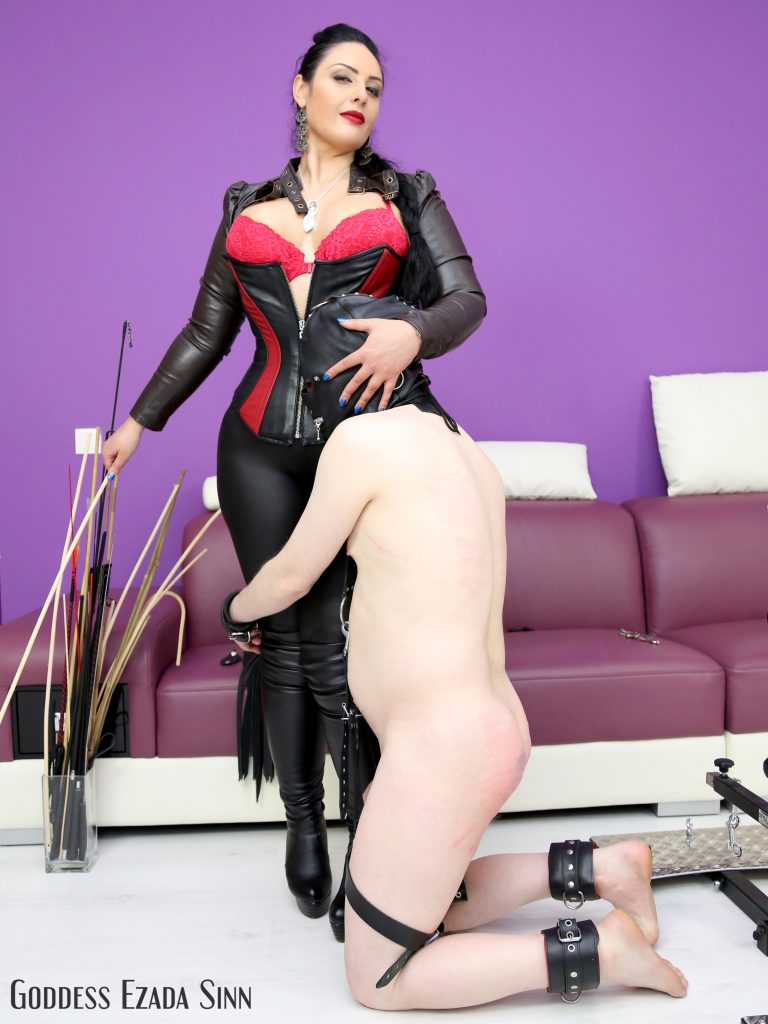 i hear the click-clack, click-clack as Goddess walks back behind me, then it stops and i know the time is here……Arrrrrrggggghhhhhh……..the first blow lands on my already sensitive ass. It is so painful, very different to the whip. A single whip feels like it is slicing, the dragon tail feels a very hard slap. This is like a combination of the two, and i can almost feel the bruises already. But, this is just the start, the number of strokes and the strength of the blow increases each round until reaching 10. That means over 50 strokes of the cane across my poor ass. By the time it reaches 4 my ass is already on fire, and there is so much more to go. i can almost feel Goddess' smile as i cry out after each stroke. 5, 6, 7…..i am in agony, my breathing getting heavier as the pain grows more intense, tears welling in my eyes. Swish…….arrrghhhhhhh………swish……….arrggghhhhhh, this is my world now, and i can hear Goddess enjoying it, the blows now so much stronger than the start.
Buy the clip from My store: Caned hard from the very first time:  www.EzadaSinn.com/19205719
The 8th set over. Just 2 more sets and 19 more very hard strokes to go, my ass already feels like you could fry eggs on it, and it is going to get hotter. 9……….so much pain, i virtually hang in the cock stock, will i every be able to sit down again? The final 10, 10 very hard strokes across my already bruised ass, every stoke is pure agony for me and pleasure for my beautiful Owner.
The caning finally over, i am where i always want to be; kneeling before my wonderful Owner, embracing Her legs and hearing Her say She is happy. my ass may on fire, but this is the happiest moment, to have endured and suffered for my Owner and hear that She is pleased. This is happiness for this slave.
So, this was my first time being caned, but i have a feeling it will not be my last……………