I am Goddess Ezada Sinn, a sophisticated lifestyle Domina and Female Supremacist. I love to control, discipline and use men for My pleasure. To Me, this is not mere play, it is Who I am, 24 hours a day. Any male that I allow to be in My presence, can only do so as a servant or a slave. From all over the world, male creatures have voluntary offered their services and submission to Me. And that is how I like it best: not to force you into submission, although I am certainly capable of doing so, but to show you that the small path that leads to your submission to Me, is the only way along which you can reach your true destination. Only as My servant or slave you can experience a certain amount of happiness and hope for salvation. For this reason, I strongly believe that all My servants and slaves are happy to serve Me.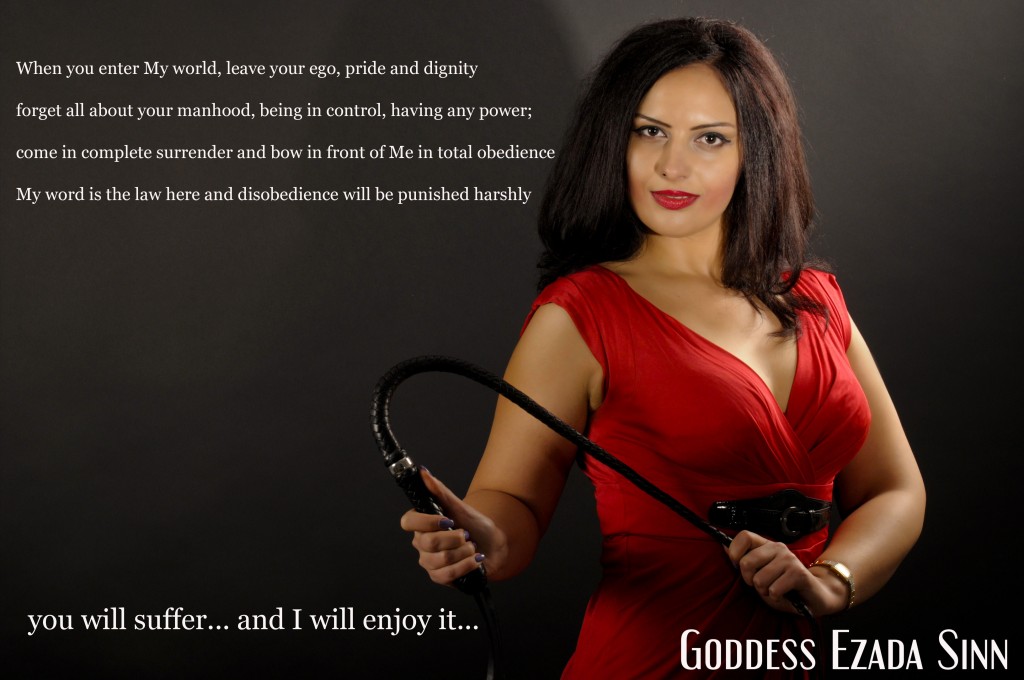 In My presence you will feel overwhelmed by My beauty. My femininity will make you feel weak and very humble. Kneeling up or down in front of Me, you will shiver and tremble, unable to control yourself. This in itself is enough to make you follow My orders and obey each and every command. I will stir up your passions and desires, manipulating you into complete surrender. This is how I procure power over you on a level where whips could never touch you. I know this from experience and I will use this to My advantage. At times you even might think of Me as a supreme and divine Goddess, but you must understand and always keep in mind that I am a Woman of flesh and blood, a Woman Who knows how to enjoy Herself using male creatures.
I am an expert in dominating and re-educated male creatures. I have a vast experience with with controlling and subjecting many different types of servants and slaves. Whether you are wired as a masochist or a fetish enthusiastic, a mere submissive worshipper of My beauty or a natural born slave, I will soon know you better than you know yourself and make use of this.
And now you are here, completely at My mercy, fully owned and controlled by Me. Yet, I will still want you to voluntary submit to Me. I might guide you or manipulate and torture you, but in the end I want to see and feel that you give yourself to Me with the last of your voluntary decisions.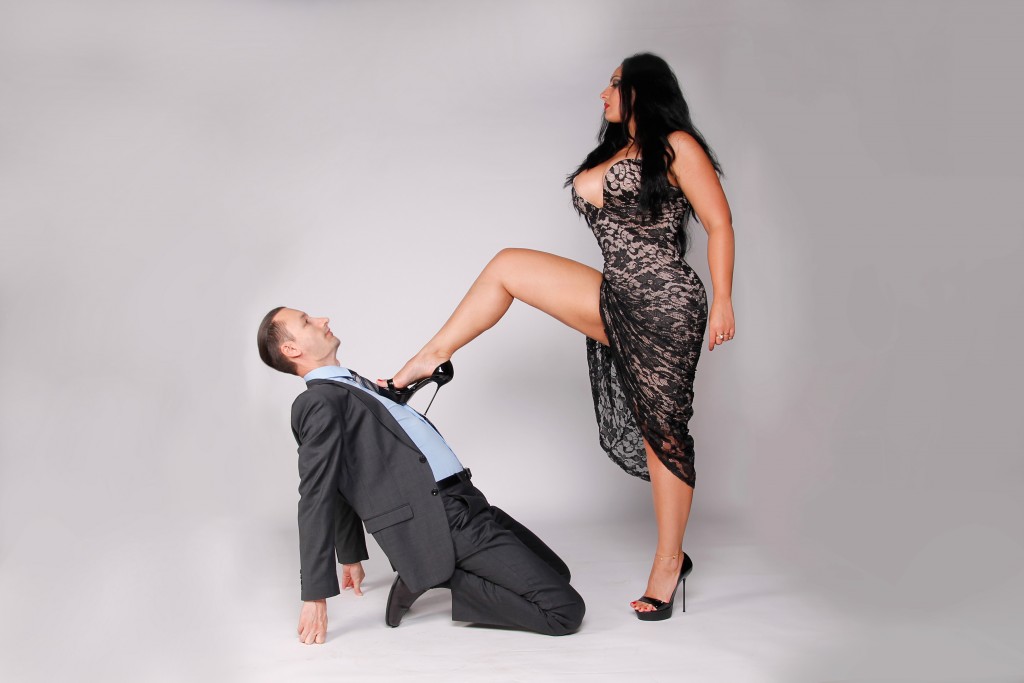 In My presence you will experience how much I enjoy controlling, dominating and re-educating you. I have a wide array of various historically proven methods at My disposal, ranging from mild seduction and sensual domination to severe torture and deep humiliation. I find no pleasure in meaningless and senseless cruelty, but I do believe in your physical sacrifice as proof of your complete submission and obedience. My word is law here and any disobedience will be punished harshly.
Hear Me, when I slowly descend the stairs to the dungeon were you are suffering, stripped of your pride, your manhood and your dignity. Left alone in the dark with nothing more than a bowl of water. After some time you will not be able to tell day from night. Be thankful if I feed you My leftovers. Most times you will get dry bread only. Alone, tortured by your desire to dissolve into a tear of submission under My sweet yet harsh tyranny. I will heal you from your fevers and I will force your soul to uncoil itself. Hear Me, when I slowly approach you, strict and bossy, dressed completely in leather or latex, with My high heeled boots and My crop in My hand.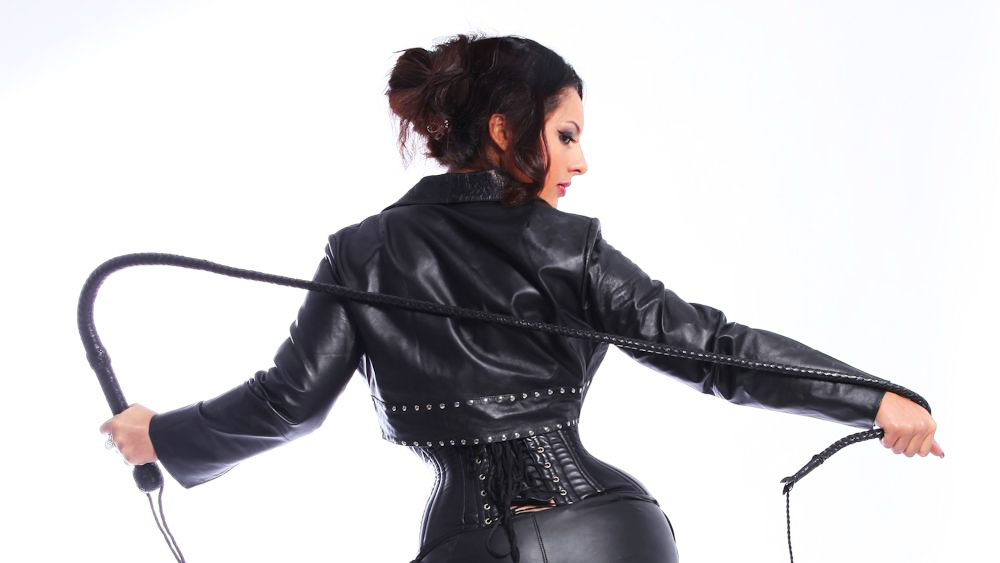 Imagine that I walk down the stairs to your the bottom of your soul. Everything I come across is caught, toyed with, and tossed aside. Slowly and delicately I will bring to consciousness everything you once were. I will erase all your selfish dreams and misconceptions about Female Supremacy. With an insinuating look in My eyes, whispering dissolute words in your ears, I will casually show you your nothingness. As I descend the stairs, I will decipher and crack all secret codes and drag you out into the light.
Once you thought you were the master of your body and soul. These are perverted illusions and as such serious crimes against the laws of the FemDom universe. After your re-education you will realize that you were living in the darkness like a caterpillar. Once enlighted by My harsh and sadist invasions, you will feel bright and light like a butterfly. I will bewitch you and crush any memory of you having a will of your own. The only thing that will matter to you is that I am pleased and satisfied by your absolute submission. Begging Me to allow you to suffer for Me, your soul will be in agony and your flesh will be in pains. Begging Me to devour you, I will humiliate you and transform you to into an object of use to My liking. The more you resist and the more you hold on to your present existence, the more you will suffer. Once you let go, you will experience redemption. Liberated, you are then reborn as My humble and obedient slave and servant. A new and better creature, totally addicted to Me. Dependend on Me, an extension of My strong will.
Feel it. My eyes are watching you, while you are contemplating your fate. Shivering and terrified each time you hear Me closing in on you. My high heels, the scents of My superior being, My promise of a better existence seducing you to obey each and every command without hesitation.
Are you horrified by your desire to submit to Me during this cruel journey to your new existence? Are you horrified by your desire to be reborn as My property? Kneel down and offer Me your tears. Kneel down and beg Me for My guidance.
W/we will meet at the other side of the Entrance Gate …
I enjoy men. I enjoy having them at My feet, adoring Me, sacrificing their bodies and their dignity to satisfy Me. I believe a Domination/submission relationship should be based on trust, fairness, mutual respect and affection. And because these are earned over time, I prefer to enter into domination scenes only with slaves with whom I have a long lasting relationship. I seek to have at most 4-5 simultaneous D/s relationships because I want to have the time to educate each slave as I desire. I enjoy taking part in S&M/Fetish parties and multiple domination scenes. Sometimes, when I am in the  mood, I enjoy domination scenes with new slaves, slaves that will be used only one time, for My pleasure only.
The slave I accept at My feet must be willing to satisfy Me erotically, physically, spiritually, emotionally and financially. I am not one who believes that the only satisfaction of the slave should be the happiness of the Mistress, solely that it must outrank all others. After the Mistress' pleasures have been properly satisfied, the slave may expect a reward. I find no pleasure in being cruel but I do believe in the "physical" sacrifice of the slave; in forcing his physical limits to prove his obedience to Me. I am strict without being sadistic and tough without being mean. I enjoy being spoiled and pampered, keeping My slave under My feet for hours and hours, requesting him to adore parts of My sensual body. I love to excite using My sensuality, to stir up passions and desires, without ever fully fulfilling them.
I expect to be contacted only by slaves who can meet My demands, as I've laid them out above, slaves who can appreciate My femininity and who realize that power lies not in brute strength but in the power to transform a man into My own personal toy. I procure their submission where whips could never do so. This is True Power.
Depending on My mood, you may find Me corseted and costumed and yourself at My mercy in a leather dungeon with an arsenal of toys. At other times, there may be nothing more than an every day situation and My overactive imagination. I do not have to live costumed in a fully equipped leather dungeon to control you. I am skilled in BDSM Psychodrama. I can control you with nothing more than a look or a word.
My approach is elegant, demanding and confident yet understanding and attentive. My company has been called addictively enjoyable.
I cannot be bought. I offer no services. I have BDSM sessions with subjects.
Curious about My thoughts? Read some interviews I gave to various sites and magazines over the years:
Sadistic-Mistress.com Interview
(Interviews arranged from newest to oldest)
***
Mistress Ezada Sinn's Bio:
Birthday: February 23, 1982
Body type: curvy
Shoe size: 39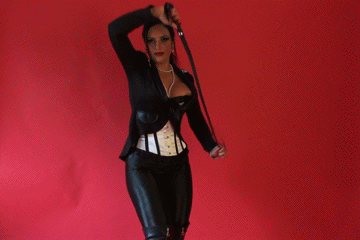 ***
My preferences:
Fetish
***
– outfit –
* Leather – I love the way it smells and feels on Me. I love to fully dress in black or red leather. This is a real fetish for Me. I get aroused every time I wear leather.
* Boots and gloves – One can never have too many boots or gloves. I have an extended collection of boots and gloves.
* Latex – The more it covers, the more I like it. I love the way it wraps around My body, the way it smells and mostly because it makes Me hypersensitive. I enjoy to wear it during sessions and I love when My subjects wear it too.
* PVC – because it looks so great! My favorite it's very shiny black PVC.
* Pantyhose, Stockings – I am in love with nude color very shiny pantyhose. Shiny and tight, 20 DEN-40 DEN. My favorite brands are Wolford and Falke. Stockings (black or nude), control top pantyhose (black or nude), toeless pantyhose (nude) are among My favorites. I prefer classic models.
* Corsets and Belts
* High heels – I have a real fetish for really high heels. The higher – the better. I don't care if it's sandals, platforms, pumps, shoes, boots as long as they have really high heels.
* Masks – leather, latex and gas masks: I like them on My subjects to turn them into anonymous erotic toys.
* Uniforms – military ones.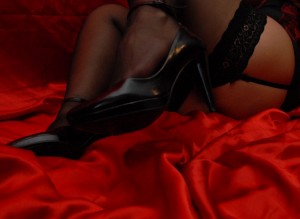 ***
– body parts –
* Feet and legs – I love when My feet are worshiped.
* Arse – Clothed ass worship is a reward for all My subjects who were able to satisfy Me during a session. Nude ass worship is reserved strictly for My very few collared slaves.
***
Erotic games and dominance
* slave training – I consider Myself an expert in education and re-education of submissive males. This is My specialty: obedience training, servitude, position training
* Orgasm control – tease and denial, chastity, keyholding, ruined orgasms, forced orgasms, sex interdiction
* Pet play – My favorites are pony play and dog training but I enjoy piggy play and worm play too.
* Facesitting / Human furniture – cusion, couch, chair, lamp, coat hanger etc
* Forced feminization, sissification, forced bisexuality, cross dressing– education and training for transformation of a man into a sissy boy or girl, a sexy vamp that has to suck cocks for money or a slut for My pleasure. I love to use My little whore's "pussy" for My pleasure, filling it with dildos and to use her little nasty mouth on My big strap-on.
* Ass training / Strap-on play – I have a large variety of dildos and butt plugs and I love to use them all on My subjects, train their asses to accommodate larger objects, sometimes even My fists. I love to wear My strap-on, make My slave worship it and then use him as My bitch, fuck his ass with My rubber cock.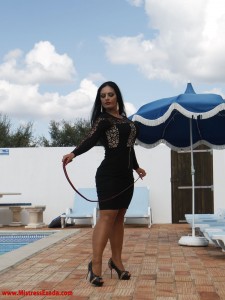 * Verbal humiliation – I love to make fun of My slave, laugh of him, take advantage of his weaknesses.
* Physical humiliation – spitting, golden showers, force him to wear women clothes or external signs of ownership, cleaning the floor or the toilet with a toothbrush etc.

* Erotic humiliation – small penis humiliation, premature ejaculation humiliation, jerking off humiliation, cuckold

* Public humiliation – I will not take you on the street on a leash, but I love to take you out with a small collar on, serve Me in public. What I love most is to ask some of My girlfriends to come over and request you to serve us naked with the chastity device on, being a stool for our feet or an ashtray.
* Body worship – Mostly feet worship.
* Trampling (bare foot)
* Food play games – forced feeding, smashing food, spitting food, feeding directly from my body, food consumption and so on
* Watersports – urine on body and face, forced drinking urine, special cocktails etc
* Brown showers (full toilet training) – using a slave as My full toilet
* Breath play games (ass smothering, hand over mouth)

* Interdictions
* Sensory deprivation – blind folds, gags, ear plugs
* Branding – tattoo, scarification, iron branding
* Caging / Imprisonment
* Erotic interrogation and fear play
* Collaring
* Discipline and education
* Bad habit control and coaching – give up smoking, lose weight, learn new language etc
* Financial pampering and spoiling – human ATM's, human piggy bank, Goddess tribute etc

* Fitness / Military training
***
Bondage
* Ropes, metal cuffs, leather cuffs, bondage devices
* Predicament bondage
* Suspensions
* Bondage furniture
* Mummification
***
SM games
* Cock and balls torture – abrasion, pulling, clamps, whipping, flogging, kicking, chemical substances (menthol or deep heat), weight attachment, smashing, vacuum pumps.
* Nipples torture
* Foot torture – whipping, bastinado, bondage, isometric position etc.
* Fucked up hand jobs – very aggressive masturbation
* Extreme conditions – naked in snow, cold atmosphere etc
* Electric play games
* Spanking / slapping – discipline spanking, domestic discipline, therapeutic spanking, personal behavior plan, full body spanking, butt spanking, face slapping etc
* Whipping, cropping, caning – I have a great variety of whips, crops, canes and floggers and I love to use them all.

* Hair pulling
* Sensation play – hot wax play, ice cubes, pin wheels, tickling etc
**underlined activities I enjoy the most