Spit can be used in multiple ways in a femdom scene: it can be a sensual reward or a tool for intense humiliation. It can be used raw or mixed with food, served directly from the mouth or from a body part / object.
Buy My clip 10 ways to enjoy My spit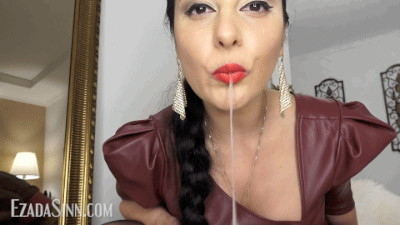 What are your favorite ways to experience My spit?
The Domina kiss – a sensual, very fluid spit dripped from My mouth to yours. Suitable for erotic games, Goddess Worship, sensual Domination.
The natural lube – spit is used as a natural lube. Depending of how it is applied can be sensual, humiliating or kinky. Suitable for orgasm control (handjobs, footjobs etc), or anal play (fingering, strap-on sex etc.)
The spit lotion – spit is applied and smeared on the face and body and left to dry. Suitable for humiliation play, Mistress/slave games, imprisonment fantasies.
The human spittoon – spitting from a distance, directly into your open mouth. Suitable for humiliating games, human ashtray.
The spit bukkake – spitting from a distance all over your face, including your mouth. Best when performed by several Ladies at once. Suitable for humiliating games, especially cuckolding and sissy play.
The baby food – spit is served as a drink, sometimes mixed with food like chocolate or banana. Suitable for age regression play, human pets training, imprisonment fantasies.
The spit cocktail – spit is mixed with beverages or food that the submissive must consume. Suitable for public play, Goddess Worship, mild humiliation.
The spit cocktail plus – spit is mixed with other body fluids or residues (like foot dust, urine, pubic hair) before served to the submissive. Suitable for intense humiliation scenes, imprisonment fantasies.
The spit towel – spit goes on My body or objects that I am wearing (like My boots) and must be cleaned by your tongue or other parts of your body (like your hair). Suitable for erotic Domination, Femdom sex (including cuckolding) or as an introduction to spit fetish when other fetish is present. For example someone with a fetish for boots may be very willing to lick the spit off the boots, hence starting to enjoy spitting as well.
The spit mop – the spit goes on the floor or certain objects that I am not wearing. Cleaning the spit without any physical contact from the Domina is highly humiliating. Suitable for intense humiliation sessions, financial domination, cuckolding.