Story based on real facts, written by My collared slave purcelus. Some of the pictures attached to story are low quality because they were taken with My phone. Follow Me on Twitter for real time updates about My lifestyle.
"I remember my first evening in Greece with My Goddess Ezada.  After 2 hours on the road under rain, we arrive in a very nice 5* hotel. One of the best location to celebrate 2 years under My Goddess's boots.
I did the Check-In and we discovered our room with a nice Jacuzzi on a balcony. It was around 7 PM. My mistress was hungry. But after a long trip by plane and car, She wants to prepare Her for the dinner.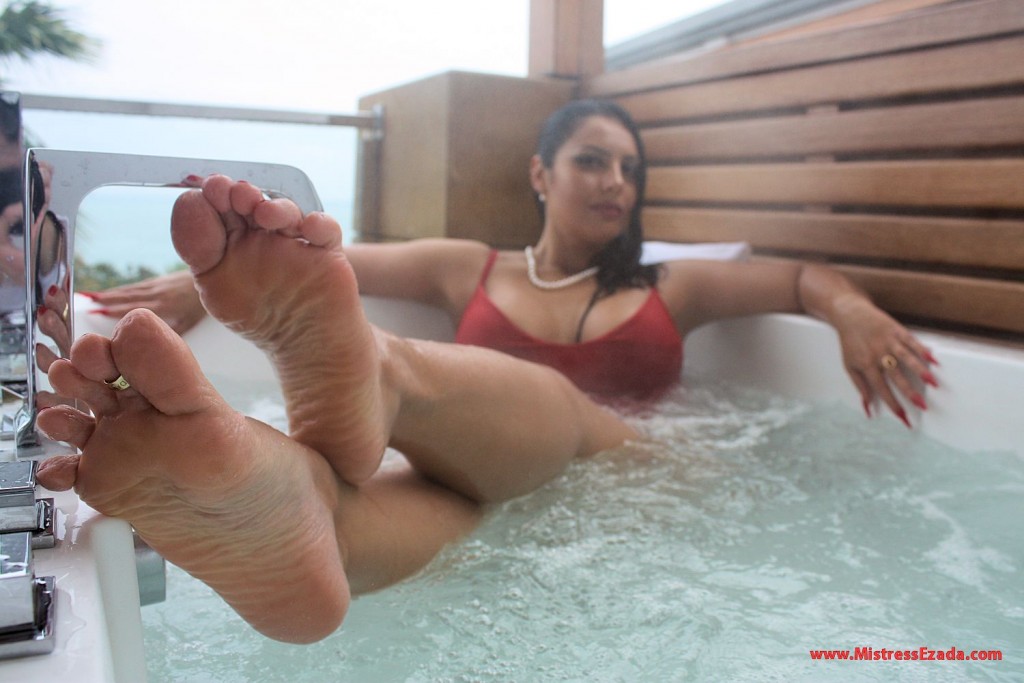 During this time, she showed me Her uncompromising Power.
"Strip Off Slave"
Then She lead me by my collar She had taken care to drop me off at the airport toward the bathroom. She put my head in the toilet, tied my balls to my feet very strongly. So, my balls were really exposed to the sadistic thoughts of my mistress.
"Stay there, piece of shit, don't move".
Then she closed the toilet bowl. I stayed there during more than 30 minutes, with head down. I apologize that I don't like to wait a long time without anything to do. Even when my Mistress gives me free time, I get bored easily when I am not close to Her. One of my faults, I admit. But I see Her so few.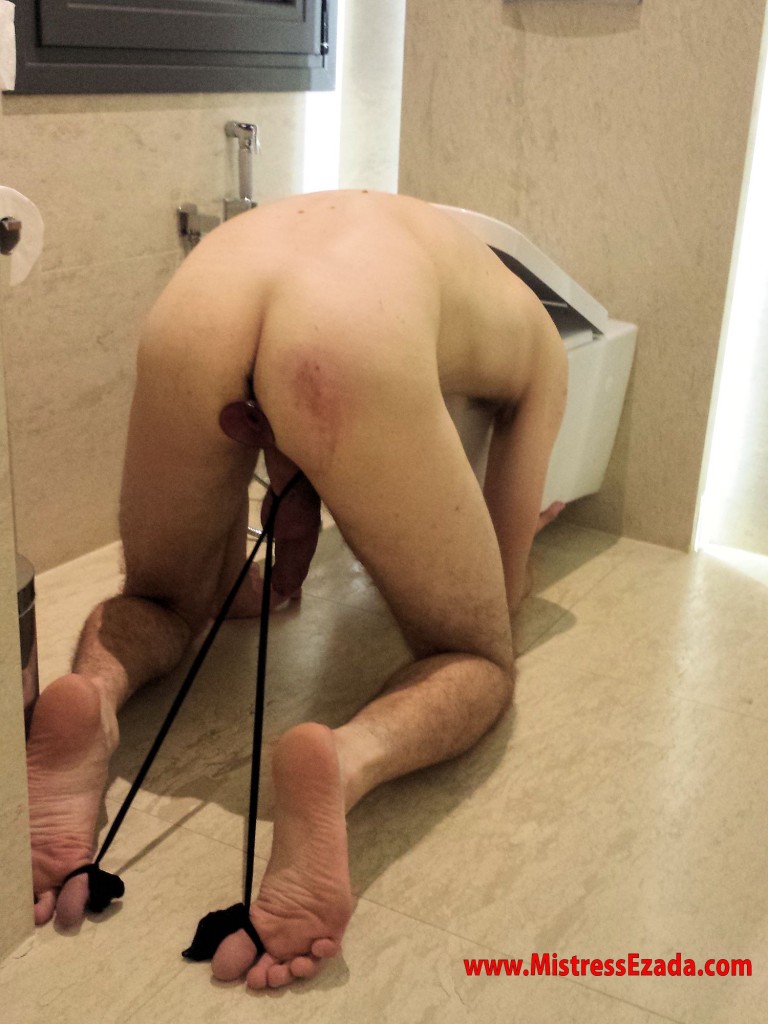 I could discern that my Mistress is doing Her makeup. I imagined that She is doing the unique eyelashes, put Her lipstick, black eyebrows and give more volume to Her hair.
Suddenly, I hear Her heels on the ground approaching the toilet. My Goddess put delicately a whip on my back : a dog whip. I was at Her mercy, could only receive Her whip kisses to celebrate our first night. But I never imagined that I would live. She used Her whip on my back and ass. 10 strokes, not more. Then My Goddess told me with a big laugh:
"I will whip your balls."
I was terrified. She already whipped my cock but never my balls. I count 10 strokes. It was an intense pain. This pain was definitely more intense in my head that on my balls. I could only hear the hiss of the whip in the air before slamming louder on my balls. She stopped and my Mistress opens the toilet bowl:
"Your balls are black. Well done!"
While She undid my ties that did the junction between my balls and my feet, I did not dare raise my head. I was too scared to see the state of my balls. Completely destroyed, black and blues or cut open?
Then I raise my head shyly. My balls are blue. I feel weak, like a little faint. I could not get on my knees, my head was spinning, I had to sit a few moments. Maybe due to stay 30 minutes with head down or due to the view on the color of my (Hers) balls.
My Mistress is very strong to cause my unease with few strokes and one kick in my cock. Then She took me in Her arms. As I gradually found my spirits as I sketched a sense of pride. I was proud to be able to offer my balls in a way too extreme for my Love and Owner. Moreover I thought that my Mistress has never done this kind of game before, so it was a beautiful proof of love from Her to start our wonderful weekend. Obviously because once again, as usual, She led me to an unknown horizon so easily, so quickly, so naturally.
I was happy even if my balls were not pretty to watch. To be honest, since this evening, despite I am always afraid when my Mistress hold Her whip to crack it on my balls, certainly due to the fact that a stroke could be fatal definitely, I adore this intense moment of love. I offer my balls to my Owner. She has the right to destroy them forever, for Her unique pleasure, for our unique Love.
My Mistress said : "stand up, dress up, I'm hungry". [Mistress Ezada's note: eating dinner with Me was a surprise for My slave – while I was getting ready I told him I am going out with another man]
Then we eaten at the restaurant. I never saw my Mistress so beautiful in Her black dress, never seen her so cheerful, lively. My Goddess was so happy and I was filled with joy to share these moments together. This is the strongest feeling to admire her radiant and smiling Empress.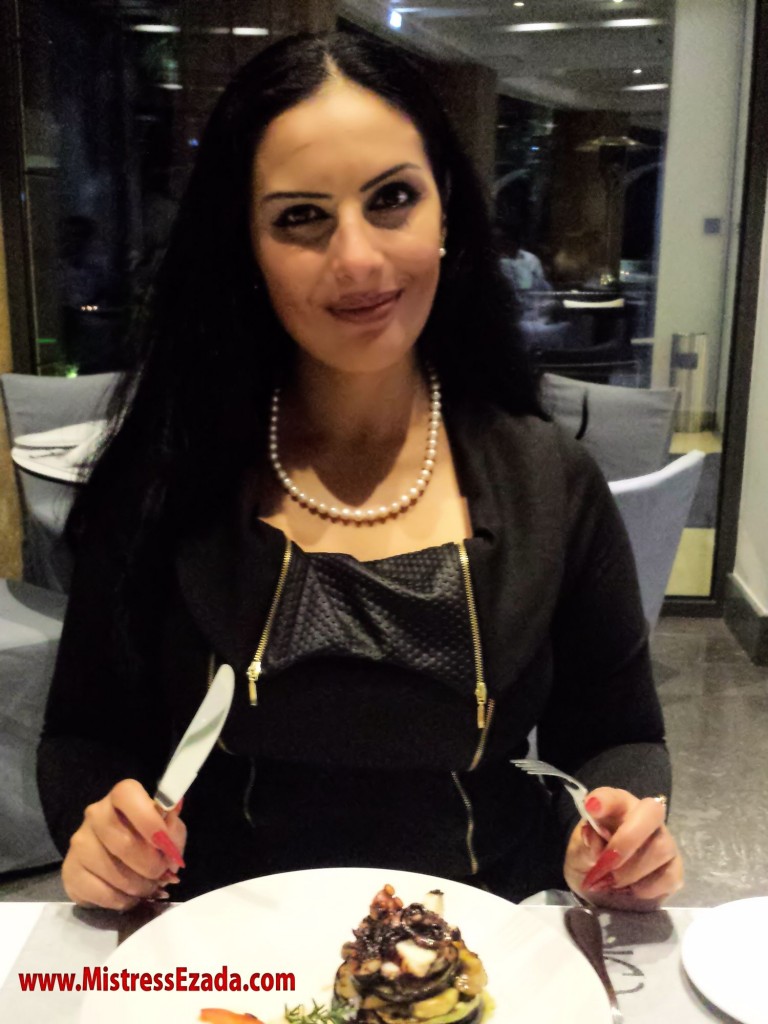 We are going back to the room, just by opening the door, She said with a mischievous air :
"From now on, you will wait me into this position every time. Your place is here, in my toilet bowl. Is that clear, slave purcelus?"
Henceforth, i have never get bored while waiting for my Mistress. She continues to push my limits every day. The proof, the next day She used the toilet before prepare Herself for the breakfast. I will narrate you this story next days. The trip was UNIQUE owing to Mistress Ezada, my UNIQUE Owner.
slave purcelus"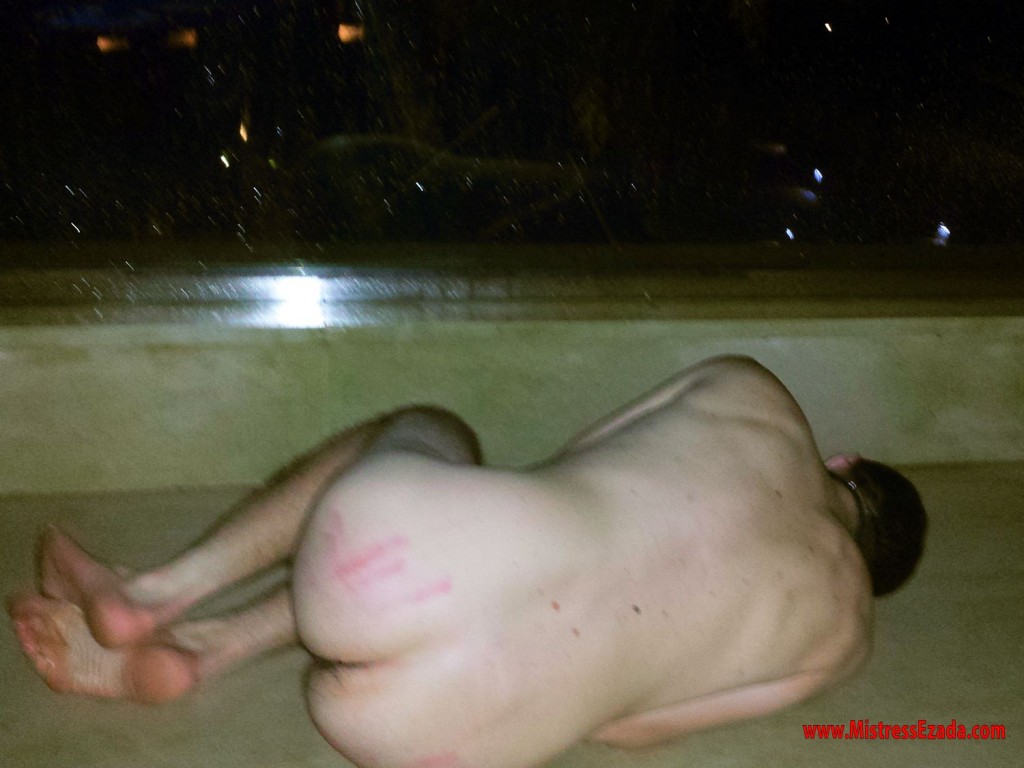 I recorded most of My play with a camera on the tripod. If you are curious to see the clips, click here.