I opened My Twitter account @Mistress_Ezada in 2013 at the recommendation of Clips4Sale, in order to be able to promote the updates on My C4S store. Soon after I discovered that most of My lady friends are very active on Twitter and I can keep in touch with them easier. Also, it was a convenient way to find out about new Femdom events and I became good friends with several other Dominas after following them on Twitter and admiring their domination style. Yes, I do like Twitter.
Over time I started to follow people from the vanilla world (friends and people I find interesting). But lately I realized something important: I must open another, a more personal account. My fans find My Tweets about science and art boring and in the same time My vanilla friends are swamped with kinky pictures, extreme BDSM activities and clips promotion. I lost followers, I got muted and even blocked by some (not friends but people I wanted to follow). And, most important, I always had to be very careful not to open Twitter in public. Therefore, from now on I will use @Mistress_Ezada as My professional account (the kinky one) and @EzadaSinn as the personal one, non adult. you can follow Me on the one you are more interested in or both. But be aware, no adult comments will be allowed on My personal account.
@Mistress_Ezada: where I stay in contact with My lady friends, slaves, devotees and fans, I share realtime pictures with Me using My slaves, fetish selfies, My travels, the Femdom events I am attending, previews from My clips and House of Sinn clips, etc.
@EzadaSinn: where I will share links with things I find interesting, like Tweets and links about science, physics, biology, philosophy, art etc. This is not a sexy account by all means but if you are curious to see other interests that I have besides Femdom – feel free to follow. Although it is not necessary.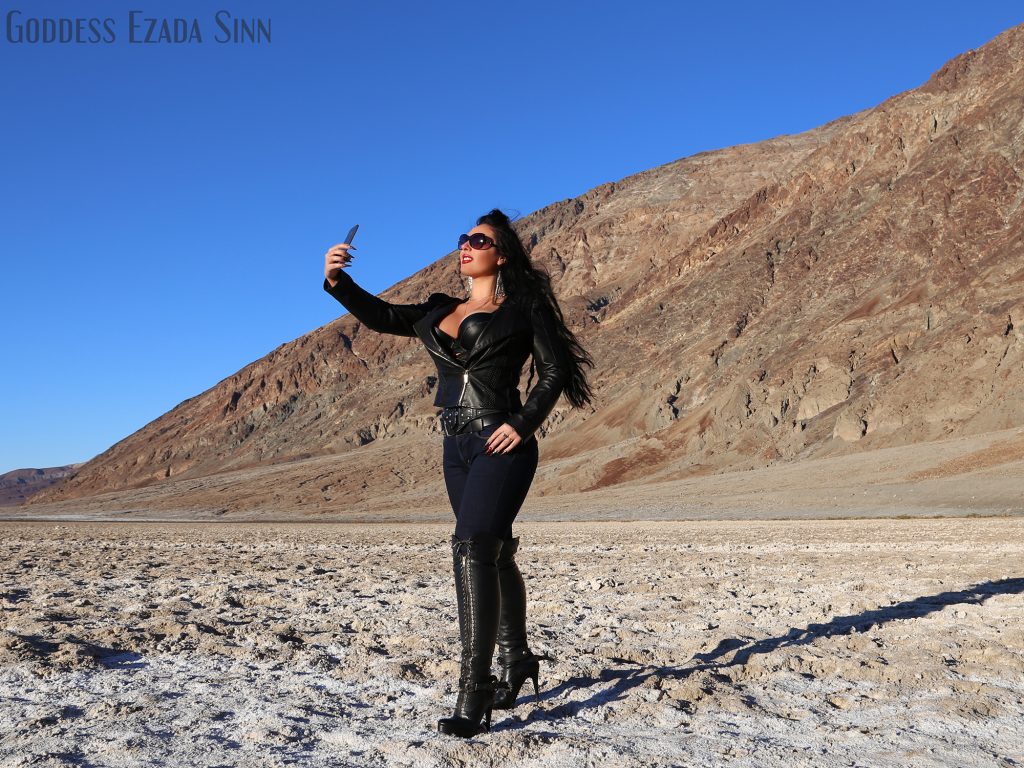 I just came back from My vacation in USA – more about this in a future blog. This is Me, taking a selfie while visiting the Death Valley.