Vintage Femdom photography by the Czech artist Jacques Biederer (1887-1942). He became famous as a Paris photographer of high-class erotica inn the 20s & 30s of the last century. Like so many other talented people from the kink community he was killed in a Concentration Camp by the Nazis.
His work is packed with first class femdom. He did quite a lot of post card motives that were sold under the counter to a few true connaisseurs. Like this one here: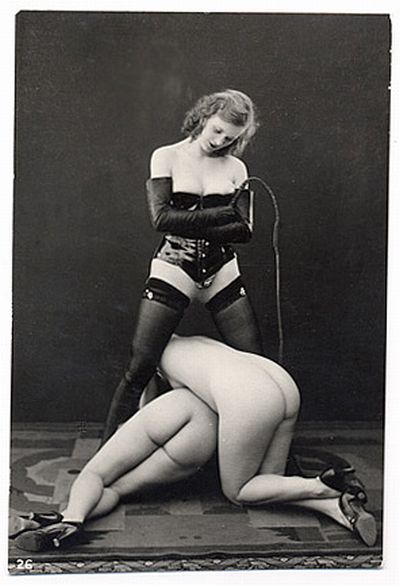 I like the self assured pose of the Domme, her whip, her look down on her living property … and the depersonalized bodies at her feet. A pile of human submission that is arranged under her and between her legs as if it just was some material for sadistic enjoyment …. which it quite propable will in fact be….
Here is a second one,
long leather gloves, laced boots, tight corset, a man in pain carrying the Mistress´s  whip in his mouth, a beautiful Goddess enjoying inflicting pain on her slave… Not at all different from what we love today, yet about 85 years old. Truely amazing. I wished I had met some of those wonderful people way back then…