Today was the day, having recently signed a mandatory contract from internet's top dominatrix, a Mistress that I happened to fall very deeply for.
I was ready to meet her at a private location which was only revealed to those who booked a session. I got all nicely prepared wearing a nice pair of fitting leather pants and headed my way to meet her.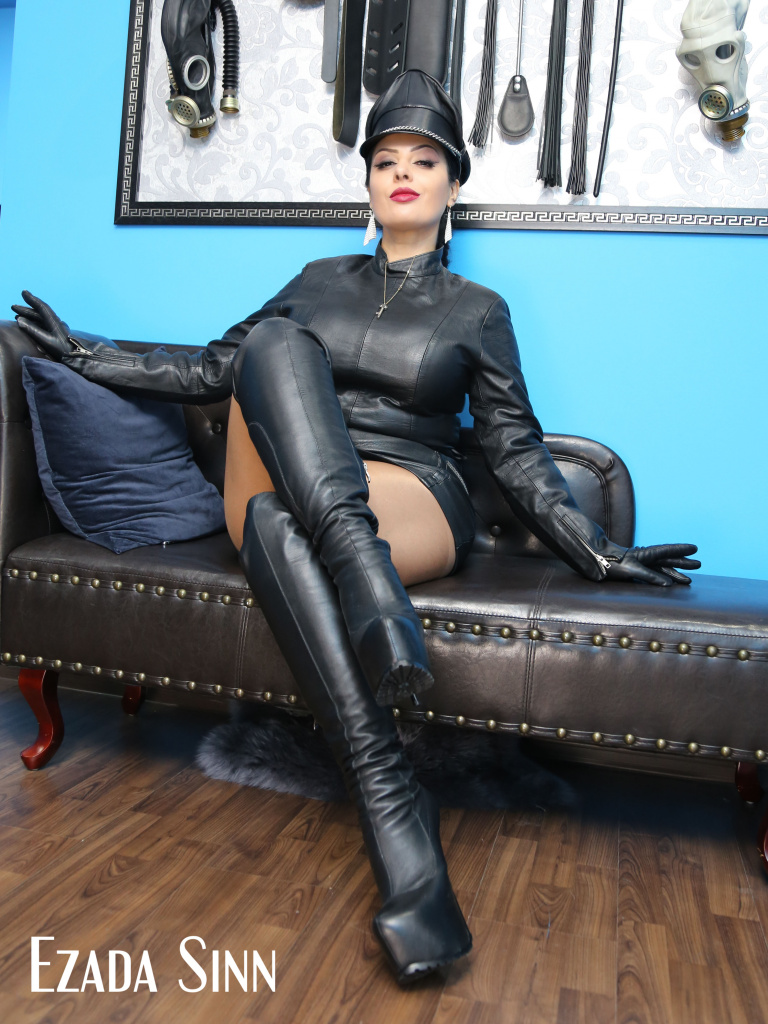 ¨So, tell me about your interests. What do you like? What turns you on? What are the things you would like to participate in today?¨ Mistress asked me after handing me a cup of wine.
She seemed nice and friendly compared to how I thought about her behind a screen, but since this was my first time taking her services, I assumed she wanted to be nice at first. I took a sip of the drink as I thought clearly making sure I wouldn't mess this opportunity up. I didn't want to regret ever stepping foot inside this place.
¨I read your terms and conditions very carefully,¨ I then said. ¨So I know what is allowed and what's not.¨
Mistress smiled as she drank from her cup. I knew I caught her by surprise. ¨Very good. A lot of my visitors don't read my conditions before booking a visit, which is why I always end up tying them."
The idea of being all tied up really aroused me, so that definitely was something I wished to try, but I wanted something different this time, something a little darker. Being at the presence of such woman dressed fully in leather really made me feel small and powerless and I had the urge to just kneel down and prostrate myself right here and then. I had so much power and authority in my hands and in my entire life in general, such heavy baggage kept me pinned and I felt the need to let it all fall to the ground along with my body.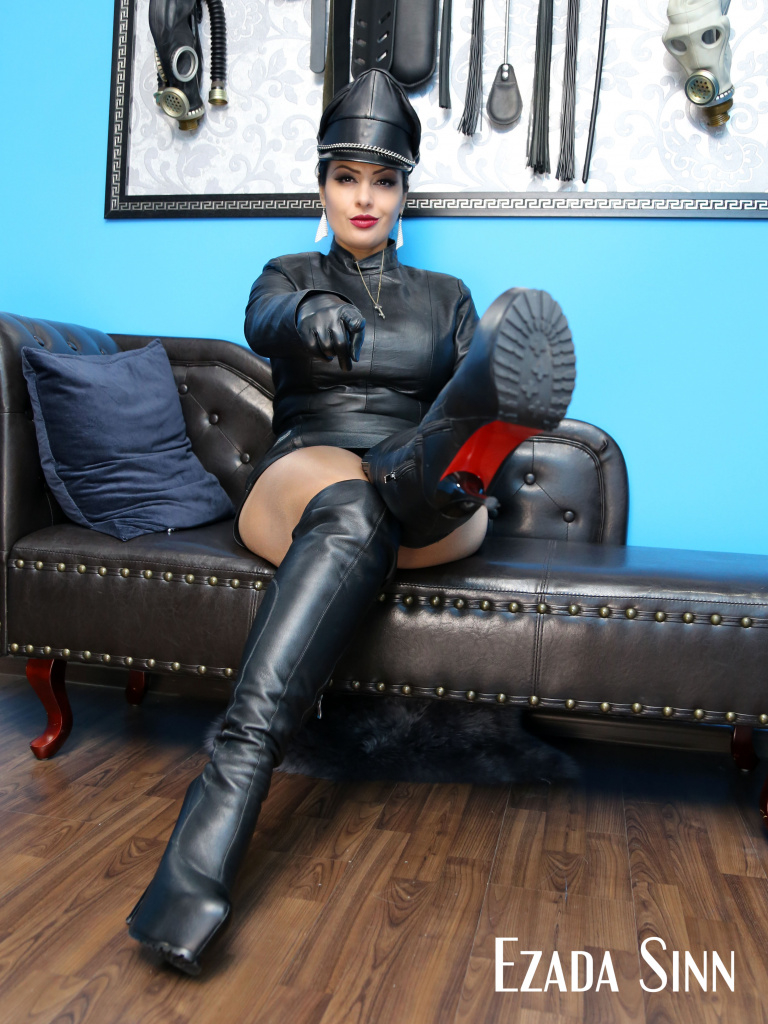 Meeting the very tip of her boots, I felt compelled to run my tongue to worship them. So that is what I did, I ran my tongue down the sole of her boot, her heel making even more clean and shiny then they already were.
She stepped away right before my arousal could rise and walked around me with a sadistic smile on her face, tapping and swinging a whip in her hand.
"Coming to my dungeon and presenting yourself to me this way really arouses me, slave. You didn't even mentioned your name, what was it again? I didn't get a chance to answer. "You know what? That doesn't matter to me. To me, you are just an ordinary slave that I get to keep, own and train. After all, you agreed to this. You agreed to be one of my many slaves, to serve me in any way I wish."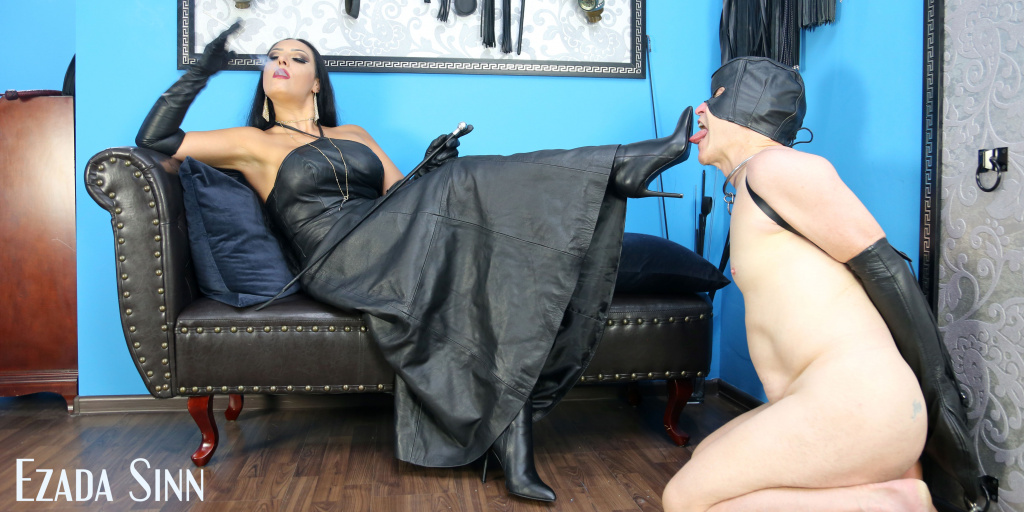 Her words where like candy to my ears, they made me feel at peace and completely out of power. I laid there before her on my hands and knees, fully clothed, simply taking her commanding words and ready to obey her every command. I agreed to this. I wanted this. I needed this. I was born for this, born to obey my Mistress.
"That's right boy, you like the sound of my voice don't you? You're cock responds too well to my commanding words" Arousal finally building. "Lick my boot again, slave." Mistress commanded.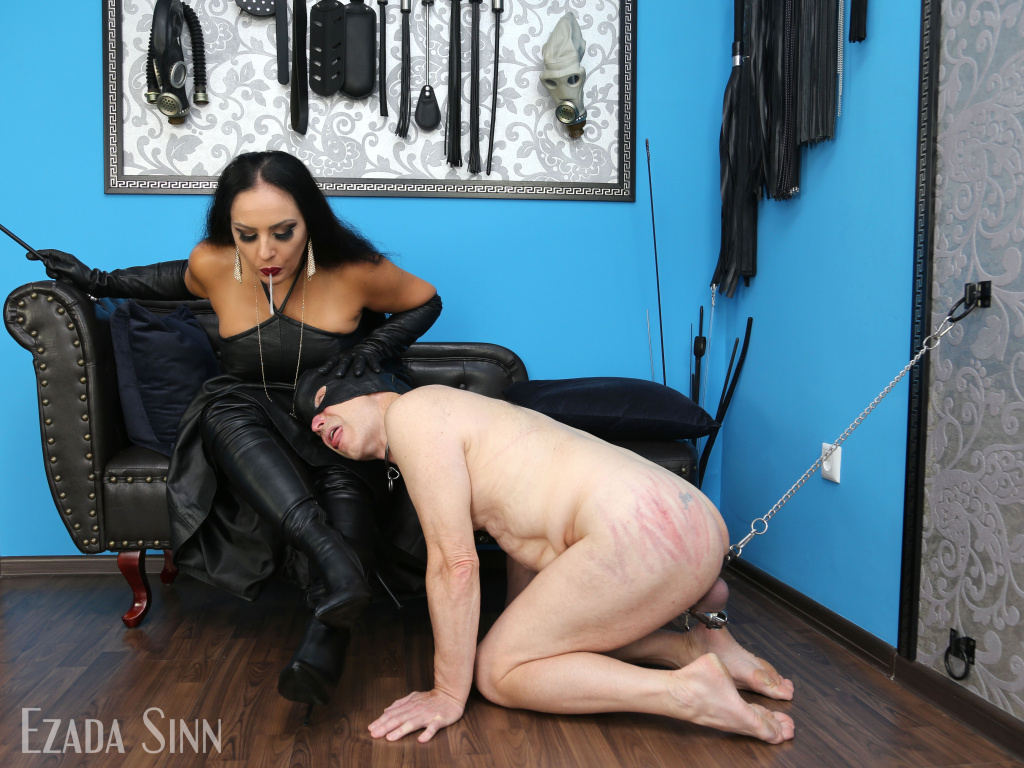 My tongue ran across her leather boot, savoring the sexy leather, just obeying and compelling. Taking the roughness of the leather deep into my mouth taking all the pleasure of my submission in.
"Yes, good boy, it seems you have done that before, I like what I see. You are quite entertaining. Now, I want you to kiss my boot in appreciation, being thankful for being here at my presence, be thankful, slave. Thank your Mistress to be using you this way."
The more she spoke, the more I obeyed, her commands sent a trigger to my brain to lick, suck and kiss her leather boot with such passion, moaning softly at her feet, at her calves and at her toned thighs. I never experienced such passion and devotion before. I could go on for hours and hours.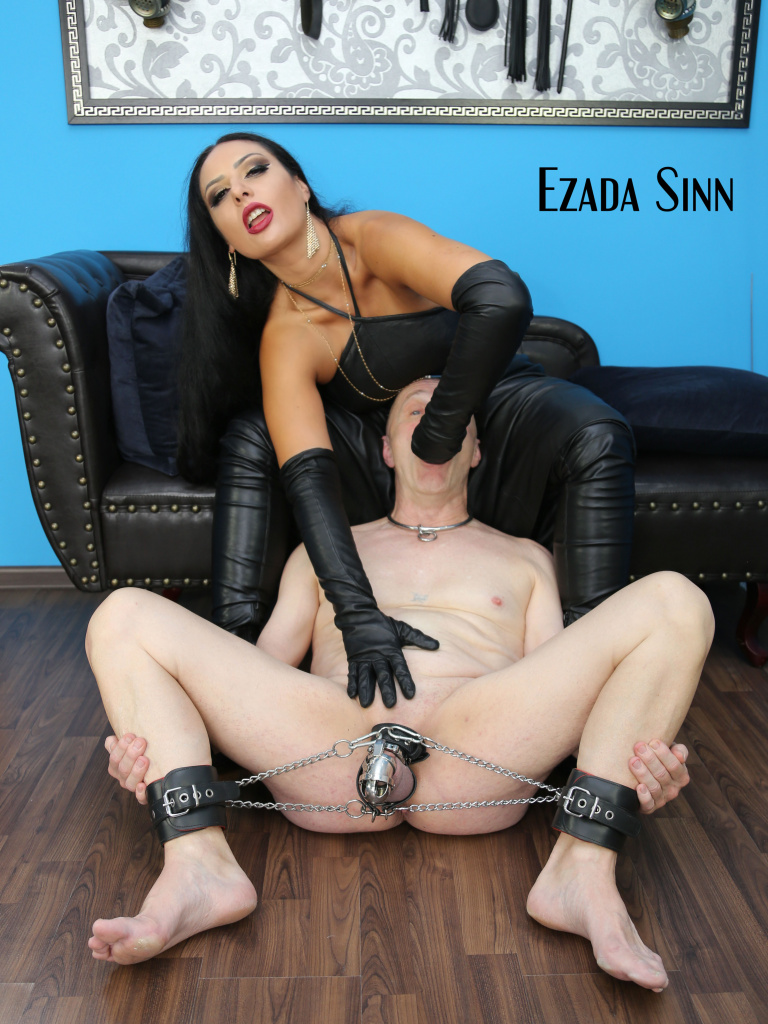 "That's enough slave, stop. You have done well worshipping my boots. Now just stay here and be my seat, Mistress needs to speak." At that moment, I noticed I was completely naked. When exactly did I took off my clothes? How is it that I don't remember? When did this happen? It must have been the leather boots she was wearing. Her soft rubber bottom was felt in my back, Mistress was using me a tool to sit on, this felt amazing. It seemed that our interview was continuing on this time. 
"As I mentioned, you did signed a contract and you agreed to my every word, so now you are officially my property. First thing first, I will be taking measurements of your cock and will assign you your own chastity cage to put on, you will keep it on for 2 weeks, this will be given to you in a few days, if you are a good boy you may earn a release before being locked again for an entire month, you may not leave this dungeon unless I give you explicit permission do so, and if you do not come back in two days, you will not be allowed into my premises ever again, if you have an emergency needing to leave, you can let me know and we will arrange something, you will wake up at 6 in the morning and you will take care of my beautiful garden outside. This assignment has now been passed on to you. I have my boys do different tasks for me every morning so you are no exception, understand?"
I nodded by head in agreement. Taking a role of a servant to service this Mistress as she pleased felt welcoming. I felt as if I were in my own home. Soon this would be just that.
"Good. Then, take your clothes and fold them nice and keep them safe in that closet over there, no boys are allowed to wear clothes here, I want them naked and ready for me whenever I need them, so have that thought berried deeply in your mind. I want all my boys naked at all times. Feel at home, slave."
I saw Mistress walking away as I was left keeling in this room, watching her leave was the last thing I ever wanted to experience. I felt something new in me, something must have changed. I am a changed man. Mistress was everything I ever wanted and needed. And this was my new home…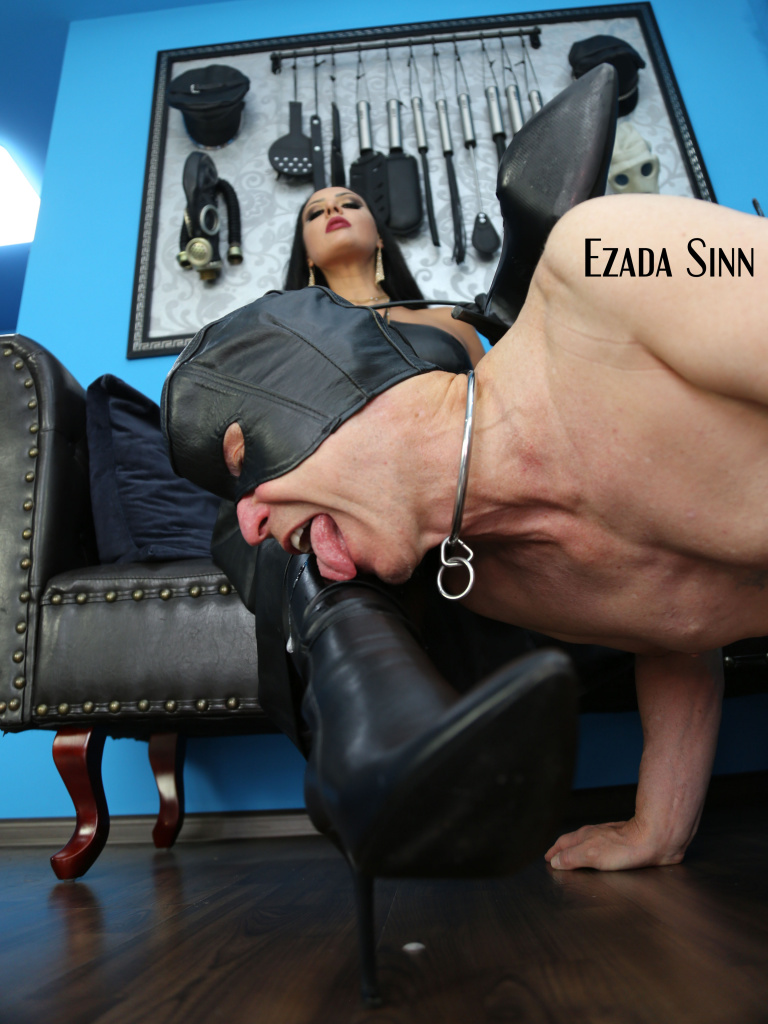 The following morning, I woke up ready to obey my Mistress, her command to take care of her garden and taking care of some piles of leather clothes. Just taking the sexy leather fabric to my face made my cock hard just imagining my Mistresses wearing them. I felt lucky to be here and being a good obedient servant for her.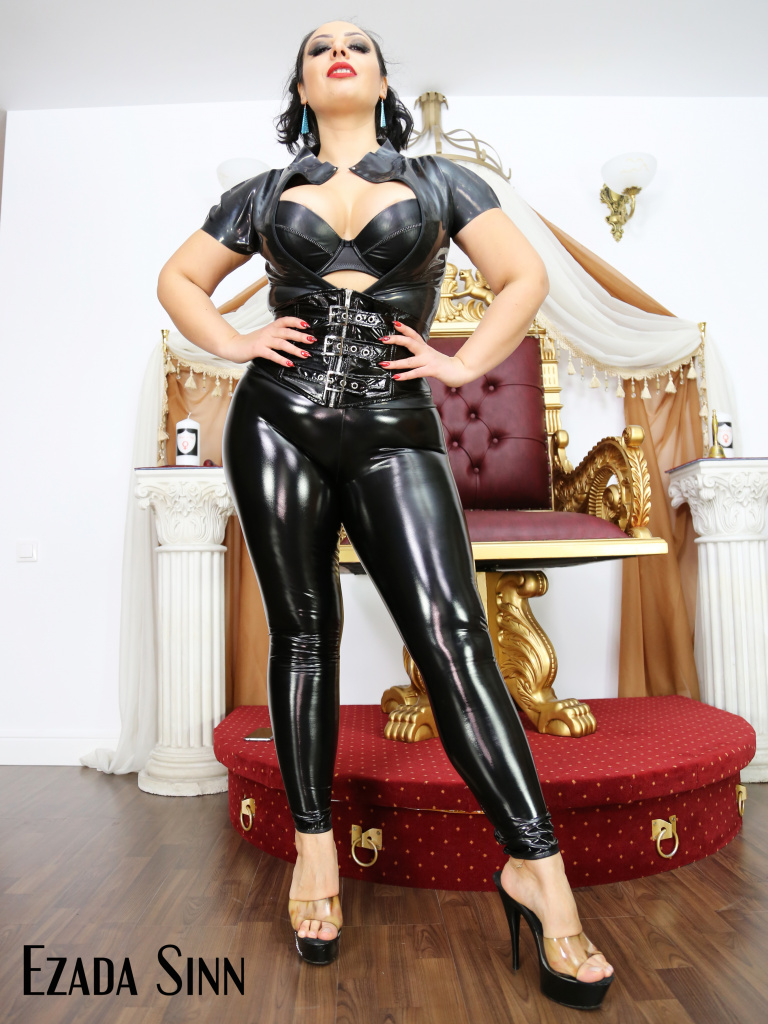 " I'm quite pleased," I heard my Mistress say all of a sudden. Latex. Fuck. Her body completely covered in latex made me even weaker. I also noticed she was wearing a pair of headphones. This brought me sexy images to my mind.
"It's time for you daily brainwash session," She then said. "It's a thirty minute audio file that you will be listening to for the first month."
I loved the idea of brainwashing, I was sure that I would become the perfect servant that she seeks in a submissive male. She then grabbed me by the had and walked me to a room full of fucking machines, benches, st Jude crosses, and other BDSM related objects. She put on a collar around my neck and instructed me to enter a very small and narrow closet. Dark and empty just like my mind was at that instant. She closed the door and the programmed started. I closed my eyes and allowed the smoothness of her voice speak those words I needed to hear.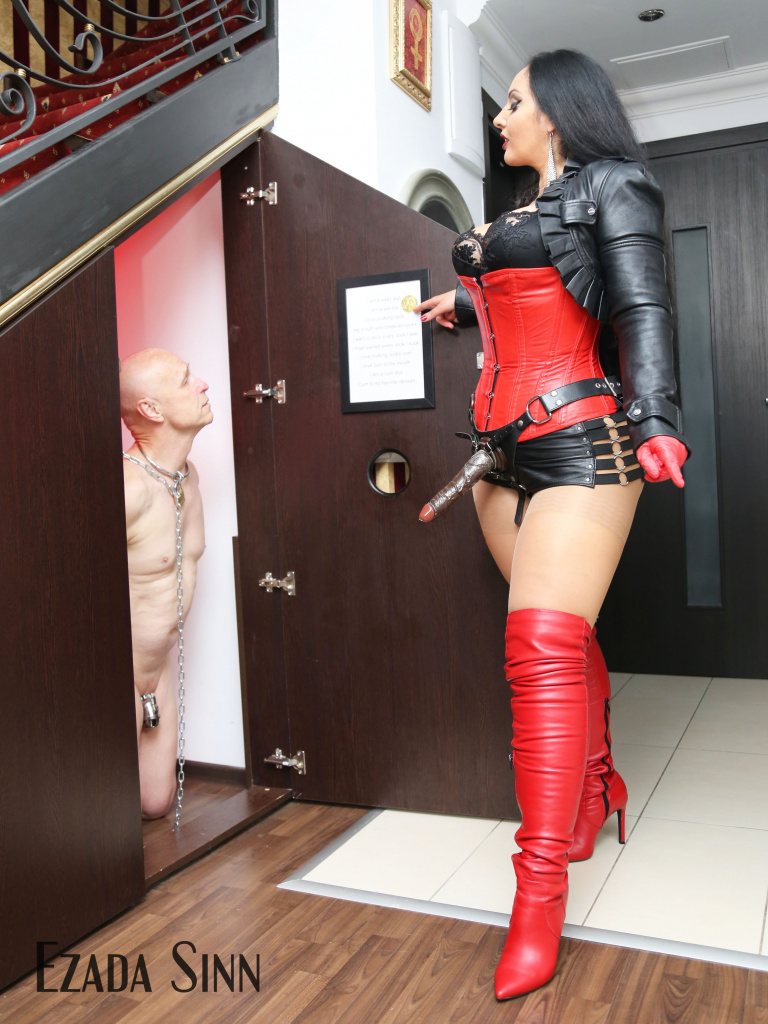 "Harder and harder" My cock instantly responded. Her voice instructed me to pleasure myself to explosion. For cum to shoot all over the small room reaching the dark empty space in front of me. I felt my creamy Jis oozing and falling to my thighs all over the floor I was standing. I felt the cum splashing all over the floor as I was mindlessly brainwashed. This was it, the end of my own arousal of my own hand but it was a beautiful feeling of bliss and total arousal. Minutes later the door was opened and I was greeting by her once more.
"Good Boy." She spoke I stared at her completely lost in awe and arousal. Exactly what she wanted. From that point forward, she would control my orgasms, they were no longer mine.
Story by My devotee Abeboy, published with his consent. Leave a comment if you enjoyed the read.