"The light came on and I saw my mistress, fully dressed in leather from head to toe.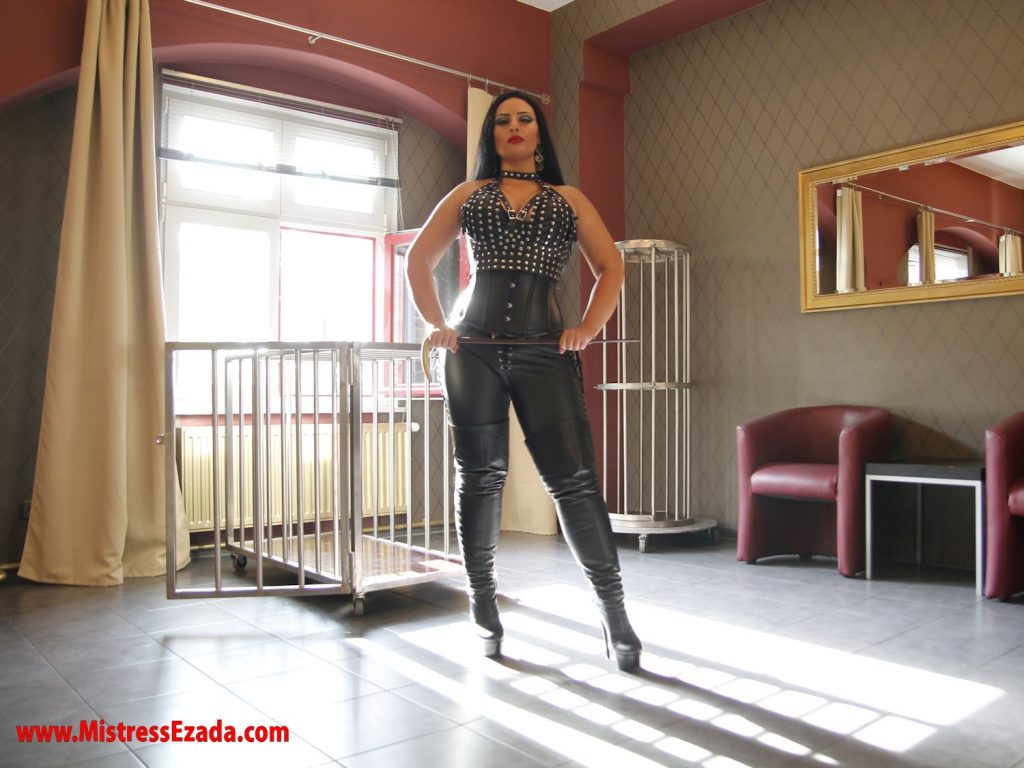 She took off the padlock of my cell and before opening the door, She announced in a chilling voice:

"It's time for you to Understand your place : to be broken by my whip. Out, slave! "
She pointed the heel position and I follow Her out of the basement of the residence Avalon.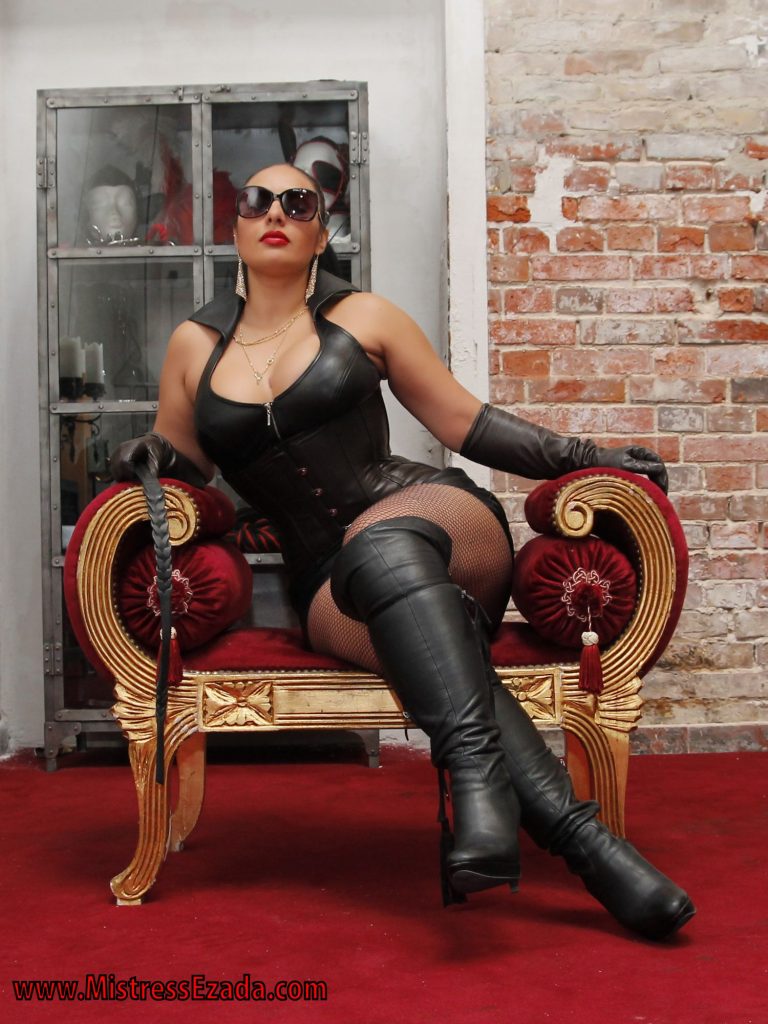 Once in the main hangar, She walked till a baroque chair, very elegant at Her Image. She sits on Her Throne. Despite the lack of light passing through the glass roof of the room, all rays was concentrated on Her body enhanced by a shiny Leather. Beside Her, a pair of impressive over the Knee boots and a very very long whip, which I had already seen several times in Her Den of Bucharest, but I had never had the chance to see in Her hands. Besides, I wondered about the number of times She could use this instrument of torture, in which state Her slaves finish after a whipping with it, and have they been able to overcome the pain.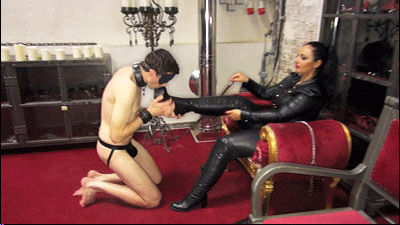 Of love and slaves (while changing boots)
I am staying in "waiting position" when She began Her speech:

"My slave, you Will receive a hard punishment, The Most intense and Painful of your pathetic life, I will break you down, I will make you cry, you will show Me how much you love Me."
I must admit I did not hear Her words, I did not get scared, I was probably aware of what is going to happen to me. Or the chance to be in this magical place, cut off from the World at the feet of my Serene Highness : so beautiful, so haughty, so dignified, so powerful, plunged me in a daze. I had never explored before.
I heard the snap of Her fingers, mean that I had to get up to serve. She pointed to the pair of boots She wanted to change.
I love this kind of moments. Take off Shoes, take on Shoes of a Woman, it's an intimate and precious moment. I take the time to remove the boot, kiss it, put it on the floor before kissing Her divine foot. My Mistress likes to show me Her superiority by taking me on the leash to feel deeply the smell of Her socks. I love sniffing the aroma of Her feet through Her black socks. This is a part of the ultimate femininity for me.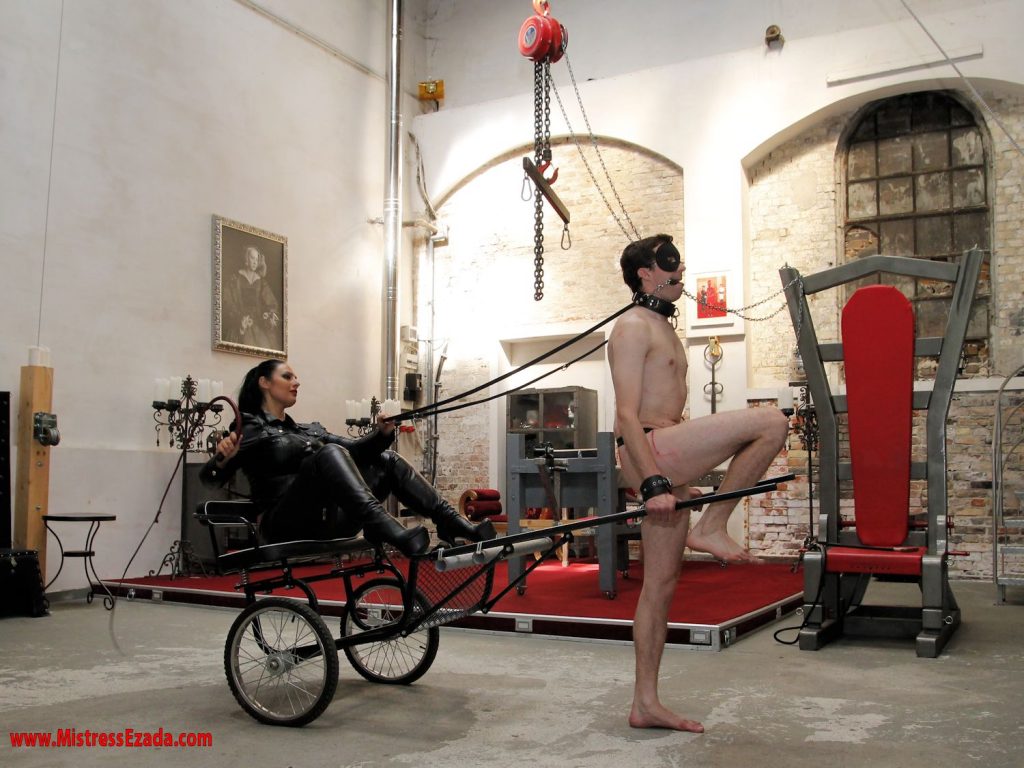 Once She wears the new boots, She ordered me to catch the sulky. I took the sulky and park it in front of the red Throne of my Goddess. I knelt down to allow Her to take place. Despite the cold and rough floor of the residence, I was amazed by the Honor of carrying my Goddess as well. I imagine to be the century of Cleopatra, walking the Egyptian Queen worldwide by pulling Her "Carrosse" under Her loin and whip until exhaustion in the hot Egyptian sun or in the cold and snow encountered in the Balkans to join Rome. Breathless, I will be abandoned on the edge of a road, trampled by Her coach for not being able to transport Her to the end of the world. In the era of sustainable development, emission free automobile, I advocate for a return to transport the Ladies by the unique strength and sweat of submissive men. It would be magic to be the driver of Mistress Ezada for my entire life.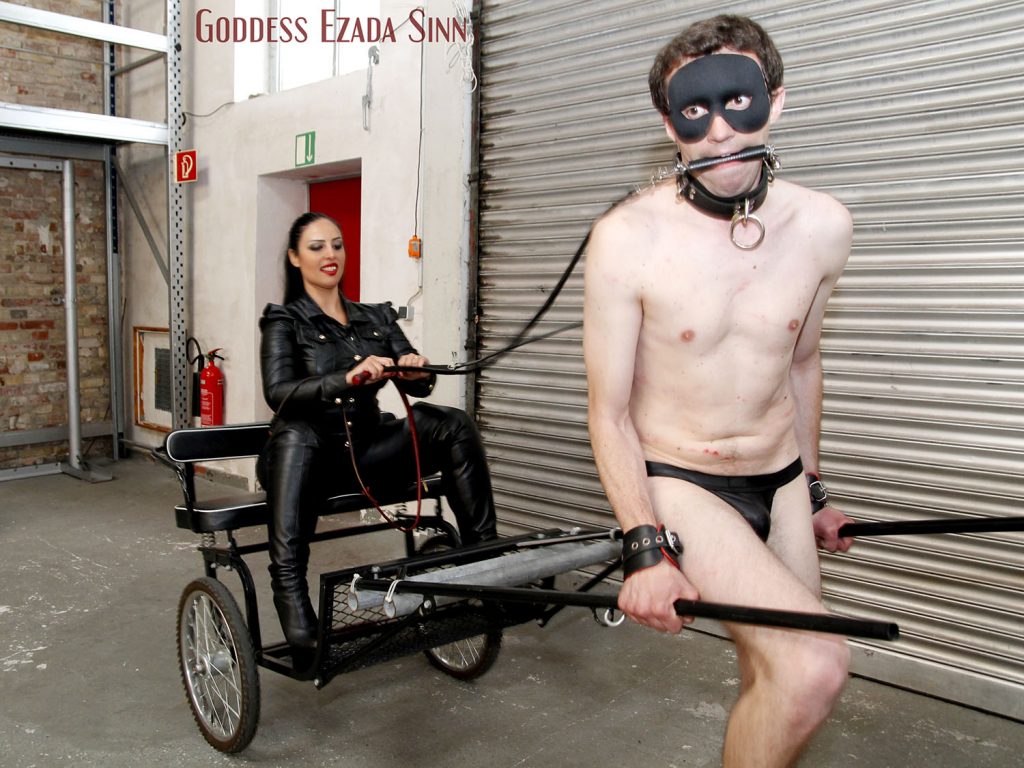 She asked me to make turns more rapidly in the hangar, intensifying my pace if necessary with Her whip kisses from Her long whip on my back. She increases the difficulty by ordering me to change direction repeatedly. I took great care to make these U-turns without disturbing the comfort of my Mistress. Indeed, it must be fast, but remain elegant and do not do in spurts, that would disturb Her in her walk. I think I was pretty good but my Goddess had not the same viewpoint and I would soon feel it in my whole being.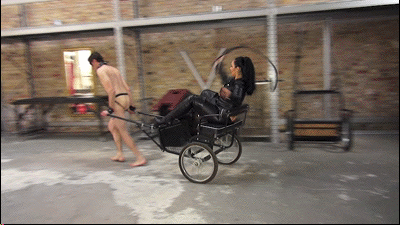 Faster, My pony, faster!   Pony maneuvering training
"Stop, I want to go down."

I knelt down so She could get off. I laid the sulky, then rushed on all fours to Her feet.

"I don't like When you are not elegant and fast in the same time. you understand that. you are useless, piece of shit!"

Her eyes were so dark, so deep, so terrifying :
"present balls!!!"

She gives me a first kick – the most violent that I could receive up till today. Then a second, then a third. The noise between the Leather of the platform of Her boot and my balls echoed in the hangar increasingly loud and long. I goes down under the blows administered by my Goddess.
Without blinking, without dead time, with an uncompromising voice:
"Again, get up!"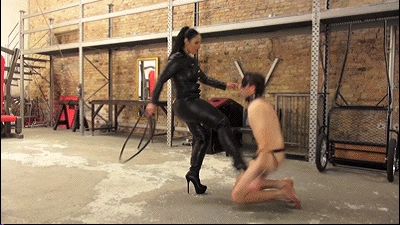 I got up, willingly, quickly but not enough for the sadistic and punitive taste of my Mistress. After a second more violent and intense series of kicks, I collapse again.
"Assume the position, piece of shit. I am going to break you down, to make you cry! "
I get up. She approached me and slapped me a relentless tens of times. She was so beautiful, so untouchable, so divine, so cruel, so harsh. I think I had never seen Her this way before. I was in admiration in front of Her supremacy, captivated by Her despotism. She is even more beautiful when She is cruel, sadistic. I think She is so natural and it shines on Her beauty, Charisma and Aura.

For nothing on the world, I wanted to stay on the floor so that to beg Her to stop.
To admire Her grace when pushing my limits again and again is an incredible feeling and we can only stand up and accept yet again and again Her shots. Even if I have to keep the marks and aftermath of this incredible afternoon until the last day of my life.
Back into waiting position, She gives me a final series before to stomp me heavily and ordered me to follow Her as soon as possible to crawl on the floor to the middle of the hangar.
I remember that on the gritty ground, I scraped my foot and knee by trying to follow. She raised my head to "spit on my face". This time, it wasn't a "Domina kiss". Not the traditional one but to humiliate me and belittle me in my condition of useless slave, unable to bear all its severity She delivered with Her huge boots.

I must admit that the taste of Her saliva was delicious. A little more than usual, probably because it was the taste of humiliation.

Hardly have I had time to catch my breath – when you receive a hard kick in the balls, you have the sensation of running out of air and you feel extreme pain in the abdomen – She pointed at finger the pillory in the middle of the room.

She firmly tied my fists at both ends of the bar suspended. Then she walked to the throne to take Her long Bullwhip. She approaches me with a big smile, I dare meet Her eyes who already sparkles with the idea of caressing my skin with Her longest whip.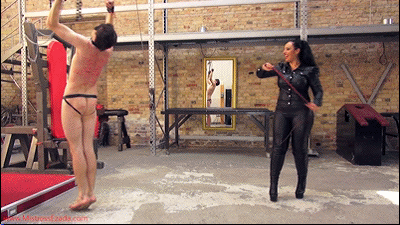 Selfishness is treated with the whip
"I will finish You, I will make You cry for me, not Because it's a punishment this time, Because you Love Me. I will show you how I like to be loved, by taking the pain and humiliation for My pleasure! "
Then She showed me her hand that I kissed and walked away laughing. I cannot describe the feeling I get at this point: I am scared but happy. She will show me Her way of romantism… but at what price.
One lash, two lashes, three lashes just mark my flesh for many weeks. She touched my back, my hips, my butt. Pain, as surprising as possible, was more bearable mentally than before. Probably because I felt She put all the love from Her heart. Physically, however, I could feel the bites of each impact along my body. She continued for 5 interminable minutes. The chemistry between us was so intense that we could feel the link that unites us since 32 months. I was probably in a second state, a state which is reached when the total fullness or absolute love is born.

She approached me, to caress Her masterpiece : the paintbrush being Her whip, Her canvas my body. She inspected my sex to see if I liked Her art. Then we looked eye to eye. For the first time, I discovered love… no gesture, no words, just through the expansion of Her magnificent pupils of eyes.

"I want more."

She gives me a dozen strokes, full force, without restraint this time on the top of my back. To hide my suffering, I going up of the soil clinging to the bar above my head.
Then She came back to me, running Her sharp nails in each of my marks. Some of them are always visible on my skin, one year later. I am so lucky to keep them for my whole life as a proof of Love.

I felt She did not want to stop, She wants to continue, to destroy me definitely. But my Goddess is not extremely sadistic. She will not continue if She feels that her slave can no longer bear the pain or complicity has decreased. She loves above all that Her slave proves his sacrifice, his love, begging Her to continue, not to stop. The feeling is so strong in this case that i am pretty sure She could have an orgasm. And to be honest, me too.

Despite the fear, despite the fact I hate the pain, my love was stronger. I wanted to offer Her my body forever:
«  Biciui si ma înca, nu te opri, Stapana, Va rog, Zeita mea, va rog » 1
1 whip me again and again, do not stop, I beg You my Mistress, please my Goddess.
She changed the whip to Her red snakewhip.
The pain was more intense, probably because She applied the whip on the scarred areas, and She focused only on 2 or 3 of them. Or maybe because the break of a few minutes made me lose my head or I hate even more that whip, I do not know.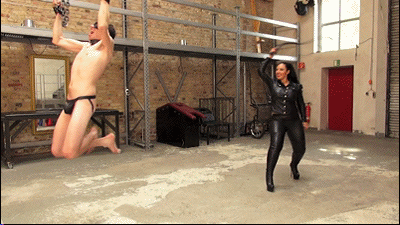 But the pain quickly becomes excruciating and unbearable. I began to moan louder and louder, twisting me under the blows, falling arms outstretched to the sky. I end up crying. Big tears running down my face and end their journey on the floor at my feet.

My Goddess stops short time later. Just at the right time. I pushed my limits which I deemed impassable two hours earlier. She had found the words, gestures, attitudes so that we crosses a new milestone.

"You cry, my dear purcelus. I broke you under My Whip kisses. You see, this is love, LOVE.
When you are crying under my whip, When You are totally broken by my power, I love you too. But only then."

While laughing with the same laugh than ten minutes ago. She is so great, my Goddess. I worship my Goddess for eternity. I belong to Her for eternity.
She graves Her mark deeply in my skin, in my body. But She leaves Her signet even more deeply in my soul. My life belongs to Her and She could whatever She wants with. She owns the right to life and death on me.

She untied me. I fell at Her feet in pain, relief, love. She sat on his throne and invited me to hug. Hugging her thigh, her legs.
She admired Her artwork while I continued to cry, grasping Her calves. My tears were, I think, tears of happiness and pain mixed. Like a baby who fell, hurt himself. He cries in the arms of his mother. I'm nothing but a little baby, a little animal who finds solace with his Mistress.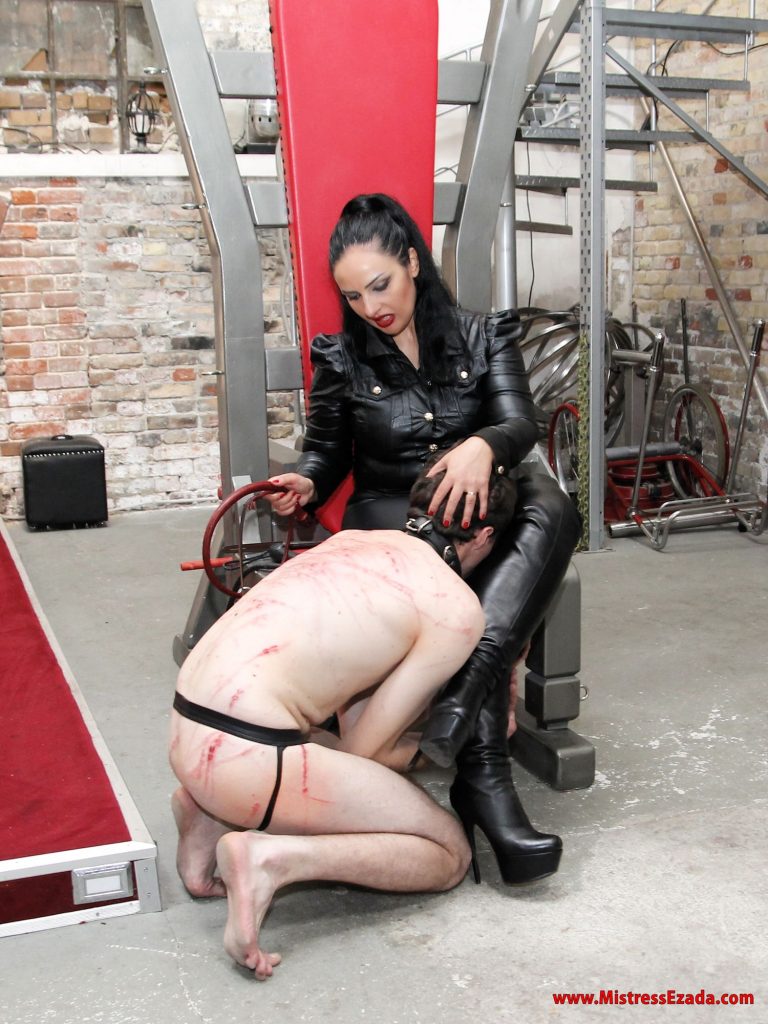 We remained so for about ten minutes. (Usually after a severe punishment or deserved punishment, it does not mean you deserve any gesture of affection or if it's the case, it's so short (10 seconds maximum) you do not have time to enjoy it). I think this time was stronger, more symbolic than a long romantic kiss. I love taking Her feet in my arms, Her calves, knees, thighs. I need to live these moments close to them. I am ready to accept She uses all possible whips, even the more dangerous of the world, as long as She wishes, as hard as She desires, to have the chance to snuggle counter Her feet. I actually felt Our love at that moment. I loved Her, and I still would.
my place is still in Ezada's jail.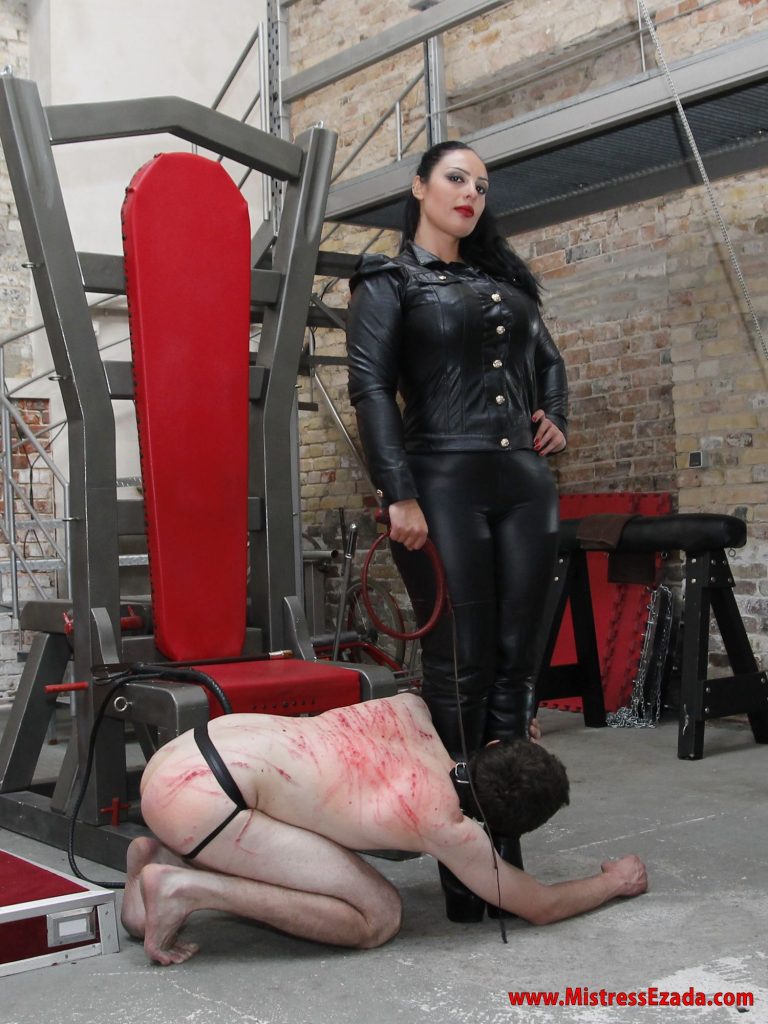 "Enough, slave, I am distressed now and i feel good. I will have a nice dinner with my lady friends in the city center of Berlin. And It's time for you to go back in your cells. "

I followed in all fours to my cell. She stopped at a small mirror:

"you look so much better with My whip marks all over your body, purcelus"

She did it intentionally to afraid me before lying down in my tiny bed and leaving me in the dark; thinking at the permanent marks and / or at the next steps / hours in Avalon.
She closed the door, I kiss Her boots: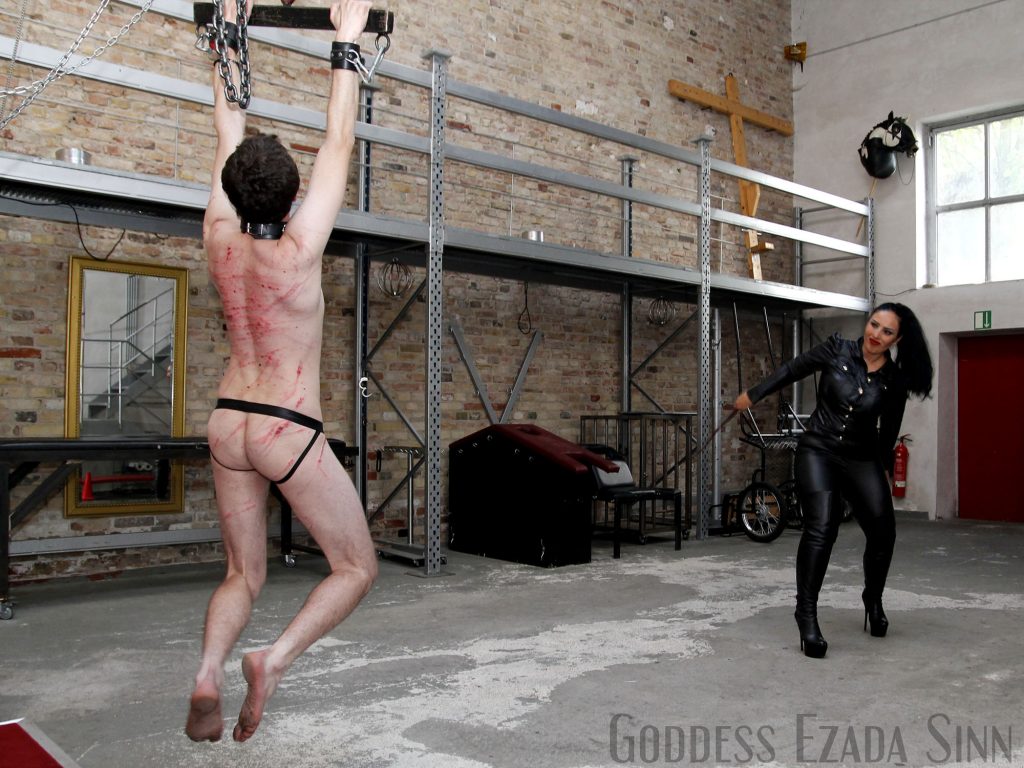 "Multumesc Stapana, multumesc"
She leaves the room, so beautiful, so unique, so captivating. The light goes off and I lie on my back gently, feeling the various cuts and nicks that will remind me all night or more, the love of my Mistress…"
Factual account written by My slave purcelus after he served Me in Avalon Residence. To be continued.